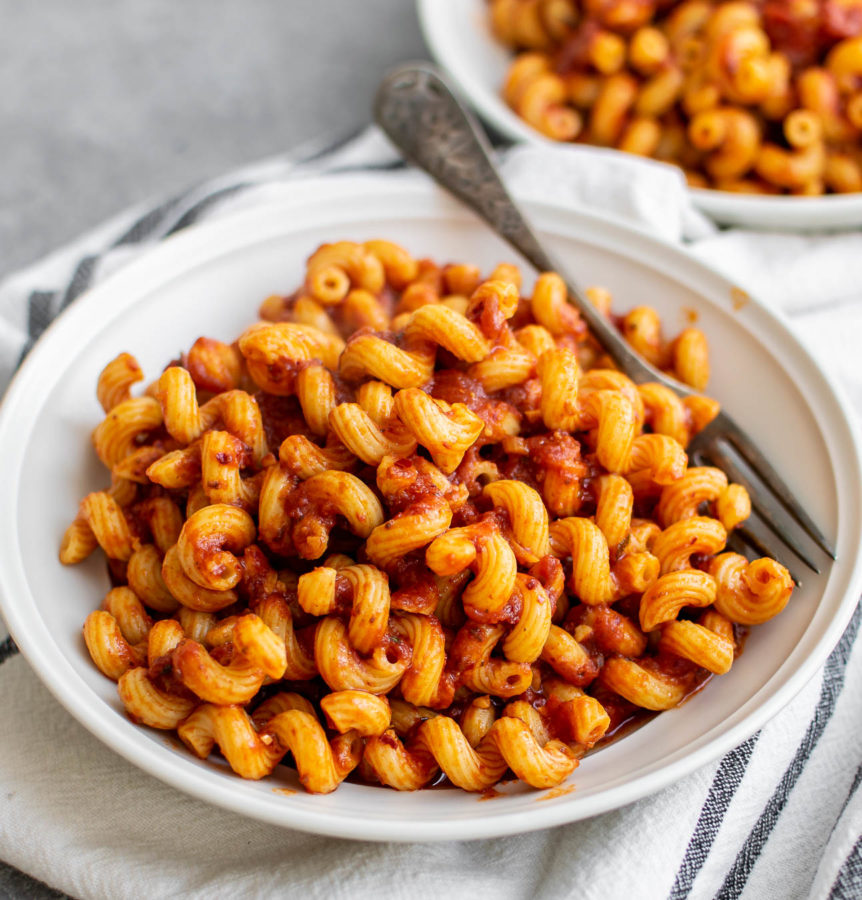 This Pasta with 'Nduja Tomato Sauce is hearty, spicy, and easy to make! This may look like any other pasta dish, but it's not! What makes it stand out is in the sauce. 'Nduja is in the sauce, to be exact. If you've never tried 'Nduja before, you're in for a treat!
So what is 'Nduja, exactly? 'Nduja is a spicy, spreadable pork sausage from Calabria,Italy. It's key ingredients are pork (of course), pork fat, Calabrian chiles and herbs. The red color and heat come from the Calabrian chiles and the fat content makes it perfect for melting into pasta sauces.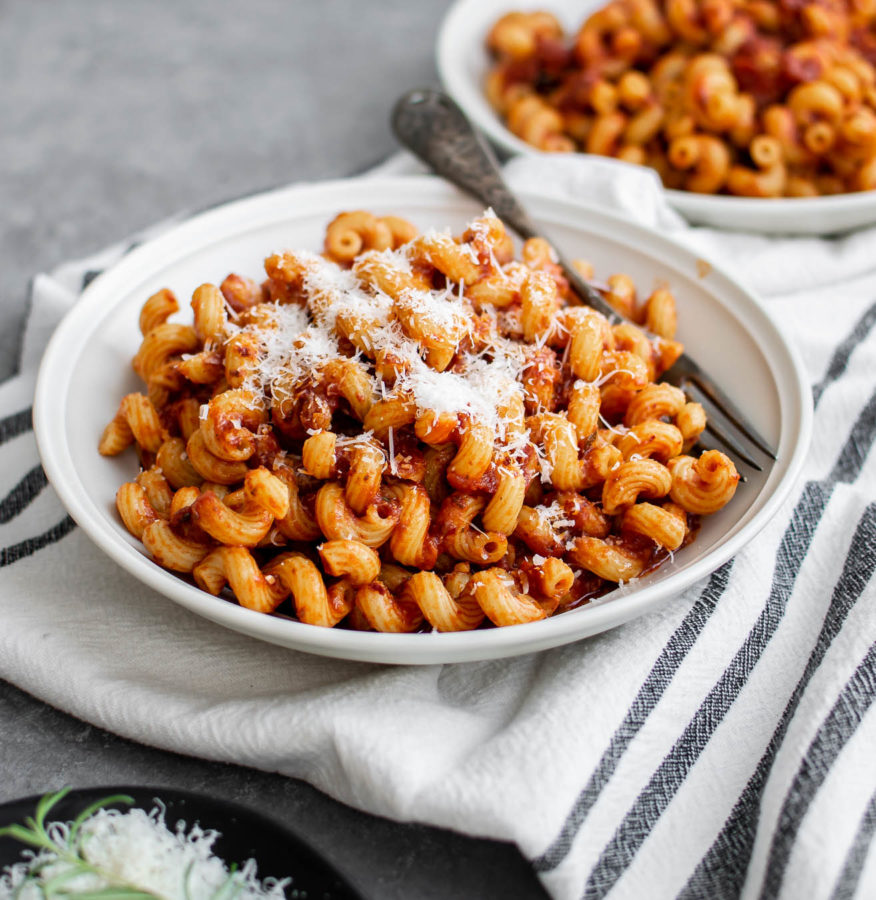 *This post may contain affiliate links. See disclosure for further details.
I wonder how many times I'm going to type "'Nduja" in this post? I'm going to guess 12 and I'll count at the end.
Anyway, back to the recipe. It's becoming much easier to find 'Nduja these days- I see it at grocery stores all the time! But if you're having trouble finding it, you can order it online. I have used this brand and this brand and both are delicious.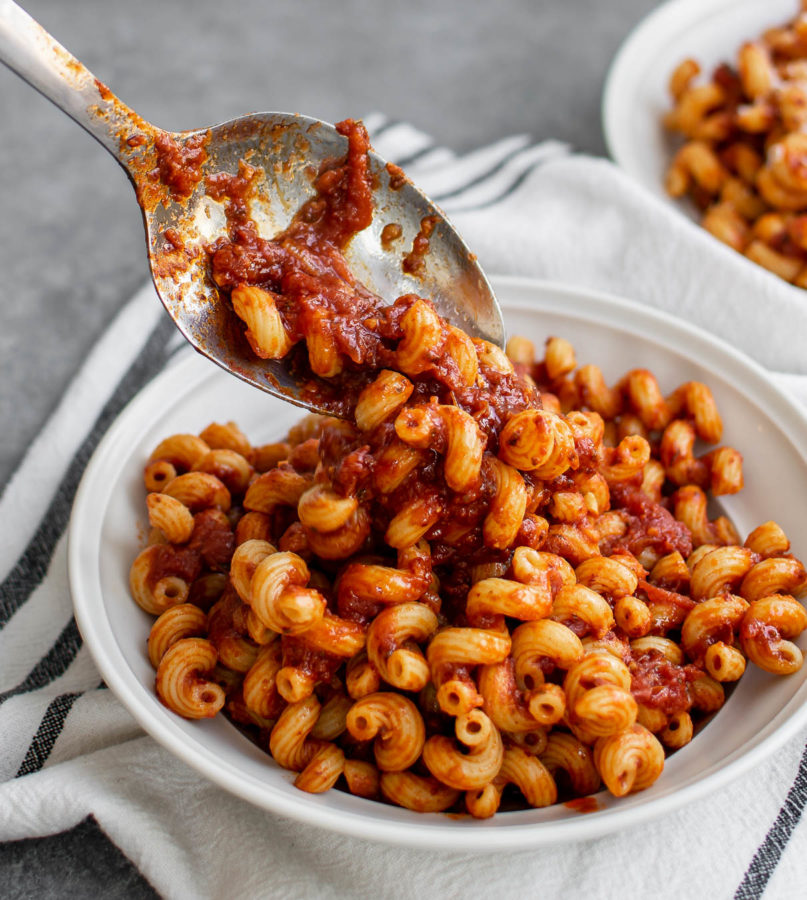 I like using short pasta for this recipe so that the sauce can get all up in there. I chose cavatappi here, but you could use rigatoni, penne, radiatore or casarecce. Choose your favorite sauce-collecting short shape and you're good to go.
While it's not traditional in Italian cooking, I like to add butter to this dish to give the sauce and extra silkiness. One tablespoon of butter with the olive oil at the start of the recipe, and another at the very end to finish the sauce. If you prefer, you can skip the butter at the end, but I love it!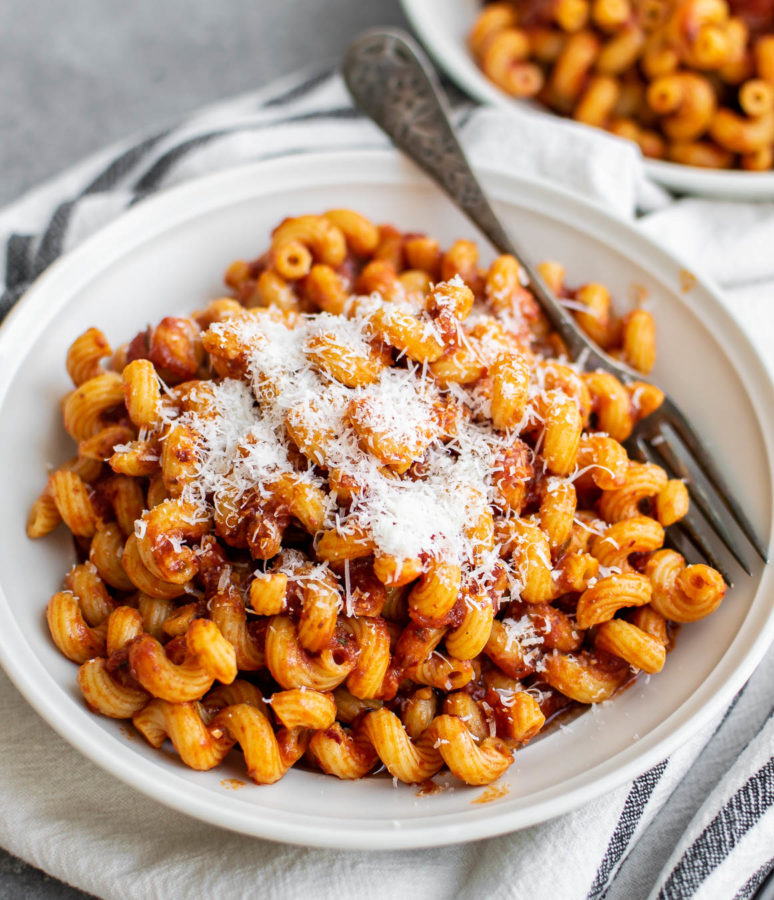 Grab yourself some 'Nduja and get to making this dish! I can't wait for you to try this one.
I only typed 'Nduja 9 times!
You might also like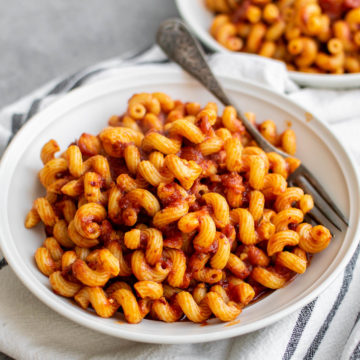 Pasta with 'Nduja Tomato Sauce
This Pasta with 'Nduja Tomato Sauce is hearty, spicy, and easy to make!
Ingredients
2

Tablespoons

olive oil

2

Tablespoons

unsalted butter

divided

½

Yellow onion

diced

2

Cloves garlic

minced

2

Sprigs fresh rosemary

minced

2

Tablespoons

tomato paste

4

Ounces

'Nduja

1

28 Ounce

Can whole peeled tomatoes in puree

crushed by hand

1

Pound

Cavatappi or other short pasta

Kosher salt

Pecorino Romano
Instructions
In a large skillet, heat the olive oil and half of the butter over medium high. Add the onions and cook until softened; about 5 minutes. Add the garlic and rosemary and cook for another minute. Add the tomato paste, stir and cook for another minute. Stir in the 'Nduja and cook until darkened in color and well combined; 3 minutes. Add the tomatoes, stir, and lower the heat to medium low. Simmer the sauce for 15-20 minutes, until thickened. Season with kosher salt to taste.

Meanwhile, bring a large pot of salted water to a boil. Cook the pasta to 1 minute less than package directions for al dente. Reserve 1 cup of the pasta water and drain.

Add the pasta to the sauce along with the rest of the butter and a splash of the reserved pasta water. Let the pasta finish cooking in the sauce, adding more pasta water as needed to loosen; 1-2 minutes

Serve with grated Pecorino Romano. Enjoy!