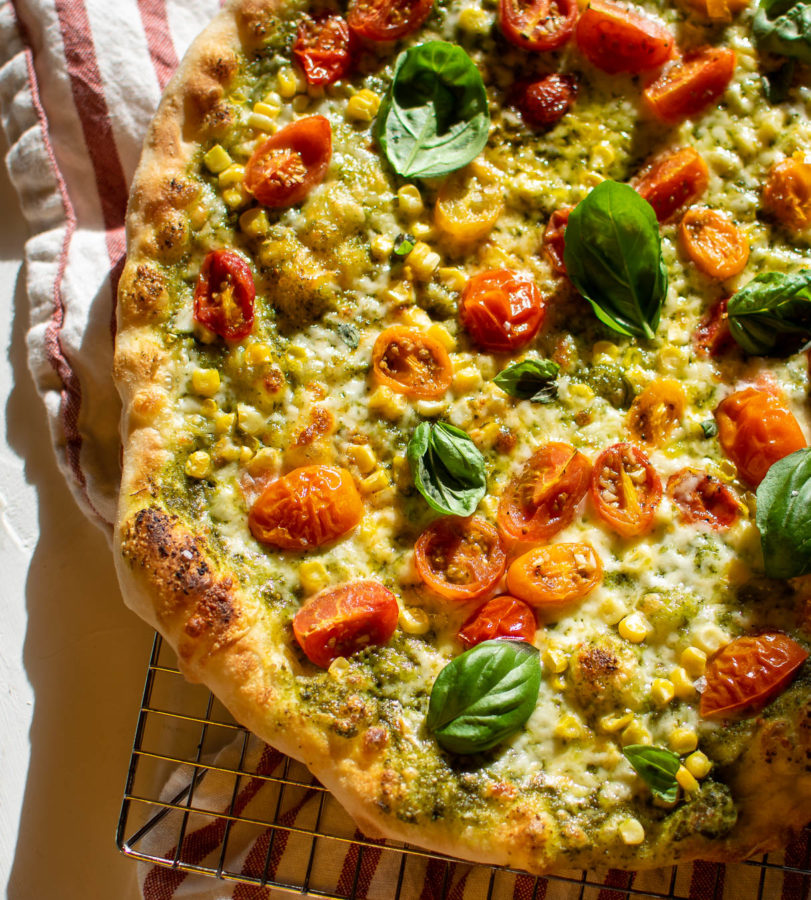 This pizza is packed with fresh summer flavors and couldn't be easier to make at home!
This is an easy, no fuss pizza with all the best flavors of summer--fresh corn, tomatoes and basil. The sweetness of the corn is perfect with the salty, garlicky marinated tomatoes. Speaking of those tomatoes, they might just be the most important part of this pizza!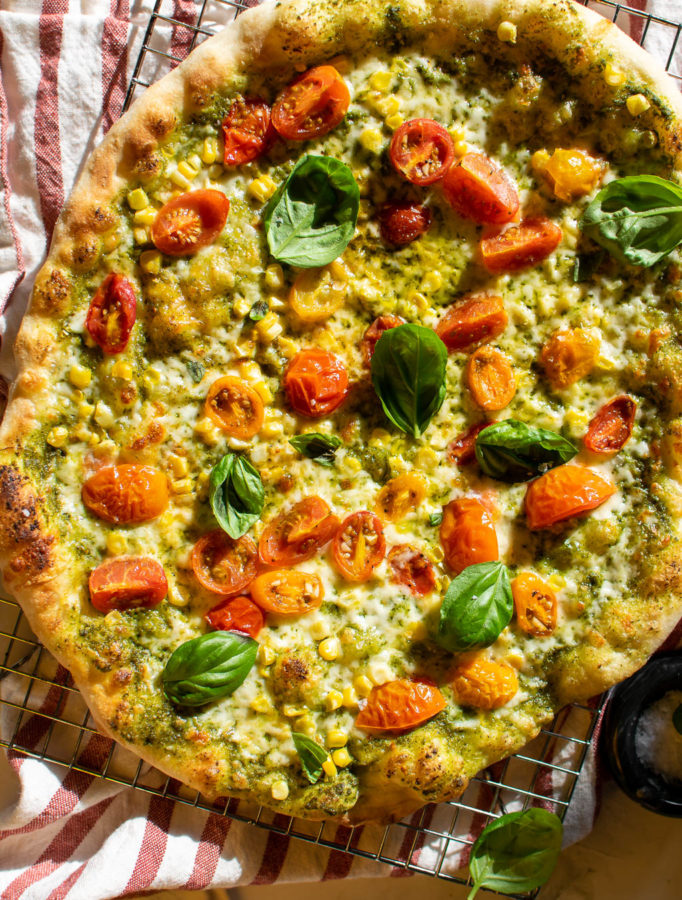 *This post may contain affiliate links. See disclosure for further details.
What are marinated tomatoes?
Marinated tomatoes are simply tomatoes that have been marinated! They sit in a bowl with olive oil, a splash of vinegar, garlic, salt and pepper, and become something magical. The salt will draw out the tomato juices, creating this tomato-y dressing with the oil and vinegar. It's so good! To make sure the pizza doesn't get soggy, you'll transfer the marinated tomatoes to the pizza with a slotted spoon. Don't toss that tomato marinade though! It makes an amazing salad dressing. If you have leftover marinated tomatoes, you can use them for a Caprese salad!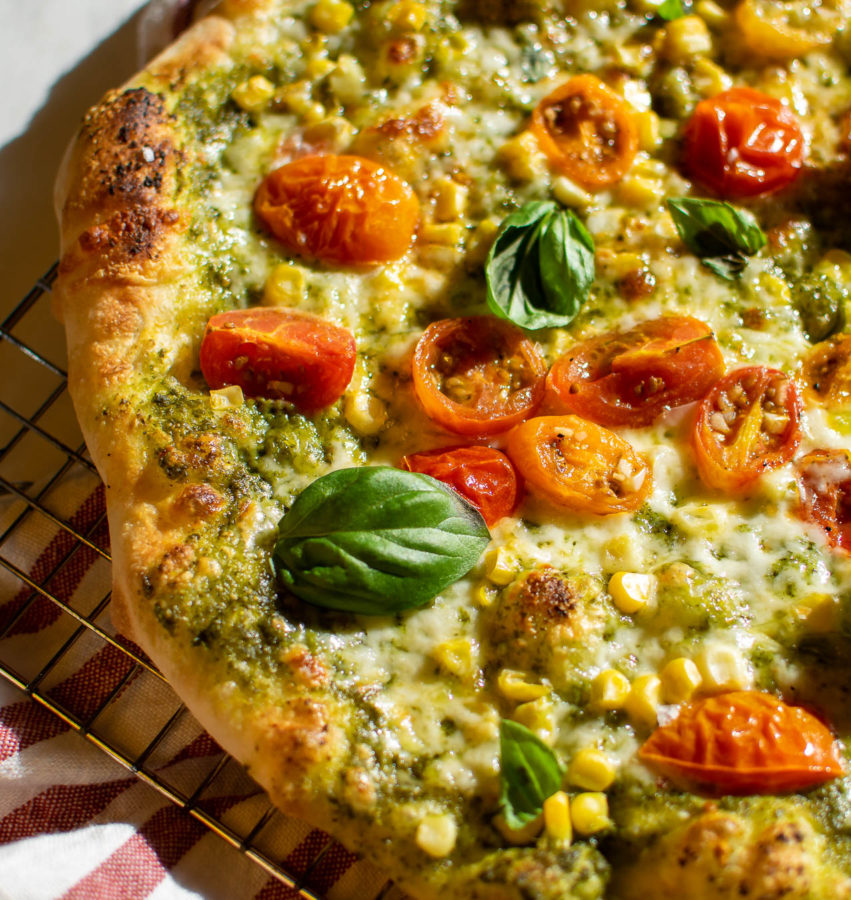 Store bought or homemade dough?
You can use store bought or homemade pizza dough for this recipe! I make my own pizza dough most of the time, but I have used store bought dough from time to time out of convenience.
For homemade dough, I have two go-to recipes that I use. The master dough from The Pizza Bible, and the Baking Steel 3 day dough. Both of these doughs take some planning ahead since they have a 2-3 day fermentation period, but if you plan it out, it's totally worth it! The flavor these doughs develop is amazing, and you can't find that at the store.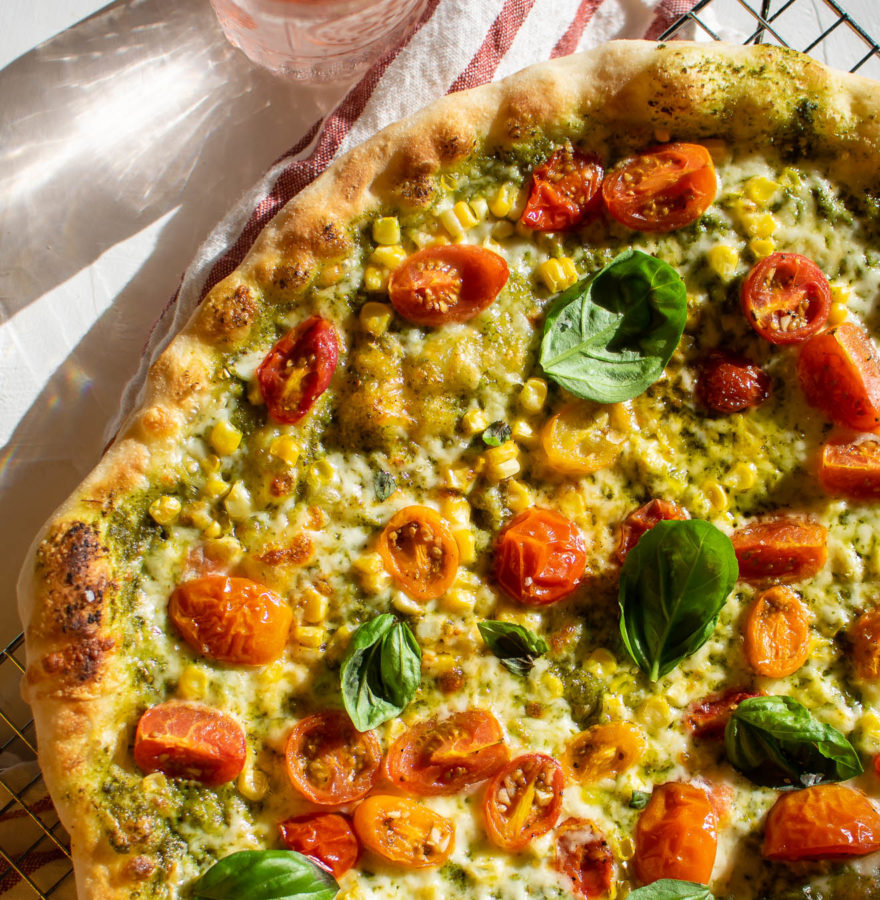 What equipment do i need to make pizza?
You don't need a bunch of fancy equipment to make a good pizza at home, but I'd be lying if I said there weren't are a few things that upped my pizza game by a lot. A lot, a lot.
Baking steel: I make all of my pizza on my baking steel and I am obsessed with it. I can't recommend it enough! If you don't have a baking steel (get one), you can use a pizza stone, or a baking sheet in a pinch. The baking steel will hold heat the best, giving you the closest results to a pizza oven, in your home oven.
Pizza peel: After you stretch the dough, you'll transfer it to your pizza peel. This is where you'll add the sauce and toppings and then you'll use the peel to transfer the pizza to the steel or stone. It's tough to get your dough into the oven without a peel. Gotta have one!
Food processor: Lately I've been liking making my pizza sauce in a food processor instead of by hand. You don't need a food processor, but if you want a less chunky consistency, it helps. I like this one.
Box Grater: It's important to grate your own cheese for pizza because pre-shredded cheeses have anti-caking agents in them and don't melt as well. You'll need a good box grater!
Digital Thermometer: The dough should be around 65 degrees when you stretch it, so you want to take it out of the refrigerator about 2 hours before. I always check the temperature of the dough with a digital thermometer. I have this one, but this is another good option.
Semolina flour: Okay so this isn't actually equipment, but it is important nonetheless! Dusting the peel with semolina will make sure the dough slides off easily and the semolina doesn't burn as easily as cornmeal. A bag will last you a really long time!
You can check out the Pizza Making section of my Amazon Storefront for more tools and ideas!
Marinated Tomato and Corn Pizza FAQ
Can I use frozen corn?
Yes, you can use frozen corn, but make sure to thaw and pat dry beforehand. You don't want wet corn to make the pizza soggy!
What pesto should I use?
You can use homemade or store bought pesto. I usually have a container of Trader Joe's vegan pesto (you gotta try it!) laying around, so I like to use that.
What pizza dough should I use?
You can use store bought or homemade pizza dough. I linked my favorite pizza dough recipes in the post.
Can I use shredded cheese from a bag?
You can... but you shouldn't! pre-grated/shredded cheeses have anti-caking agents in them to prevent them from clumping together in the bag which effects how they melt. I always recommend grating your own cheese for the best results!
Can I add meat?
Sure! This pizza would be great with pepperoni or add prosciutto after the bake.
You might also like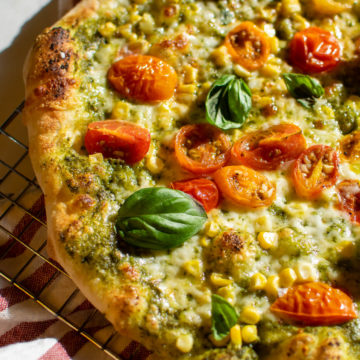 Marinated Tomato and Corn Pizza
This pizza is packed with fresh summer flavors and couldn't be easier to make at home!
Equipment
Baking Steel or Pizza Stone

Pizza Peel

Box grater
Ingredients
For the marinated tomatoes
1

Pint

cherry or grape tomatoes

halved

2

Tablespoons

olive oil

1

Teaspoon

red wine vinegar

1-2

Cloves garlic

minced

¼

Teaspoon

kosher salt

¼

Teaspoon

cracked black pepper

1

Sprig fresh basil
For the pizza
1

1lb

pizza dough

½

Cup

pesto

½

Cup

low moisture, whole milk mozzarella

grated by hand

½

Cup

fontina

grated by hand

½

Cup

raw corn kernels

Fresh basil

Flaky sea salt

such as Maldon, optional
Instructions
Place your baking steel, pizza stone or baking sheet in the oven. Pre heat the oven to 500 degrees. You want the baking steel to be pre heating at 500 degrees for an hour before cooking the pizza.

Add all of the ingredients for the marinated tomatoes to a bowl and stir. Cover and let sit for 30 minutes.

Dust a clean counter top or work surface with flour and a bit of semolina. Place your pizza dough on the surface and stretch it into a 12 inch circle. Dust the pizza peel with semolina and transfer the dough to the peel.

Spread the pesto on the dough followed by the cheese and corn. Using a slotted spoon or your fingers, arrange the marinated tomatoes evenly on top of the cheese, being careful not to get too much of the liquid on the pizza.

Transfer the dough from the pizza peel to the baking steel and cook for 3 minutes. Then, using the peel, rotate the pizza 180 degrees and cook for another 3 minutes. Finish the pizza under the broiler for 2 minutes.

Remove the pizza to a cooling rack for a few minutes so that the cheese can set before slicing. Top the pizza with fresh basil and a sprinkling of flaky sea salt (optional).