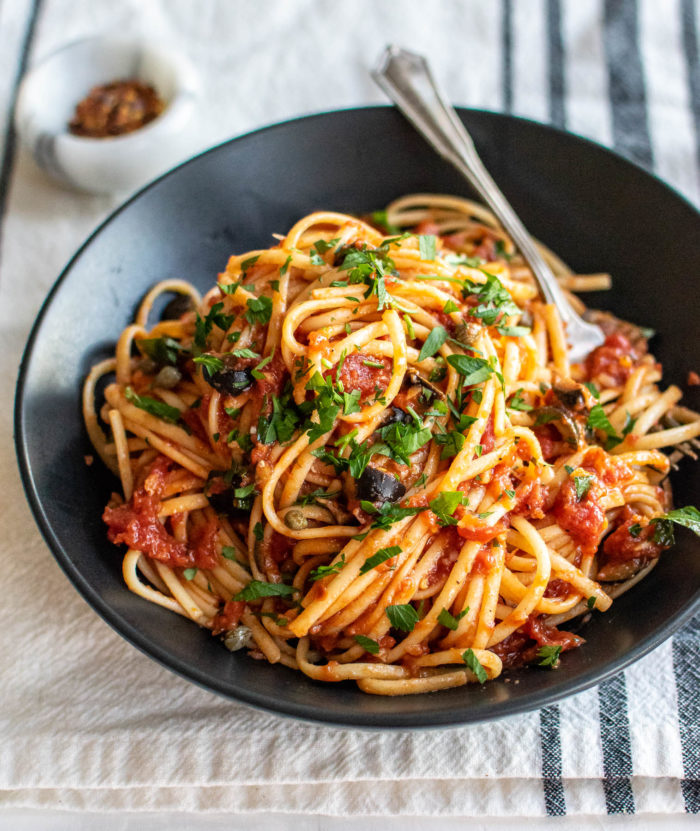 Puttanesca has got to be one of my favorite pasta sauces. It's full of salty, briny flavors and you probably already have all of the ingredients! This Linguine alla Puttanesca is the ultimate pantry pasta—ready in no time and perfect for any night of the week.
In Italian, Linguine alla Puttanesca would roughly translate to "Whore's linguine". So there's that. There are a number of different stories for how exactly that name came to be, but there are two things we know for sure about this pasta. One, It's delicious. And two, It has something to do with prostitution. But that's neither here nor there—just a fun little tidbit for ya!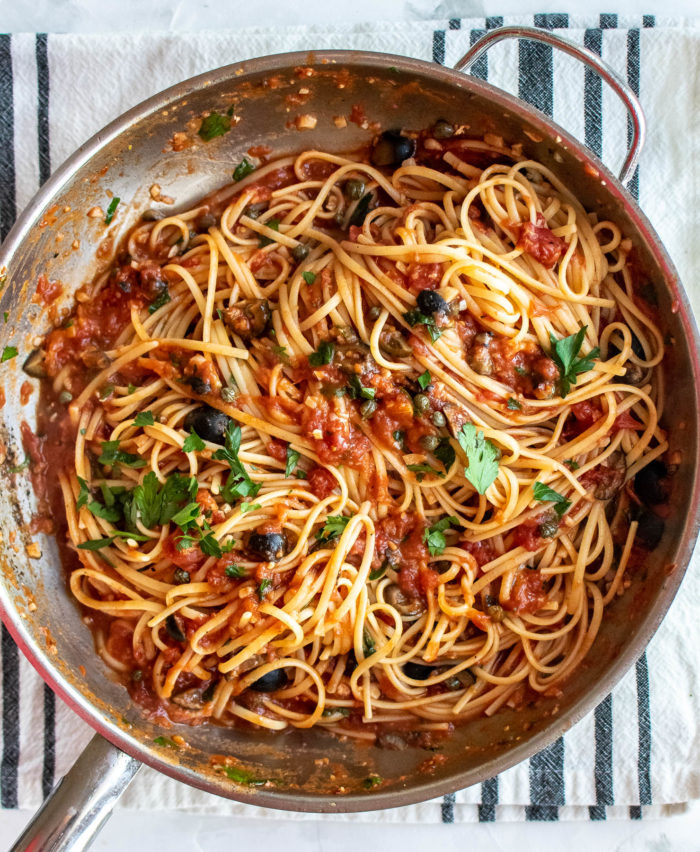 *This post may contain affiliate links. See disclosure for further details.
My favorite thing about this pasta is knowing I can make it at any time. Because I always have all of the ingredients in my house, I know I'll be able to make it at a moment's notice! Like a little pasta security blanket, amiright? Most of the ingredients are pantry items, but you'll need fresh garlic and parsley too. If you're not in the habit of keeping fresh parsley on hand, might I suggest a change of your ways? Parsley is by far my favorite herb for adding a little brightness to all kinds of dishes. I use it daily! That's flat leaf, Italian parsley—not curly.
I like to keep a well stocked pantry at all times (mostly for pasta emergencies) and always have tons of dried pasta and canned tomatoes. As well as an assortment of jarred vegetables like artichokes, olives, capers, and peppers, and a selection of tinned fish such as tuna, sardines, clams, and anchovies. I highly recommend packing your pantry with all of the aforementioned tasty delights. You won't regret it.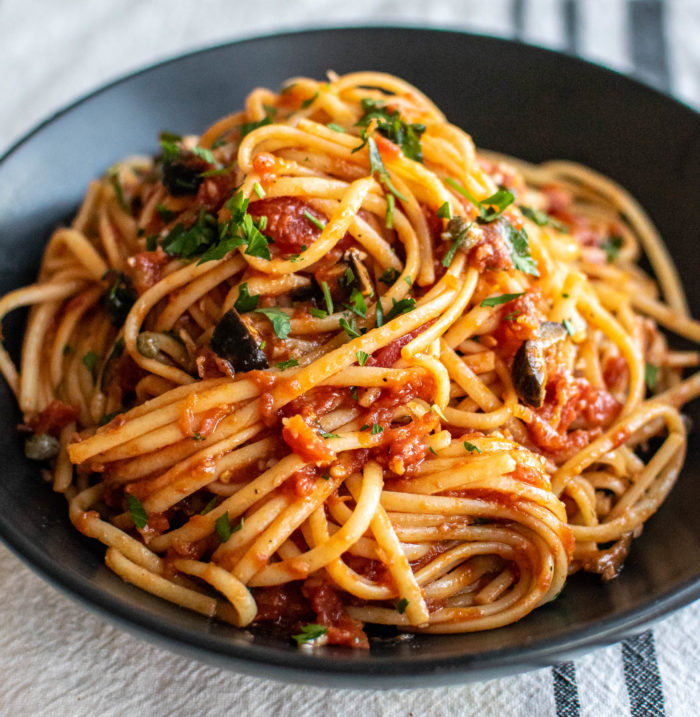 This is truly one of the easiest recipes to make and, unless something goes terribly wrong (but how could it?), the pasta will be on your plate in under 30 minutes.
First you'll heat the olive oil in a large skillet and add the anchovies. Stir the anchovies until they've almost melted into the oil. Then add the garlic and red pepper flakes. I usually like to use ½ Teaspoon red pepper flakes, but if you want a spicier pasta, use 1 Teaspoon. If you're unsure, start with ½ and add more after you've tasted the sauce at the end. After you've cooked the garlic for just about a minute (don't let it burn!) you'll add the olives and capers, stir, and then add the tomatoes. I like to give the olives a rough chop so they distribute more evenly in the sauce but you can keep them whole if you like. I usually use whole tomatoes and crush them by hand in a bowl before adding them to the sauce. Whole tomatoes tend to have more flavor than crushed, but crushed or chopped will work too! Once the tomatoes are in, season the sauce with salt and pepper and let it simmer for a bit. Remember, there are lots of salty ingredients in the sauce already so go easy on the salt!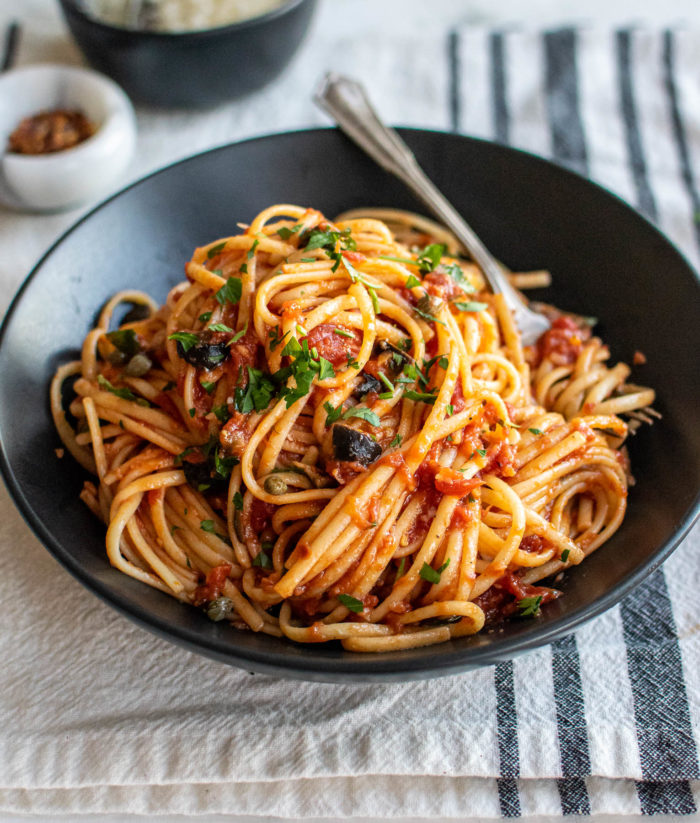 I like using linguine for the pasta but spaghetti will work too. Cook the pasta to just shy of al dente and let it finish cooking in the sauce. Make sure to reserve some pasta water before draining the pasta so you can use it to loosen the sauce as needed. At this point you can add a knob of butter for extra silkiness if you're feeling crazy. Toss it all together until each strand of linguine is perfectly coated with sauce. Plate it up, parsley it up, serve it up.
You can serve Puttanesca with cheese if you want (I won't rat you out) but it's traditionally served without. Most of the time I'm perfectly content with some fresh parsley on top, but if I'm feeling cheesy, a little parm or pecorino are delicious too.
So there you have it, Puttanesca, the perfect pantry pasta plus parsley.
You might also like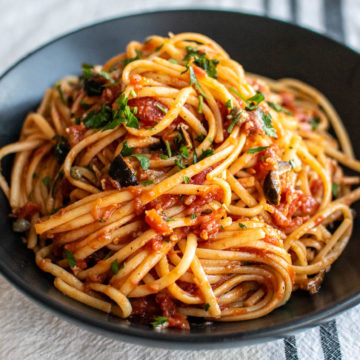 Linguine alla Puttanesca
This Linguine alla Puttanesca is the ultimate pantry pasta—ready in no time and perfect for any night of the week.
Ingredients
3

Tablespoons

olive oil

6

Anchovy filets

4

Cloves garlic

minced

½-1

Teaspoon

red pepper flakes

½

Cup

black olives

pitted and roughly chopped

2

Tablespoons

capers

drained

1

28 Ounce

can whole tomatoes

crushed by hand

1

Pound

linguine or spaghetti

Salt and pepper

to taste

Fresh Italian parsley

roughly chopped

Pecorino Romano or Parmigiano Reggiano

grated (optional)

1

Tablespoon

unsalted butter

(optional)
Instructions
Heat the olive oil in a large skillet over medium heat. Add the anchovies and break them up with a wooden spoon until they have mostly melted into the oil. Add the garlic and red pepper flakes and cook until the garlic is fragrant and starting to turn golden at the edges; 1 minute. Add the olive and capers. Add the crushed tomatoes along with their juices and stir. Reduce the heat to medium low and let the sauce simmer until thickened, stirring occasionally; 10-15 minutes. Season with salt and pepper to taste.

Meanwhile, bring a large pot of water to a boil. Once boiling, salt the water. Cook the pasta to 2 minutes less than package directions for "al dente." Reserve 1 cup of pasta water and drain. Add the pasta to the skillet (along with the butter if using) and toss to coat, adding pasta water as needed to loosen the sauce.

Garnish with plenty of fresh parsley. Serve with cheese, if using.