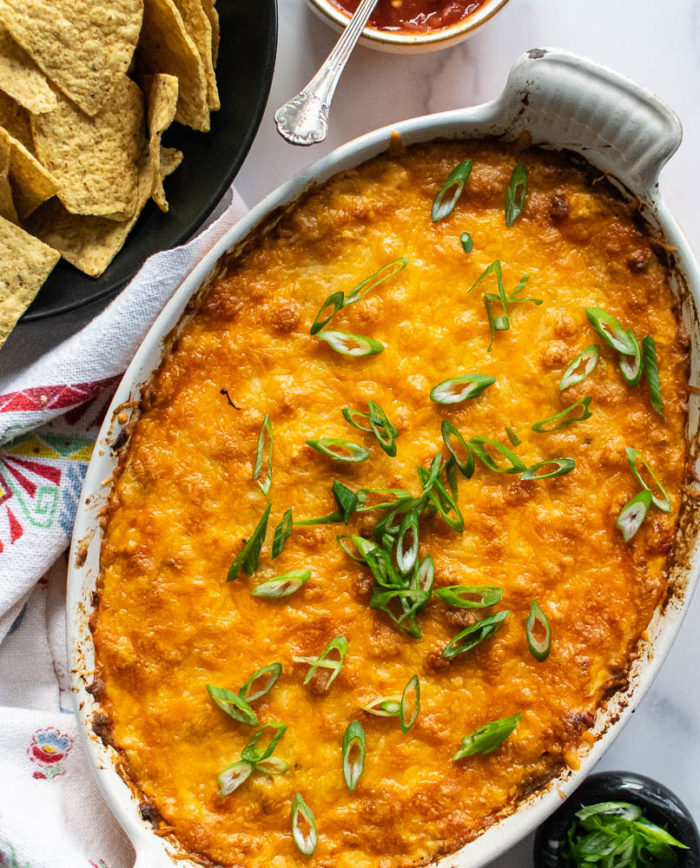 This Mexican Shredded Chicken Dip is always a crowd pleaser! Shredded chicken, chiles, salsa and tons of cheese all baked together to bubbly, melted perfection. I'm actually drooling.
As much as it pains me to say it, this dip is perfect for game day. I can't say that I'm a big football fan, but man do I love me some football food. Or, if you're more like me, this dip is also perfect for binge watching Real Housewives! I'm thinking about re-watching RHOC again from the beginning...thoughts?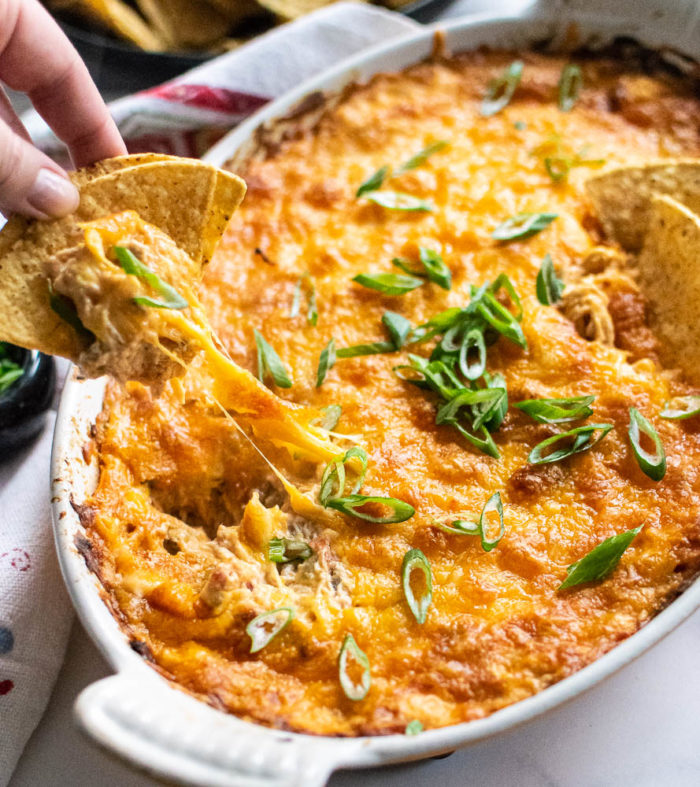 *This post may contain affiliate links. See disclosure for further details.
But anyway, let's get back to the dip. It's pretty much the easiest thing to make. Like ever. If you have a baking dish and an oven, you can make this dip. You just mix everything together and bake it for 20 minutes. Then—and this is important—turn your broiler on, and broil it for about 5 minutes. When the top is all brown and bubbly, then it's ready. Just be sure to keep an eye on it for the last few minutes, the broiler can get aggressive!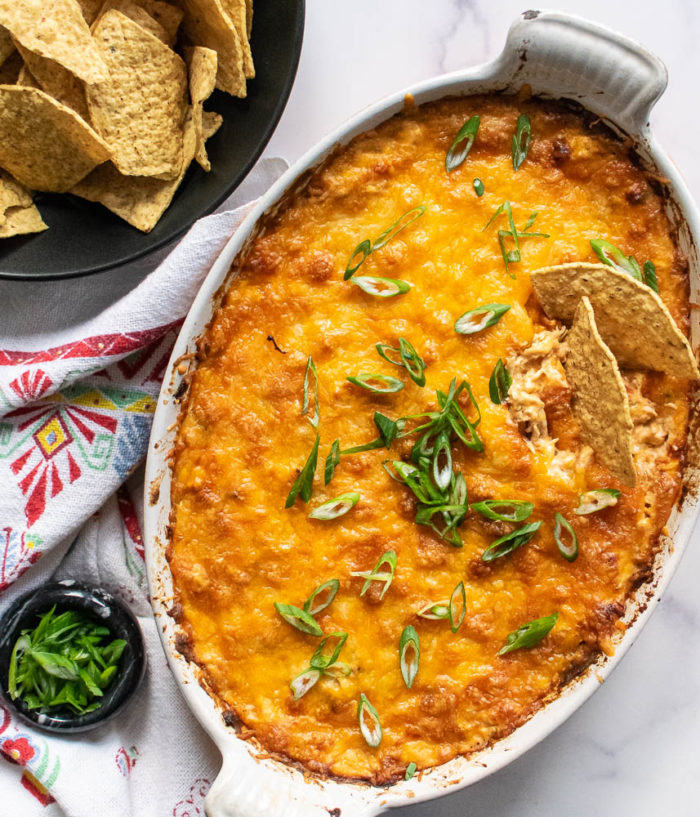 If you're planning on bringing this dip to a party, you could mix everything up and then finish it off in the oven when you get there. You could also make it at home, cover it with foil, and it'll still be delicious when you get there even if it's not hot out of the oven! This stuff is tasty hot, room temperature, even cold!
I mean, it's cheese, salsa, and chicken—how could it not be delicious?!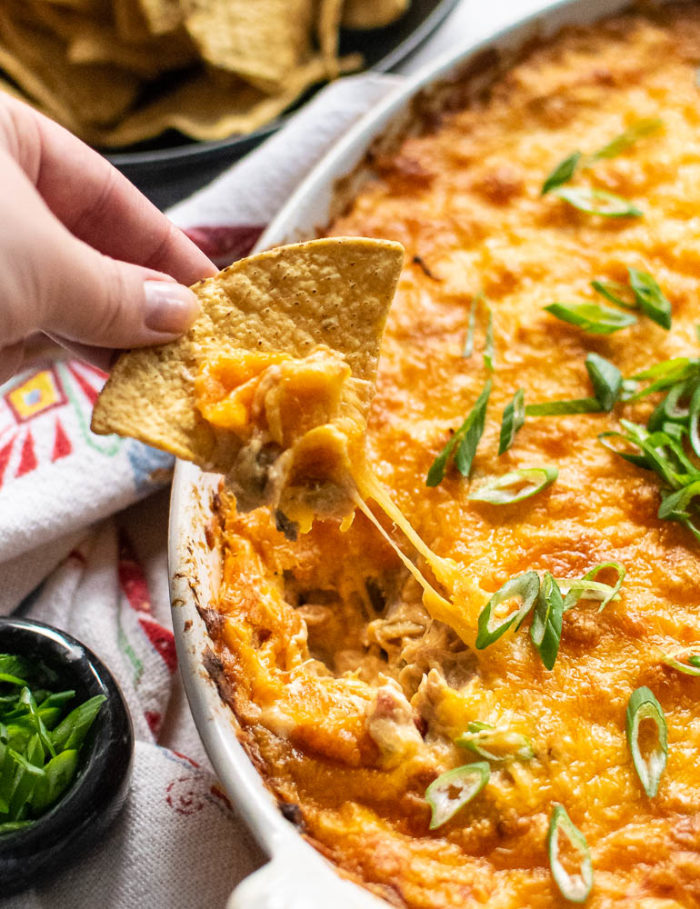 For the salsa, you can use whatever kind is your favorite! Spicy, mild, chunky, whatever! I usually go for a medium, chunky salsa. Sometimes I'll mix it up and do a combo of hot and mild. It usually just depends on what we have laying around. Spoiler alert: there's always some kind of salsa laying around here.
For convenience, I love using rotisserie chicken for this dip. I figure when it comes to a dip that's going to be devoured in minutes, it's perfectly acceptable to use a shortcut. Grab a roto-chick and shred it up! If you have any leftover chicken in the fridge, you could use that too.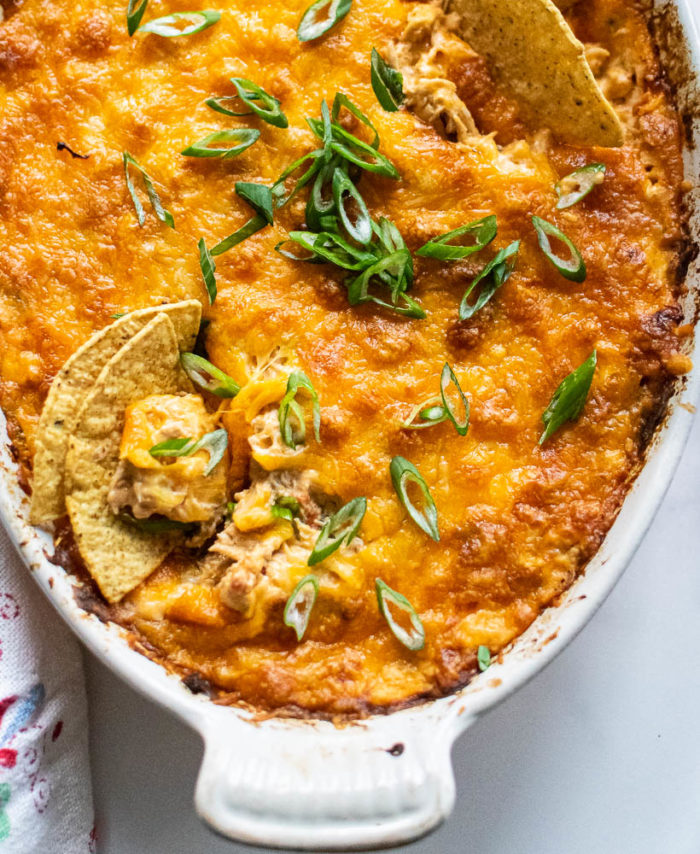 Same thing goes for the cheese, use whatever you like best! This recipe uses 4 cups of cheese (about a bag and a half, if we're talking 8 ounce bags) and I usually use a combo of Mexican blend and cheddar. Half of the cheese goes into the dip, and the other half is for sprinkling over the top to get that crispy, cheesy crust. I'm not going to lie, if not for that crust, this dip would look like a hot mess (Which is literally is, I guess?) so make sure to spread the cheese evenly over the top so that you get an even crust. At least give the dip a chance to look pretty for a second before people dig into it!
TBH, nobody will care what it looks like once they start eating it. It's sooooo delicious.
Bring this dip to the next party you're invited to and become everyone's best friend! Or, do like I do and eat this while re-watching old episodes of RHOC. Whatever you're into.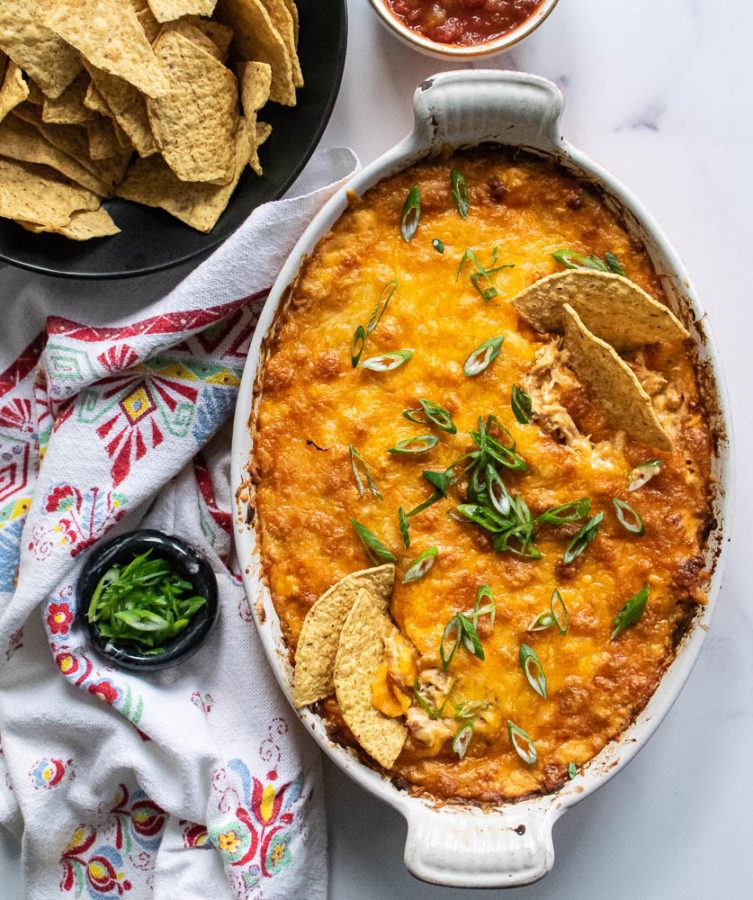 I hope you love this dip as much as I do!
You might also like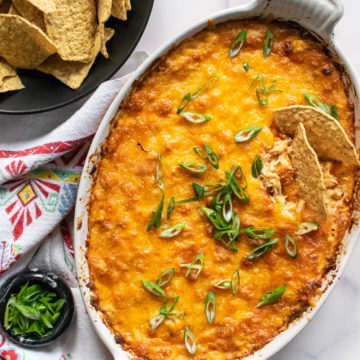 Mexican Shredded Chicken Dip
This Mexican Shredded Chicken Dip is always a crowd pleaser! Shredded chicken, chiles, salsa and tons of cheese all baked together to bubbly, melted perfection.
Ingredients
4

Cups

rotisserie chicken

shredded

4

Cups

Mexican shredded cheese

divided

1

8 Ounce

brick cream cheese

softened

1

Cup

salsa

1

4 Ounce

can green chiles

3

Scallions

green and light green parts only, thinly sliced

Tortilla chips

for serving
Instructions
Pre heat oven to 350 degrees.

Mix the cream cheese, salsa, green chiles, half of the scallions and half of the cheese together in a bowl. Fold in the chicken. Pour the entire mixture into a baking dish and top with the remaining cheese. Bake for 20 minutes then broil for 5 minutes, until cheese is bubbly and browned in spots.

Scatter the rest of the scallions over the top and serve with tortilla chips.