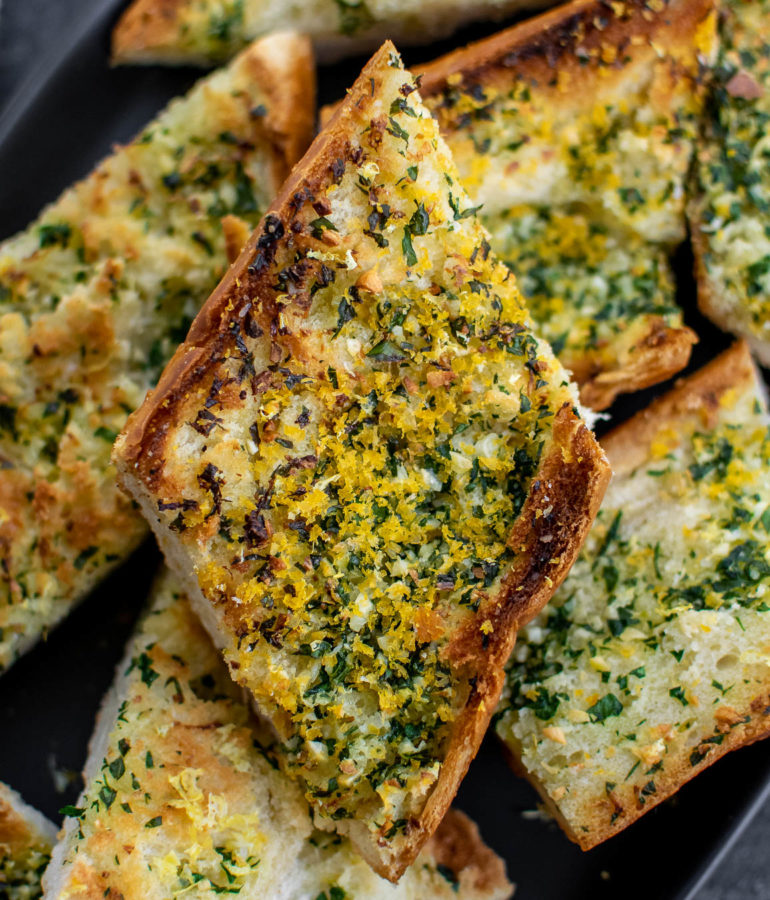 Step up your garlic bread game with bottarga! This is a simple recipe for flavor packed garlic bread that's topped with bottarga, sometimes known as "Sardinian caviar."
If you've never tried bottarga, this recipe is an easy and delicious way to get acclimated! This garlic bread makes a great appetizer or side dish and would be a perfect addition to your Feast of the Seven Fishes line up!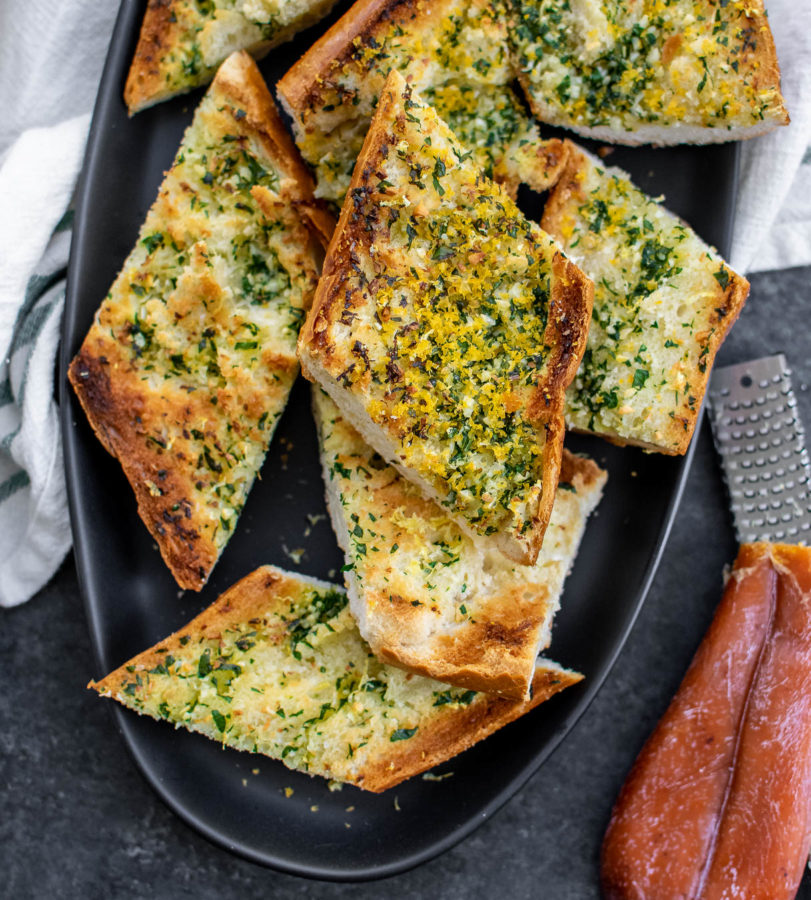 *This post may contain affiliate links. See disclosure for further details.
What is bottarga?
Bottarga is salted and cured fish roe. I know that doesn't exactly sound appetizing, but it's truly delicious. Basically, the roe sac is removed from the fish, salted and pressed. It is sold in whole lobes (see photo above) or pre-grated. I recommend buying whole lobes as opposed to grated, as it'll be more fresh and have a better texture. Bottarga is most commonly made from mullet roe and tuna roe. Mullet roe bottarga will be a bit milder in flavor and lighter colored. Mullet roe bottarga is what I used in this recipe!
Mullet roe bottarga is surprisingly mild flavored! It's creamy, salty and a bit sweet with only a subtle fish flavor. The texture reminds me of cured egg yolk! If you love seafood, you'll love bottarga.
Storing bottarga
Bottarga can be a bit pricey, so making sure to store it properly is a must! Luckily since it's cured, bottarga will last quite a long time in the refrigerator once opened. Bottarga is usually wrapped in a wax coating to preserve it. When you're ready to use the bottarga, peel back the wax on the amount that you plan to use, not the whole lobe. Then wrap the open side of the lobe tightly in plastic wrap and store in the fridge for months! Unopened bottarga will be packages in vacuum sealed plastic and can be stored in the pantry for a year.
You can find bottarga in some specialty markets, or buy it on amazon. I have purchased this mullet fish bottarga many times and love it!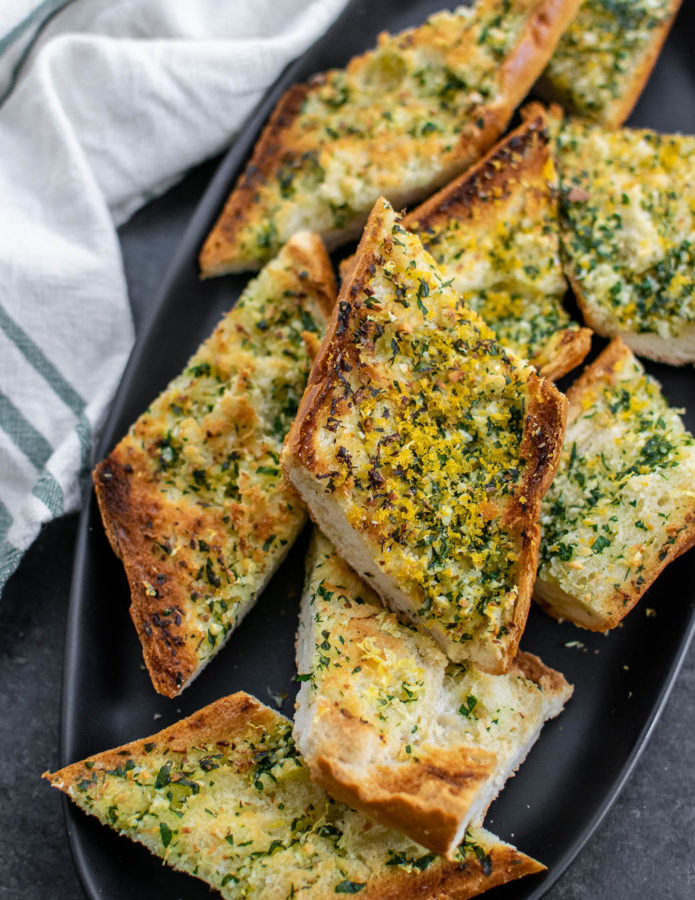 Can I make this without bottarga?
Of course! Just leave the bottarga out at the end. The garlic bread will still be delicious without it. I hope you give it a try though!
Does this garlic bread have cheese?
Nope! While many garlic bread recipes include cheese, this one does not. There's no need for cheese when you've got bottarga!
Can I make this recipe in advance?
You can prepare the butter mixture in advance, but this garlic bread is best when fresh from the oven!
You might also like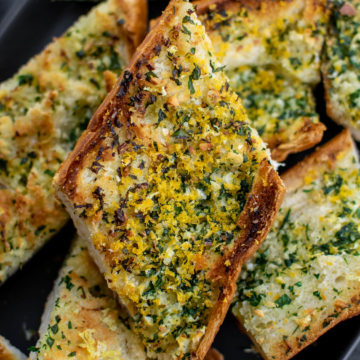 Garlic Bread with Bottarga
This is a simple recipe for flavor packed garlic bread that's topped with bottarga, sometimes known as "Sardinian caviar."
Ingredients
1

Loaf French or Italian bread

8

Tablespoons

unsalted butter

(1 stick), softened

5

Cloves garlic

finely minced

1

Tablespoon

lemon zest

plus more for serving

¼

Teaspoon

kosher salt

Fresh Italian flat leaf parsley

chopped, to taste

Bottarga

grated, for serving
Instructions
Pre heat oven to 350 degrees and prepare a large baking sheet.

Add the softened butter, lemon zest, garlic, salt and parsley in a bowl and stir to combine. Taste and adjust salt to your preference, add more parsley etc.

Cut the bread in half longways. Spread the butter mixture over the cut sides of the bread, all the way to the edges.

Bake the bread for 10-12 minutes. Broil the bread for 2-3 minutes, until golden brown and crisp.

Grate more lemon zest over the bread followed by plenty of bottarga.

Slice the bread and serve!