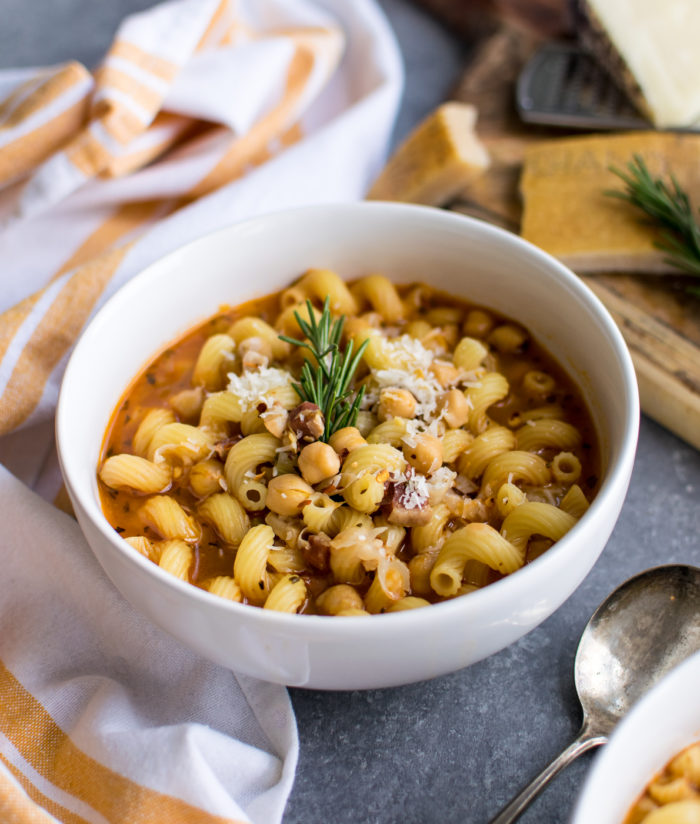 The second the weather starts cooling down, I immediately start craving a big ol' bowl of Pasta e Fagioli. Pasta e Fagioli, which means "pasta and beans" in Italian, is one of my favorite and most comforting dishes out there! Pasta, beans, pancetta and a super flavorful broth all topped with cheese—what's more cozy than that?
My dad has been making this for my family for as long as I can remember. The recipe he uses is based on the one his dad, my Papa, made. I've made only the tiniest tweaks to my dad's recipe here.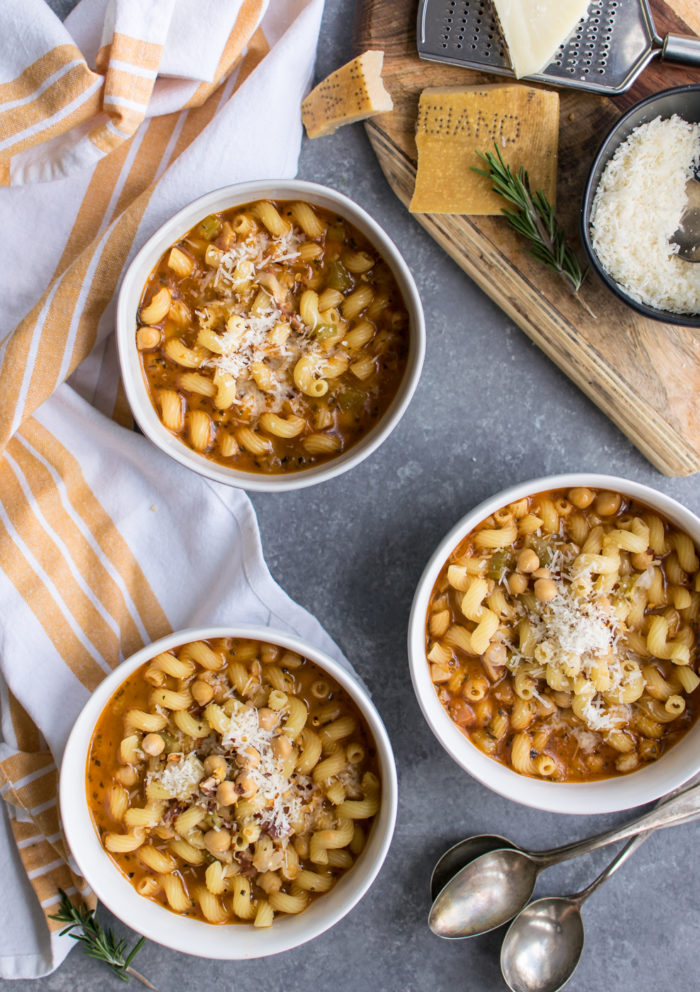 *This post may contain affiliate links. See disclosure for further details.
If you googled "Pasta e Fagioli" you'd see that there are a lot, I mean a lot a lot, of variations of this dish. Some variations use carrots and celery and we only use celery. Some call for sausage and we use pancetta. Most of these differences happen because recipes vary from region to region in Italy (like in this recipe for Bucatini all'Amarticiana) and are legitimate variations! Then there are the recipes that are modeled after what you'll find at a particular chain restaurant that claims to be Italian. Let's just say, this is...not that.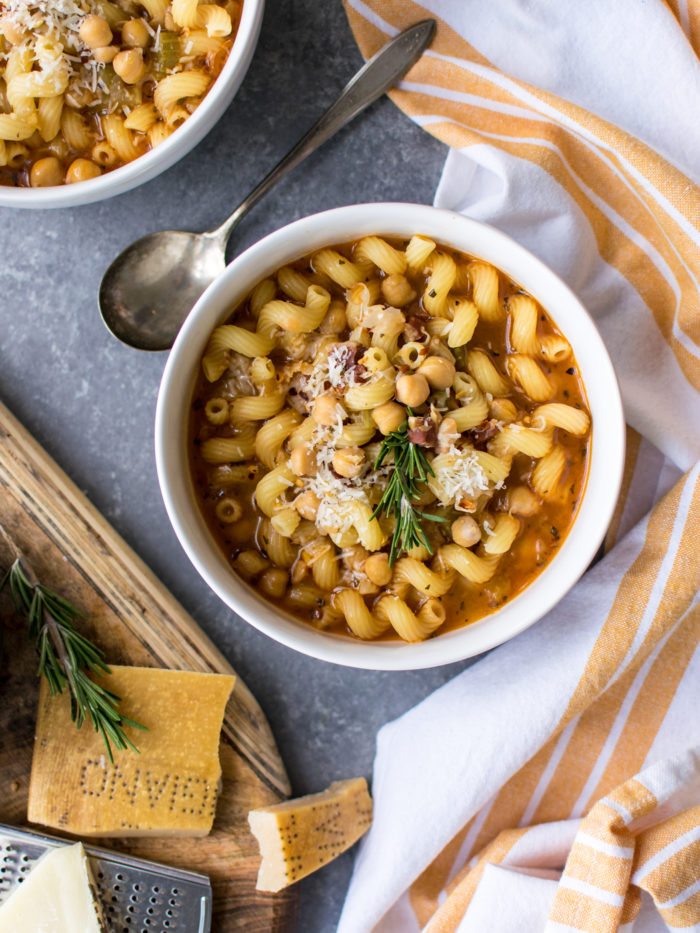 One of the best parts of this dish is that you probably already have a lot of the ingredients in your kitchen. Since this is one of Italy's "peasant" dishes, It's made with humble ingredients like beans, broth, onions and celery. Then of course, there's pancetta, rosemary and cheese to make it extra delicious. One of my favorite tricks for getting the broth to be so flavorful is adding a Parmesan rind into the broth to simmer. If you don't have any rinds laying around, that's fine—but you should totally start saving them from now on—some grocery stores sell just the rinds! At least I know Whole Foods does! Just make sure you're buying the rinds that say "Parmigiano Reggiano" so you know they're the real deal.
Pasta e Fagioli can be made with various types of beans. Some people like to use mixed beans and some prefer cannellini. We use chickpeas in our recipe. I tested the recipe with cannellini instead to see if I preferred that but, even though it was still delicious, the cannellini beans didn't hold up as well in the broth as the chickpeas do. We'll stick with my Papa on this one and keep using chickpeas!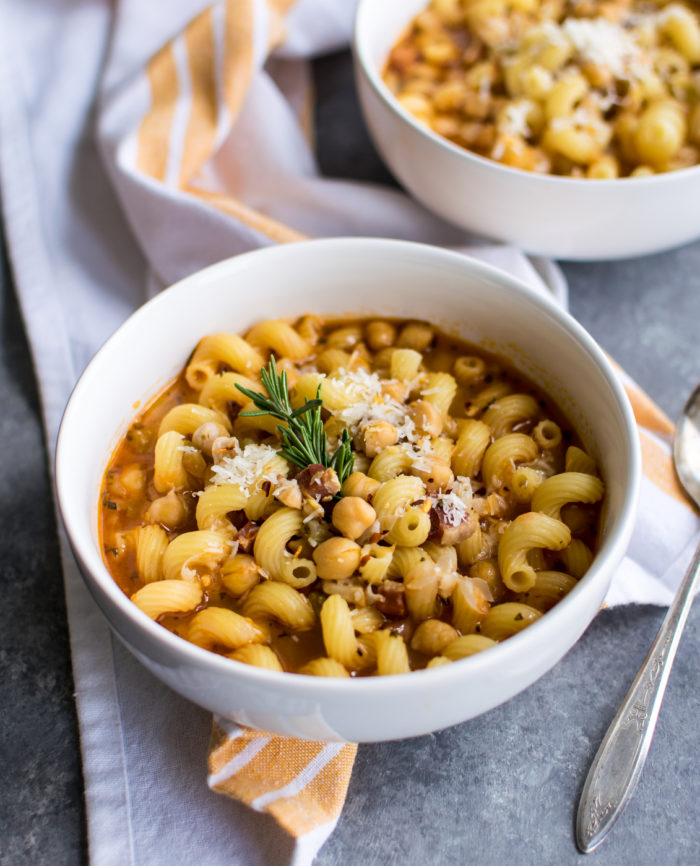 I like to cook the pasta separately for this recipe instead of cooking it directly in the soup like some recipes call for. It's easier to control how much pasta you'd like for your serving and, most importantly, it's easier to store for leftovers. If you were to store the pasta and broth together, you'd end up with a soggy mess the next day and nobody wants that! So the easiest way to go about it is to cook the pasta separately, toss it with a little olive oil so it doesn't stick together, and then add the amount you want to your bowl. Supes easy. Or should I say... soups easy?! Okay, sorry about that joke. That was ridiculous.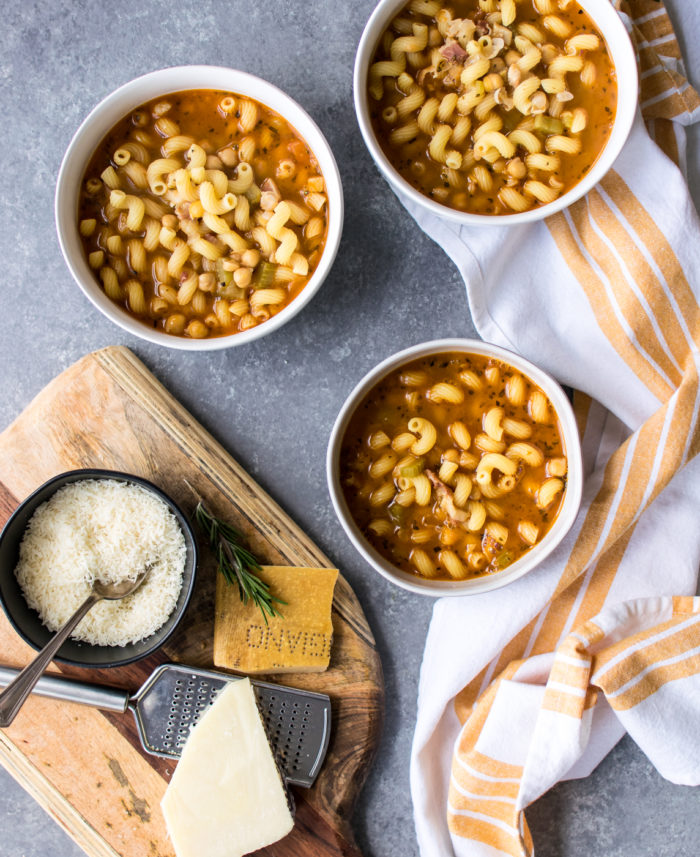 Anyway, I can't wait to hear what you think of my family's version of Pasta e Fagioli! Serve it with this Chicory Salad and a glass of wine. Perfect dinner!
You might also like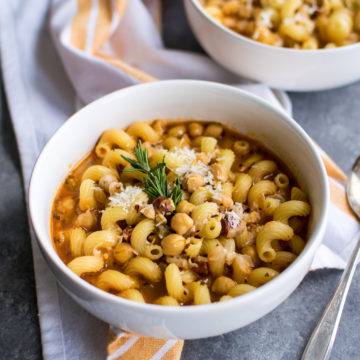 Pasta e Fagioli
Pasta, beans, pancetta and a super flavorful broth all topped with cheese—what's more cozy than that?
Ingredients
3

Tablespoons

olive oil

1

5 Ounce

package diced pancetta

1

Yellow onion

diced

3

Stalks celery

diced

3

Cloves garlic

minced

¼

Teaspoon

red pepper flakes

2

Sprigs fresh rosemary

minced

2

Tablespoons

tomato paste

8

Cups

chicken broth

1

Bay leaf

Parmigiano Reggiano rind

(optional)

2

15 Ounce

cans chickpeas

drained

¾-1

Pound

cavatappi, fusilli, or rotini

Parmigiano Reggiano

grated

Pecorino Romano

grated

Salt and pepper

to taste
Instructions
In a large pot or dutch oven, heat the olive oil over medium heat. Add the pancetta and cook until the fat has rendered and the pancetta has started to crisp; about 5 minutes. Add the onion, celery, garlic, red pepper and rosemary and season with salt and pepper. Cook until soft; about 10 minutes. Add the tomato paste, stir and cook until color darkens; 5 minutes. Add the chicken broth, bay leaf, and parmesan rind (if using) stir and bring to a boil. Lower the heat and simmer for 30 minutes, stirring occasionally. Remove the parmesan rind.

Drain and rinse the chickpeas, add them to the soup and cook until slightly soft; about 15 minutes. With a slotted spoon, remove about ¼ of the chickpeas to a plate and smash with a fork. Return the smashed chickpeas to the soup. Taste the soup and adjust for seasoning.

Meanwhile, bring a large pot of salted water to a boil. Cook pasta to one minute less than package directions for "al dente".

Divide pasta between bowls and ladle the soup over the top. Serve with grated cheeses.