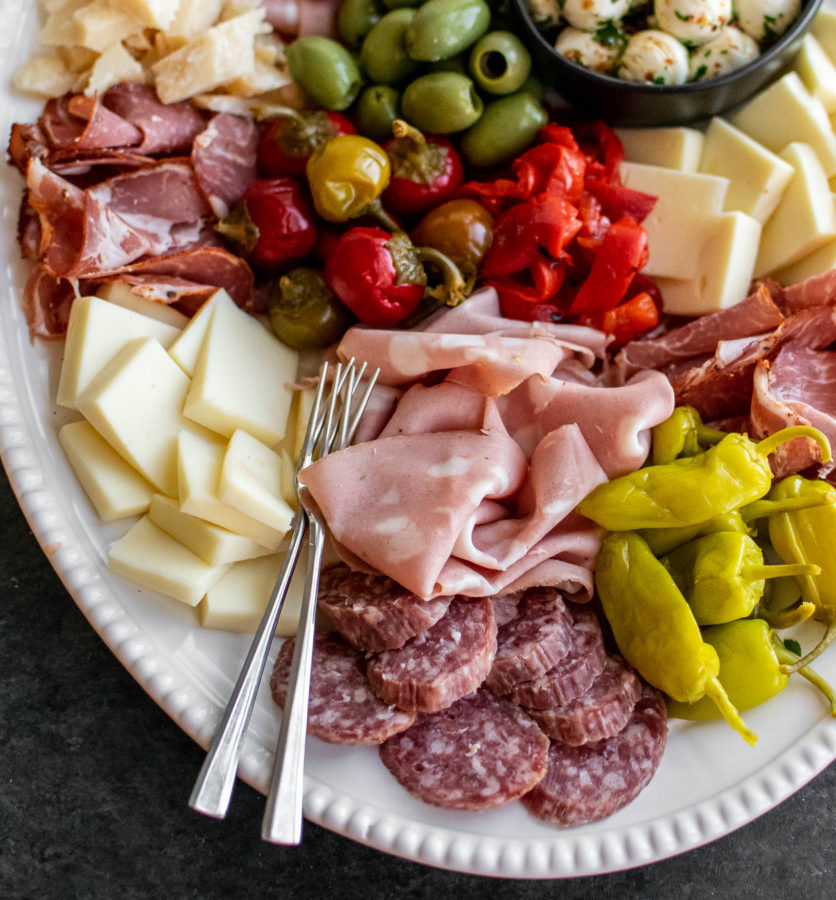 There's nothing I love more than a good antipasto platter! Antipasto means "before the meal" in Italian and can be any type of small meal, or appetizer, before the main dish. Typically, it ends up being a platter of cured meats, cheeses, and marinated vegetables.
The fun thing about an antipasto platter is that it can be different every time! There are no set rules and no exact measurements. In this post, I'll share my tips for creating the best Italian Antipasto Platter!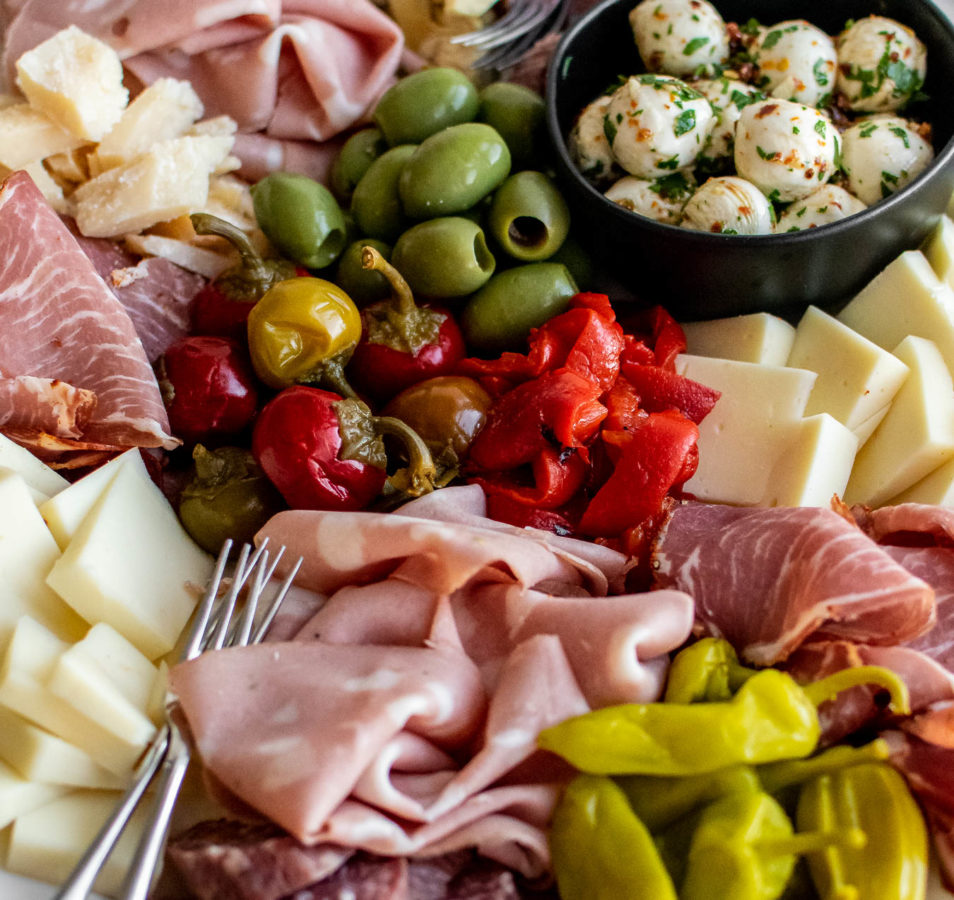 *This post may contain affiliate links. See disclosure for further details.
The key to a great antipasto platter is to choose meats, cheeses and vegetables that have different tastes and textures, but that all still go together to create one cohesive platter. That sounds complicated, but it's truly not!
Let's start with the meats. For this particular platter, I chose mortadella, red wine salami, and hot capicola. These three meats differ in texture, taste, and heat level. Other great meat options are bresaola, soppressata and prosciutto. I usually stick with three to four meats, but if I were making a platter for a larger amount of people… I might just include them all! Choose whichever meats you like best, but keep the texture/flavor rule in mind!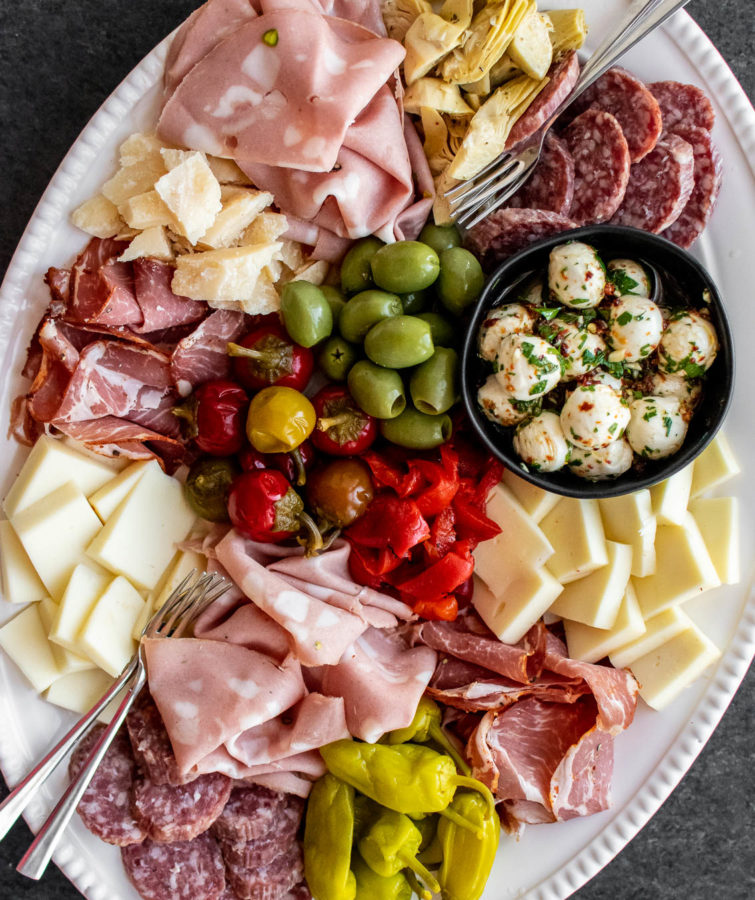 Sharp provolone and fresh mozzarella are classic cheese choices for an antipasto platter. In addition to those two, I love to include chunks of parmigiano reggiano. The texture and nutty flavor is so different from the other cheeses, it's a fun change of pace! Plus, who doesn't love parm?
If I'm feeling fancy, I like to quickly marinate the fresh mozzarella in olive oil, fresh parsley, red pepper flakes and chopped sun dried tomatoes. This is totally optional, but really tasty!
Without a doubt, the best part about putting all of these ingredients on the same platter, is that they all help each other taste better! The juices from the pickled and marinated veggies almost "dress" the meats and cheeses. Yum! For this reason, I don't keep any crackers or bread on the platter. In my opinion, an antipasto platter doesn't need crackers or bread, but if you want to include those, I suggest serving them in a bowl on the side so that they don't get soggy!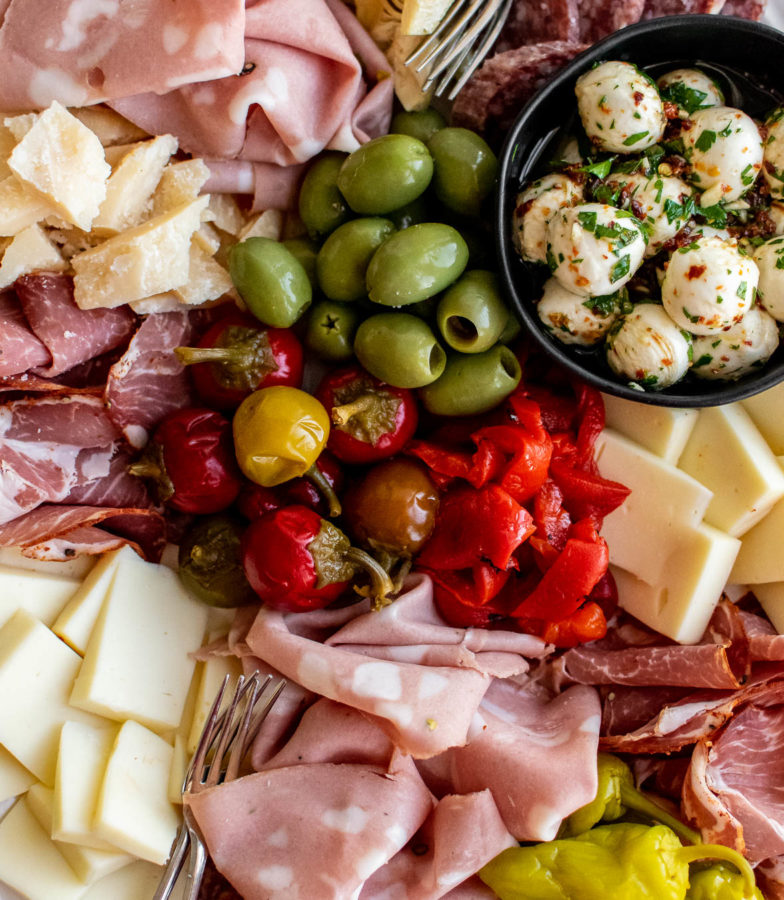 To arrange the platter, I like to keep things simple. Just make piles! Seriously, that's it. This is an antipasto platter that's meant to be eaten, no need to shape the meats and cheeses into roses and what not. Cut the provolone and parmigiano into bite sized pieces and pile them up. Pile the meats in a way that's easy for people to grab a piece. Try to place piles of the same meats across the platter from each other so that people can grab them from different sides. Same thing with the veggies, just pile them up! The only thing I would suggest separating are things like marinated mozzarella (you don't want the marinade running away from the mozzarella!) and super hot peppers. Other than that it's literally just piles. Pretty piles.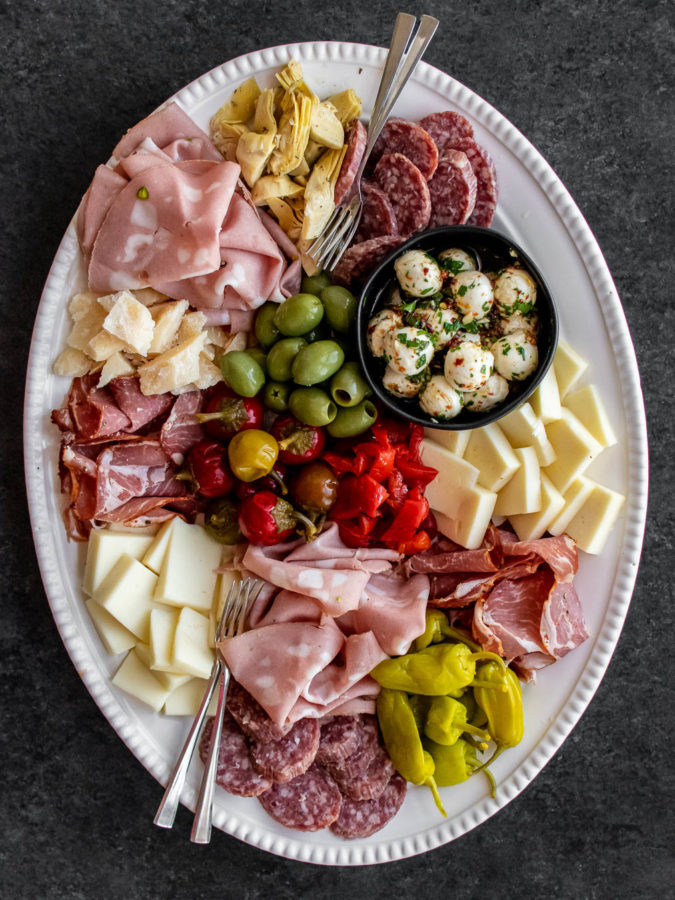 Make sure to have some serving utensils available so that people don't have to use their hands. Appetizer plates and napkins are a must too! Keep an eye on the platter and re-fill as necessary.
And that's it! The easiest, prettiest, and tastiest way to start a meal or entertain. More antipasto platters please!
You might also like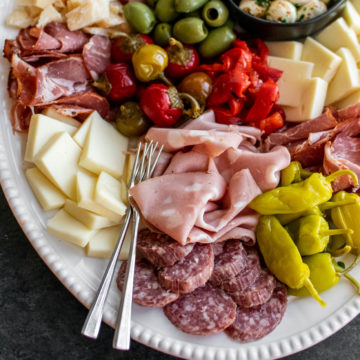 Italian Antipasto Platter
The fun thing about an antipasto platter is that it can be different every time! There are no set rules and no exact measurements. In this post, I'll share my tips for creating the best Italian Antipasto Platter!
Ingredients
½

Pound

mortadella

thinly sliced

½

Pound

hot capicola

thinly sliced

8

Ounces

red wine salami

cut into thick slices

½

Pound

sharp provolone

cut into wedges

¼

Pound

parmigiano reggiano

broken into chunks

Roasted red peppers

cut into strips

Hot or sweet cherry peppers

Marinated artichokes

Pepperoncini

Olives
For the quick marinated mozzarella balls
8

Ounces

ciliengine mozzarella balls

3

Tablespoons

olive oil

1

Tablespoon

fresh parsley

minced

2

Teaspoons

sun dried tomatoes

drained and finely minced

¼

Teaspoon

red pepper flakes

Pinch of kosher salt

1

Small clove garlic

finely minced (optional)
Instructions
Combine all of the ingredients for the marinated mozzarella in a small bowl and give it a stir.

On a very large platter, arrange the ingredients in piles, making two piles of each of the meats and the provolone on opposite ends of the platter. Add the bowl with the marinated mozzarella. Fill in the rest of the platter with piles of the vegetables.

Place cocktail forks around the platter for easy serving. Lay out appetizer napkins and plates. Refill platter as necessary.