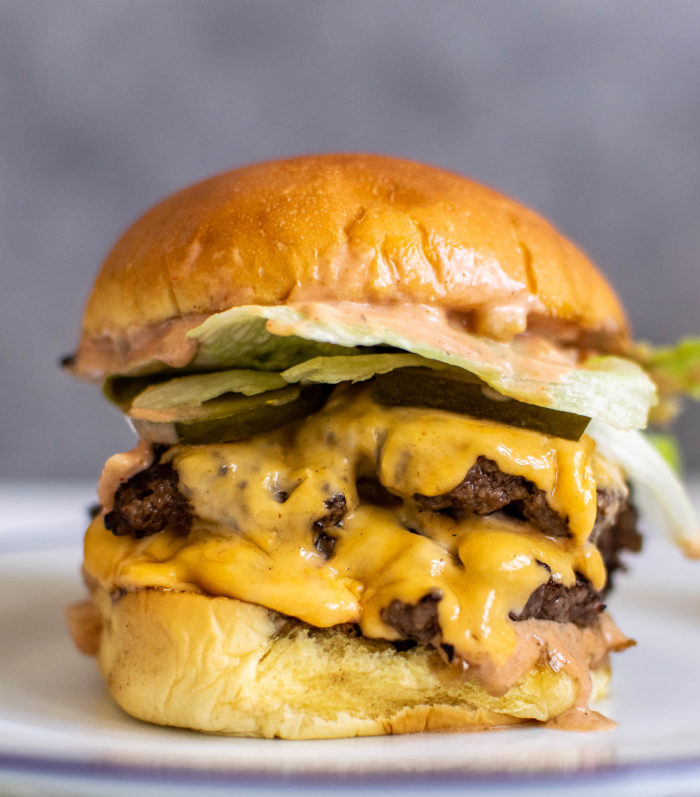 I love making burgers at home and this is definitely one of my favorites! These double smash burgers taste like they came from a restaurant and the best part, they're super easy to make!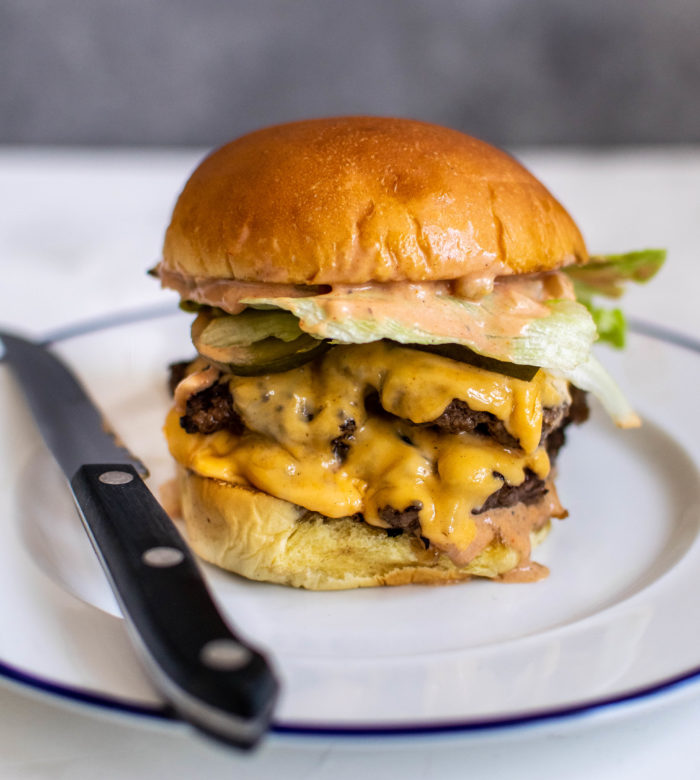 *This post may contain affiliate links. See disclosure for further details.
Before we get into the technique, let's just clear one thing up: we're using American cheese for this recipe. Listen, I like a variety of different cheeses on my burgers but my favorite is definitely American. American cheese melts so well and let's face it, it's delicious! Let's all get over the whole anti American cheese movement, okay? You're probably (hopefully) not eating burgers everyday so when you do, it's okay to indulge in some American cheese! In case anyone was wondering, blue cheese is my second favorite for burgers, but that's neither here nor there.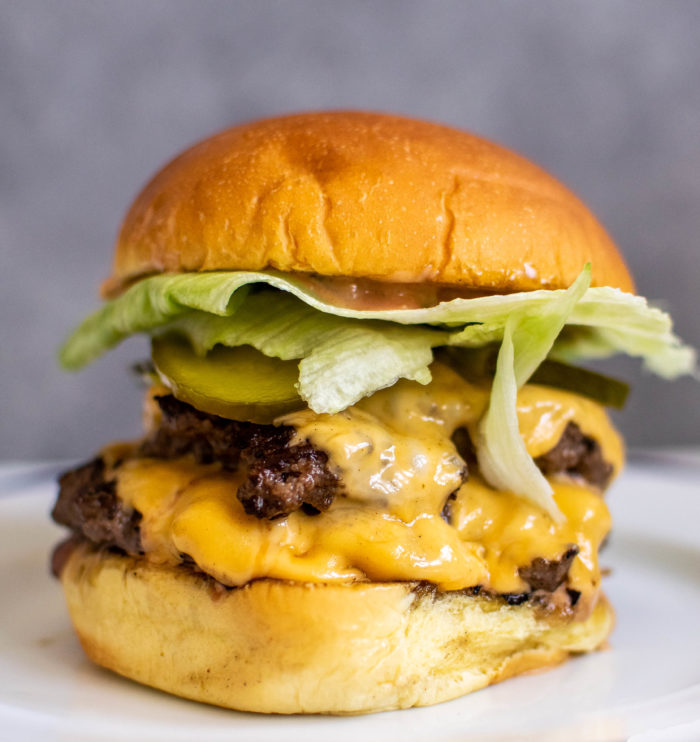 Now, about that technique! It's super easy to get perfect smash burgers—I even guarantee you'll get it right on the first try—you just have to follow a few easy tips.
First, you have to use a cast iron skillet or griddle. Cast iron is the ticket to that delicious crust! I use both my skillet and my griddle, depending on how many burgers I'm making and I'll link them at the bottom of this post. Second, make sure to get that cast iron super hot! I know it's easy to get impatient but you HAVE to heat your skillet or griddle until it's smoking hot. Open some windows in your kitchen while you're heating that baby up too, it might get a little smoky in there!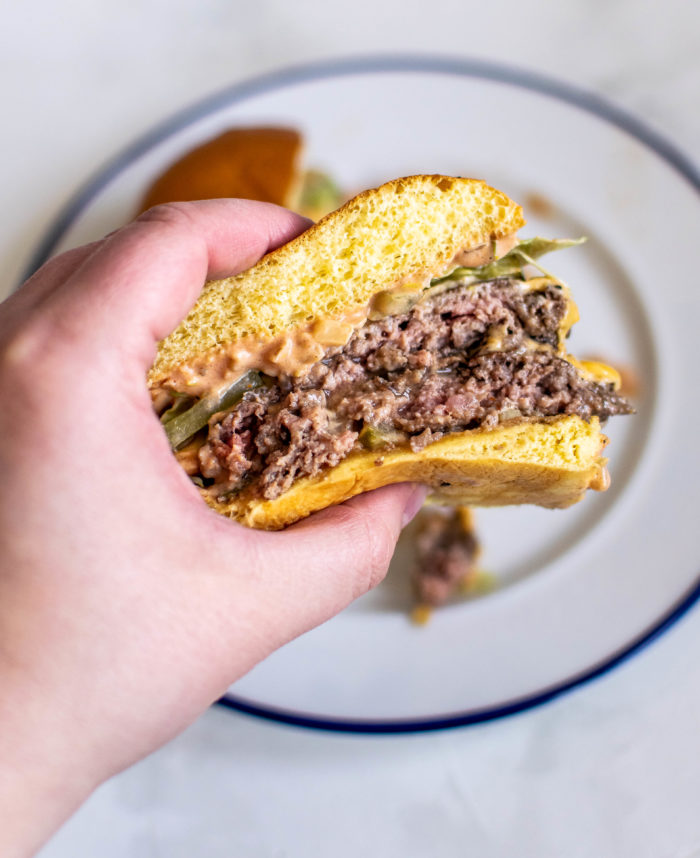 Third, don't crowd the meat! Each burger patty needs enough room to be smashed down and get nice and brown. If you try to add too much meat at once, you'll bring the skillet's temperature down, there won't be enough room for a proper smash (lol proper smash) and you'll end up with mushy burgers. Gross. I like to cook two patties at once, four if I'm using my griddle. That way, they have plenty of room and I can easily control the cooking. These burgers cook really fast so make sure you've got a plate nearby to transfer them to!
Speaking of meat, I like using ground beef that's 80% lean. You need that 20% fat for flavor! Don't be tempted to use extra lean meat. I mean come on, we've got double patties, American cheese and burger sauce, we're well into cheat meal territory—just go for it!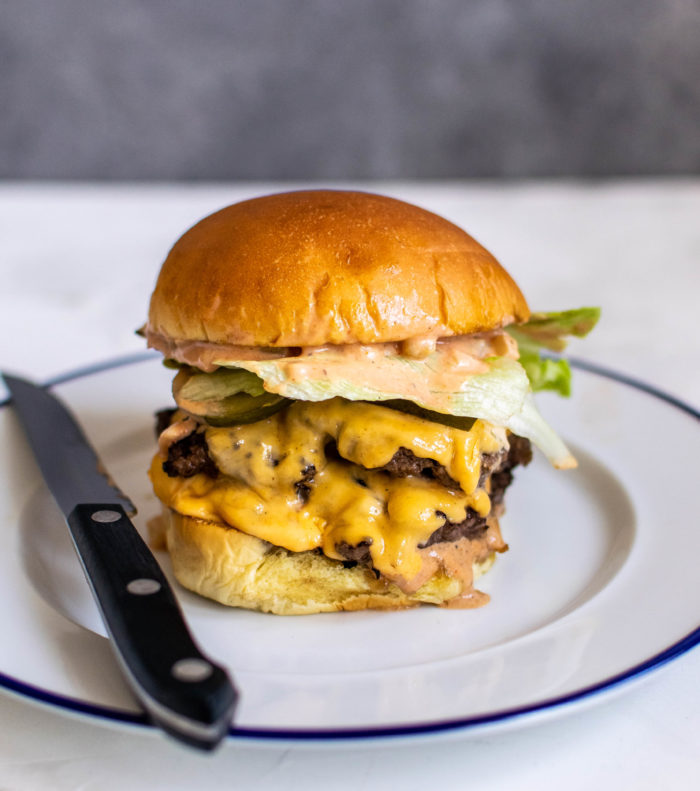 Load up these burgers with crisp lettuce and pickles and don't skimp on that sauce! If you're making these during tomato season, I would definitely throw a juicy tomater slice on there. Don't worry about how messy these burgers are—that's all part of the fun!
You might also like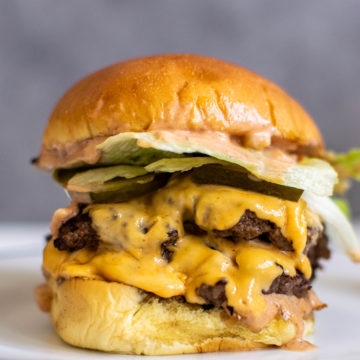 Double Smash Burgers with Sauce
These double smash burgers taste like they came from a restaurant and the best part, they're super easy to make!
Ingredients
For the burgers
1

Pound

ground beef (80/20)

divided into 4 portions

1

Tablespoon

unsalted butter

divided

kosher salt

4

American cheese slices

2

Potato rolls

lightly toasted

Iceberg lettuce

Dill pickle chips
For the sauce
2

Tablespoons

mayonnaise

2

Tablespoons

ketchup

1

Tablespoon

yellow mustard

2

Tablespoons

dill pickles

minced

1 ½

Tablespoons

yellow onion

minced

⅛

Teaspoon

paprika

⅛

Teaspoon

garlic powder

Pepper

to taste
Instructions
Make the sauce. In a small bowl, mix all of the ingredients together for the sauce and refrigerate until ready to use.

Heat a cast iron skillet or griddle over medium high heat until very hot; 3-5 minutes. Brush the skillet with half of the butter and add two portions of the beef. With two spatulas or a grill press, smash the beef down into ½ inch thick patties, season with salt, and cook for 2 minutes. Flip the patties, top them with slices of cheese and cook for an additional 1-2 minutes. Repeat with the remaining butter and beef.

Assemble the burgers. Spread the sauce on the top and bottom of each bun. Stack two patties on each bun followed by lettuce and pickle chips.

(Pssst there's sauce on your face)