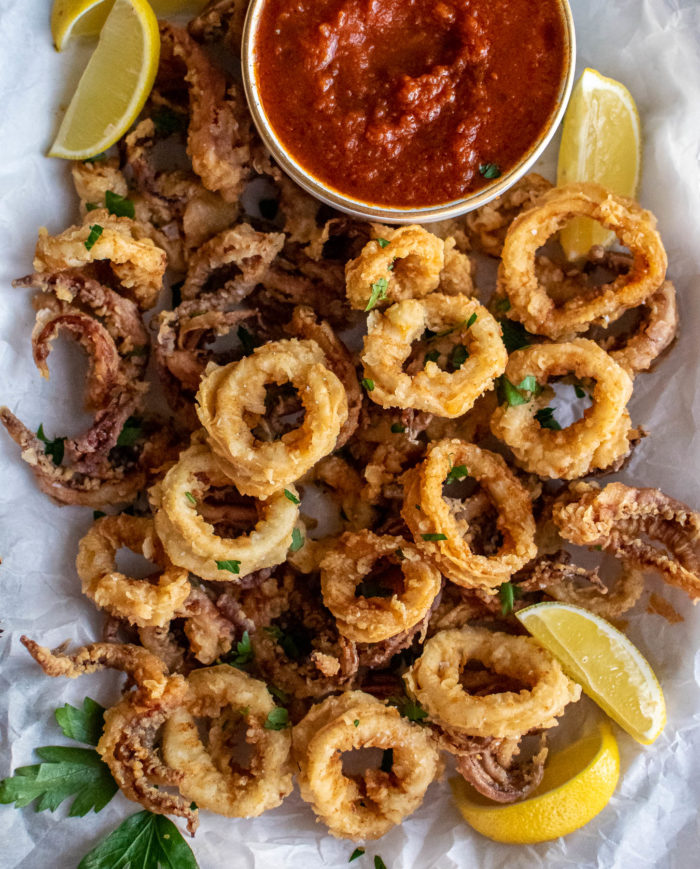 This restaurant favorite is surprisingly easy to make! Just a few ingredients is all it takes to get crispy, delicious fried calamari at home. Dunk them in your favorite marinara sauce for ultimate deliciousness.
I've said it before and I'll say it again, we are not making enough squid at home, people! I'm not sure why, but it seems like squid isn't the most popular choice for home cooking. I say we change that! Squid is inexpensive, fast and easy to cook, healthy, and delicious—there's no reason we shouldn't be enjoying these tasty little aliens at home. Read through the post for tips on how to make the best fried calamari!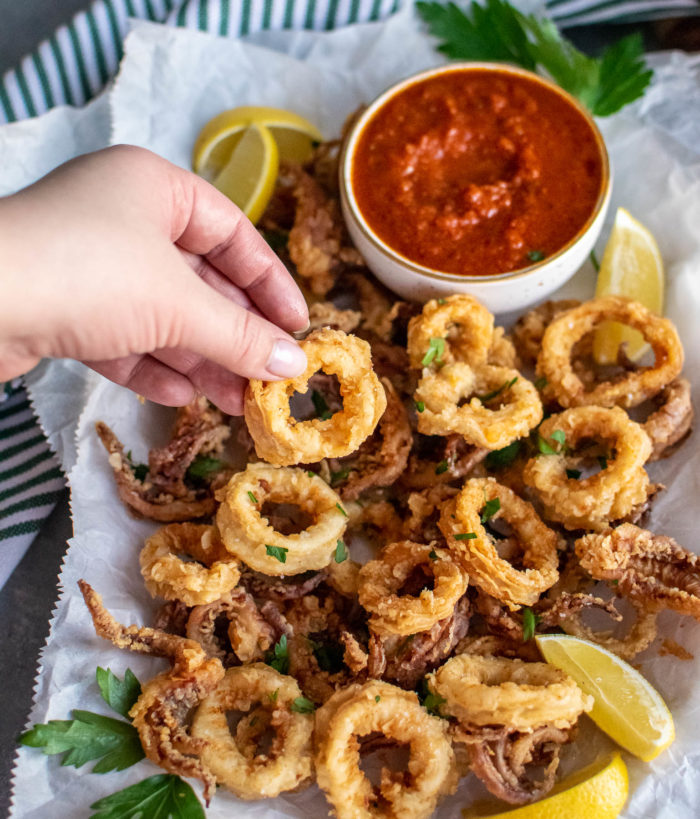 *This post may contain affiliate links. See disclosure for further details.
For this recipe, I like to buy both the bodies and the tentacles. I happen to love the tentacles, but if they're a little too alien-y for you, you can just ask for bodies only. Most of the time, the squid will already be cleaned but go ahead and double check with your fishmonger just in case! Once you've bought your cleaned squid, there is very little prep involved.
You will have to touch the squid a little bit, but truly, it's no big deal—you'll see! Give the squid a quick rinse and then cut the bodies into ½ inch rings and leave the tentacles as they are. Next, put the squid in a bowl with 1 cup of milk and give it a toss. Marinating the squid in milk helps to tenderize it so that it doesn't become rubbery when cooked. Just 30 minutes to 1 hour in the milk should do the trick!
After marinating, pat the squid dry, dredge it in the flour mixture, and fry in the hot oil. I like to do this in batches so that the pot doesn't get overcrowded. Too much squid in the pot will lower the temperature and result in soggy, steamy squid. We don't want that. Give each piece of squid enough room to get a nice golden fry. I usually fry 1 pound of squid in 3 batches. Once you start frying your first batch, you'll get the hang of it! Make sure to prepare a paper towel lined plate or baking sheet beforehand so that you can transfer the fried squid to it to drain. Sprinkle each batch of squid with salt as it comes out of the oil.
You'll need a food thermometer for this recipe to make sure the oil is at the right temperature. The oil needs to stay within the 350- 375 range and having a thermometer just makes things easier! If you don't already have one, I've linked my favorites at the bottom of this post.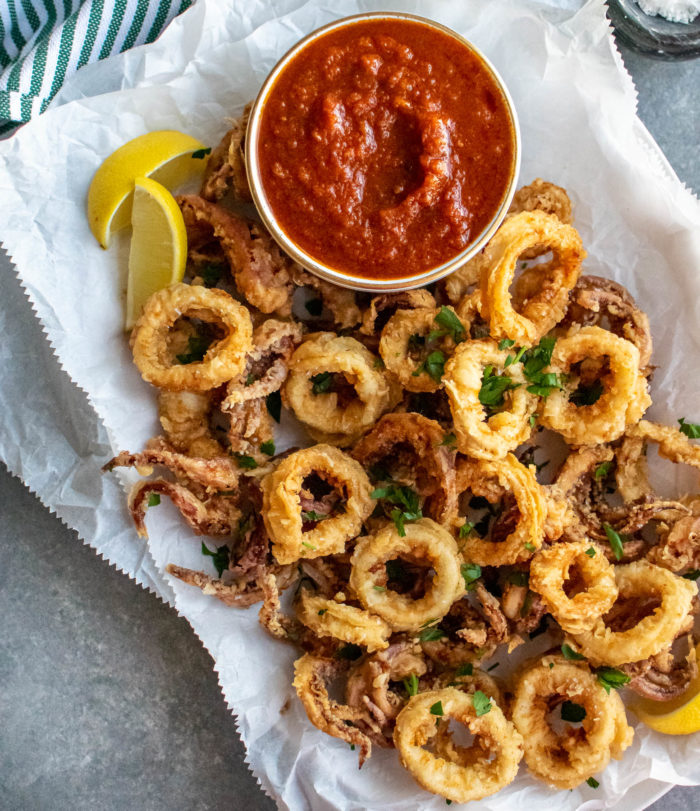 Once you've fried and seasoned all your squid, you're ready to eat! I like to serve the fried calamari with a sprinkling of fresh parsley, lemon wedges, and marinara sauce for dipping.
I hope you love this recipe as much as I do!
You might also like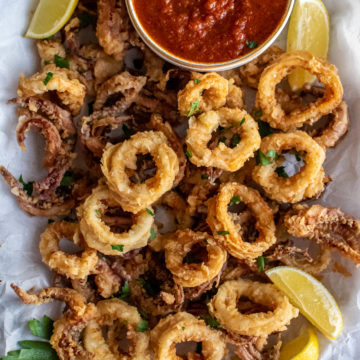 Easy Fried Calamari
This restaurant favorite is surprisingly easy to make! Just a few ingredients is all it takes to get crispy, delicious fried calamari at home.
Ingredients
For the fried calamari
1

Pound

cleaned squid

bodies and tentacles

1

Cup

milk

1 ½

Cups

all purpose flour

½

Teaspoon

baking powder

8

Cups

oil

for frying

kosher salt
For serving
Fresh parsley

roughly chopped

Lemon wedges

Marinara sauce
Instructions
Rinse the squid and pat dry. Cut the bodies into ½ inch rings. Add the rings and tentacles to a bowl with the milk, toss to coat, and let marinate for 30 minutes to 1 hour. Drain the squid and pat dry.

Meanwhile, In a large heavy bottomed pot, heat the oil to 350 degrees and prepare a paper towel lined plate for the squid.

Whisk the flour and baking powder together in a large bowl. In small batches, dredge the squid in the flour mixture and shake off the excess. Carefully add the squid to the oil and fry until golden brown; about 3 minutes. With a spider or slotted spoon, transfer the squid to the paper towel lined plate and sprinkle with salt.

Transfer the fried calamari to a serving plate and garnish with fresh parsley. Serve with lemon wedges and marinara sauce for dipping.