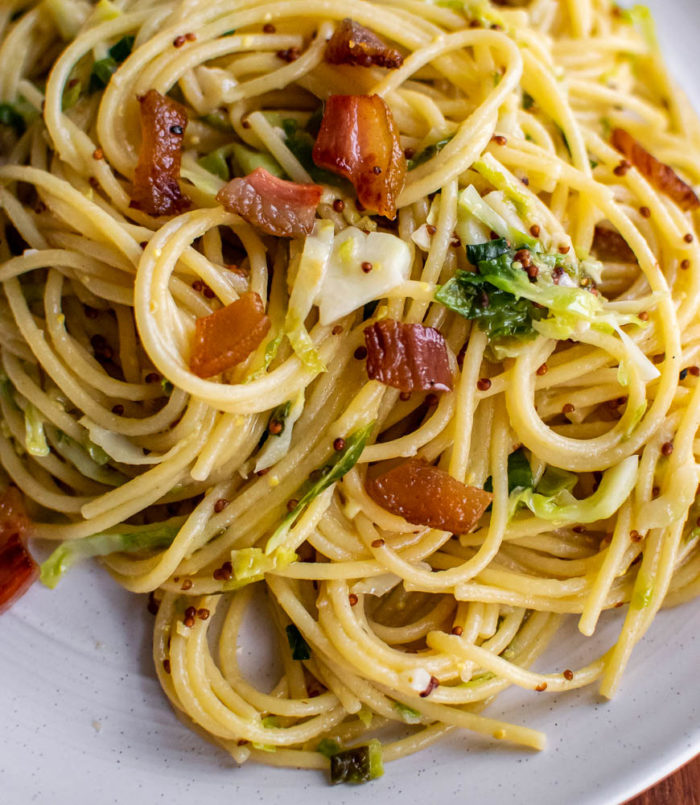 This pasta is hearty and packed with flavor! If you're on the fence about Brussels sprouts, this is the dish that'll turn you into a fan!
Who doesn't love Brussels sprouts? Well, a lot of people actually. I am convinced that people who say they don't like Brussels sprouts probably just haven't had them in the right way. If you're only used to mushy B-sprouts, you're probably not going to like them! I didn't always love them, but that has changed and now we eat Brussels sprouts on the reg in this house. I love roasting them, shredding them for salads, and of course, adding them to pasta!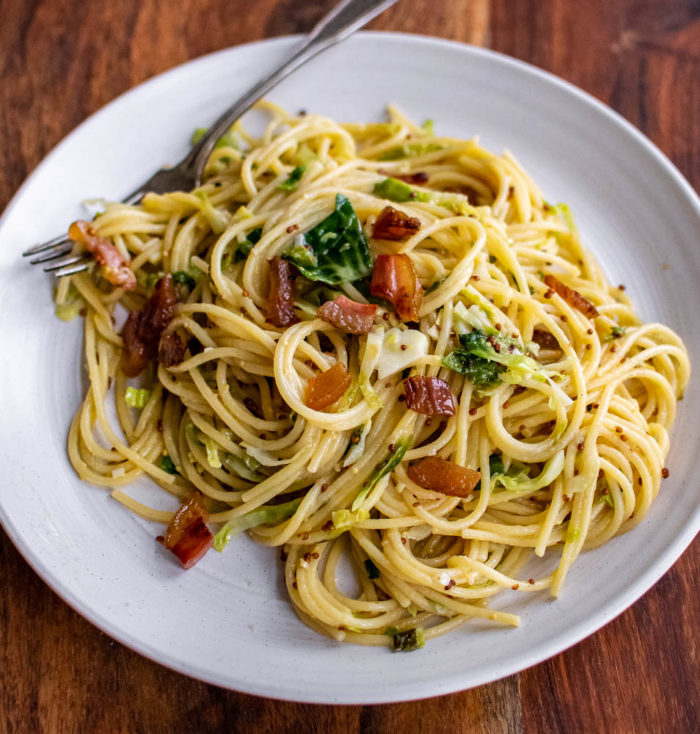 *This post may contain affiliate links. See disclosure for further details.
If you think you don't like Brussels sprouts, let this be your gateway recipe into the world of BS! That's Brussels sprouts, not bullshit. I mean it's pasta, and it's got crispy pork and cheese. You cannot go wrong!
Speaking of crispy pork, we're using guanciale in this recipe. Guanciale is Italian cured pork cheek and is used in many traditional dishes such as Carbonara, Amatriciana, and Gricia. I am usually able to find guanciale at Italian delis, but if you can't find it, pancetta (or even bacon!) will work in it's place. Pancetta doesn't have as much fat as guanciale, so if you're using that, you may need to supplement with a little olive oil.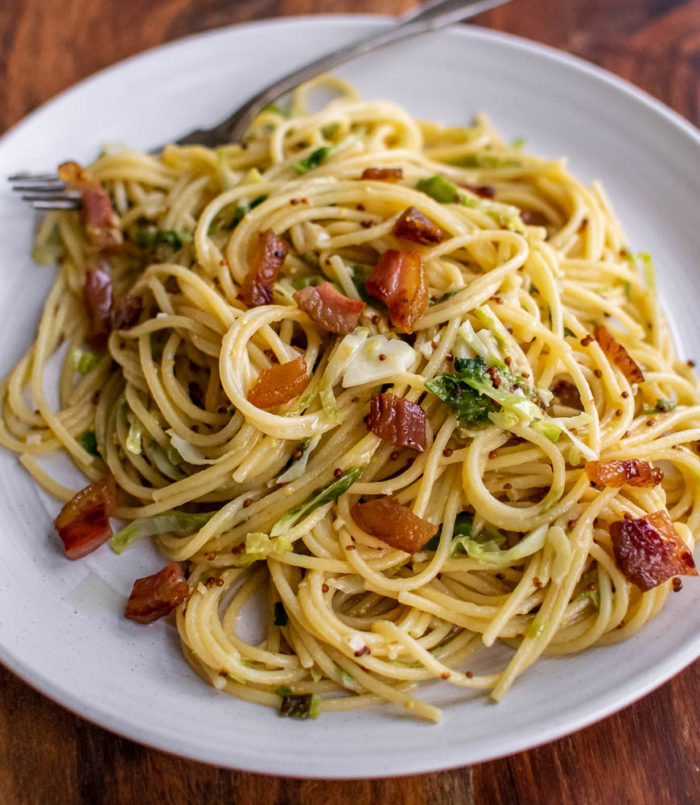 You'll start this recipe by cooking the guanciale, which will render a good amount of delicious pork fat. That is what the Brussels sprouts get cooked in. YUM. I like using shredded Brussels sprouts for this recipe so that they can crisp up a bit. They also mix into the pasta well so that every bite has some! You can thinly slice the sprouts by hand, or you can pulse them in a food processor until shredded. You can also usually find pre-shredded Brussels sprouts at the grocery store these days!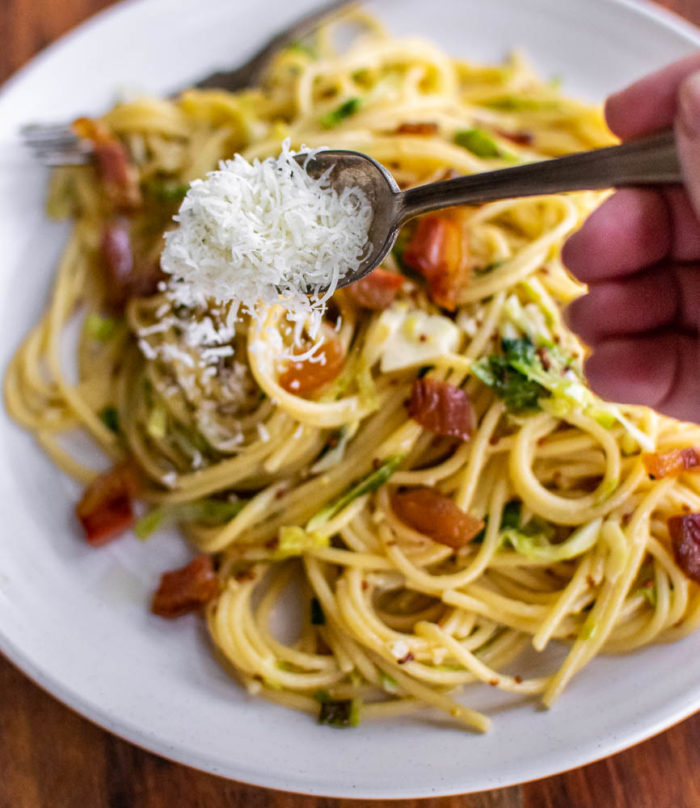 After you've sautéed the sprouts in the pork fat for a bit, you'll add some garlic and cook for about a minute. Then add your al dente spaghetti to the pan along with, my favorite part, whole grain mustard! The mustard adds some acid and a delicious tang. I love using whole grain mustard because the mustard seeds add a great little pop of texture. I've linked my favorite whole grain mustards below!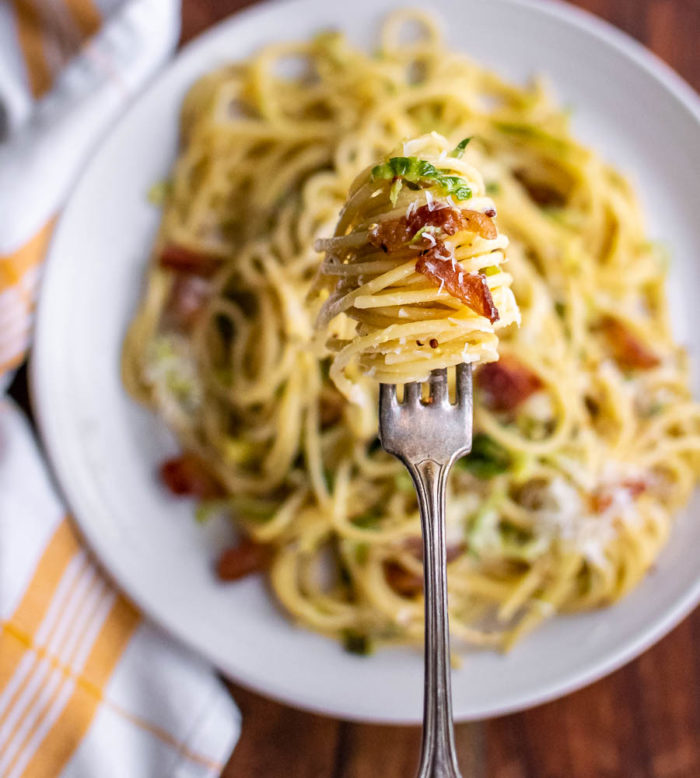 The final minutes of this recipe are probably the most important part. That's when "the magic happens" as they say. You've got your pasta and mustard in the pan. You'll add a bit of the pasta cooking water (this is what helps create a glossy sauce!) and now you're ready to add the cheese. CHEEEEEESE. I used Pecorino in this recipe because I just love the way it tastes with guanciale but you could use Parm instead if Pecorino isn't your jam.
Once you add the cheese, keep tossing the pasta until the cheese combines with the starchy pasta water and pork fat and emulsifies, creating a silky, salty, sauce. You can add more pasta water as needed to loosen the sauce. You may be thinking this technique sounds familiar, and you're right. This recipe is almost the same as my Pasta alla Gricia. Except, you know, for the Brussels sprouts, garlic and mustard.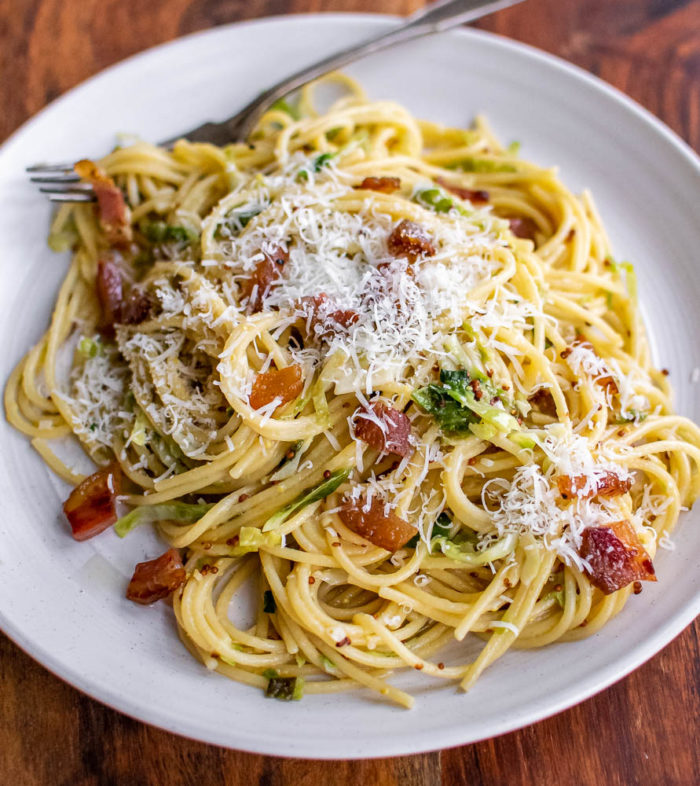 Once the pasta is coated in sauce, add the pork back in and give it a final stir to warm through, season with a bit of salt and pepper, and serve right away! Oh, and top it all off with more cheese because of course.
So what do you think, will you make this recipe? Come on, give BS a chance!
You might also like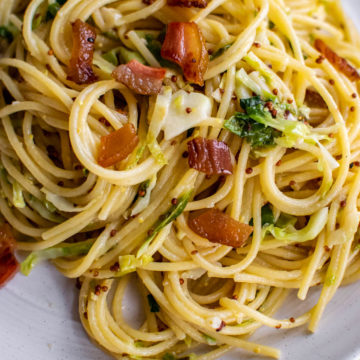 Spaghetti with Guanciale and Brussels Sprouts
This pasta is hearty and packed with flavor. If you're on the fence about Brussels sprouts, this is the dish that'll turn you into a fan!
Ingredients
½

Pound

Spaghetti

4

Ounces

guanciale or pancetta

cubed

1-2

Tablespoons

olive oil

if using

2

Cloves garlic

minced

3

Tablespoons

whole grain mustard

½

Pound

brussels sprouts

shredded

½

Cup

Pecorino Romano

grated, plus more for serving

Salt and pepper

to taste
Instructions
In a large skillet over medium low, cook the guanciale, stirring occasionally, until fat has rendered and it's starting to crisp; about 10 minutes. With a slotted spoon, transfer the guanciale to a bowl and set aside, leaving the fat in the skillet. Add the Brussels sprouts and turn the heat up to medium. Cook, stirring occasionally, until crisp-tender and browned in spots; about 5 minutes. Add the garlic and cook for 1 more minute.

Meanwhile, bring a large pot of salted water to a boil and cook spaghetti to 2 minutes less than package directions for al dente. Reserve 1 cup of pasta water and drain.

Add the spaghetti, along with the mustard and half of the reserved pasta water to the skillet, and toss to coat. Add the cheese and toss the pasta until a glossy sauce forms, adding more pasta water as needed. Add the guanciale back to the pan and give it a final stir. Season with salt and pepper to taste.

Serve with more cheese. Enjoy!