Smoky Baked Eggs with Ricotta and Beans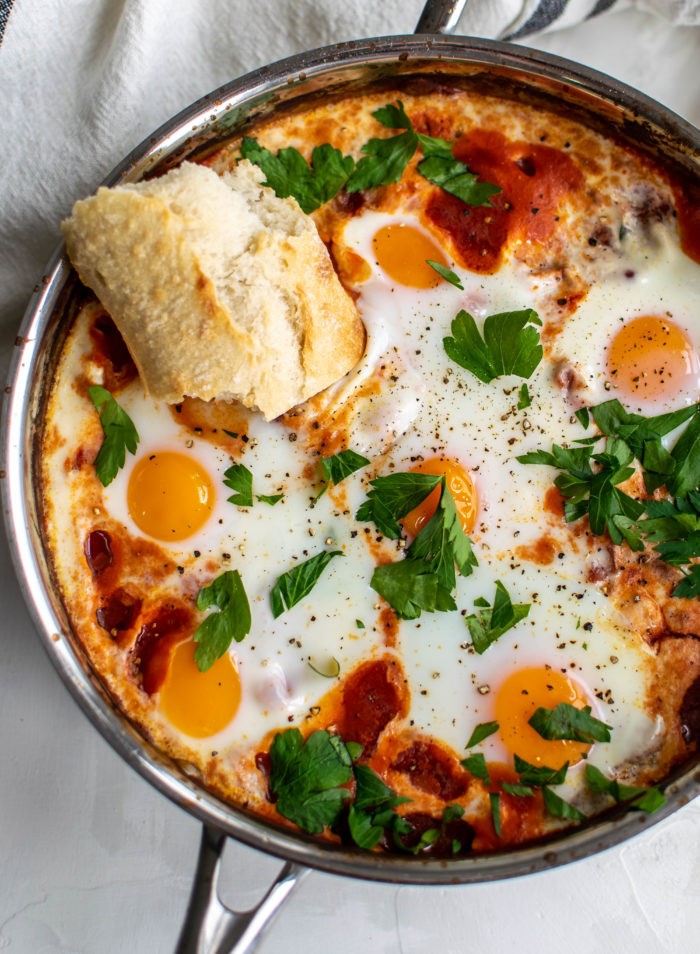 These smoky baked eggs are on regular rotation in my house. Beans, ricotta and spinach make this dish nice and hearty—perfect for breakfast, lunch or dinner!
It has taken me soooo long to finish writing this blog post because I have a BIG case of writer's block. I blame it on the current quarantine situation. I'm happy to do my part and stay home but it's resulting in a lot of "blah" days. Turns out, I don't do my best writing on blah days! All I really want to write is, "This recipe is very delicious and you should make it" but I don't know if I can get away with that.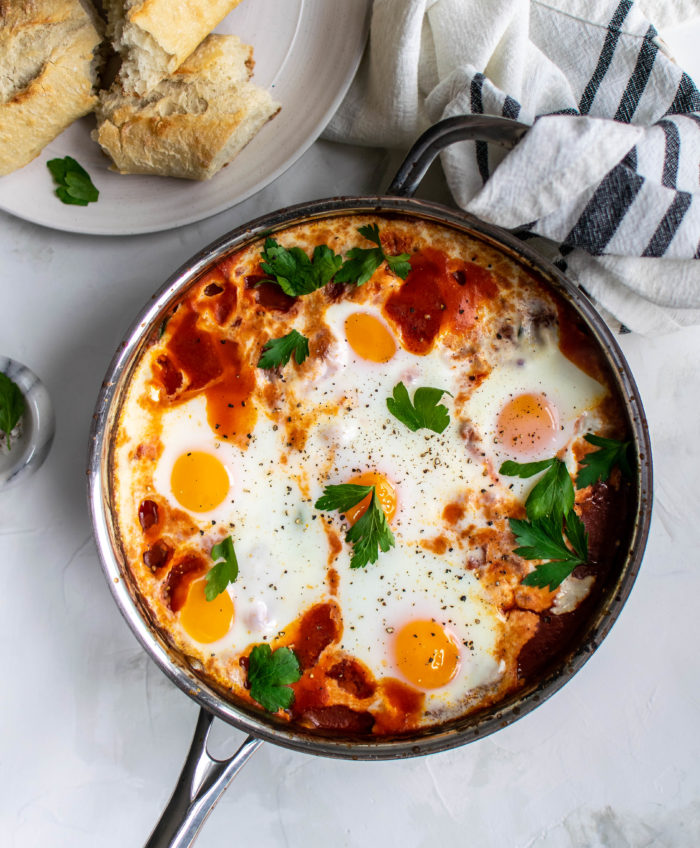 Usually, I'd be describing the dish, maybe trying to throw in a couple jokes, and giving you any tips and tricks needed to make the dish but this recipe is really easy—no tricks necessary! All you'll need to do is sauté a little garlic with smoked paprika and red pepper flakes, add the tomatoes and beans and simmer until the sauce thickens a bit. Then, the fun part, add in a few spoonfuls of ricotta, crack the eggs over the ricotta and bake until the egg whites are set and yolks are still runny. Then finish with your favorite fresh herbs and grab some crusty bread—you're ready to eat! Easy and delish.
Please enjoy some glamour shots of the aforementioned yolks.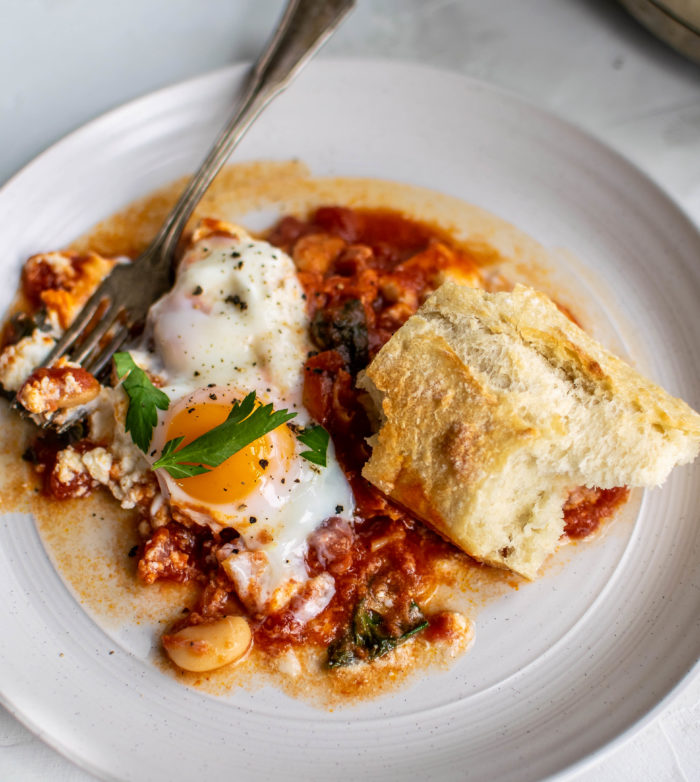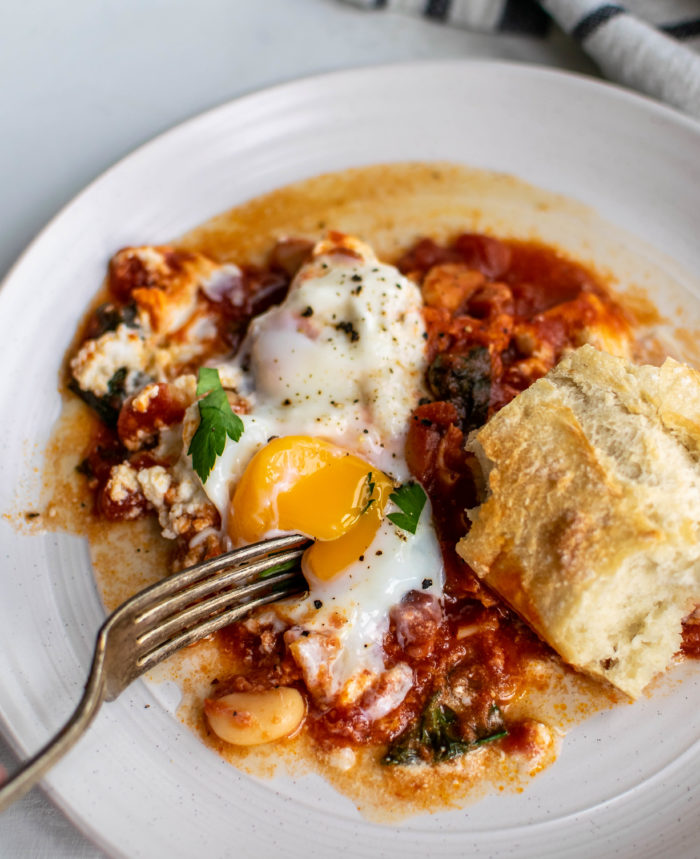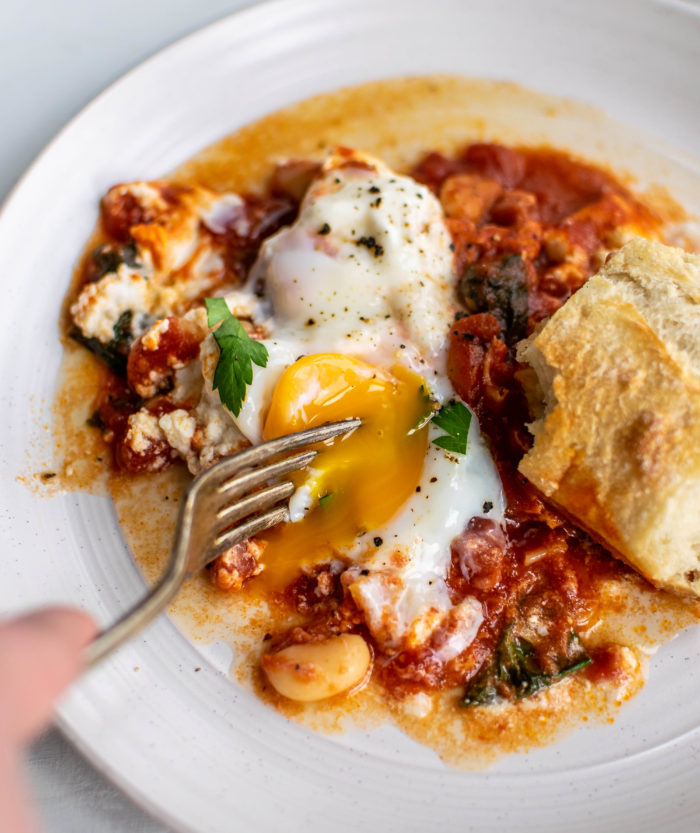 Ooey, gooey yolks are my favorite. Insert drool emoji!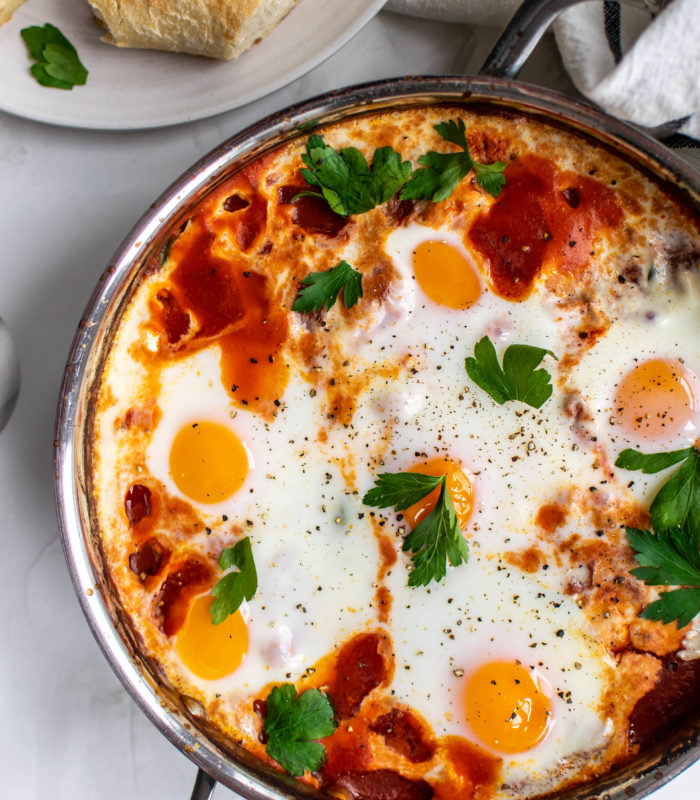 Welp, I guess I didn't need to say much about this recipe after all! Just don't forget that crusty bread!
Recipe Summary
Smoky Baked Eggs with Ricotta and Beans

Level:

Easy

Servings:

6

Ingredients:

1/4 Cup olive oil
2 Cloves garlic, minced
3/4 Teaspoon smoked paprika
1/4 Teaspoon red pepper flakes
1 (15 ounce) Can cannellini beans, drained and rinsed
1 (28 ounce) Can crushed tomatoes
Handful of fresh baby spinach (optional)
1 1/2 Cups ricotta
6 Eggs
Salt and pepper, to taste
Fresh herbs, roughly chopped
Crusty bread, for serving

Instructions:

Pre heat oven to 400 degrees.
In a large, oven safe skillet, heat the olive oil over medium heat. Add the garlic, smoked paprika, and red pepper flakes and cook, stirring, until fragrant; 1 minute. Add the beans and the tomatoes, lower the heat to medium low, and cook until sauce has thickened; about 15 minutes. Season with salt and pepper to taste. Stir in a handful of baby spinach, if using.
With the back of a spoon, make six indentations in the sauce, add a spoonful of ricotta to each indentation, and then crack an egg over the ricotta. Transfer the skillet to the oven and bake until egg whites are set but yolks are still runny (the eggs will continue to cook a bit in the pan) about 12-15 minutes.
Garnish with your favorite fresh herbs and serve with warm crusty bread.
Enjoy!