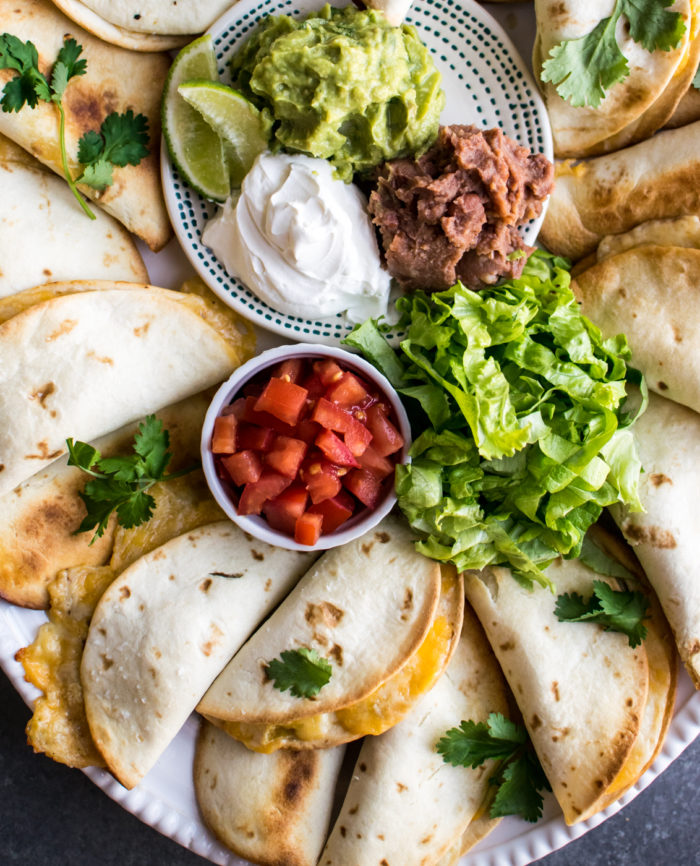 Mini Green Chile Chicken Quesadillas are the perfect party food! These guys are super easy to assemble and then baked all together on a sheet pan. The perfect way to make quesadillas for a crowd! Pile them up with your favorite toppings and you're set to watch the game—or The Bachelor—your call.
I am kind of obsessed with quesadillas. Like, I could definitely eat chicken quesadillas every single day of my life—but don't worry, I won't. I especially love making these mini green chile chicken quesadillas. First of all, they're delicious. Second, they're adorable, and third, you can make a bunch at a time and freeze them! In case you were wondering, yes, I do have a batch of these little quesadillas in my freezer at all times and yes, they do come in handy when you come home from a night out desperately needing to consume something with melted cheese.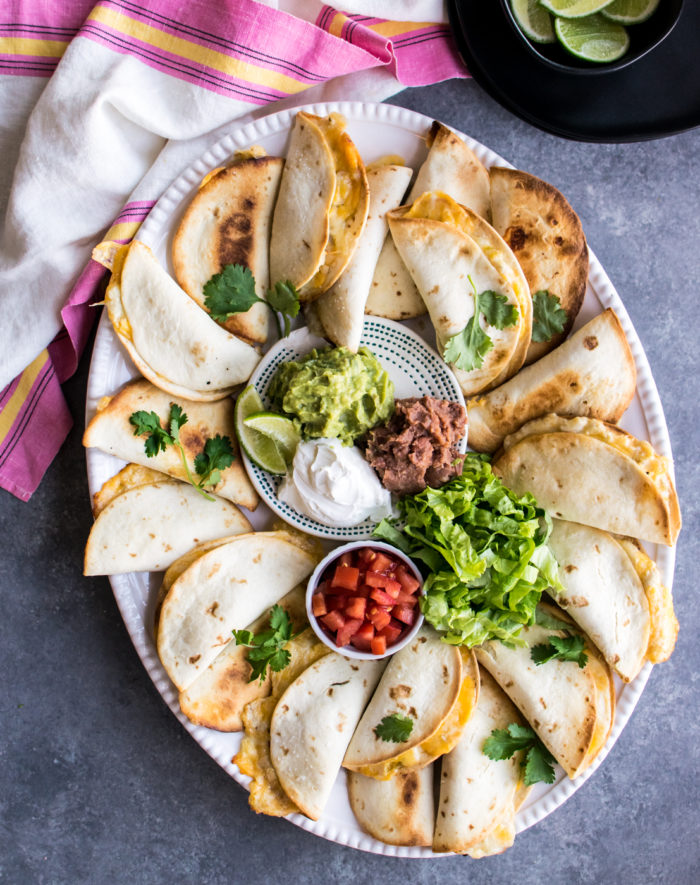 *This post may contain affiliate links. See disclosure for further details.
I've got a couple tricks for making these quesadillas soft and melty on the inside and nice and crispy on the outside. First is the filling. If you take a little peek at the ingredients, you'll see cream cheese in there. Obviously, cream cheese is not traditionally part of the usual quesadilla situation but for these guys, it's perfect. The cream cheese makes the filling creamy (duh) and it also helps hold the quesadillas together when you fold them over. Like a cream cheese glue, if you will. The recipe doesn't call for much, but that little bit makes a big difference!
My other trick is the butter! Because butter makes everything better, I brush the tops of the quesadillas with a little unsalted butter. This step is key for crispiness, do not skip it!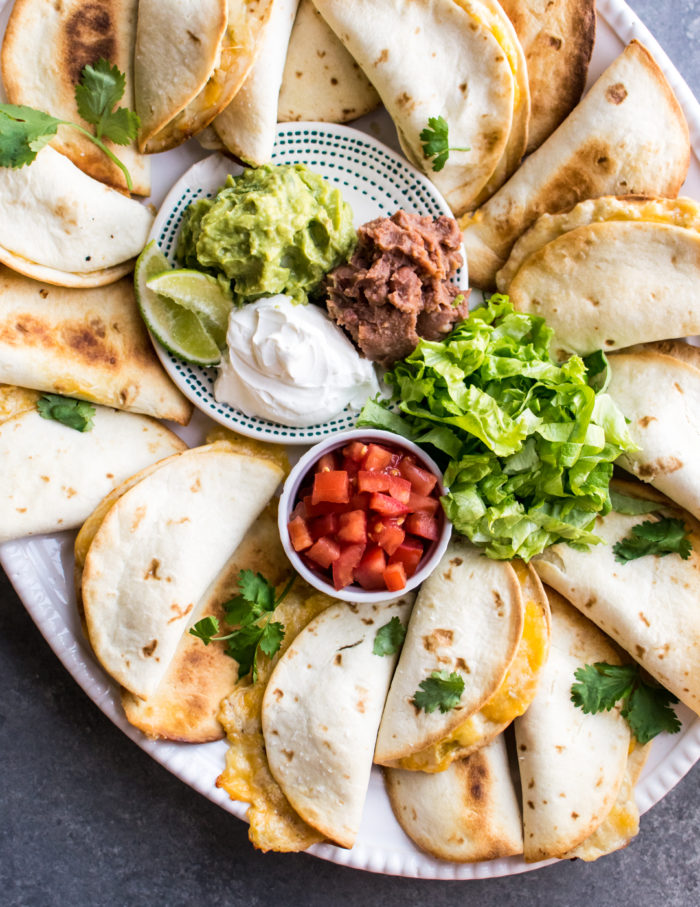 What qualifies these quesadillas as "mini", you ask? Well, it's their size. But seriously, Mission makes street taco sized tortillas and when folded into half moons, they are the perfect mini quesadilla size! I've been able to find these tortillas at a bunch of different grocery stores but, if you can't find them, you can buy burrito sized tortillas and use a cookie cutter to punch out mini tortillas.
For the cheese, I like to use a combination of cheddar, monterey jack, and queso quesadilla or chihuahua cheeses. You can choose any combination of Mexican melting cheeses you like! If you can, grating your own cheese is preferred, but pre-shredded is totally fine as well. I usually have a block of cheddar kicking around the fridge so I'll grate some of that, and then buy the rest of the cheese pre-shredded. I recently discovered Tillamook's Mexican 4 Cheese Blend and it's really good! If you can get your mitts on that, I highly recommend it.
For the chicken, any leftovers you've got laying around or a rotisserie chicken from the store will work great. There's certainly no need to cook chicken specifically for this recipe but if you want to, chicken thighs, seasoned with just salt and pepper, are perfect. Boneless, skinless chicken thighs cook fast, have lots of flavor, and they're easy to add into lots of different recipes like this Easy Chicken Soup.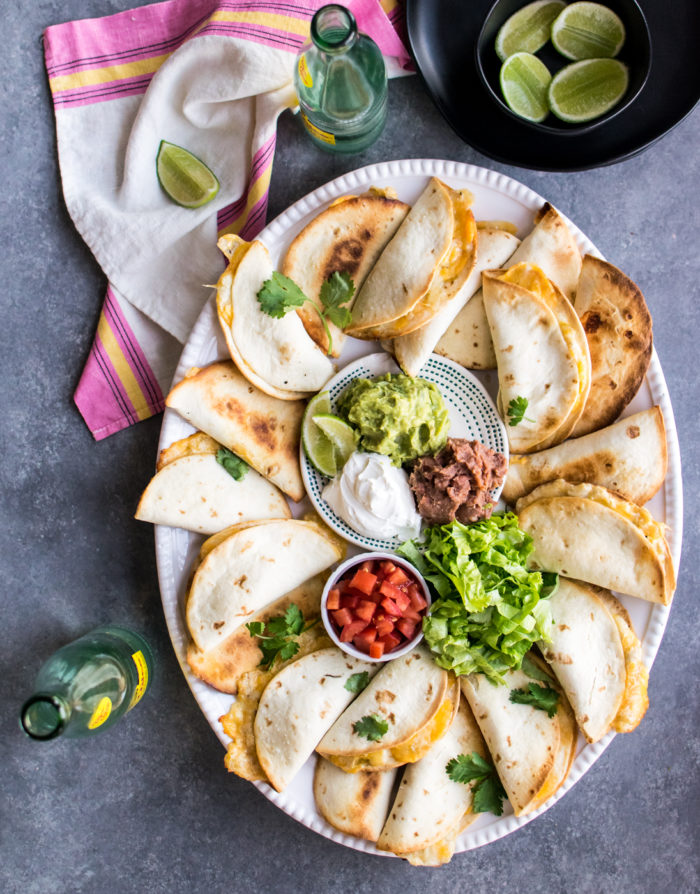 Now, about the toppings. This is the fun part! I always love when restaurants serve quesadillas with sour cream, lettuce and tomato. I realize that's pretty basic of me but whatever. Along with my basic ass toppings, I included some tasty guacamole, refried beans, and salsa verde. I also begrudgingly purchased cilantro for this recipe, even though I hate it. My brain told me that non cilantro hating types might like a sprinkling over the quesadillas.
Somehow, I lost my mind and did half of this photo shoot without the salsa in the pictures and I'm going to blame that on how hungry I was at the time—hungry for these quesadillas. Here is photo evidence that salsa verde was, in fact, on the scene (and that I couldn't decide on a backdrop) for this photo shoot: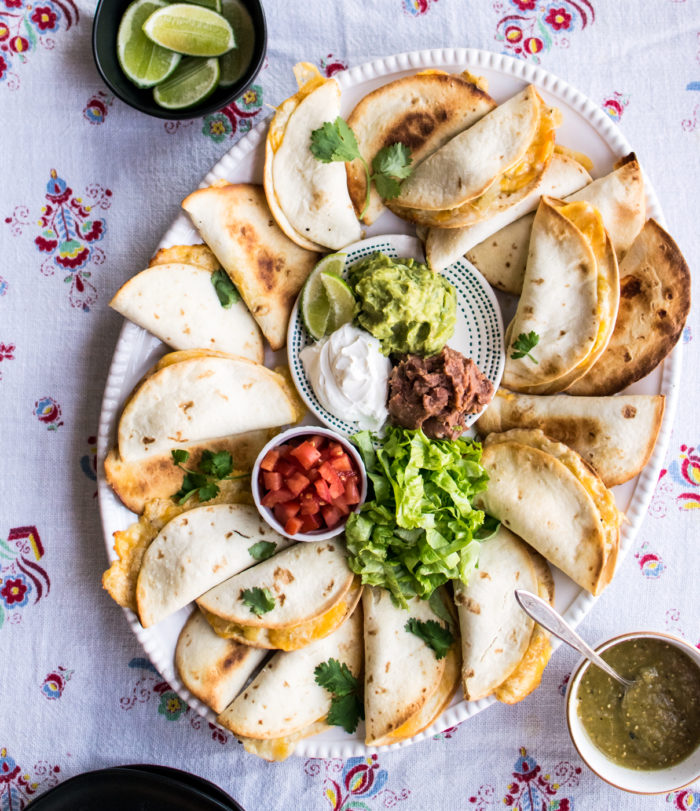 So, to sum up, these mini quesadillas are freaking delicious, easy to make, and should definitely be included in your next party situation. Okay, great. If you'll excuse me, I'm going to defrost a couple of these quesadillas for lunch.
You might also like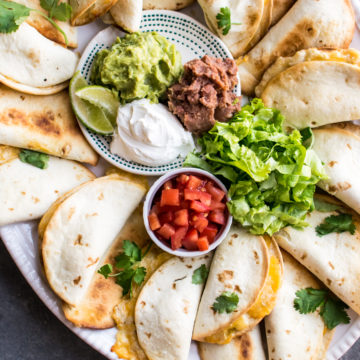 Mini Green Chile Chicken Quesadillas
These Mini Green Chile Chicken Quesadillas are super easy to assemble and then baked all together on a sheet pan. The perfect way to make quesadillas for a crowd!
Ingredients
For the quesadillas
½

Cup

cream cheese

1

4.5 Ounce

can mild green chiles

¼

Teaspoon

cumin

Squeeze of fresh lime juice

2

Cups

cooked chicken

shredded

4

Cups

cheese (cheddar, monterey jack, chihuahua, aserdo, queso quesadilla)

shredded

2

12 Count

packages street taco tortillas

1

Tablespoon

unsalted butter

plus more for greasing parchment paper

Pinch of salt
Topping ideas
Sour cream

Guacamole

Refried beans

Lettuce

shredded

Tomato

chopped

Salsa Verde

Pico de Gallo

Cilantro
Instructions
Pre heat oven to 425 degrees. Line two sheet pans with parchment paper and rub the parchment with unsalted butter.

Add the cream cheese, green chiles, cumin, and a squeeze of fresh lime juice to a large bowl and mix together. Fold in the chicken and the cheese.

Assemble the quesadillas. Add a heaping spoonful of the filling to a tortilla and fold it over into a half moon shape, pressing the edges down. Repeat with the remaining filling and tortillas. You should end up with about 20 mini quesadillas. Arrange the quesadillas on the parchment lined baking sheets.

In a small, microwave safe bowl, heat a tablespoon of the unsalted butter until melted. Brush the tops of the quesadillas with the melted butter and finish with a light sprinkling of coarse salt.

Bake the quesadillas until the cheese has melted and the edges of the tortillas are golden brown; 10-15 minutes.

Serve with your favorite toppings!