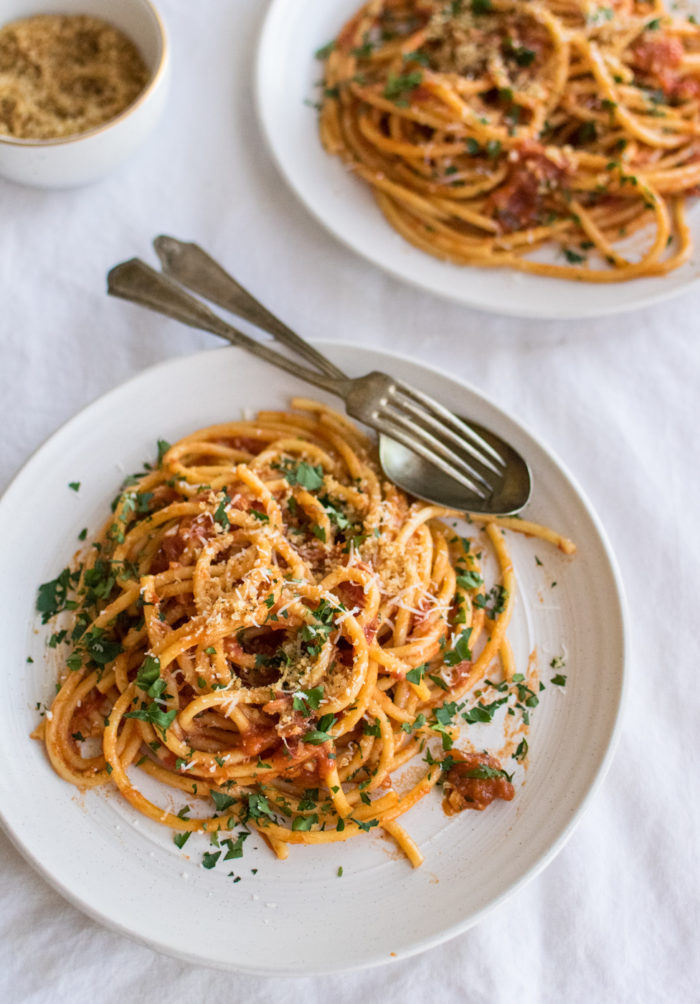 I like to live my life as if the anchovy averse don't exist. Now, don't take that to mean that I don't respect people's tastes—I do! It's just that I've converted too many anchovy haters (whether intentionally or not) to believe that people really know what they're talking about when they claim to hate anchovies.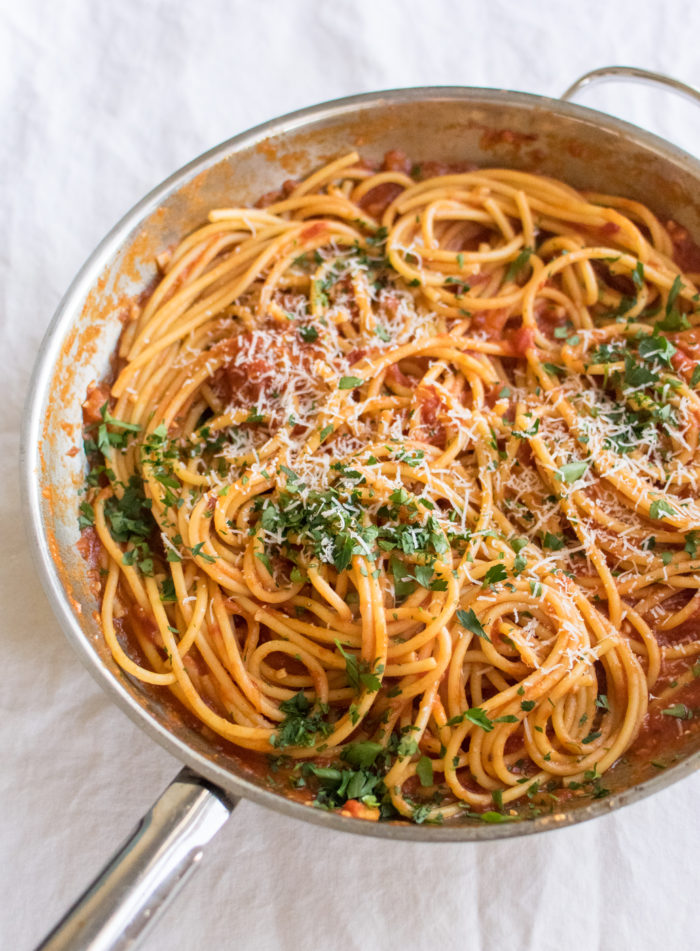 *This post may contain affiliate links. See disclosure for further details.
Don't worry, I'm not some sort of anchovy crusader, cramming salty little fish down people's throats and making them say they like it. Wow that sounded so creepy. I really hope that nobody is actually doing that. Most of the time it's by accident that people realize they don't hate anchovies. They are in more things than you realize! I'll serve someone something, they love it and ask what's in it, I tell them, they say "eeewwww anchovies?!" and then they realize they have consumed and enjoyed anchovies. A tale as old as time, probably.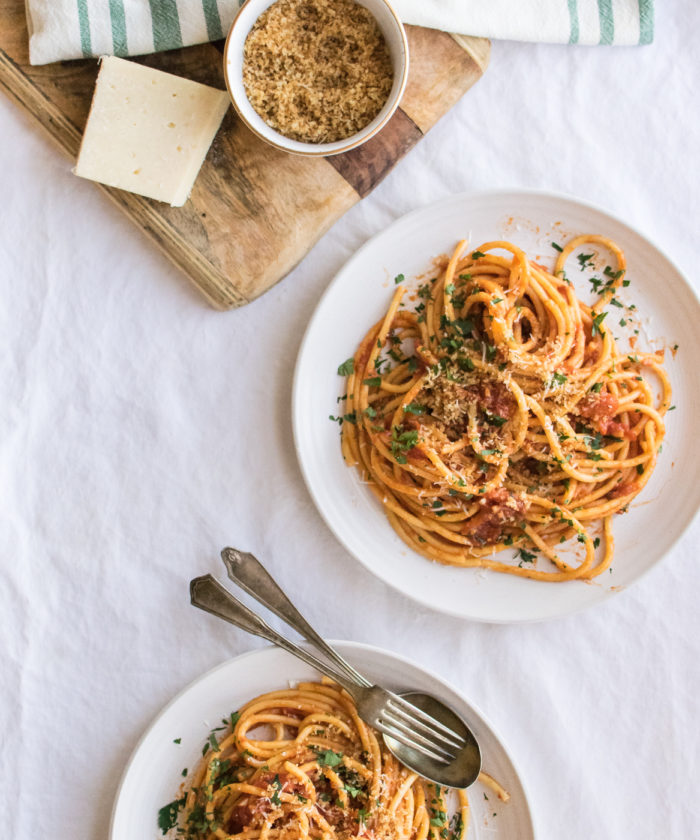 If you live with, are friends with, or eat with a self proclaimed anchovy hater and you're suspicious about whether that hatred is really true, this recipe is a good one to serve them. A gateway anchovy dish, if you will.
I mean, think about it, it's the perfect dish for easing someone into the anchovy game. It's pasta! Who doesn't love pasta? There is no visual evidence of anchovy presence. I'm not saying you shouldn't disclose that there are anchovies in the sauce, but out of sight, out of mind. And finally, all of this saucy, delicious pasta is topped with cheesy breadcrumbs. I don't know too many people (any?) who would say no to that.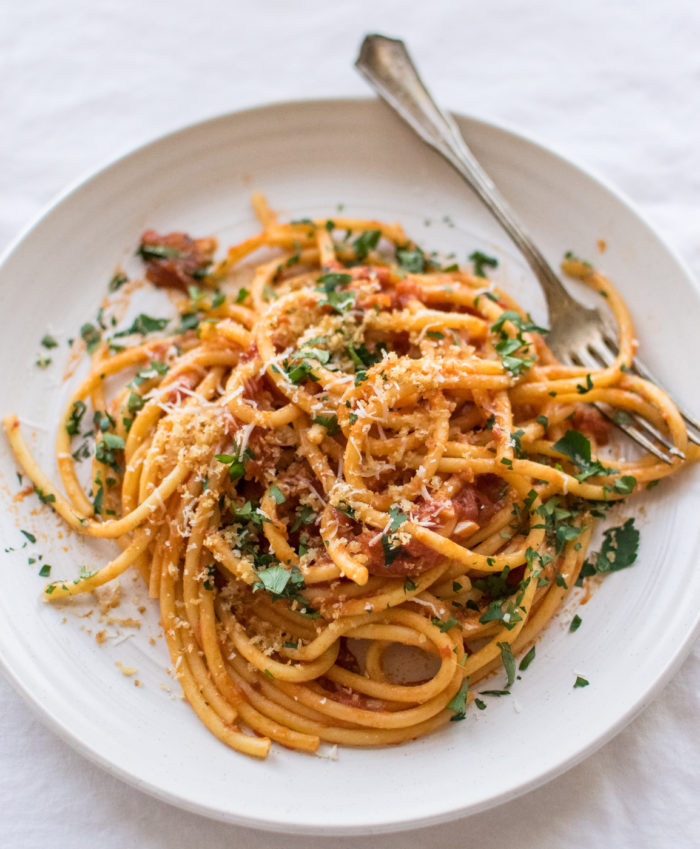 Aside from being made up of some of my favorite ingredients, I also love this pasta for how fast and easy it is. On top of that, you probably already have most of the ingredients in your pantry! And if not, you need to re-stock that baby. This is one of those recipes I reach for when I don't really feel like cooking but I still want to eat something delicious. Super tasty with minimal effort is my jam. Even if you don't have every exact ingredient, you can still make a version of this pasta. Don't have bucatini? You can totally use spaghetti or linguine. Only have crushed tomatoes? Those will work! Don't have anchovies? Okay, you're going to need to go buy those. There will be no weaseling out of the anchovies, sorry.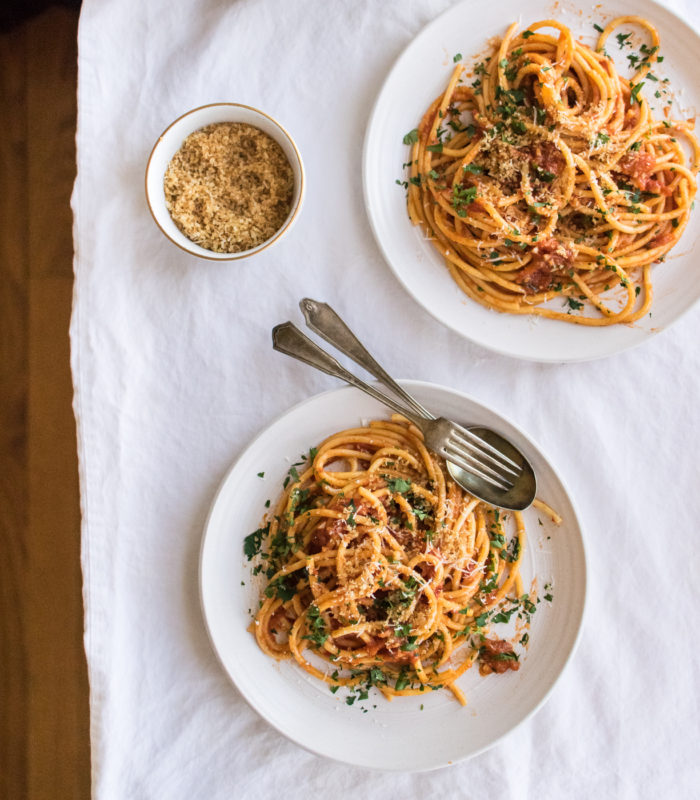 So next time you're with your friend, the anchovy hater, slip them a bowl of this pasta. I guarantee* you'll be able to add them to the pro anchovy list.
*There is literally no way for me to guarantee this and you probably don't even have a "pro anchovy" list (neither do I). I'm sure legitimate anchovy haters actually exist and probably wouldn't care for this pasta. Serve it to them anyway. YOLO.
You might also like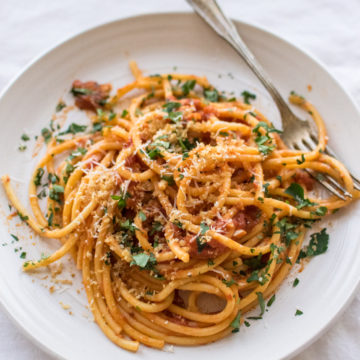 Bucatini with Anchovy Tomato Sauce and Pecorino Breadcrumbs
This pasta is packed with flavor, easy to make, and you might already have the ingredients in your pantry!
Ingredients
For the pasta
3

Tablespoons

olive oil

1

Tablespoon

tomato paste

3

Cloves garlic

minced

4

Anchovy filets packed in oil

¼

Teaspoon

red pepper flakes

1

28 Ounce

can whole tomatoes

crushed by hand

1

Tablespoon

salted butter

1

Pound

bucatini

Salt and pepper

to taste

Fresh parsley

roughly chopped
For the pecorino breadcrumbs
2

Tablespoons

olive oil

½

Cup

panko breadcrumbs

¼

Cup

Pecorino Romano

grated
Instructions
Make the breadcrumbs. In a small nonstick pan, heat the olive oil over medium heat. Add the breadcrumbs and cook, stirring frequently, until golden brown; about 5 minutes. Transfer the toasted breadcrumbs to a bowl and stir in the cheese. Set aside until ready to use.

In a large skillet, heat the olive oil over medium heat. Add the tomato paste, stir, and cook until the paste darkens in color; about 3 minutes. Add the garlic, anchovies and red pepper flakes. Stir and cook an additional minute, being careful not to burn the garlic. Add the tomatoes and season with salt and pepper. Lower the heat to medium low and let simmer until the sauce thickens; about 15 minutes.

Meanwhile, bring a large pot of salted water to a boil. Cook the pasta for 2 minutes less than package directions for al dente. Drain the pasta, reserving 1 cup of the pasta water. Add the pasta, along with the butter and ¼ cup of the pasta water, to the sauce pan and toss to coat. Continue cooking the pasta in the sauce for an additional 2 minutes, adding more pasta water as needed to loosen the sauce.

Divide the pasta between 4 bowls. Serve with the pecorino breadcrumbs, fresh parsley and more cheese!