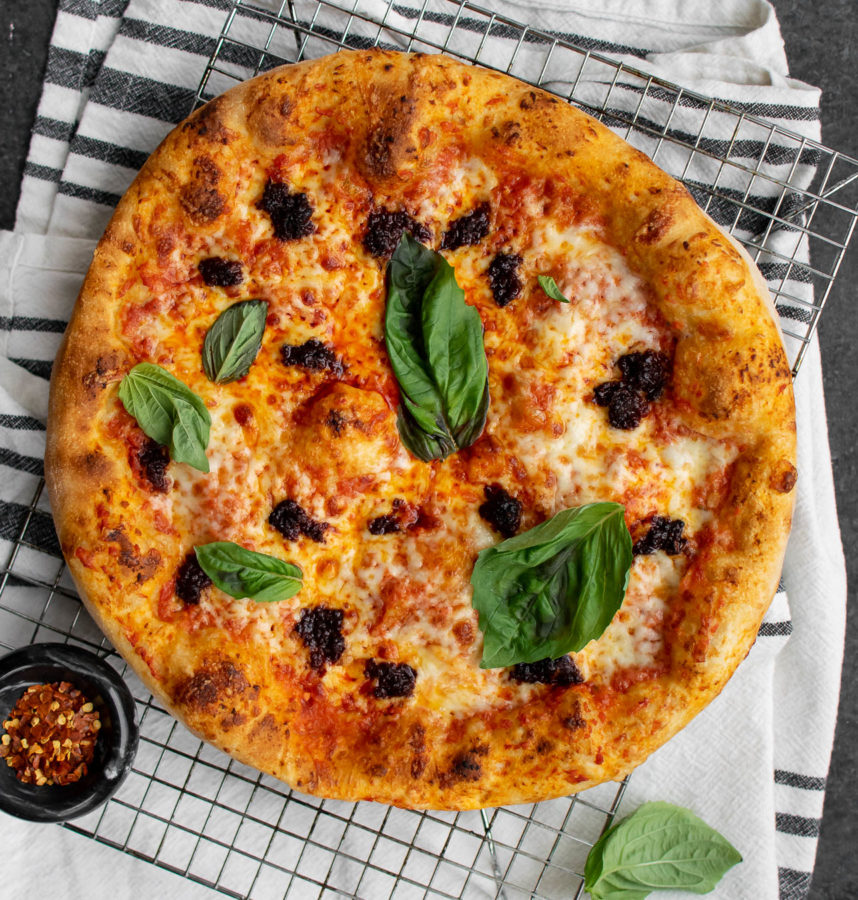 This pizza with spicy 'nduja and creamy tomato sauce is going to be your new favorite pizza! Meaty, creamy, crispy, spicy-- delicious!
I love making pizza at home. Ever since I started getting really into it (like REALLY into it), I just don't see the need for delivery anymore. Of course, I have still ordered pizza on lazy nights a few times, but I always end up thinking, "I can make better pizza than this." Homemade pizza is also cheaper and fun! Join me in the homemade pizza club-starting with this pizza!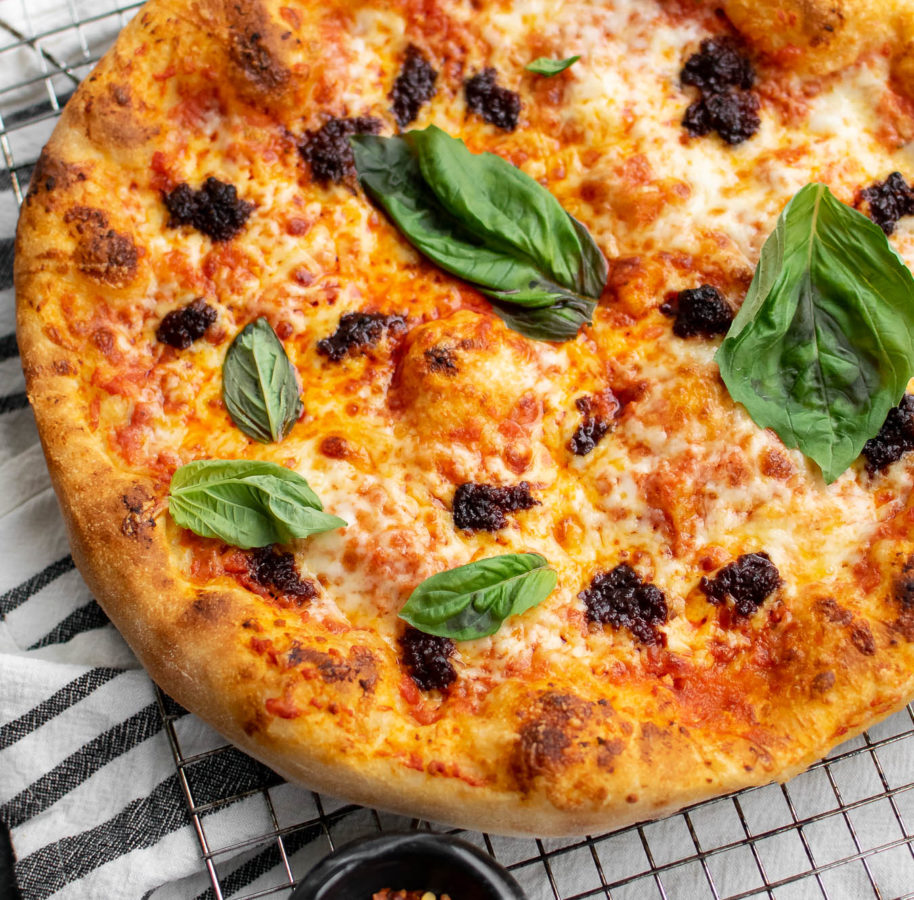 *This post may contain affiliate links. See disclosure for further details.
What is 'nduja?
'Nduja (pronouned en-doo-ya) is a spreadable spicy pork sausage from Calabria, Italy. It's also fermented so it has a certain "funk" to it, in the most delicious way!
If you haven't tried 'nduja yet, now is your chance! I keep seeing it more and more in grocery stores these days, and if you can't find it there, you can always check Italian shops or buy it online.
The Calabrian chilies give 'nduja a dark red color which deepens even more when cooked. That's why it looks almost like raisins in these pictures. I assure you, it's not!
After you've made this pizza, you can use up the rest of your 'nduja in this pasta!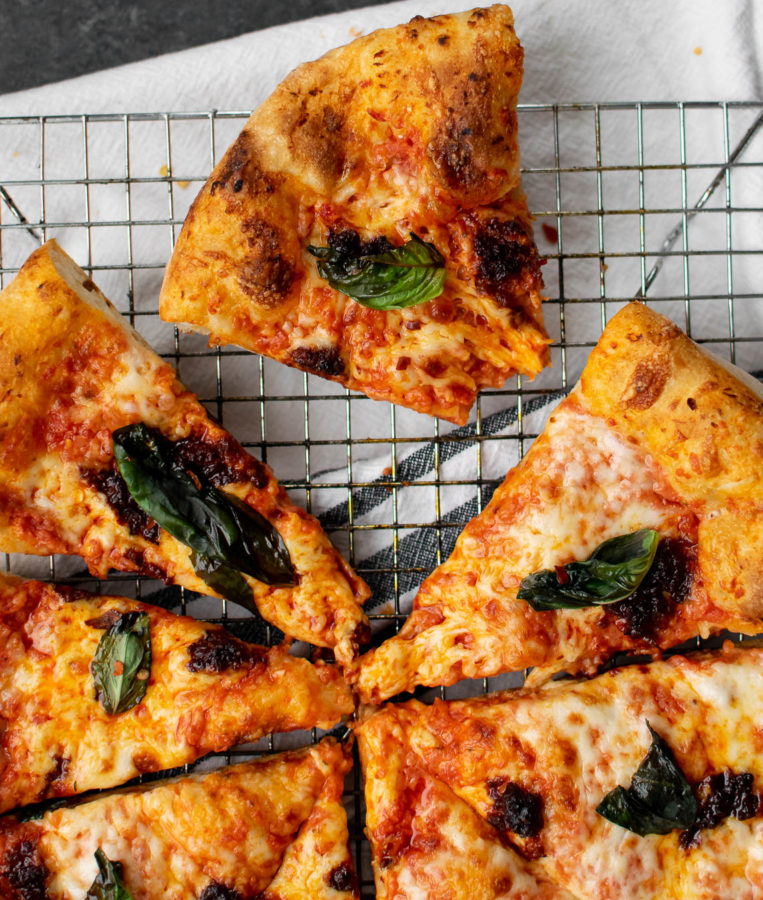 What else goes on this pizza?
While the 'nduja is undoubtedly the star of this pizza, that doesn't mean the rest of the ingredients aren't important! When it comes to homemade pizza, quality ingredients make all the difference. So what's on this pizza?
Tomato cream sauce: this sauce is super easy to make! You'll take my go-to pizza sauce, and add a couple tablespoons of heavy cream. The creamy sauce is not too heavy and is the perfect balance to the tangy 'nduja.
Low moisture mozzarella: Low moisture, whole milk mozzarella is perfect for pizza! It melts perfectly and the low moisture content ensures a non-soggy pizza. Ask for a chunk from the deli counter and grate it by hand for the best results.
Fontina: I love using fontina on pizza. It's creamy, and adds a delicious flavor that's more complex than just mozzarella alone.
Fresh basil: Add fresh basil to the pizza after the bake for maximum deliciousness and to soak up the spicy oil from the 'nduja.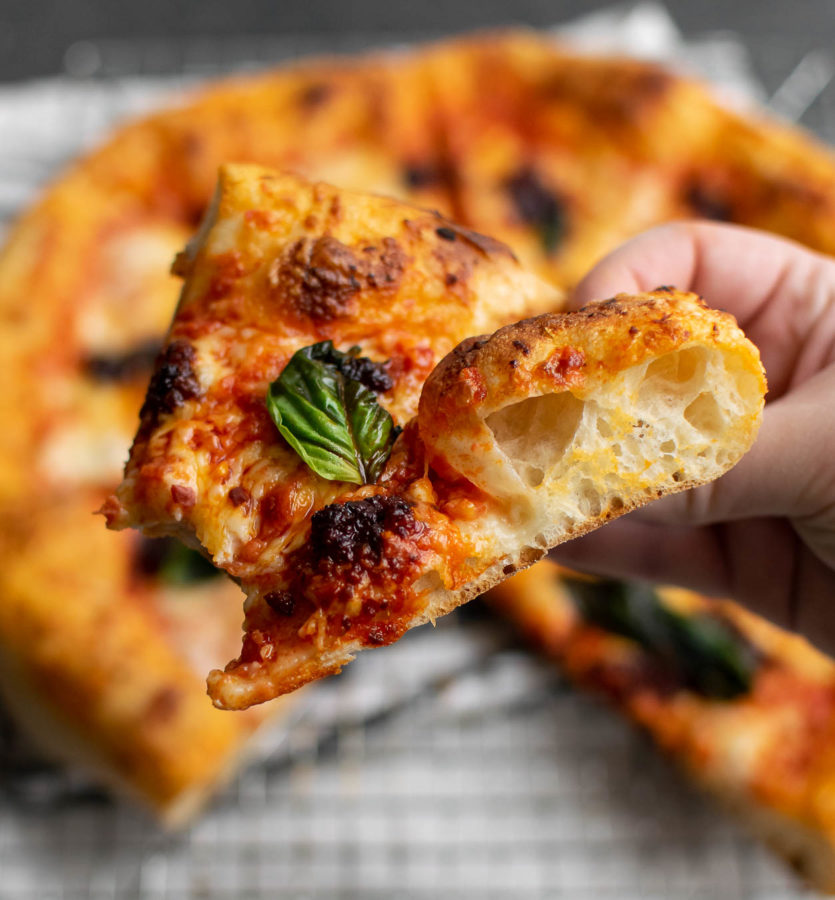 What pizza dough should I use?
Most of the time I make my own pizza dough, but that doesn't mean I'm above store bought dough! I will still buy dough if I'm in a pinch, like I have have a serious pizza craving that needs to be remedied ASAP. Store bought dough can be a great solution if you don't feel like making dough. The only problem is that you don't really know what you're getting, it could be good, and it could be incredibly bland.
That's why I like using my two go-to recipes. I alternate between the Master Dough from the book The Pizza Bible, and the 72 Hour Pizza Dough from Baking Steel. They each take some planning ahead because they take 48 and 72 hours to make. The wait is worth it for the flavor these pizza doughs develop! If you forget to make your dough ahead of time, or if you simply don't want to make it, store bought is totally fine. The pizza in these pictures was made with store bought dough, by the way!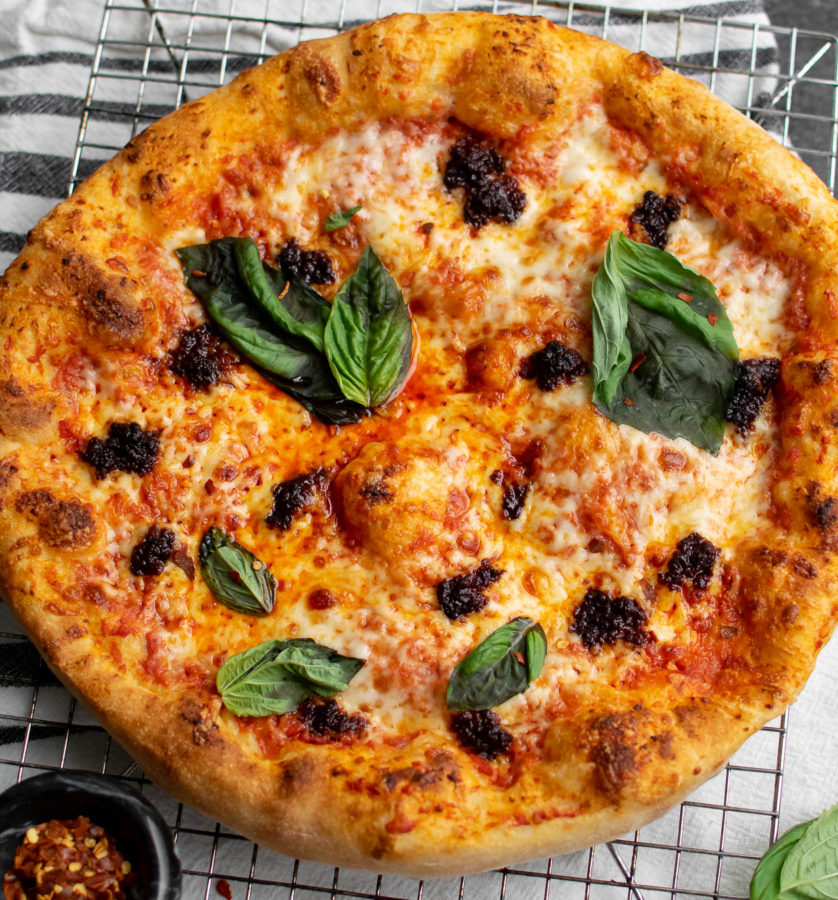 What equipment do I need to make pizza?
You don't need a bunch of fancy equipment to make a good pizza at home, but I'd be lying if I said there weren't are a few things that upped my pizza game by a lot. A lot, a lot.
Baking steel: I make all of my pizza on my baking steel and I am obsessed with it. I can't recommend it enough! If you don't have a baking steel (get one), you can use a pizza stone, or a baking sheet in a pinch. The baking steel will hold heat the best, giving you the closest results to a pizza oven, in your home oven.
Pizza peel: After you stretch the dough, you'll transfer it to your pizza peel. This is where you'll add the sauce and toppings and then you'll use the peel to transfer the pizza to the steel or stone. It's tough to get your dough into the oven without a peel. Gotta have one!
Food processor: Lately I've been liking making my pizza sauce in a food processor instead of by hand. You don't need a food processor, but if you want a less chunky consistency, it helps. I like this one.
Box Grater: It's important to grate your own cheese for pizza because pre-shredded cheeses have anti-caking agents in them and don't melt as well. You'll need a good box grater!
Digital Thermometer: The dough should be around 65 degrees when you stretch it, so you want to take it out of the refrigerator about 2 hours before. I always check the temperature of the dough with a digital thermometer. I have this one, but this is another good option.
Semolina flour: Okay so this isn't actually equipment, but it is important nonetheless! Dusting the peel with semolina will make sure the dough slides off easily and the semolina doesn't burn as easily as cornmeal. A bag will last you a really long time!
You might also like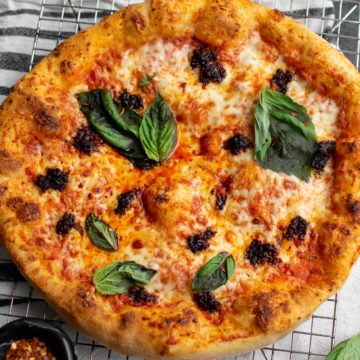 Pizza with 'Nduja and Tomato Cream Sauce
This pizza with spicy 'nduja and creamy tomato sauce is going to be your new favorite pizza. Meaty, creamy, crispy, spicy- delicious!
Equipment
Baking Steel or Pizza Stone

Pizza Peel

Food processor

Box grater
Ingredients
1

1lb

pizza dough

¾

Cup

pizza sauce

recipe follows

½

Cup

low moisture, whole milk mozzarella

grated by hand

½

Cup

fontina

grated by hand

'Nduja

torn into pieces, to taste

Fresh basil

Red pepper flakes

optional

All purpose flour

for dusting

Semolina flour

for dusting
Pizza sauce
1

28 ounce

Can whole peeled tomatoes

juice reserved

1

Tablespoon

tomato paste

2

Cloves garlic

minced

1

Tablespoon

olive oil

1

Teaspoon

dried oregano

½

Teaspoon

kosher salt

plus more to taste

2

Tablespoons

heavy cream
Instructions
For the pizza sauce
Drain the tomatoes and reserve the juice. Add the tomatoes and the tomato paste to a food processor. Pulse until well combined and desired consistency is reached. I like mine with small chunks, not completely smooth. If the mixture is too thick, add some of the reserved juice to thin it out.

Transfer the tomato mixture to a bowl and stir in the garlic, olive oil, oregano, and salt.

Stir in the heavy cream. Taste and adjust as necessary.
For the pizza
Remove the pizza dough from the refrigerator 2 hours ahead of time in order for it to come to temperature. You want the dough to be around 65 degrees when it's time to stretch it.

Place your baking steel, pizza stone or baking sheet in top third of the oven. Pre heat the oven to 500 degrees. You want the baking steel to be pre heating at 500 degrees for an hour before cooking the pizzas.

Dust a counter top or work surface with flour and a bit of semolina. Place your pizza dough on the surface and stretch it into a 12 inch circle. Dust the pizza peel with semolina and transfer the dough to the peel.

Spread the pizza sauce on the dough, sprinkle the cheese in an even layer and top with the 'nduja.

Transfer the dough from the pizza peel to the baking steel and cook for 3 minutes. Then, using the peel, rotate the pizza 180 degrees and cook for another 3 minutes. Finish the pizza under the broiler for 2 minutes.

Top the pizza with fresh basil and let it sit for a couple minutes before slicing it so that the cheese can set (this is the hardest part!)