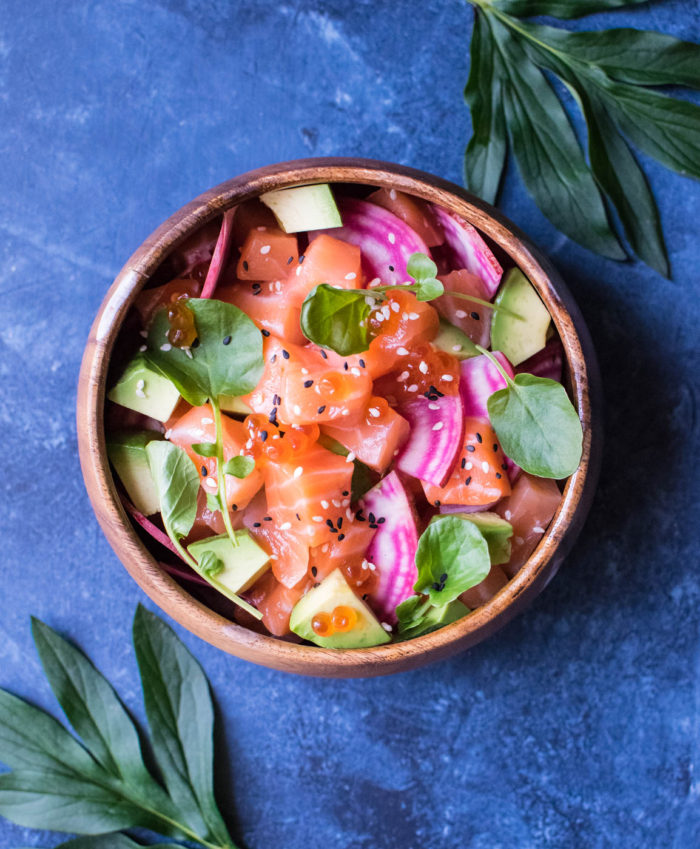 Before you make fun of me, I'd just like to warn you that I got a little carried away with the food styling for this one and I feel totally okay about that. Listen, I'm just out here having fun with it. You should try getting a little crazy with food styling too! Except, not for this recipe because it has raw fish and you don't want to leave that stuff sitting out while you dress your plate up in leaves, ya know? I mean that's just common sense. Anyway, the recipe!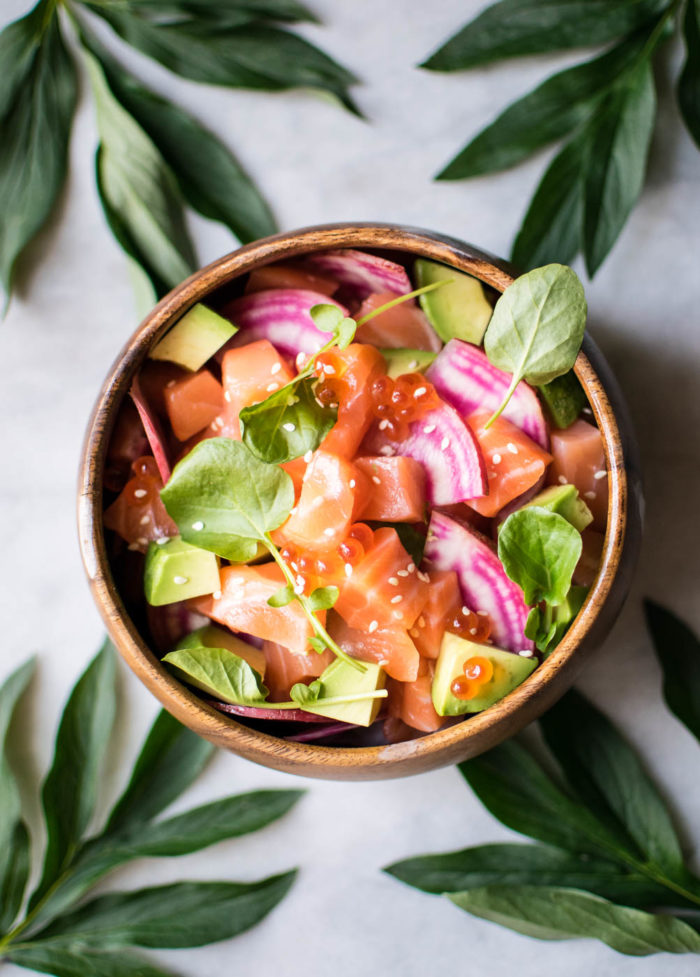 This is another one of those non-recipe recipes ( like this one ) where the measurments don't have to be exact and the toppings are all about your preference! For example, I used candy cane beets in this recipe but if you don't like them or can't find them you could use golden beets or radishes! Don't like salmon roe? Use tobiko or just leave it out entirely! You do you.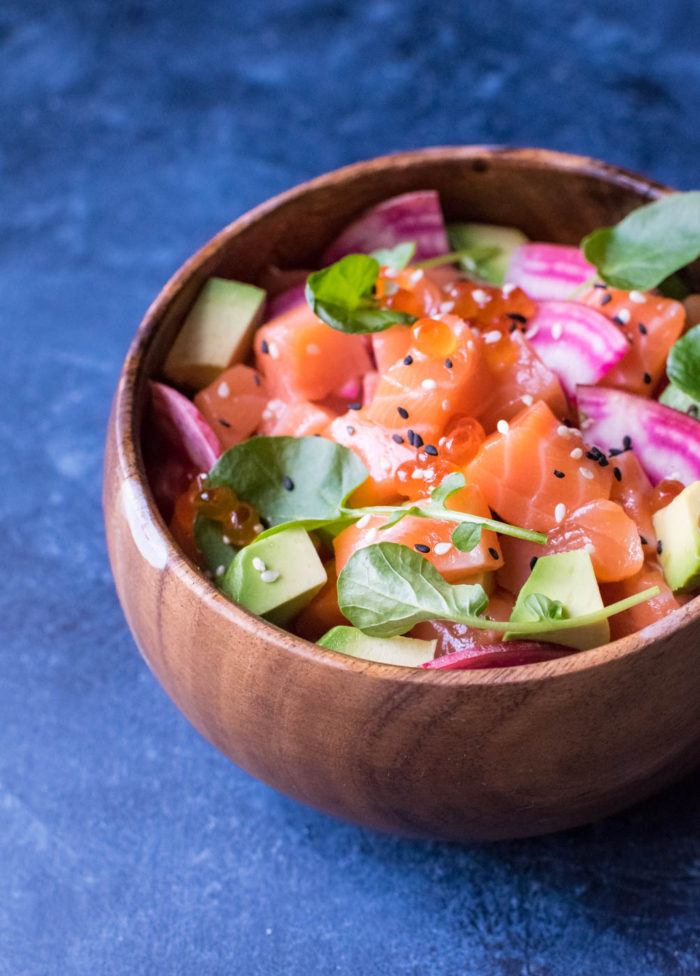 For the salmon, you want to get it from an Asian market or sushi spot and buy the salmon the day of! It needs to be fresh, fresh, fresh. Slice the salmon longways, against the grain, and then across to make cubes. They don't have to be perfect but, a 1x1 inch cube is basically what you want. Then, slice the avocado to be the same size.
The sauce, which is a variation on ponzu sauce, will take only a minute to throw together but you'll want to wait until right before you eat to pour it on the poke bowl. The acid in the sauce (vinegar and lime) will "cook" the salmon so to retain the smooth texture of the raw fish, leave it until last.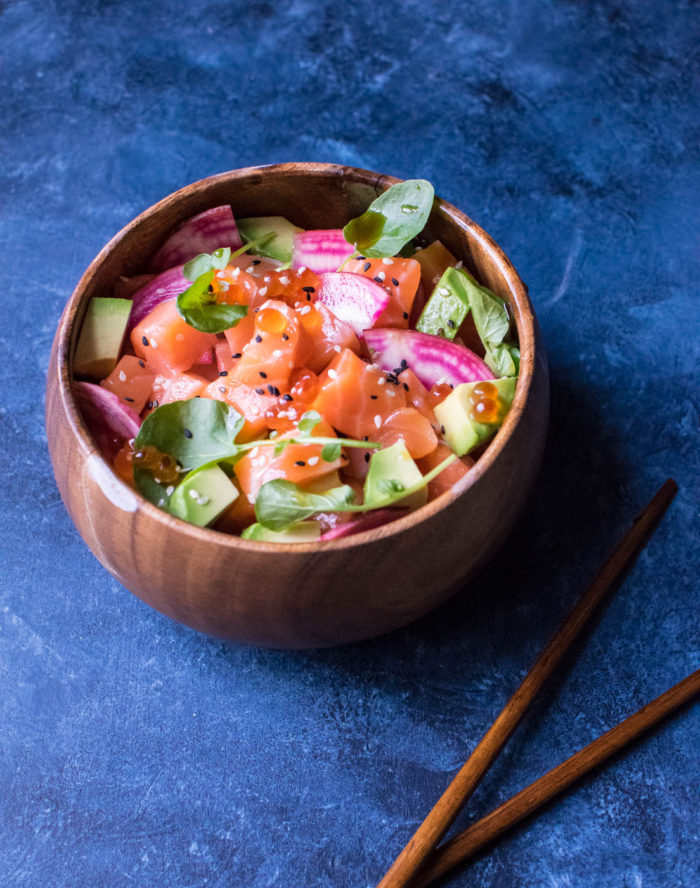 There you go! A super easy, healthy and damn photogenic meal!
You might also like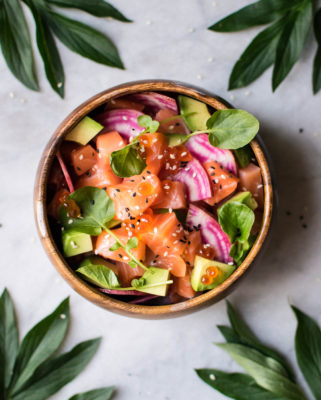 Salmon Poke Bowl with Roe and Watercress
Ingredients
For the poke bowl
1 ½

Cups

fresh salmon

cubed

½

Avocado

cubed

1-2

Tablespoons

salmon roe

to taste

½

Candy cane beet

very thinly sliced

1

Cup

watercress

Sesame seeds

to taste
For the sauce
1

Tablespoon

soy sauce

1

Tablespoon

rice vinegar

1

Teaspoon

mirin

Squeeze of lime

¼

Teaspoon

honey

optional
Instructions
Slice the salmon lengthwise (against the grain) into 1 inch strips and then crossways, to cube. Slice the avocado into cubes. Thinly slice the beets and then cut slices into quarters.

Make the sauce; mix all of the ingredients together and set aside until ready to use.

Mix the salmon, avocado, beets, and watercress in a bowl. Top with salmon roe, sesame seeds and whatever other toppings you choose. Dress with the sauce just before eating.