Sheet Pan Greek Salmon and Potatoes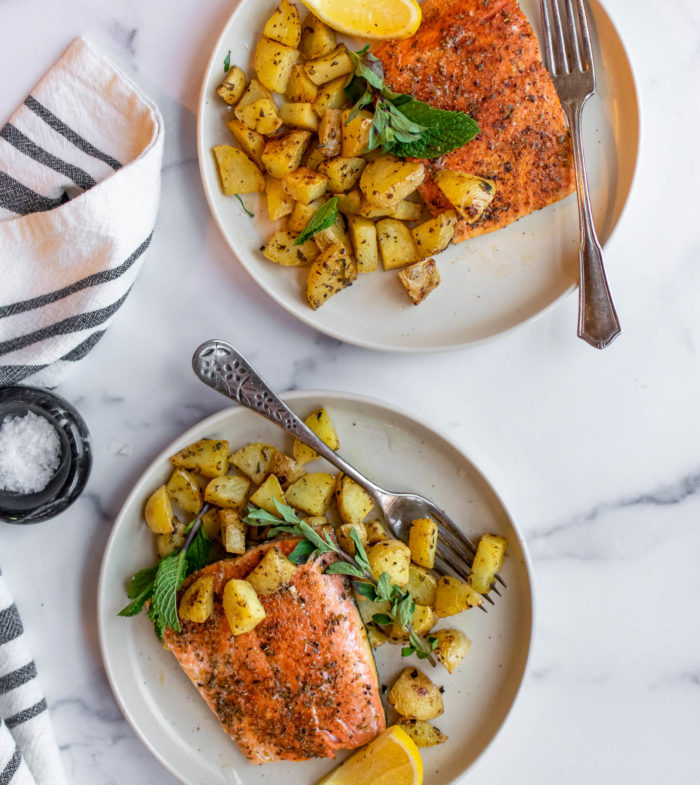 This Sheet Pan Greek Salmon and Potatoes is perfect for an easy weeknight dinner! This Greek salmon dinner is super flavorful and healthy. Plus, sheet pan dinners make for the easiest clean up!
I had some beautiful wild Alaska sockeye salmon delivered to me from Fulton Fish Market that I thought would be perfect for this recipe. Fulton Fish Market is an online fish market that offers the world's largest assortment of fresh seafood, selected by their experts direct from the source. If you're a seafood lover like me, you have to check them out!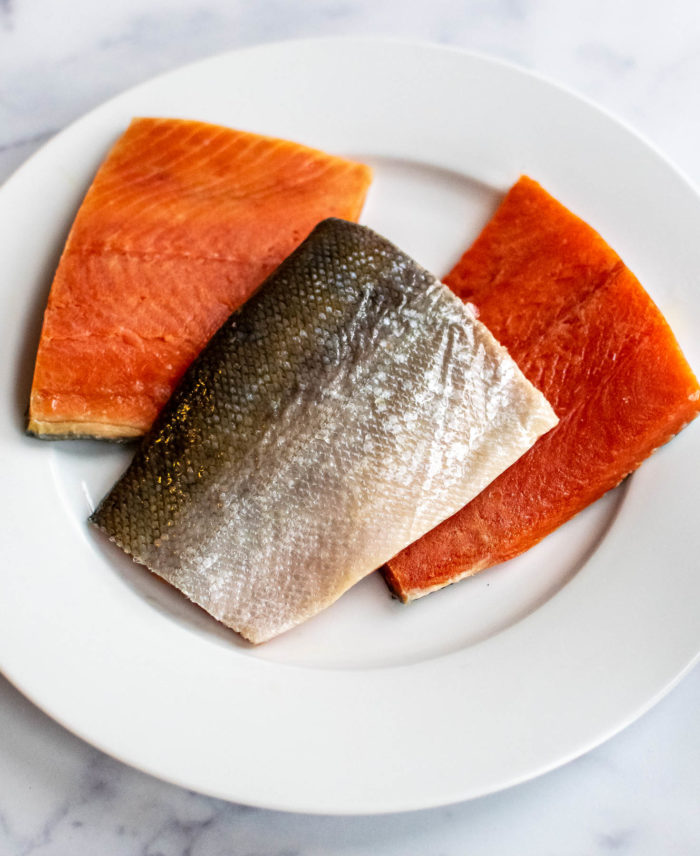 Can we take a second to talk about how gorgeous this wild Alaska sockeye salmon is?! I love the ruby red color so much! Sockeye is one of the more flavorful varieties of salmon and one of my personal favorites! It went perfectly with the bold greek spice blend used in this recipes. And of course, it went perfectly with the potatoes because what doesn't go with perfectly roasted potatoes?!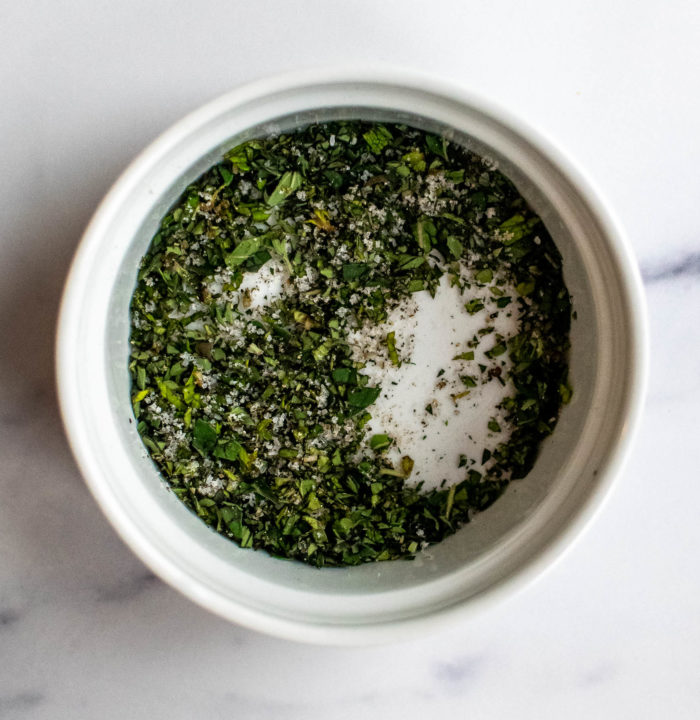 Speaking of the potatoes, I tossed them with olive oil, lemon, garlic, and plenty of fresh herbs. Fresh oregano gives these potatoes that classic Greek flavor, and then fresh mint adds a little something special! I love using fresh mint in savory dishes—if you haven't tried it yet, you're in for a treat!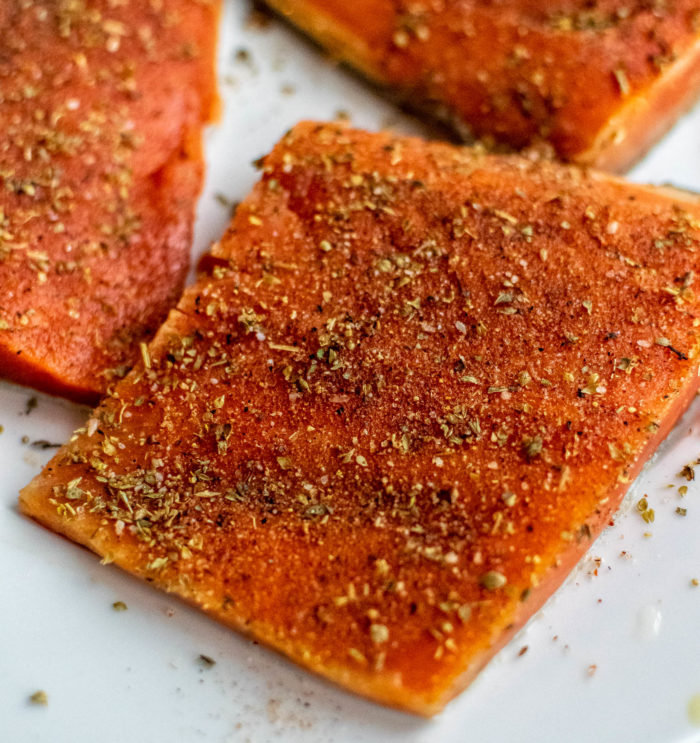 For the salmon, I made a blend of herbs and spices typically found in Greek cuisine. The usual oregano, garlic, salt and pepper make up the most of the blend but then a tiny amount of cumin and cinnamon are what make it really special. The Sockeye has so much flavor itself, you don't have to worry about the spices overwhelming it!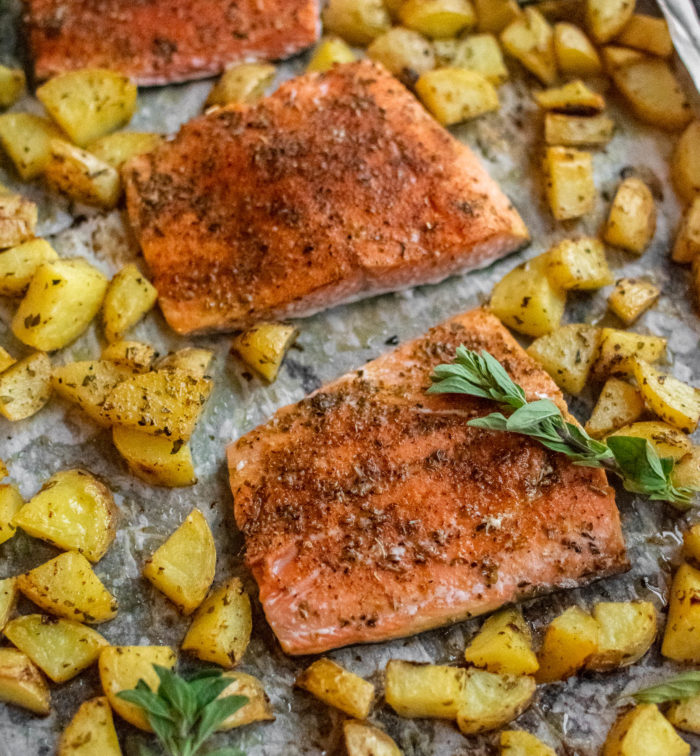 I really love how easy dinners like this one are. First you roast the potatoes for about 25 minutes on their own, then nestle in the salmon and put the whole thing back in the oven for another 10 minutes or so. Cook times may vary depending on the size of your salmon pieces so make sure to keep an eye on them. The salmon should be opaque and flake easily with a fork when it's done. I like to turn the broiler on for the last couple minutes so that the salmon gets a bit of a crust and the potatoes get nice and crispy. Then you just put the sheet pan out and there's dinner! Easy peasy.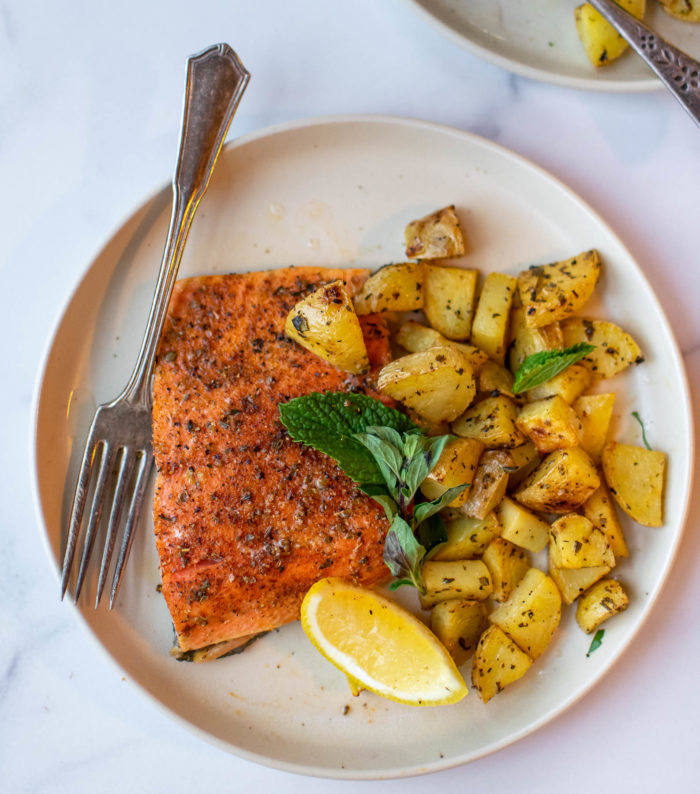 This recipe is Whole30 compliant, but if you're not doing Whole30, I would definitely serve it with some Tzatziki for maximum deliciousness.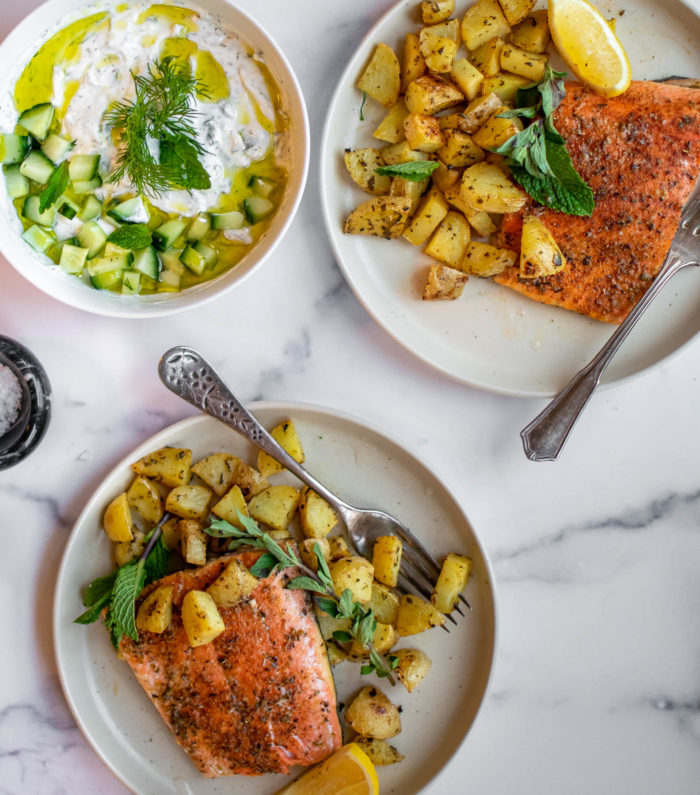 I can't wait to hear what you guys think of this one and don't forget to check out Fulton Fish Market! You'll get free 2 day shipping on orders over $99, and they ship nationwide. I'm stocked up on wild Alaska sockeye salmon, smoked salmon, and their incredible sauces and already planning my next order. Right now you can use code: CAROLYN15 to get 15% off your order!
Thank you, Fulton Fish Market for sponsoring this post and supporting Carolyn's Cooking!
Recipe Summary
Sheet Pan Greek Salmon and Potatoes

Level:

Easy

Servings:

3-4

Ingredients:

For the potatoes

2 Pounds yukon gold potatoes, cut into 1 inch chunks
3 Tablespoons olive oil
1 Tablespoon lemon juice
1 Tablespoon fresh oregano, finely chopped
1 Tablespoon fresh mint, finely chopped
1 Teaspoon kosher salt
1/2 Teaspoon pepper
1/2 Teaspoon garlic powder

For the salmon

3 (3-4 Ounce) Portions Fulton Fish Market wild Alaska sockeye salmon, defrosted
Olive oil
1 Teaspoon dried oregano
1/2 Teaspoon kosher salt
1/4 Teaspoon pepper
1/4 Teaspoon garlic powder
1/4 Teaspoon paprika
1/8 Teaspoon cumin
1/8 Teaspoon cinnamon

For serving

Fresh herbs such as oregano, mint and parsley
Lemon wedges
Tzatziki (optional)

Instructions:

Pre heat oven to 425 degrees and prepare a large parchment lined baking sheet.
In a large bowl, toss all of the ingredients for the potatoes together until well coated. Spread the potatoes out on the baking sheet in an even layer and roast for 30 minutes, tossing halfway through. 
Meanwhile, pay the salmon dry and drizzle with olive oil. Sprinkle each piece evenly with the spice blend.
Nestle the salmon pieces into the potatoes and roast for an additional 10 minutes, or until salmon is opaque and flakes easily with a fork, turning the broiler on for the last 2 minutes.
Serve right away and enjoy!