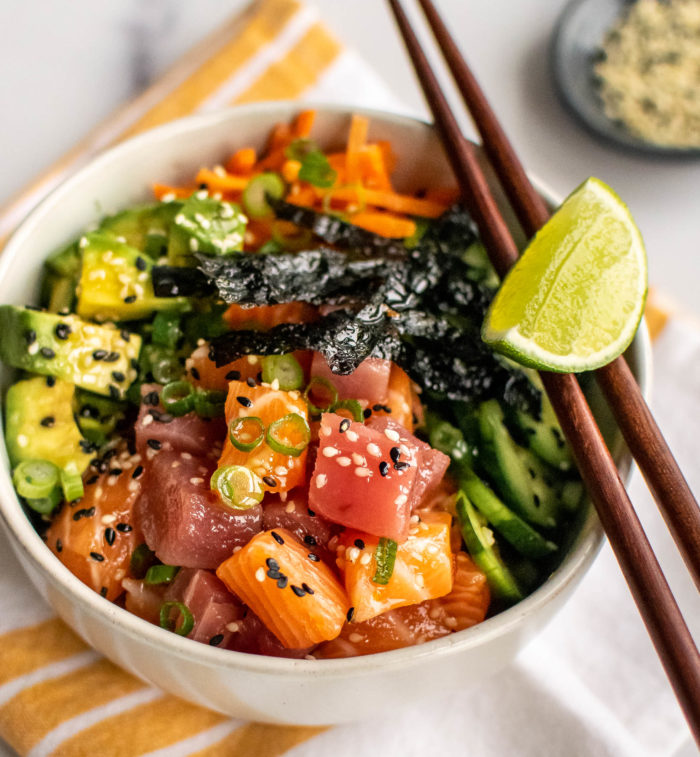 If you love sushi, you will love these Whole30 Poke Bowls! Fresh salmon and tuna over cauliflower rice with a delicious sauce and all the fixins—so perfect! These poke bowls will be your new favorite dinner, whether you're doing Whole30 or not.
These bowls have been a life saver during Whole30! I was worried I was going to end up eating a piece of meat and a pile of veggies at every meal, and let's face it, that could get reeeaaal boring. I love making poke bowls at home, so I was determined to make a delicious Whole30 version. Success!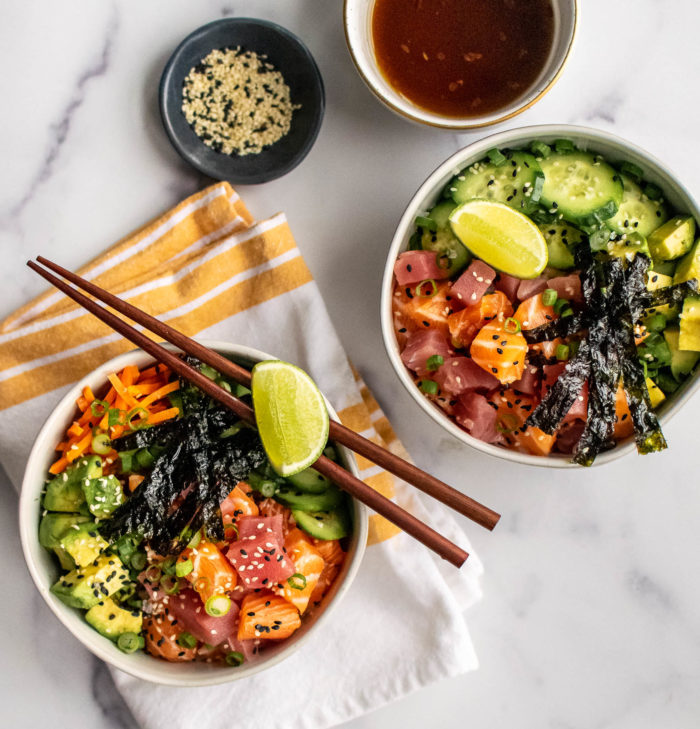 *This post may contain affiliate links. See disclosure for further details.
To make this recipe Whole30 compliant, I used cauliflower rice in place of traditional sticky rice, and swapped coconut aminos in for soy sauce. Of course, if you're not doing Whole30, feel free to rice it up! I have to say, I was worried the cauliflower rice would be totally "meh" compared to sticky white rice, but I was pleasantly surprised with how it turned out!
I always have a few bags of frozen cauliflower rice in the house so I've been using that for these bowls. The trick is to sauté the cauliflower rice with a tiny bit of oil (I used avocado oil) and then let it cool a bit. You don't want to put the raw fish on top of a pile of steaming hot cauliflower rice. If you're starting with fresh, not frozen, cauliflower rice, you can leave it raw. Whatever you like best!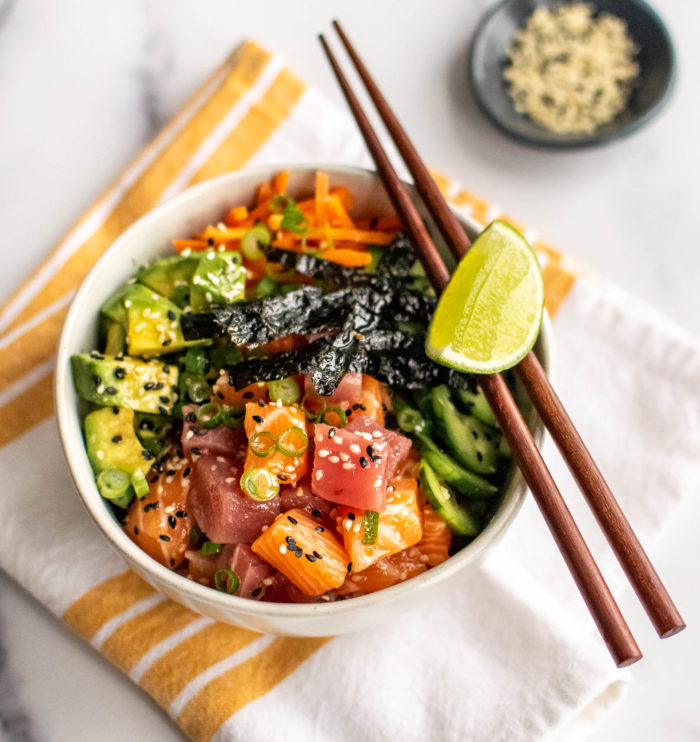 So what is poke, anyway? Poke (pronounced poh-kay), is a Hawaiian dish of raw fish, usually tuna, marinated in sauce and usually served with rice, green onions, and veggies.
For this recipe, I used both salmon and tuna but you can use one or the other, depending on your preference! There's lots of room for customization with these poke bowls—that's the fun of it! I love the combination of creamy and crunchy textures in this bowl from the avocado, seaweed, carrots and cucumbers, but feel free to leave out any veggies you don't like.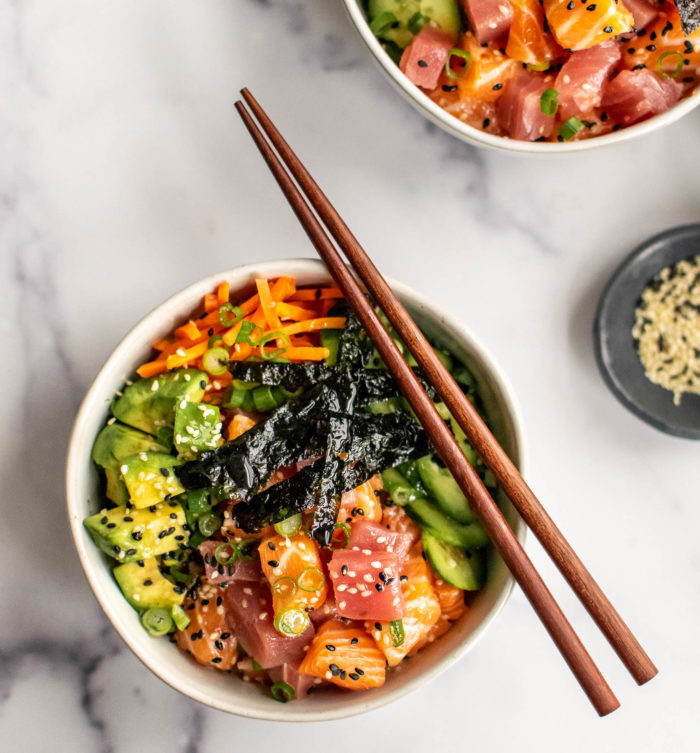 Traditionally, fish for poke is marinated in sauce for a bit before serving. Sometimes I like to marinate the fish, and sometimes not, depending on my level of laziness in that moment. If you plan to marinate the fish, use only the coconut aminos and the sesame oil. The acid from the rice vinegar and lime will begin to cook the fish, and give it a weird texture so leave them out until the end. If you have marinated the fish, just add the vinegar and another splash of coconut aminos and give the fish a stir before serving.
More often than not, I'll skip the marinating, and just dress the bowl with the sauce all mixed together. It's easier, faster, and totally delicious! But you're the boss of your own life—do what you want!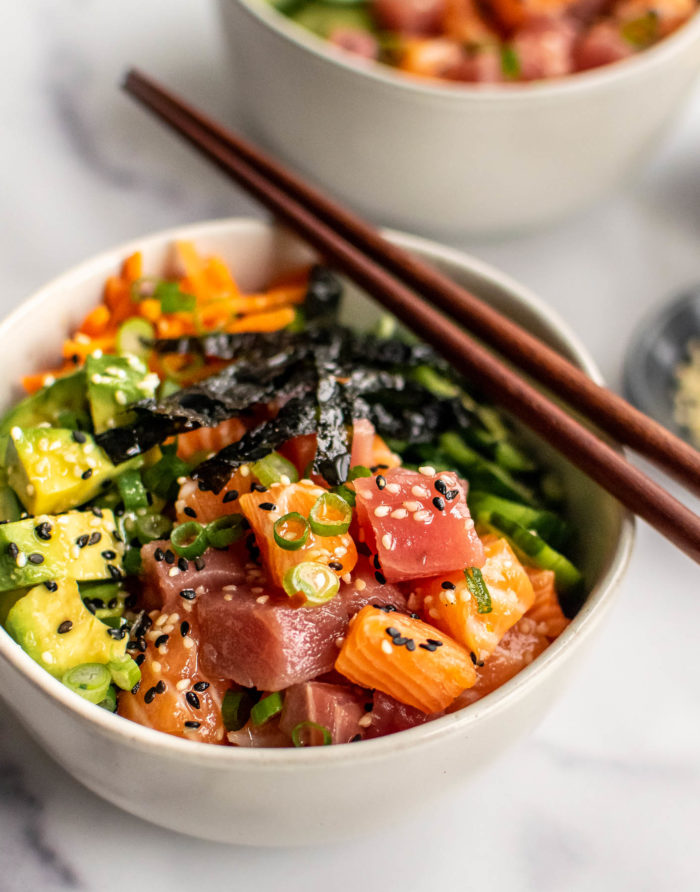 Remember, we're working with raw fish here, so it needs to be not good, but great quality! I have two spots that I like to buy my fish for poke bowls from: a nearby Asian market and a sushi place. You can also ask your fishmonger! Just make sure you're buying sushi or sashimi grade fish. Sometimes you can find fish that has already been cut into cubes for poke, otherwise you can cut it yourself.
Slice the fish longways, against the grain, and then across to make cubes. They don't have to be perfect, but a 1×1 inch cube is basically what you want.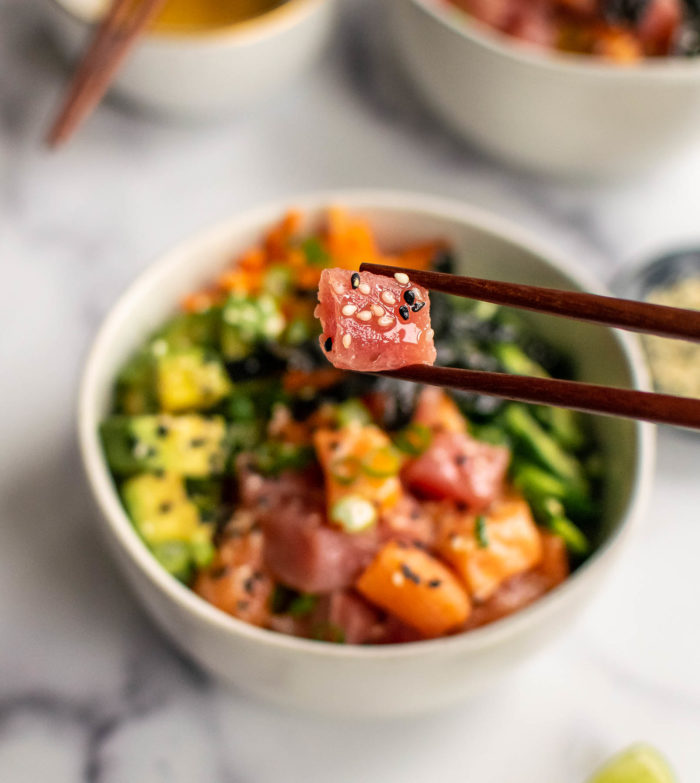 You'll notice that most of the measurements for this recipe aren't exact and that's on purpose! I'll give you measurements for the dressing, and guidelines for the bowl. For example, you'll want about 4-6 ounces of fish per person but you can decide exactly how much you want. Love seaweed? Load it up. Want more coconut aminos? Po it up. Maybe you want 1 cup of cauliflower rice or maybe you want 2. I don't know your life!
Basically, just build your bowls the way you want.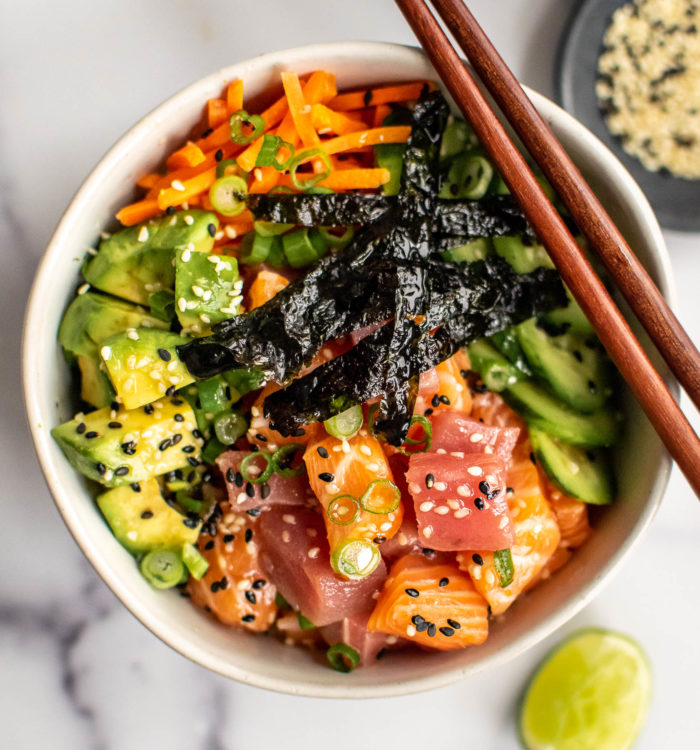 I promise you guys will love these Whole30 Poke Bowls, and you won't even miss the rice! Okay, maybe a little.
I can't wait for you to make them!
You might also like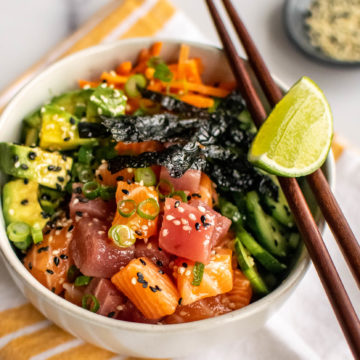 Whole30 Poke Bowls
If you love sushi, you will love these Whole30 Poke Bowls! Fresh salmon and tuna over cauliflower rice with a delicious sauce and all the fixins—so perfect!
Ingredients
Whole30 Poke Bowls
4-6

Ounces

sushi grade salmon

cubed

4-6

Ounces

sushi grade tuna

cubed

2-4

Cups

cauliflower rice

1

Avocado

cubed

1

Persian cucumber

thinly sliced

1

Cup

carrots

shredded

Seaweed sheets

cut into strips

Scallions

green and light green parts only, thinly sliced

Sesame seeds

Flaky sea salt

Lime wedges

for serving
For the dressing
3

Tablespoons

coconut aminos

2

Tablespoons

unseasoned rice vinegar

1

Tablespoon

sesame oil

Pinch of red pepper flakes
Instructions
In a small bowl, whisk the ingredients for the dressing together.

Layer the cauliflower rice, the veggies, and the fish in a bowl. Season the veggies with a pinch of flaky salt. Pour the dressing over the whole bowl. Top with scallions, sesame seeds, and seaweed strips.

Serve with lime wedges. Enjoy!