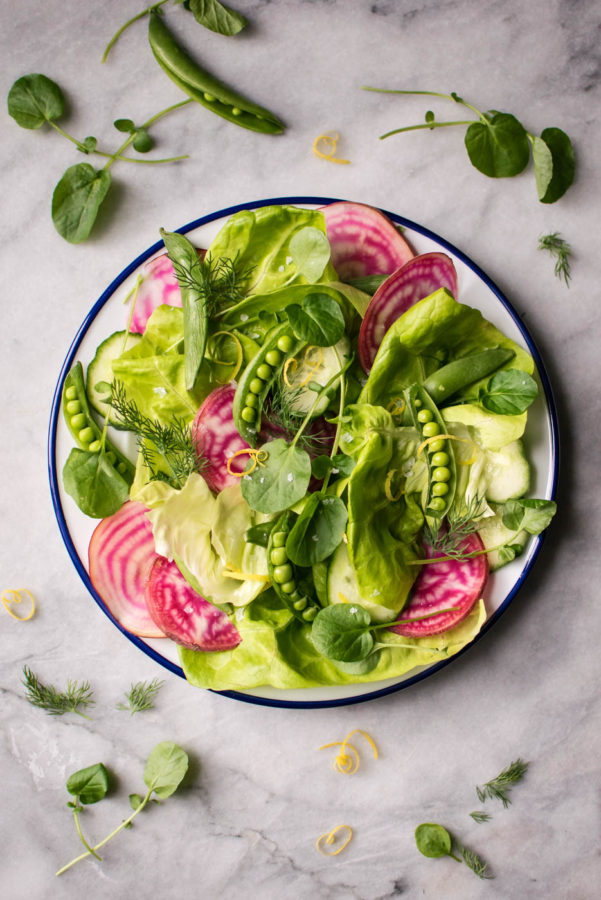 Spring is such an exciting time! At least here in Chicago it is. The sun stays out longer, the weather gets warmer and we can finally see the light at the end of the tunnel that is winter. Every year, like clockwork, I completely forget how much I love when the weather starts to warm up. Seriously, it's like my brain resets some time during the looooong, long winter and I completely forget that Chicago actually has seasons. So, when Spring finally rolls around, my brain is like WHOA and I get super excited and then I make a salad. In this case, a really gorgeous one.
Can we just talk about how good looking candy cane beets are? I mean seriously. And butter lettuce is gorgeous. And open one of those sugar snap peas and it's like whooaaa beautiful! Well done, nature. Really top notch.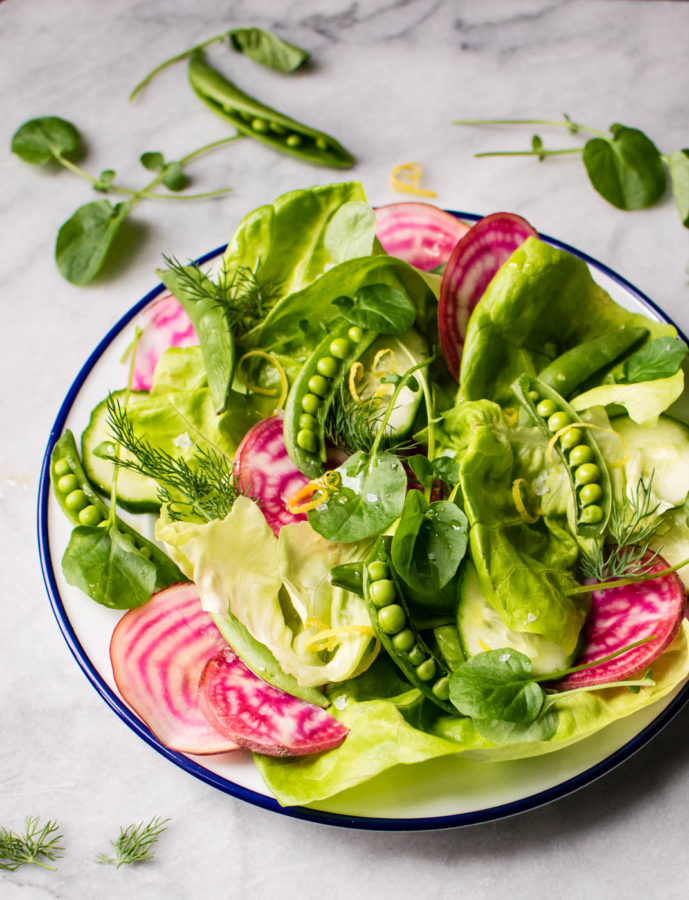 *This post may contain affiliate links. See disclosure for further details.
For this salad I like to keep the sugar snap peas raw. If you prefer, you can quickly boil them but make sure to have an ice bath ready to stop the cooking to make sure there's still that snap! Or else you'd just have sugar peas on your hands (get it?). This salad is super simple but since the colors are so stunning, you'll definitely impress with this one. If you want to get fancy with the peas (like I did in the photos) you can open a few of them to add some nice texture.
Take a photo, this is going to be one good looking dish!
You might also like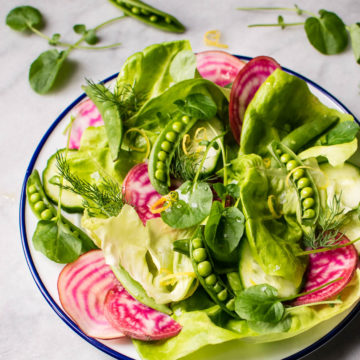 Spring Salad with Sugar Snap Peas and Beets
This fresh and beautiful salad is perfect for spring!
Ingredients
For the salad
1

Head butter lettuce

torn

1

Pound

sugar snap peas

2

Cups

watercress

1

Candy cane beet

very thinly sliced

½

English cucumber

thinly sliced

Fresh dill

roughly chopped, to taste

Lemon zest

to taste
For the dressing
2

Tablespoons

olive oil

1

Tablespoon

fresh lemon juice

1

Tablespoon

plain kefir

½

Teaspoon

honey

1

Clove garlic

smashed

Salt and pepper

to taste
Instructions
Make the dressing. Mix all the ingredients together and set aside.

Make the salad. Thinly slice the beets and cucumber. Arrange the butter lettuce, watercress, sugar snap peas, beets and cucumbers on a plate, top with lemon zest and dill. Discard the garlic clove and lightly dress the salad.