Today, I am sharing one of my favorite recipes and I'm so excited … beet cured salmon! If you're like me and love, LOVE salmon, you're definitely going to want to make this. I have to be honest, I'm a little embarrassed that I haven't been curing my own salmon this whole time (I mean, not my whooole life. Like, obviously I shouldn't have been some sort of salmon-curing baby. That would've been weird. And impressive.) Especially since it is so incredibly easy to do!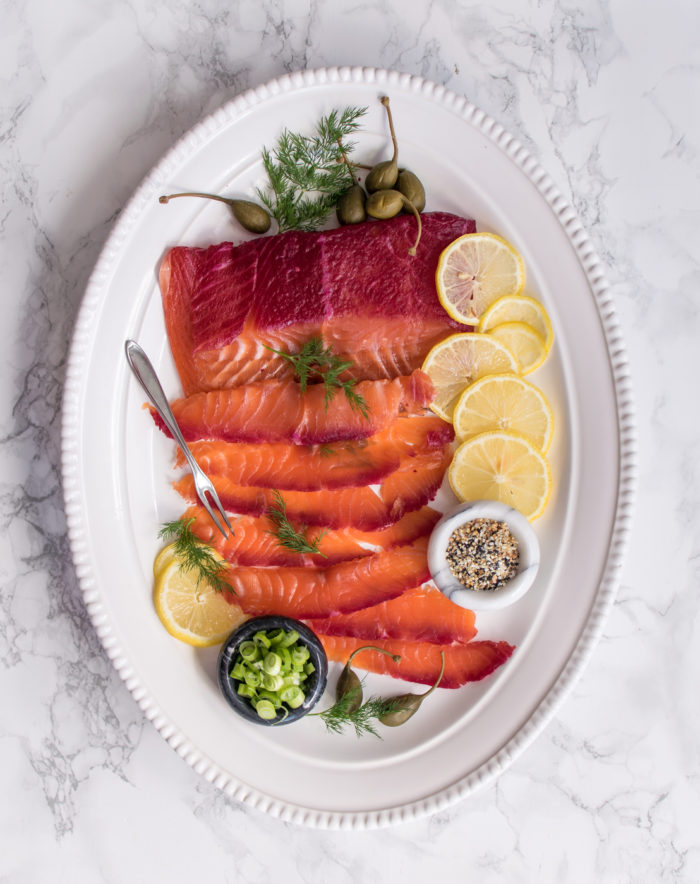 *This post may contain affiliate links. See disclosure for further details.
Since it takes a couple days, you're going to want to make a good amount. There's no point in waiting for half a pound of salmon to cure. I suggest making at least 1 pound—like this recipe calls for. If you plan on serving this salmon to guests for brunch or lunch, and you should, grab a bigger piece of fish and double the recipe! Just keep in mind that it takes two days to cure so plan ahead.
This recipe is really simple and there are very few ingredients, but the result is really impressive, beautiful, and delicious. You might not even want to eat it at first because you'll be staring at the beauty. Seriously, the salmon ends up looking like the most perfect sunset you've ever seen. Okay, when you're done staring at it, taste it! The beets not only give the salmon a gorgeous color, they also give the salmon a very subtle flavor that's slightly sweet.
Alright, let's do this. First, when you're buying your salmon, you'll want to look for a piece that's evenly thick so it'll cure evenly. If you can, buy wild caught salmon. I like Alaskan Sockeye, but any kind will work. Just remember, NO frozen salmon. That won't work. Ask your fish monger to remove any pin bones if they haven't already. Then, when you get home, run your fingers along the center of the salmon to feel for any bones that they might have missed. If you find one, pluck it out with a pair of needle nose pliers or tweezers. Now it's ready to be cured!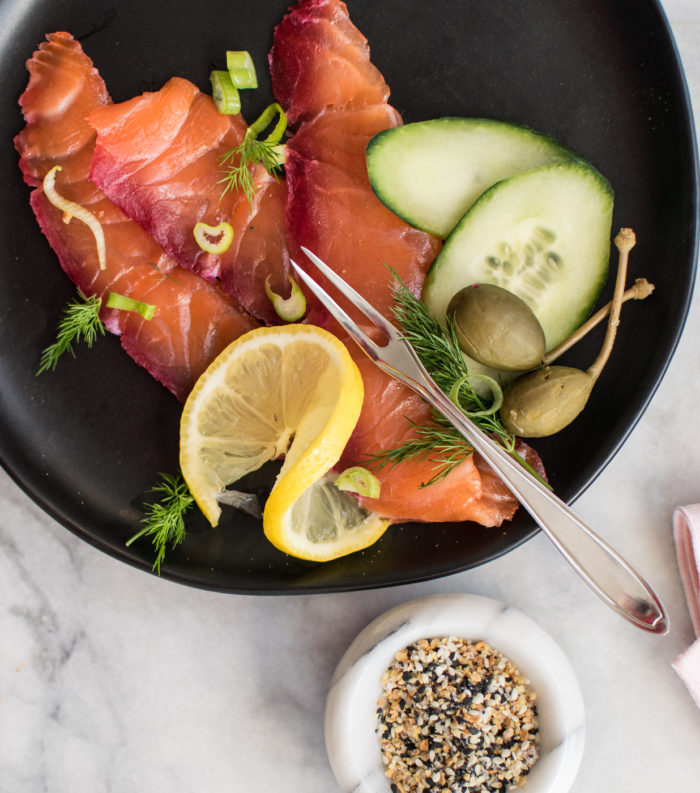 You're going to need two baking dishes: one to put the salmon in and one to go on top of the salmon to weigh it down. Lay some plastic wrap down in the first baking dish, enough to wrap around the salmon twice, then place the salmon on top. As instructed, layer the vodka, salt and sugar mixture, and beet mixture over the salmon and wrap tightly with plastic wrap while leaving one corner open for the juices to drain out. Then, you'll stack the second baking dish on top and add some cans for extra weight. Next, pop that whole baking dish/salmon/can apparatus in the fridge and let it get to curing! After one day, you'll need to check on the salmon and pour off any liquid that has drained out into the pan. Then, back in the fridge for the second day. After the second day of curing, the fish should be done. It should be firm but with some give. Now, just rinse, pat dry, slice it up, and serve!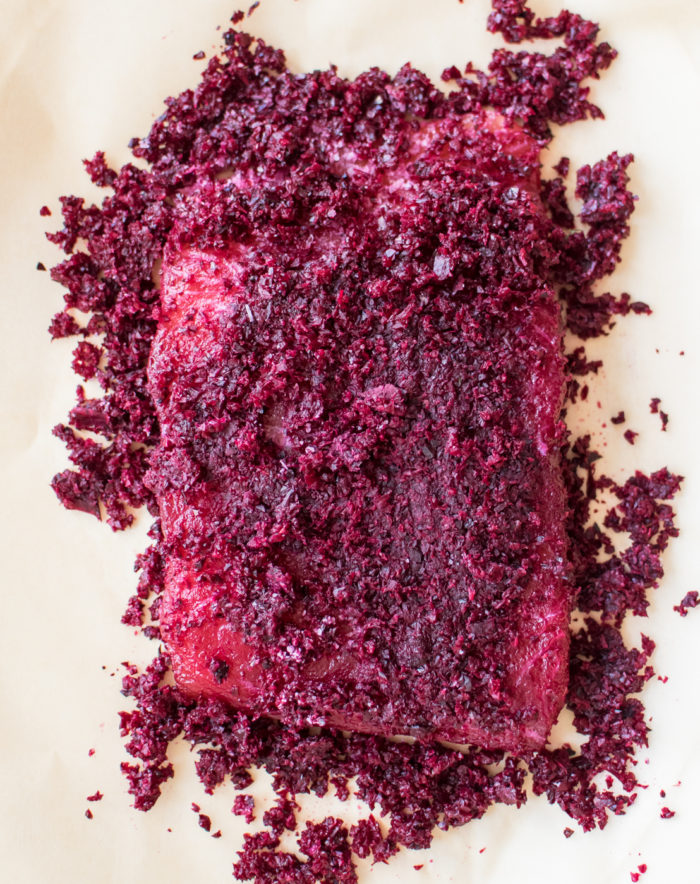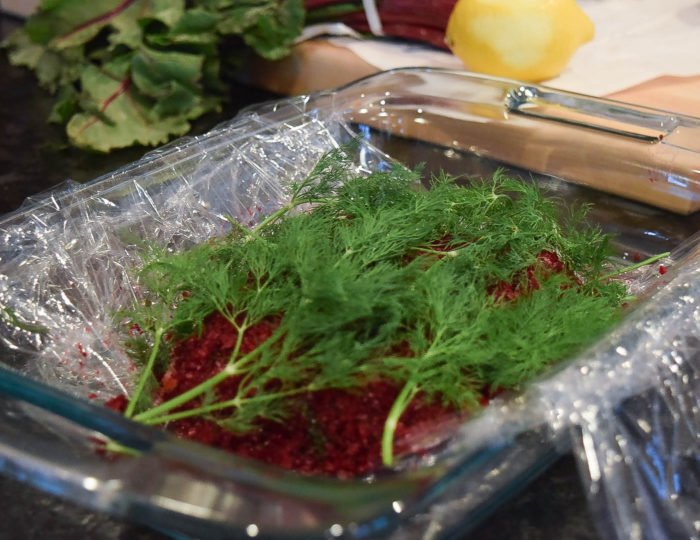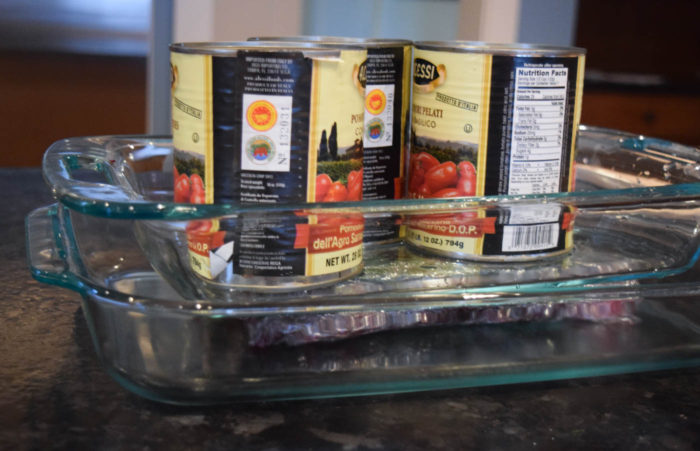 Now that you've made it past those ugly, technical photos, It's time to reward you with another pretty shot.
Phew, much better.
You can obviously enjoy this salmon on a bagel with cream cheese but I like it best on toast with farmer's cheese, a squeeze of lemon, scallions, fresh dill and a sprinkling of everything bagel blend. I also have been known to just take a plate of it straight to the dome—no bread, just salmon. Eat it however you want but don't forget to take all the photos! I mean, how often is your food prettier than you are?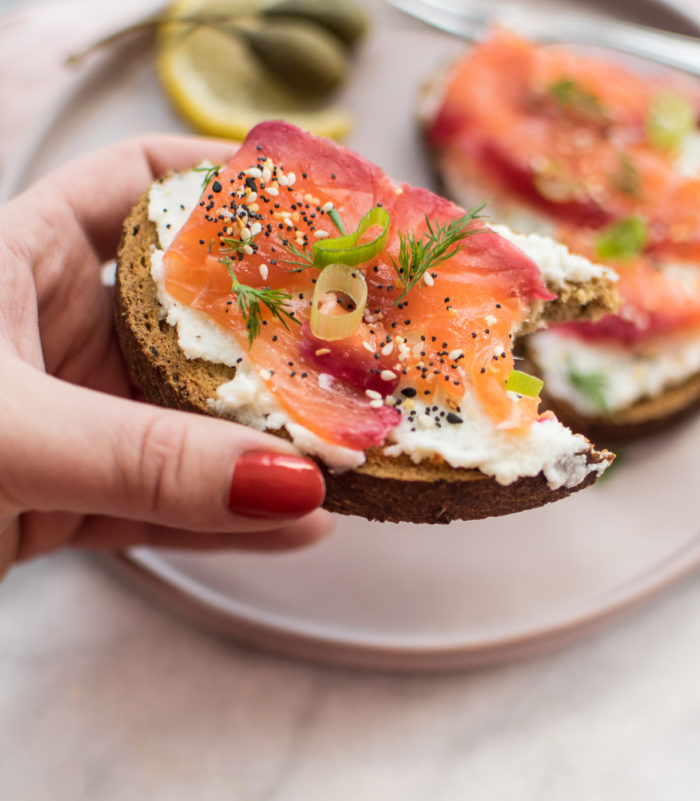 I hope you guys love this beet cured salmon as much as I do! I'm glad we are all becoming salmon curing wizards together.
You might also like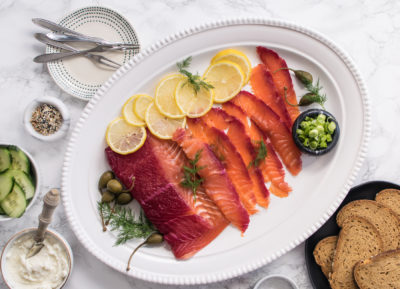 Beet Cured Salmon
Curing your own salmon is easier than you'd think! This beet cured salmon is the perfect addition to your brunch spread- Just as pretty as it is delicious!
Ingredients
1

Pound

fresh salmon

2

fresh beets

½

Teaspoon

prepared horseradish

1

Teaspoon

lemon zest

½

Cup

kosher salt

½

Cup

granulated sugar

1

Bunch fresh dill

1

Glug vodka
Instructions
In a blender, pulse beets, horseradish, and lemon zest until mostly smooth (it doesn't have to be perfect).

Mix salt and sugar in a bowl.

Place a long piece of plastic wrap in the bottom of a baking dish and place the salmon (skin side down) on top.

Pour a glug of vodka over the salmon and rub it over the flesh.

Pack the salt/sugar mixture onto the salmon making sure to cover all sides and edges. Next, pack the beet mixture over the salmon making sure to cover all sides and edges as well. Spread the bunch of dill over the salmon.

Wrap salmon tightly in plastic wrap and tuck one end under. The other end should be left slightly open, so the juices from the fish can drain out.

Stack your second baking dish on top of the wrapped salmon and weigh it down with cans. Place the salmon in the refrigerator.

After one day, check on the salmon and pour off any liquid that has accumulated in the pan, then put it back in the refrigerator for one more day.

When the salmon is ready (it should be pretty firm with a little give), gently rinse it under water to remove the beet/salt mixture, then pat dry with a paper towel.