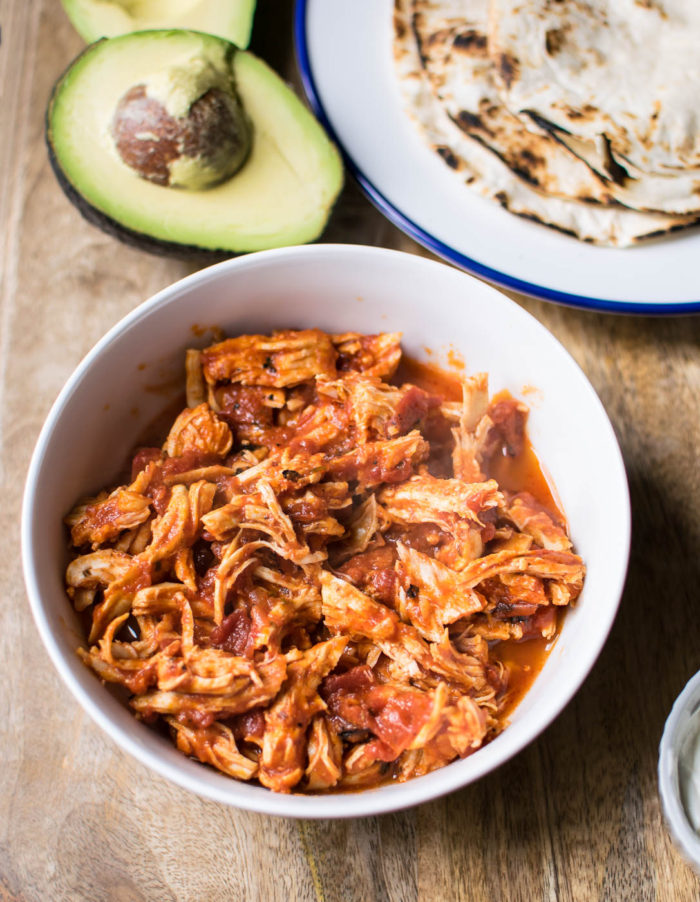 Hi! I realize I was MIA there for a minute and I SO apologize! I was out of town and spending some time with family but I'm back in the kitchen and back in action! Do you forgive me? How about if I give you a recipe for the easiest and most delicious shredded chicken ever? I thought you might! What do ya know, here it is!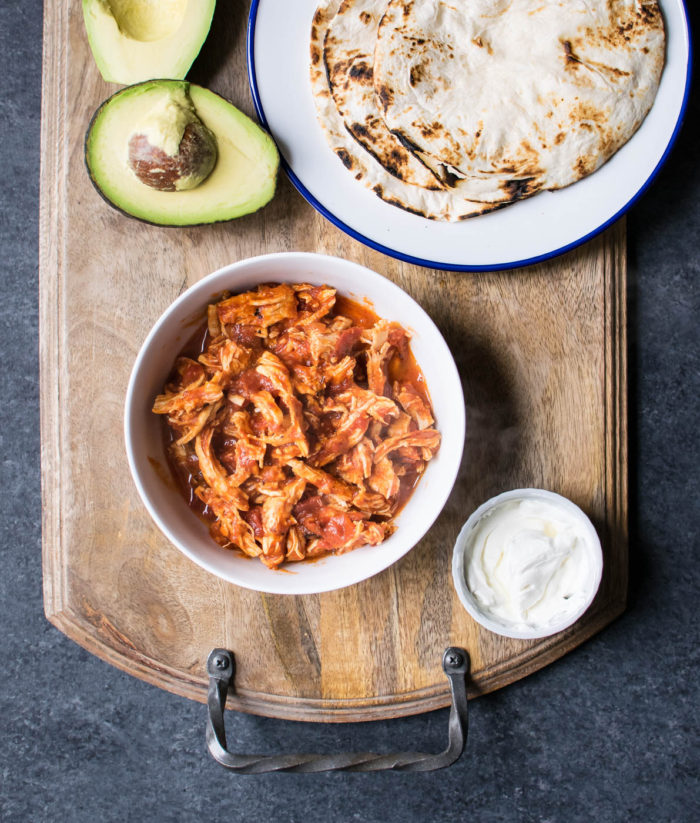 *This post may contain affiliate links. See disclosure for further details.
This recipe is basically foolproof (not that any of you are fools) and it's just as delicious as it is easy! This chicken is in heavy rotation in my kitchen—you might've seen me making it on Instagram stories—and I have yet to reach the point where I'm sick of it or not in the mood. It just doesn't happen!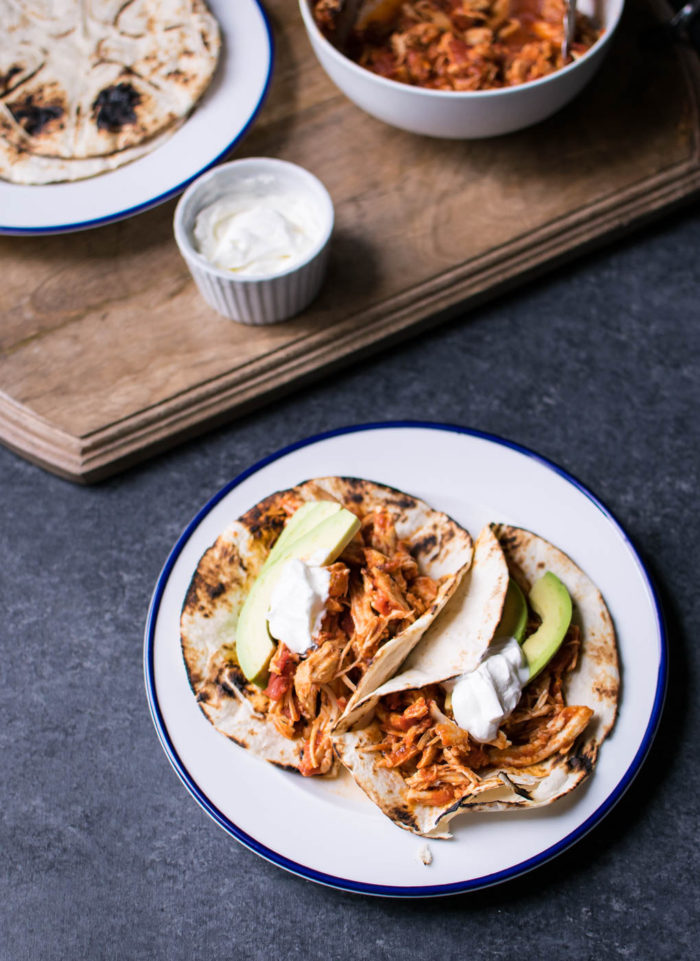 One of the best things about this recipe is that you probably already have most of the ingredients, if not all, in your kitchen! You might have a half used jar of your favorite salsa in your fridge and, as luck would have it, this recipe calls for just about a half used jar of salsa! If you're a person who keeps their pantry stocked liked me, you'll likely have everything you need other than the chicken. Speaking of pantries, are any of you guys totally insane about stocking and organizing your pantry like I am? I mean, sometimes I just stare into it and marvel at the contents. Okay, that was creepy. I'll show myself out.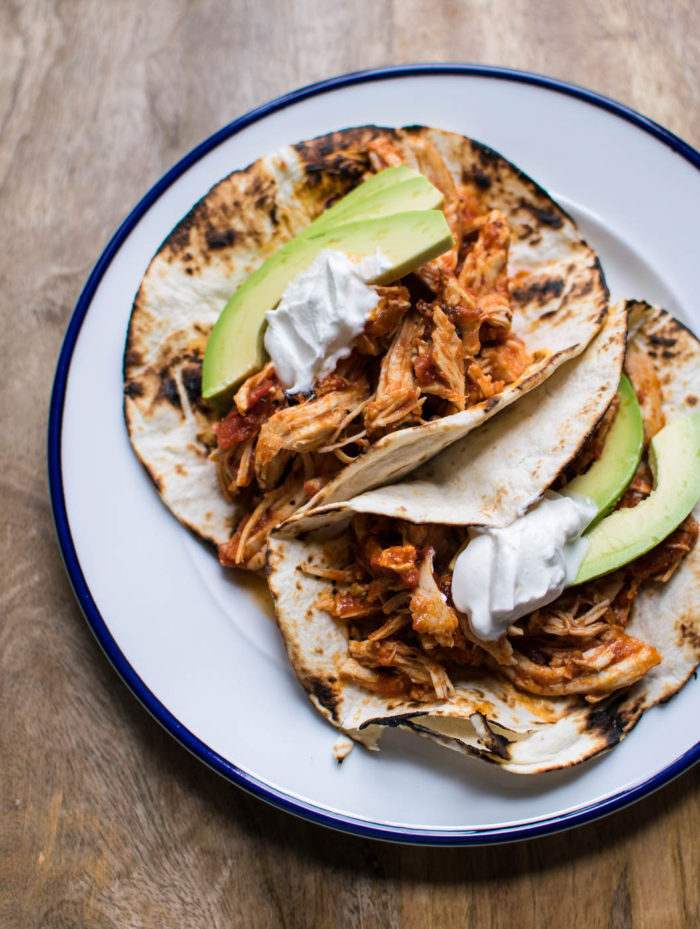 My favorite way to enjoy this chicken is with charred flour tortillas, avocado and sour cream like I've shown in the photos but, that's just one way to do it! Remember this is a recipe for chicken, not for tacos. The chicken is healthy (forgoing the sour cream and tortillas) and is super versatile. Add some to a quinoa bowl or salad, or throw some in a lettuce wrap! I have even been known to top a pile of this chicken with a runny fried egg—because, of course I would—add a few avocado slices and you've got an epic breakfast! Who said you can't have chicken for breakfast?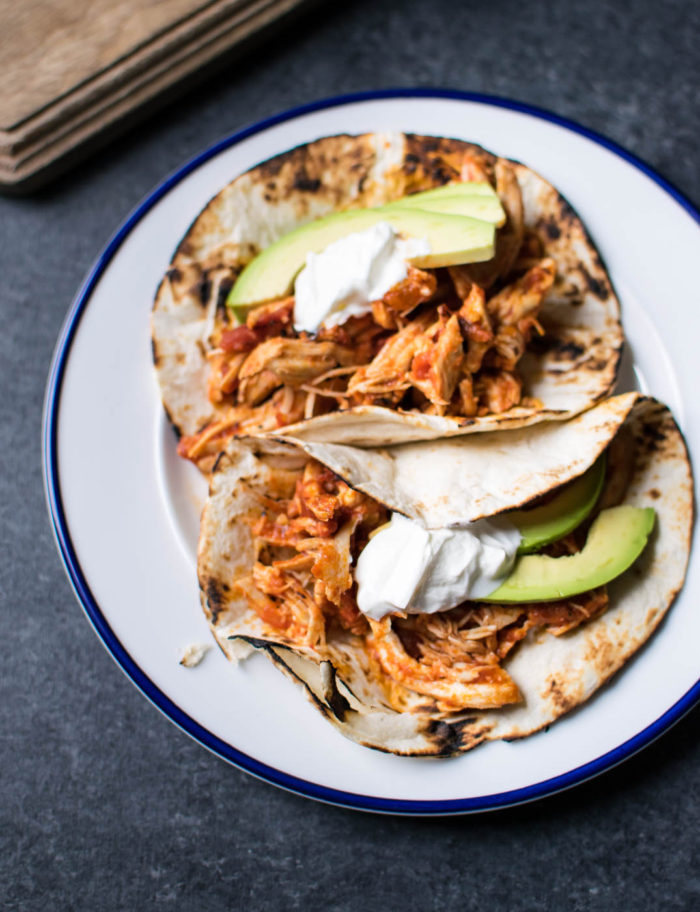 This chicken will keep for a few days so go ahead and make enough to have leftovers!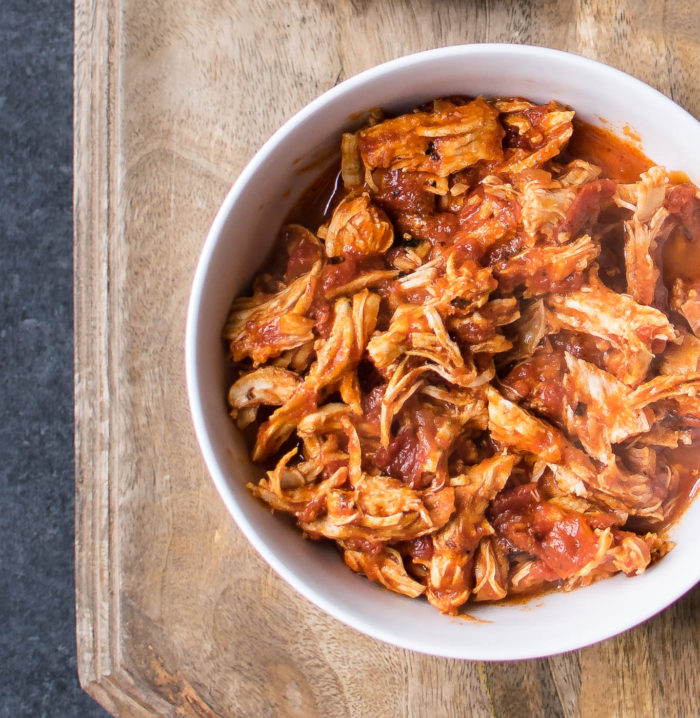 You might also like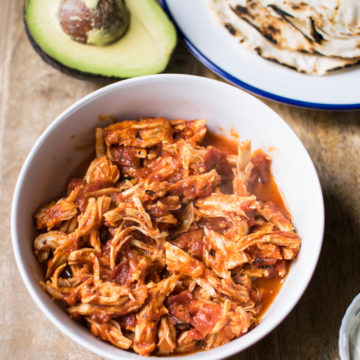 Mexican Shredded Chicken
This Mexican Shredded Chicken uses pantry ingredients for an easy weeknight meal!
Ingredients
3

Chicken breasts

2

Tablespoons

olive oil

2

Cloves garlic

minced

1

Teaspoon

adobo all purpose seasoning

1

Teaspoon

oregano

2

Bay leaves

1

4 Ounce

Can diced green chiles

1

15 Ounce

Can diced roasted tomatoes

½

Cup

medium or mild salsa

¼

Cup

white vinegar

¼

Cup

water

Salt and pepper

to taste
Instructions
Remove chicken breasts from refrigerator and season liberally with salt and pepper.

In a dutch oven or heavy bottomed saucepan, heat olive oil over medium heat and add the garlic. When fragrant, add the green chiles, adobo seasoning and oregano, stir and cook for about 3 minutes. Add salsa, tomatoes and a pinch of salt and pepper and stir. Let simmer for 5 Minutes.

Add the chicken to the pot and cover with sauce. Add the vinegar, the water and the bay leaves. Lower the heat. Cover the pot with the lid and allow the chicken to simmer in the sauce for 10-15 Minutes.

With two forks, shred the chicken in the sauce and let the chicken finish cooking and soaking in the sauce. When the chicken is no longer pink, it's ready to eat.