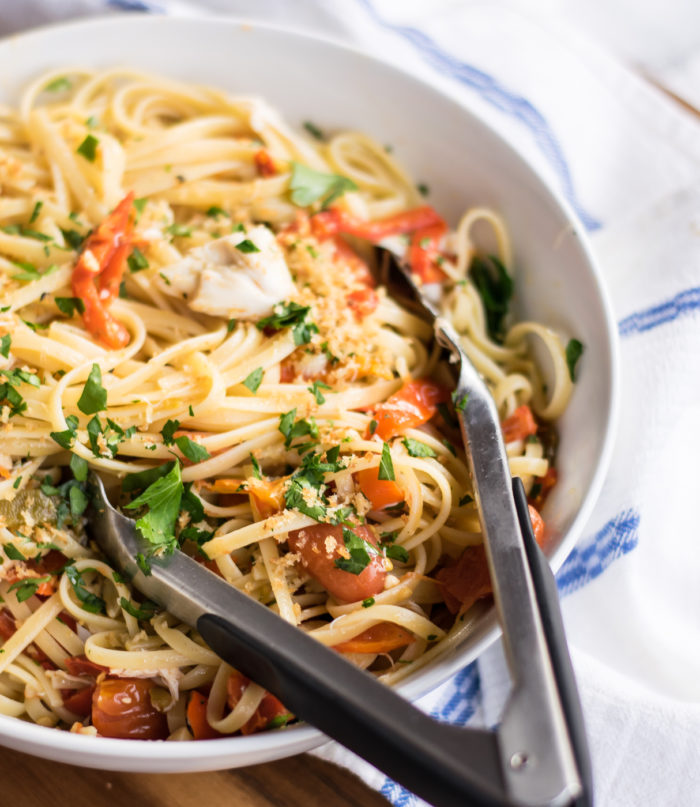 Listen, I am a total psycho for not having put pickled peppers in pasta my whole life. I feel like I really blew it on that one. If you need me I'll be making up for lost time by eating loads and loads of this pasta. Please only interrupt if necessary.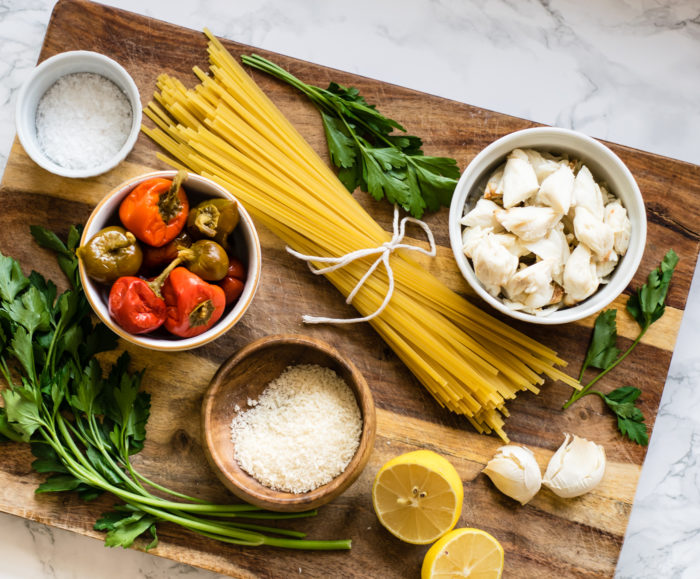 *This post may contain affiliate links. See disclosure for further details.
But seriously, pickled peppers are a perfect addition to pasta because they have a really great acidity and bite that balances the carbs of the linguine. There are tomatoes in the sauce but they're sort of filler tomatoes and they certainly come second to the real stars of the dish; the peppers and the crab. If you haven't noticed by now, I LOVE pasta and my favorite pastas are always the seafood ones. That's why creating recipes like this one, makes me so happy!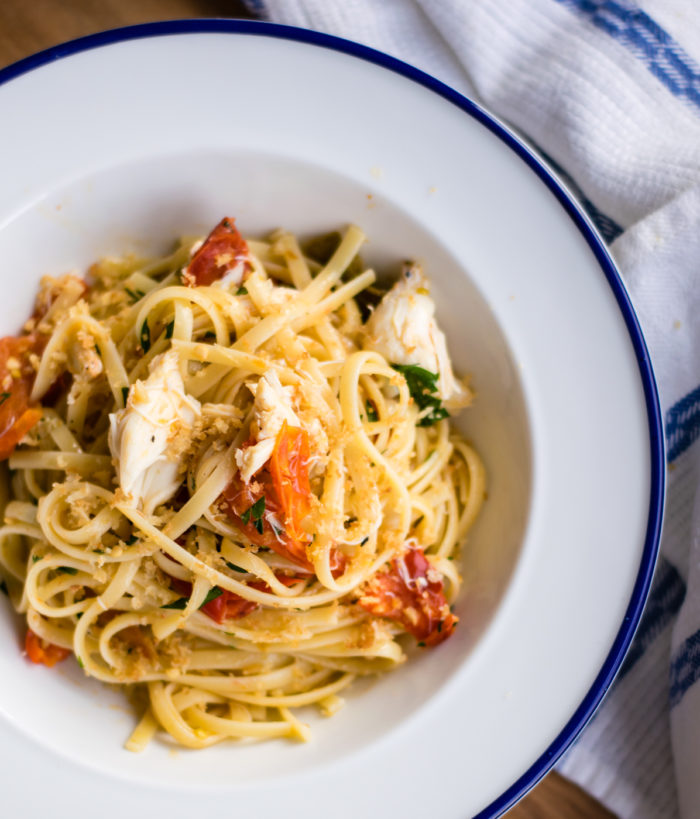 For the peppers, I like to use mild or medium cherry peppers. You can use whichever pickled peppers you like BUT I will warn you about super spicy ones. When I was first testing this recipe, I used hot cherry peppers and let me tell you, that was a mistake. My mistake was two fold. First of all, a full cup of hot peppers in a pasta sauce is A LOT different than a few hot peps on a sandwich so the sheer volume was enough to set my yapper on fire. But secondly, I had the bright idea to also add a few spoonfuls of the liquid in the jar to the sauce. RIGHT CHURCH, WRONG PEW. Seems like a good idea to reinforce the pepper flavor with some of the juice, right? Not if you used hot peppers. Seriously, the first bite punched me in the back of the throat and then my mouth went numb. Even through my hot pepper haze, my taste buds could totally tell the flavor was good, though.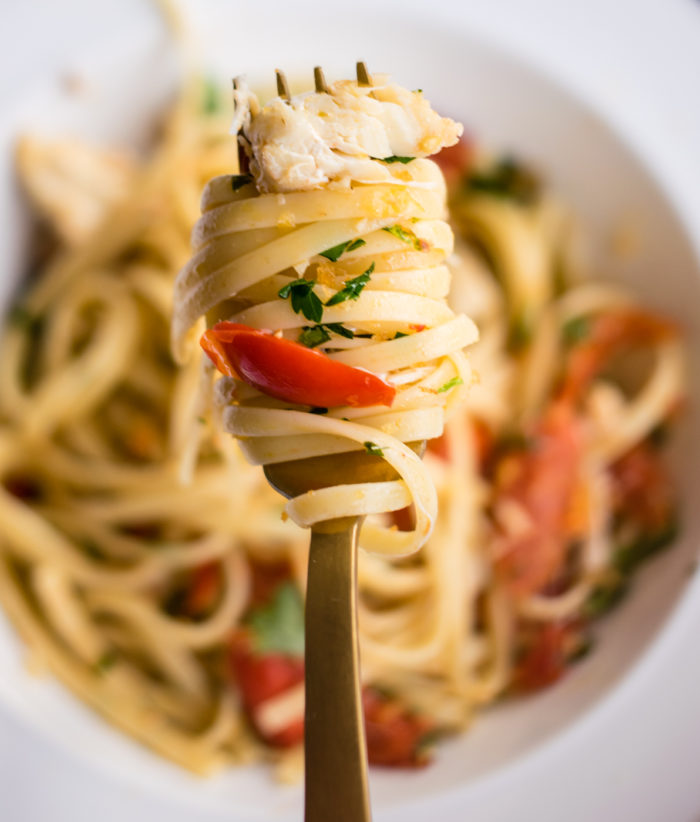 In case you're thinking, "Breadcrumbs on pasta? How important cook those be? I'll skip them." They are VERY important. There will be no skipping of the breadcrumbs. They are salty and garlicky and super easy to make. You might even have some leftover after you make the pasta; don't toss them! They're great on salads or to roll your poached eggs in (that's a thing, I promise.)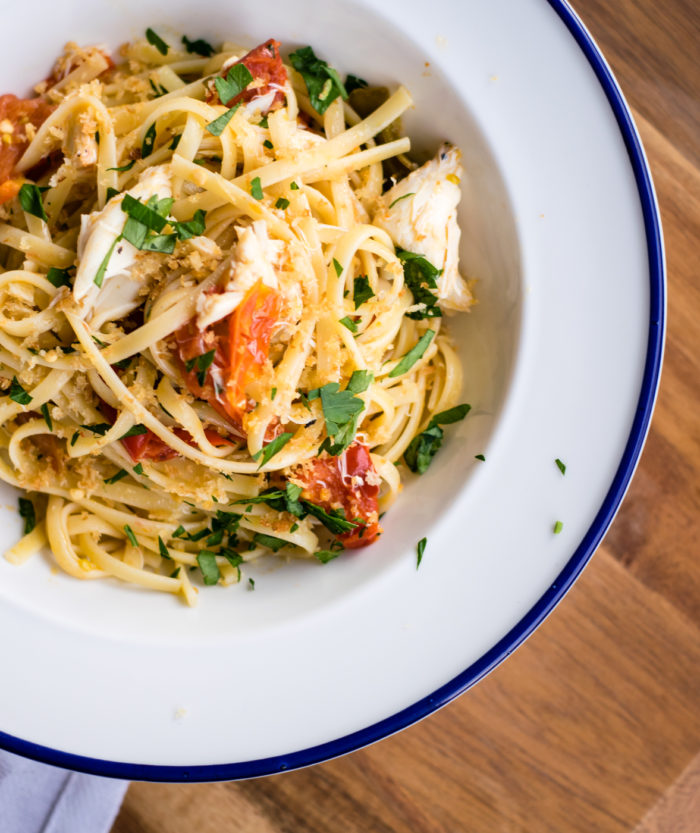 The best part about this type of recipe is the simplicity. Just a few ingredients come together to make a tasty dish that'll seem fancy, but that took you under 30 minutes to make.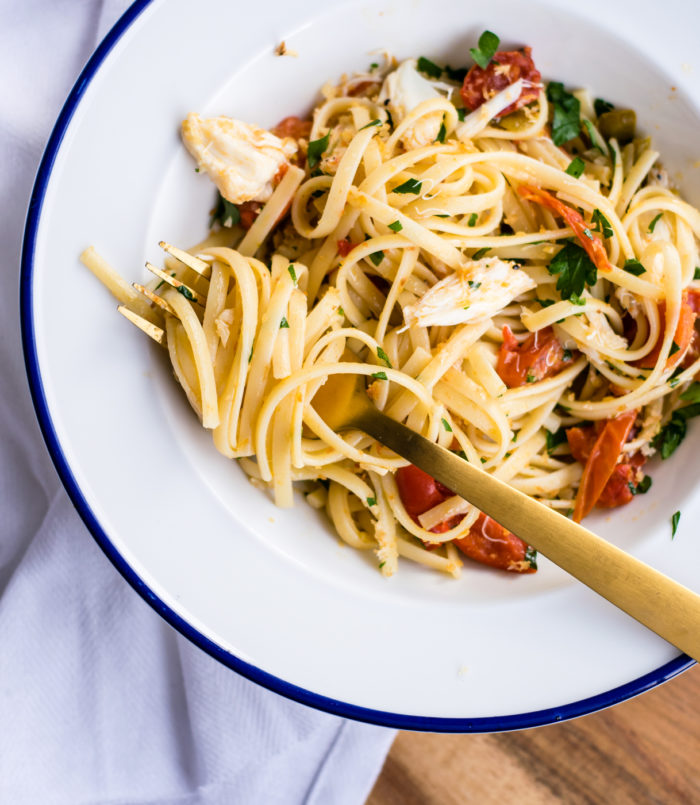 I can't wait for you guys to try this recipe! Please promise me you'll heed my warning and skip the hot peppers. I don't want you to set your pasta holes on fire!
You might also like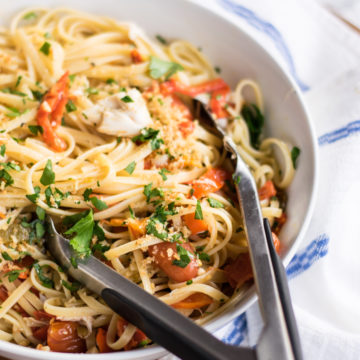 Linguine with Pickled Peppers and Crab
This Linguine with Pickled Peppers and Crab is easy to make and packed with delicious flavor!
Ingredients
3

Tablespoons

olive oil

2

Cloves garlic

minced

8

Ounces

lump crab

1

Cup

pickled peppers

such as cherry peppers, sliced

2

Cups

cherry or grape tomatoes

1

Teaspoon

Lemon juice

plus wedges for serving

½

Cup

fresh parsley

chopped

½

Cup

water

Kosher salt
For the Breadcrumbs
½

Cup

panko breadcrumbs

1

Clove garlic

minced

2

Tablespoons

olive oil

Kosher salt

to taste
Instructions
Bring a large pot of salted water to a boil.

Make the breadcrumbs. In a small non stick pan, heat the oil over medium heat. Add the garlic and cook until just fragrant, about 30 seconds. Add the breadcrumbs and a pinch of salt and cook, stirring constantly, until golden brown; about 3 minutes. When the breadcrumbs are cooked, transfer them to a bowl and set aside. Do not leave them in the pan or they will burn.

In a large sauté pan, heat the olive oil over medium heat. Add garlic and cook until just starting to turn golden; about 1 minute. Add the peppers and the tomatoes and season with salt and pepper. Cook until the tomatoes start to break down; about 5 minutes. Add the water and cook an additional 5 minutes or until the sauce becomes "saucy."

Meanwhile, cook the pasta for 2 minutes less than the package instructions.

Drain the pasta, reserving a ½ cup of the pasta water. Add the pasta, lemon juice and half of the parsley to the pan, and toss until coated with the sauce. Add the crab and stir into the pasta trying not to break up the lumps. Finish cooking the pasta in the sauce, adding pasta water as needed to loosen the sauce.

Garnish with lots of parsley and breadcrumbs and serve with lemon wedges.