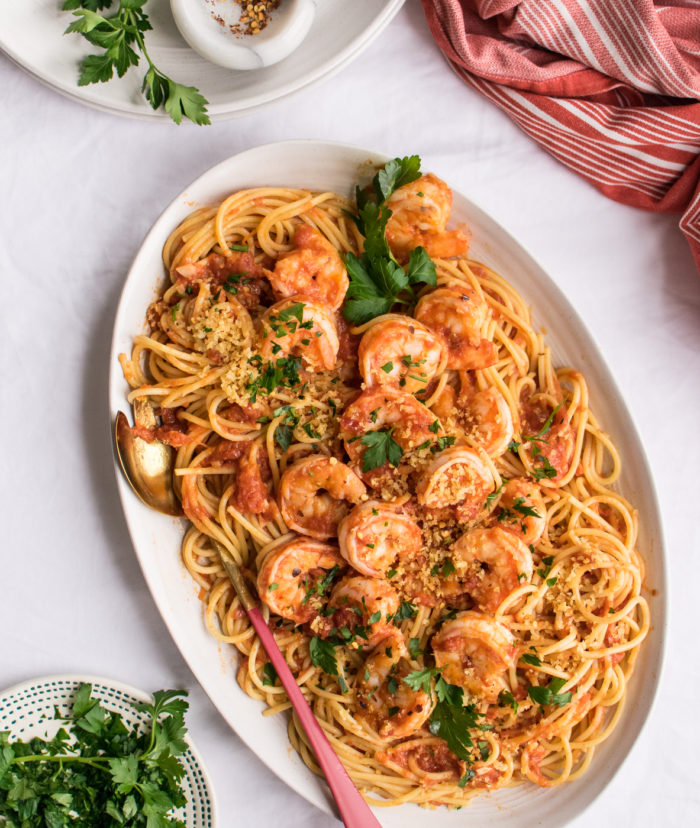 There's nothing I love more than a big bowl of seafood pasta and this Shrimp Fra Diavolo is one of my favorites! Fra Diavolo, which translates to "brother devil" in Italian, is often made with lobster instead of shrimp but let's be honest, lobster isn't always in the budget! This shrimp version is just as delicious and a little easier on the ol' wallet.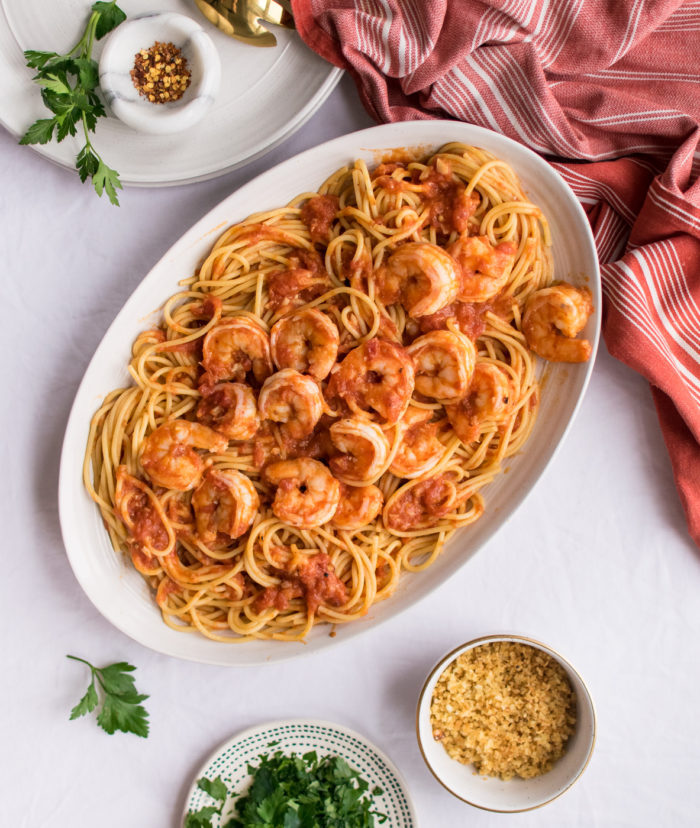 *This post may contain affiliate links. See disclosure for further details.
The name might've already tipped you off, but this dish is made up of a simple spicy tomato sauce, shrimp, and pasta. Despite the devil reference, Fra Diavolo is not crazy spicy but it's got a nice kick that anyone can handle. The heat comes from red pepper flakes in this recipe. I use about ¾ teaspoon but feel free to add more if you want it to be more "devilish."
One of the best things about this Shrimp Fra Diavolo is that it's easy enough for a weeknight dinner, but impressive enough to serve at a dinner party or even for a holiday! If you celebrate the feast of the seven fishes on Christmas Eve, this is perfect! And I may be biased, but I think pasta is very romantic so this makes a great Valentine's Day dinner as well. But who am I kidding, most of the time when I make this dish, it's just on a random night when the pasta craving strikes.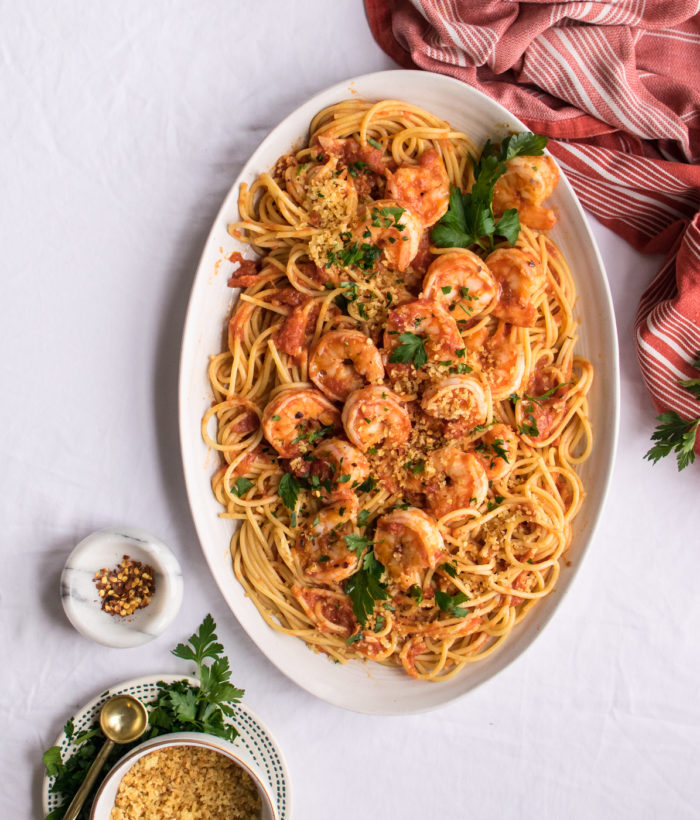 Linguine is a typical choice for seafood pastas but any long cut will work. I usually choose linguine, spaghetti or bucatini. I wouldn't choose angel hair, however, because I personally don't think those thin strands have enough bite.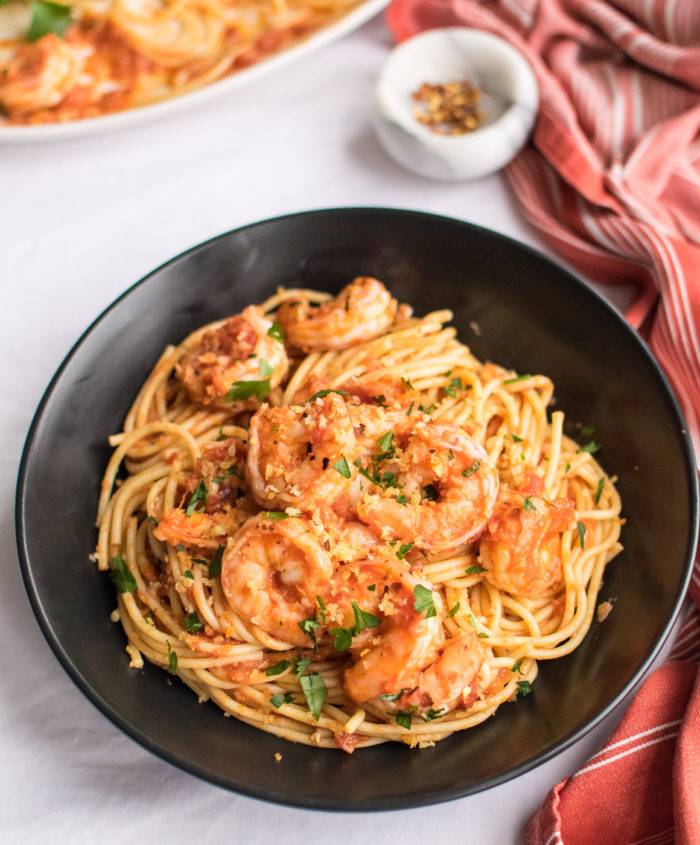 I love finishing seafood pasta dishes with garlic breadcrumbs instead of cheese. Traditionally, you wouldn't use cheese with seafood and I tend to follow that rule about 90% of the time. This is one of those times! Don't worry though, these salty, garlicky breadcrumbs will make you forget all about cheese—at least temporarily.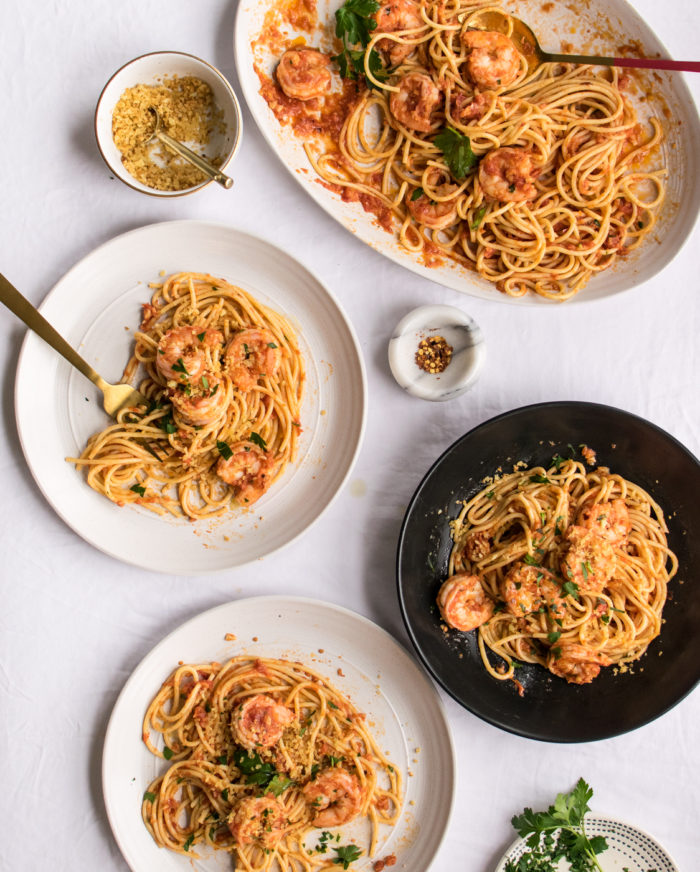 Now, about these tomaters. You want to choose good quality, whole canned tomatoes. If you can find San Marzano tomatoes, that's preferable. The trick to getting the right consistency to the sauce is separating the tomatoes from their juices—but don't toss that juice! I prefer to keep the tomatoes separate from their juices so that you can add the juice in as needed. You do not want to dump the whole can in! Often times, people use too much sauce for their pasta. For seafood pastas especially, it's important to have the right ratio of sauce to pasta. You don't want your shrimp swimming around in a pool of tomato sauce or you won't be able to taste them!
Open the can of tomatoes and grab a bowl. Pull each whole tomato out of the can, squeeze it to break it up and add it to the bowl. Some of the juices will collect in the bowl as you're crushing the tomatoes and that's fine! When you're making the sauce, you'll add this bowl of tomatoes to the pan and a splash of the juice that's left in the can. If you feel like the sauce is getting too thick while it's simmering, you can add another splash of juice. This way you'll end up with a lighter sauce that will compliment the shrimp, not overpower them.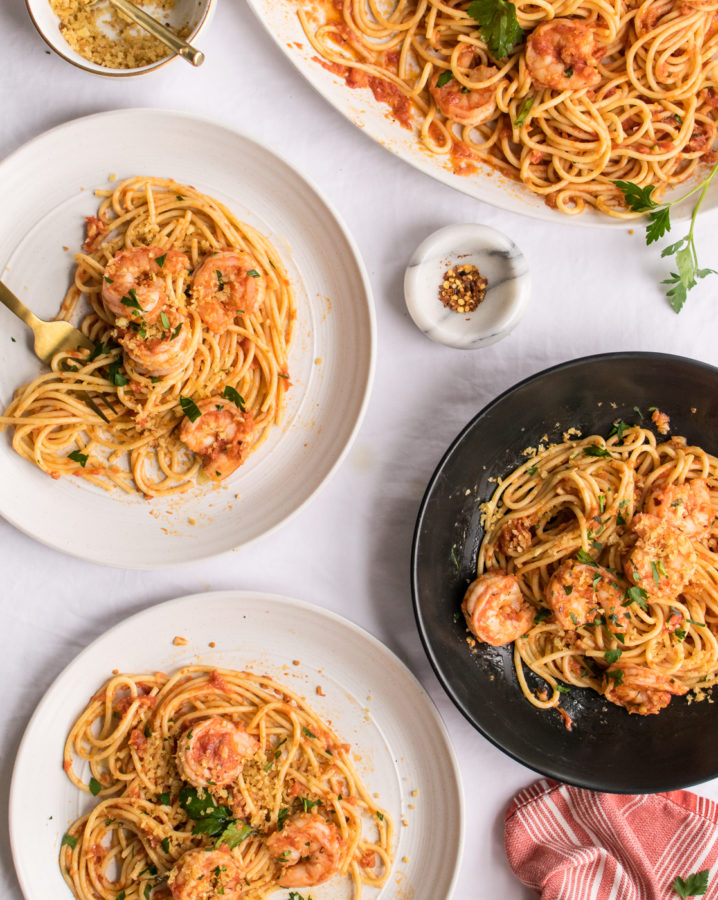 And that's it! A few simple ingredients and you're on your way to pasta heaven. I hope you give this recipe a try and definitely don't skip those garlic breadcrumbs!
You might also like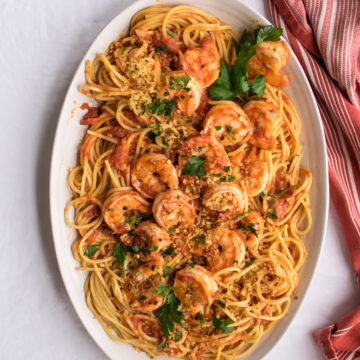 Shrimp Fra Diavolo with Pasta
There's nothing I love more than a big bowl of seafood pasta and this Shrimp Fra Diavolo is one of my favorites!
Ingredients
For the pasta
4

Tablespoons

olive oil

divided

¾

Pound

large raw shrimp

peeled and deveined

½

Cup

dry white wine

2

Cloves garlic

minced

½-1

Teaspoon

red pepper flakes

to taste

1

28 Ounce

Can whole San Marzano tomatoes

crushed by hand and drained, juice reserved

¾

Pound

Spaghetti, Linguine, or Bucatini

1

Tablespoon

salted butter

Fresh parsley

roughly chopped

Salt and pepper

to taste
For the garlic breadcrumbs
2

Tablespoons

olive oil

½

Cup

panko breadcrumbs

1

Clove garlic

minced

Salt

to taste
Instructions
Drain the tomatoes into a bowl but do not throw away the tomato juice in the can. Crush the tomatoes in the bowl so that they are broken up but still chunky.

Make the garlic breadcrumbs. In a small nonstick pan, heat the olive oil over medium heat. Add the breadcrumbs and garlic and stir constantly until the breadcrumbs are golden brown and the garlic is fragrant; about 5 minutes. Transfer the breadcrumbs to a bowl immediately so they don't burn in the pan. Season the breadcrumbs with salt.

In a large pan, heat 2 tablespoons of the olive oil over medium high heat. Add the shrimp, season with a pinch of salt, and cook until almost cooked through; about 1 minute on each side. Remove the shrimp to a bowl and set aside.

Add the wine to the pan and cook for 2 minutes, scraping up any bits on the bottom of the pan. Turn the heat down to medium and add the remaining olive oil along with the garlic and the red pepper flakes. Cook the garlic, stirring, until fragrant and light golden; about 1 minute.

Add the crushed tomatoes and a splash of their juices from the can. Season the sauce with ½ teaspoon of kosher salt and a large pinch of black pepper. Turn the heat to low and let the sauce simmer, stirring occasionally, for 15 minutes. Taste and adjust seasoning, adding more salt or red pepper flakes to taste.

Meanwhile, bring a large pot of salted water to a boil. Cook the pasta for 2 minutes less than package directions for al dente. Drain the pasta, reserving 1 cup of the pasta water. Add the pasta, along with ¼ cup of the pasta water, to the sauce pan and toss to coat.

Add the shrimp back to the pan along with the butter. Continue tossing the pasta until each strand is coated with sauce and the butter is melted.

Serve with the garlic breadcrumbs and plenty of fresh parsley.