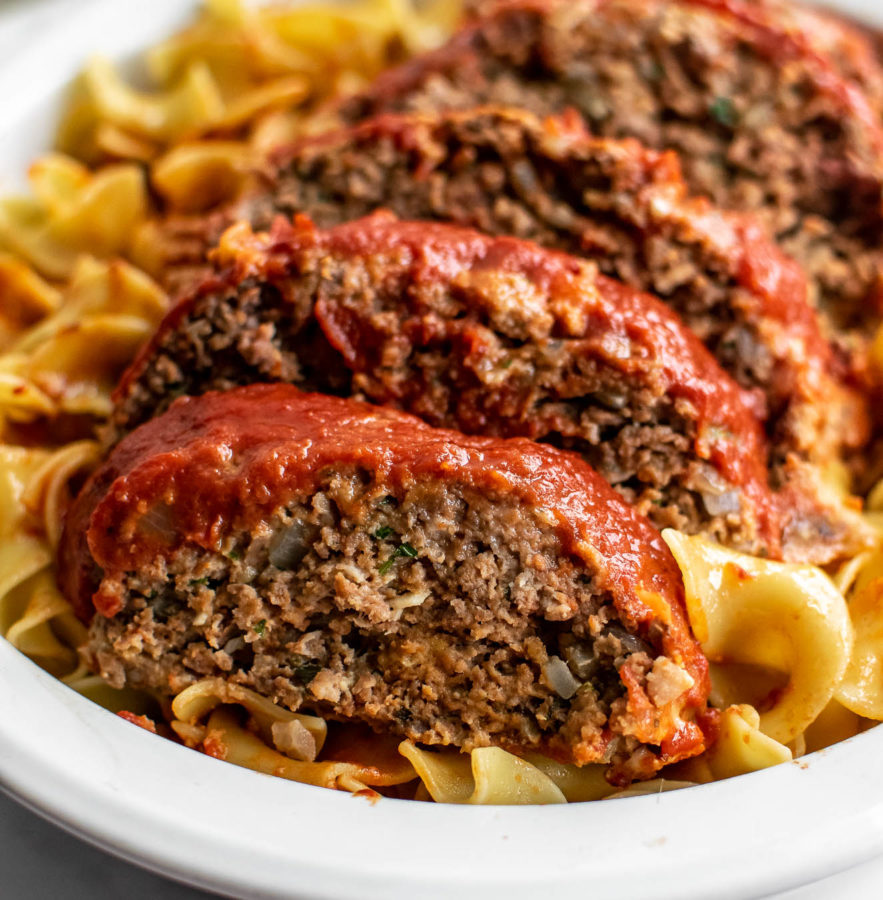 For any people that are confused about the title of this post, you may be excused to go watch Wedding Crashers right now. For the rest of you, let's make some meatloaf! I'm psyched.
I'm sure some of you are thinking, "meatloaf?! Really?" BUT, I will have you know that this meatloaf is not like other meatloaf, It's a cool meatloaf! Sorry about all the movie references in this post. Just kidding, I'm not sorry. Anyway, this is a cool meatloaf because it's not like that gross TV dinner type meatloaf you might be thinking of. There is absolutely no ketchup in this recipe! This is an Italian version of meatloaf (of course) that I grew up eating and therefore, much more delicious. Also, it's served with noodles so there's that.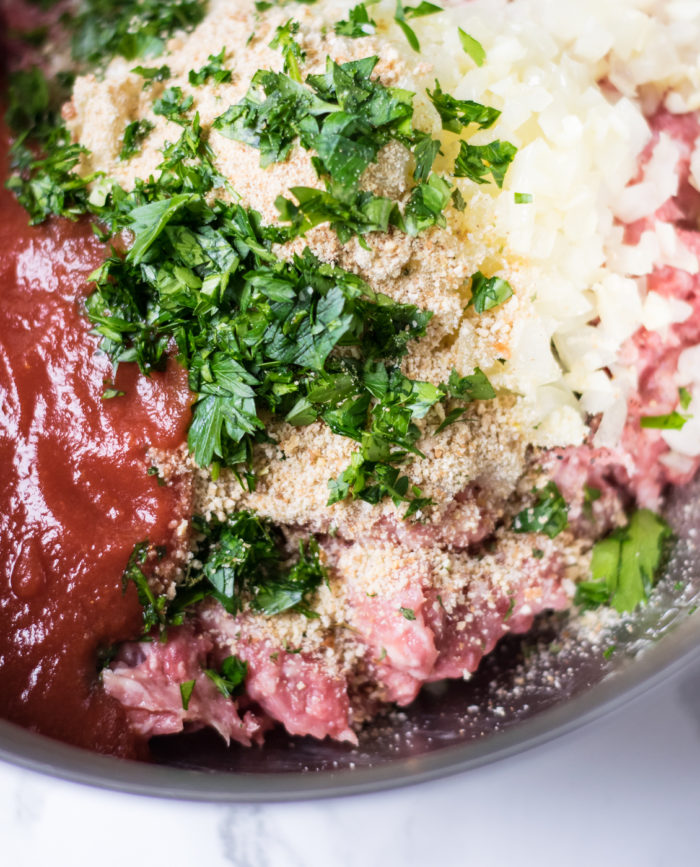 *This post may contain affiliate links. See disclosure for further details.
It's too bad that meatloaf is not very photogenic. Like, at all. I really wish it looked just as delicious as it tastes. Sigh. I'll just have to tell you about how good it is. First of all, we're using pork and beef to make the "loaf" so that's already going to make it much more juicy and flavorful than if it were just beef. Then, add in onion, garlic, fresh herbs and cheese and you've got one reeeaaally tasty log o' meat coming your way. Think of this as one long ass meatball. Yum.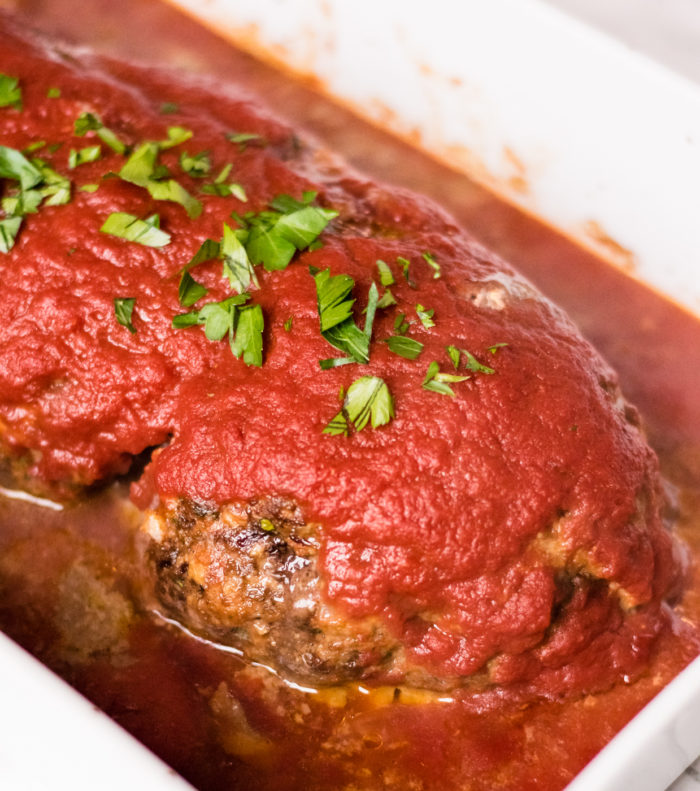 Speaking of the shape of meatloaf, that's your chance to get creative! For this blog post, I opted for the traditional loaf shape so as not to offend anyone. Yawn. Let me tell you, I've made this meatloaf a ton of times and maybe two of them were the traditional loaf. Shape it into a heart, a boot, a dinosaur, your therapist's face, Donald Trump's chins, a 10K for when you hit that Instagram milestone, or just choose the really obvious—albeit inappropriate—one...the sky's the limit!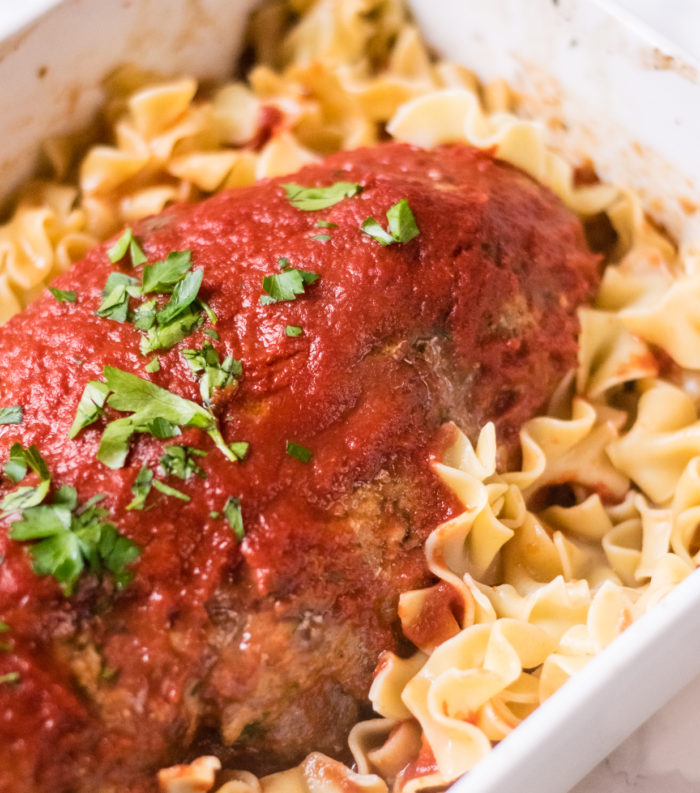 Now that you've got Wedding Crashers on and you've chosen your shape, It's time to get cooking! This recipe is an easy one. Lightly sauté some stuff, mix some stuff in a big bowl, shape it, bake it...that's pretty much it!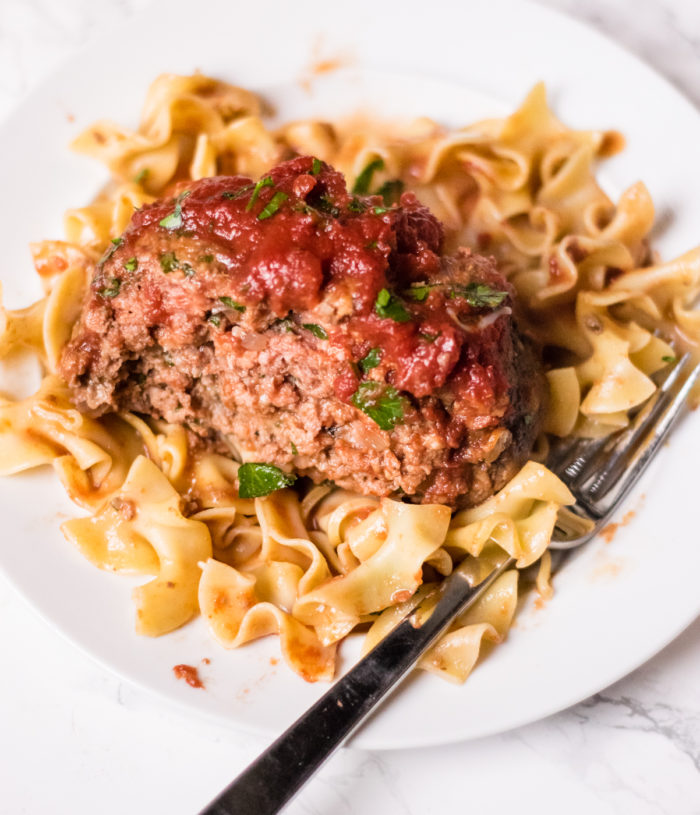 Growing up, we always ate this meatloaf with these egg white noodles. I'm not sure why they were the choice but it's just what we always did and I've continued to use them. They soak up the extra sauce from the meatloaf and are so yummy! You can find them at any grocery store just be sure to choose the broad variety for maximum sauce soaking.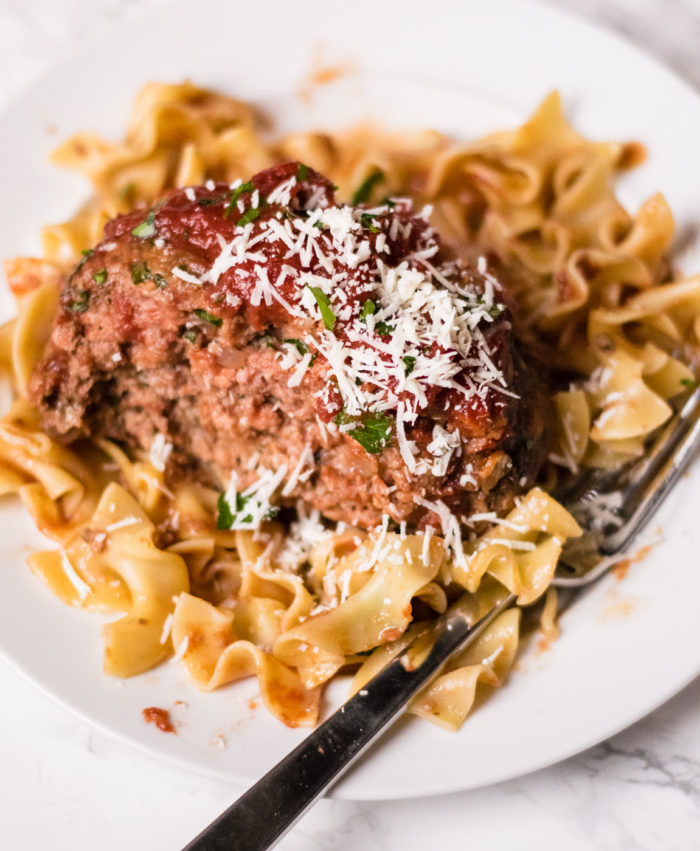 One thing to note about the tomato sauce is that I mean literally a can of tomato sauce. I'm not talking about jarred marinara! In the section with all the other canned tomatoes, there's tomato sauce. Grab the big size!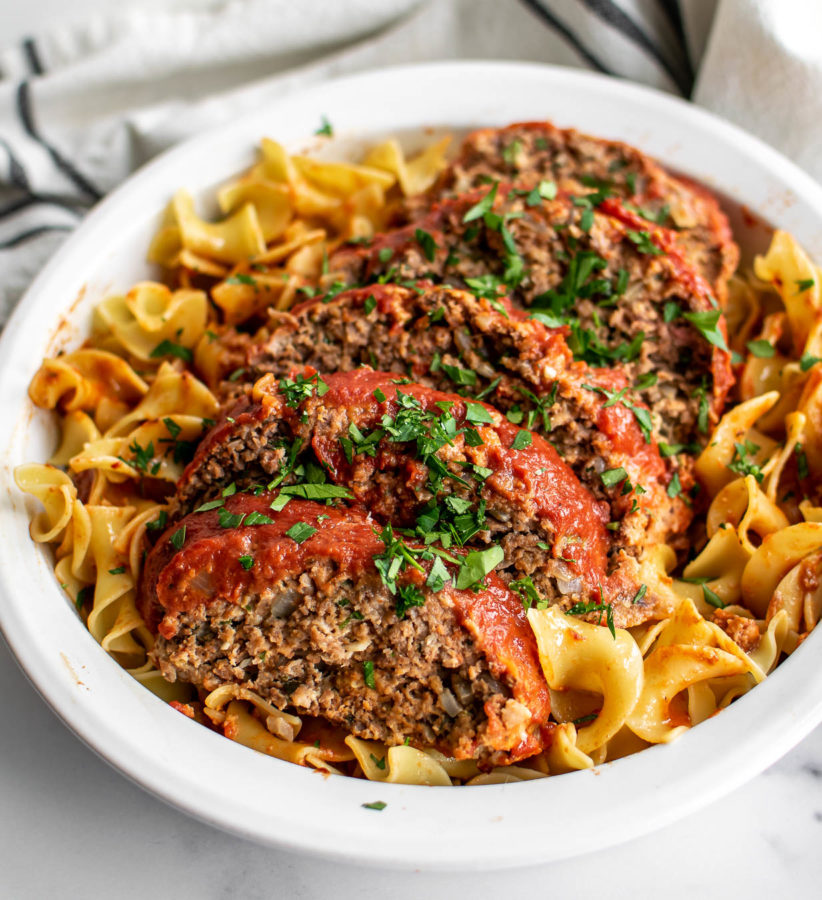 I hope you give this meatloaf a try! And please, please oh please, let me know what shape you choose!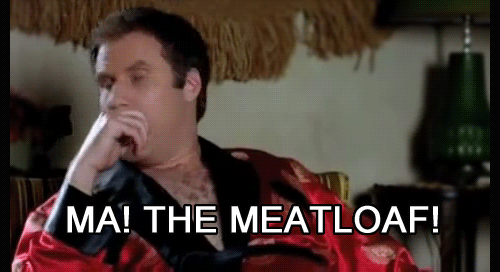 "Ma! The meatloaf! We want it now!"
You might also like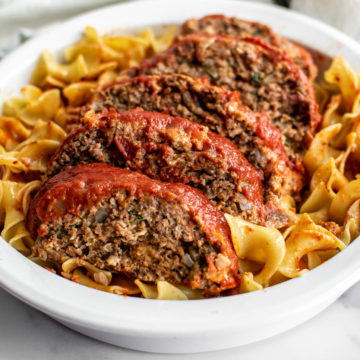 Ma! The Meatloaf! (Italian Meatloaf with Egg Noodles)
This Italian Meatloaf with Egg Noodles is comfort food at it's finest! Easy to make and packed with hearty, Italian flavors.
Ingredients
2

Tablespoons

olive oil

½

Yellow onion

diced

3

Cloves garlic

minced

1

Pound

ground pork

1

Pound

ground beef

2

Large eggs

1

28 Ounce

Can tomato sauce

divided

½

Cup

Parmesan cheese

grated, plus more for serving

½

Cup

Romano cheese

grated, plus more for serving

½

Cup

Italian bread crumbs

¼

Cup

fresh parsley

chopped, plus more for serving

1

Teaspoon

kosher salt

½

Teaspoon

pepper

1

Pound

egg noodles
Instructions
Pre heat the oven to 375 degrees.

In a sauté pan, heat oil over medium heat and add the onions. Cook the onions until they are just starting to soften and then add the garlic and cook for one minute longer. Remove from heat.

In a large bowl and using your hands, mix the meat, breadcrumbs, egg, cheese, onion and garlic, salt, pepper, parsley and half the can of tomato sauce.

Grease a baking dish and form the meat into a "loaf" or whatever shape you choose. Bake until the meat is browned on top; about 30 minutes. Pour the second half of the tomato sauce over the meat and bake for another 30 minutes.

Meanwhile, bring a large pot of salted water to a boil. Cook the noodles according to the package directions. Drain and toss with a bit of olive oil.

Remove the meatloaf from the oven and skim off the fat from the sauce that's accumulated in the baking dish. Add the noodles to the dish and toss with the sauce. Garnish with parsley and serve with more cheese.