Listen, I'm not going to lie to you guys, I am constantly thinking about pasta. Pasta, pasta, pasta. I just love it so much. I love it so much that as I'm writing this, I am thinking of new pasta recipe ideas. Brb, I need to take a break to write down my new ideas so I don't forget. Okay, I'm back.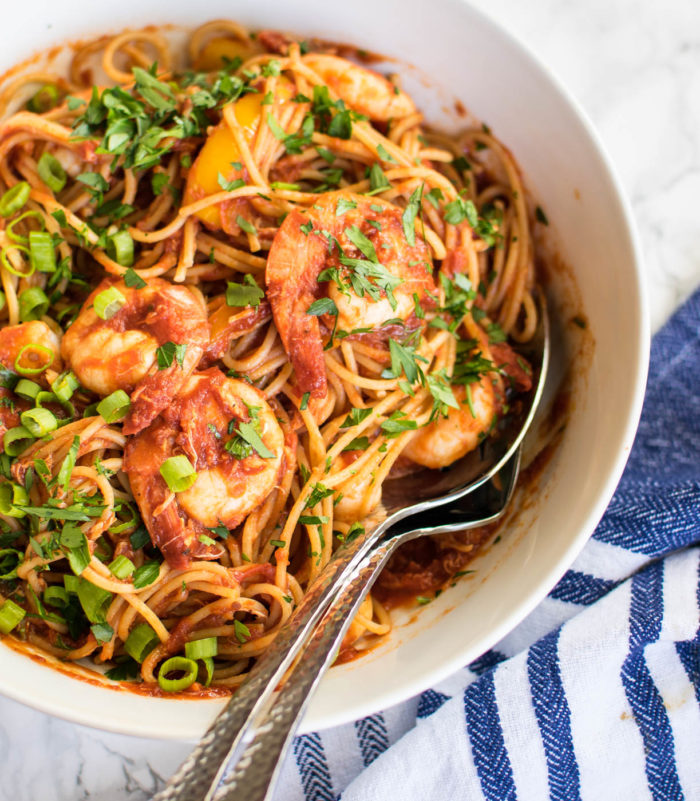 *This post may contain affiliate links. See disclosure for further details.
Speaking of ideas, this recipe is definitely one of my better ones. Just imagine a light bulb above my head, except instead of a light bulb, it's this recipe. What?! Anyway, the recipe is great because it's not your typical pasta dish, but it doesn't stray too far from the flavors that you already know and love.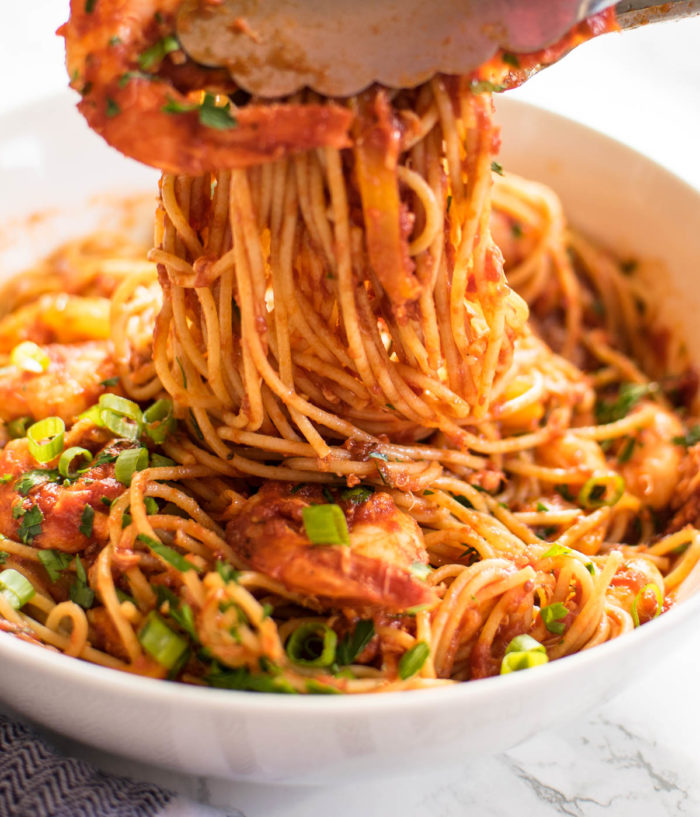 Instead of red pepper flakes and lemon, we're doing Cajun seasoning and lime. Simple switches like that are what make this recipe exciting and fresh but still super easy to make! Since seafood pasta dishes are always my faves, I figured I'd go that route here.
You expect to see shrimp in a pasta dish, you see it all the time, but crab is a little more rare. I love crab for pasta because it's so flavorful and the way the lumps flake apart insures that every bite has some crab in it.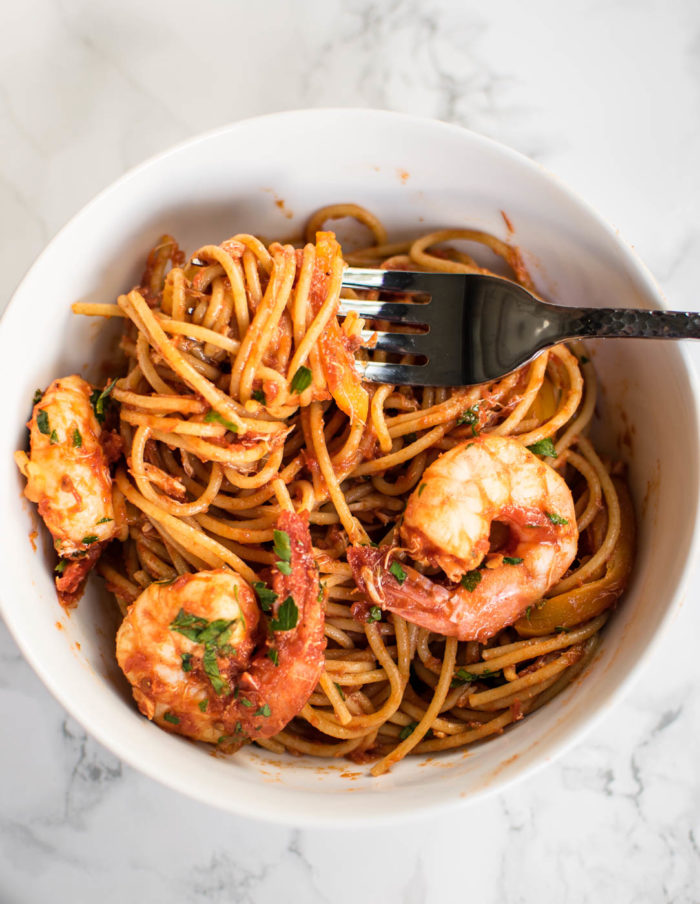 Canned lump crab is a bit on the expensive side but it's totally worth it! First of all, pasta in general, is really inexpensive so if you have to "splurge" for one ingredient, I say go for it! Secondly, there's always a lot of crab left over (It usually comes in 8 ounce cans and you'll only need half of that) so you'll get to make another meal! The obvious (and delicious) choice is to make crab cakes but I also like to use lump crab in salads, tacos, dip, or literally just make this pasta again!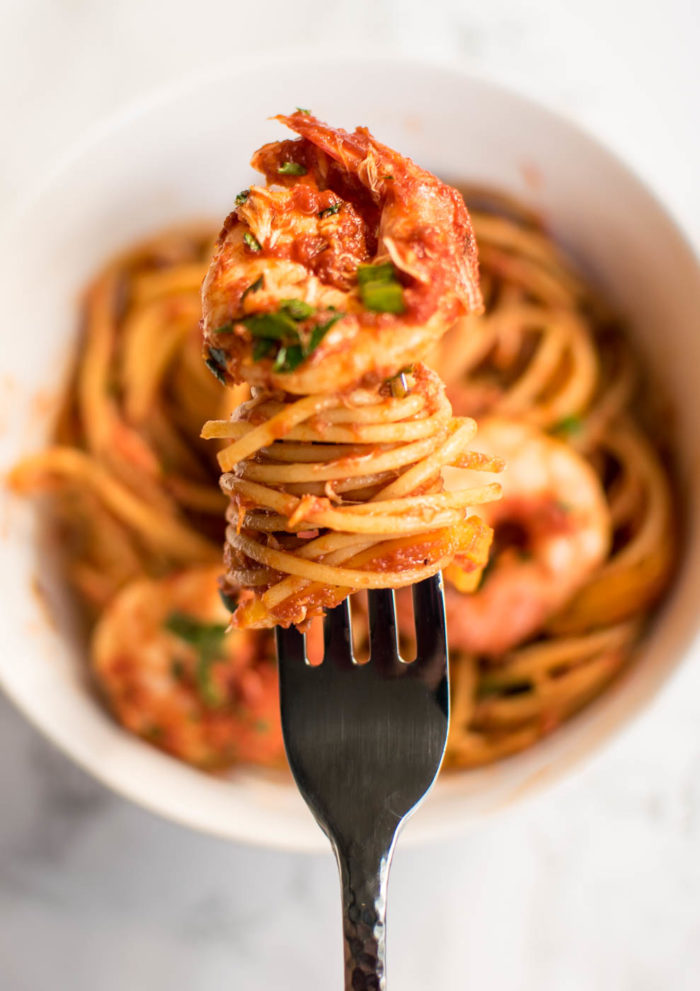 Okay, gotta go! I've got some leftovers to get back to. I hope you love this recipe as much as I do!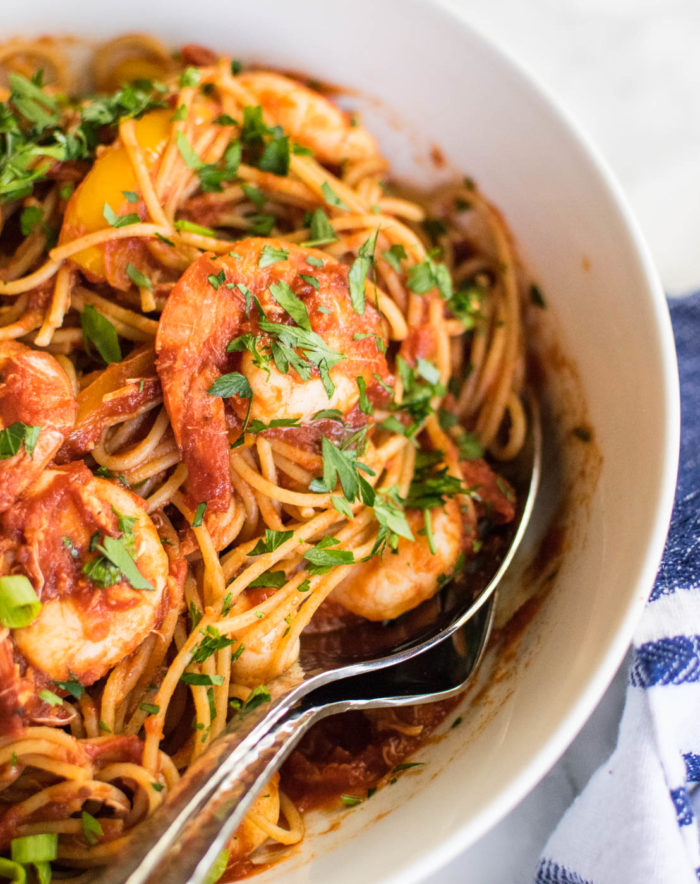 You might also like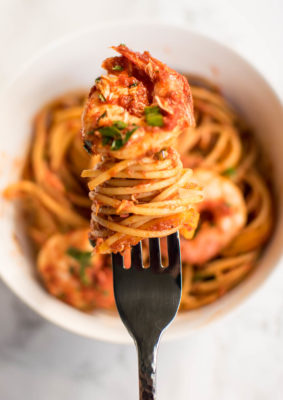 Cajun Spaghetti with Seafood
This Cajun Spaghetti with Seafood is easy to make and packed with flavor!
Ingredients
1

Pound

spaghetti

2

Tablespoons

olive oil

1

Yellow bell pepper

thinly sliced

2

Scallions

white and light green parts, sliced

Juice from ½ a lime

plus more wedges for serving

1

Tablespoon

cajun seasoning

2

Cloves garlic

minced

1

28 ounce

can crushed tomatoes

4

Ounces

lump crab meat

½

Pound

large raw shrimp

Fresh parsley

roughly chopped
Instructions
Bring a large pot of salted water to a boil and cook spaghetti to 1 minute less than package instructions. Drain spaghetti, reserving one cup of the pasta water.

Meanwhile, in a large skillet, heat olive oil and add the white parts of the scallions, the peppers, Cajun seasoning, and the lime. Stir and cook until the peppers start to soften; about 5 minutes. Add the garlic, stir and cook for about 1 minute then add the tomatoes. Season with salt and pepper, stir, and let the sauce simmer for about 10 minutes. Add the crab and shrimp and cook until the shrimp are opaque; 3-5 minutes. Taste and adjust the sauce adding more Cajun seasoning or salt to taste.

Add the pasta to the sauce and toss to coat. If the sauce is too thick, add the reserved pasta water as needed to loosen. Garnish with parsley, the remaining scallions and serve with lime wedges.