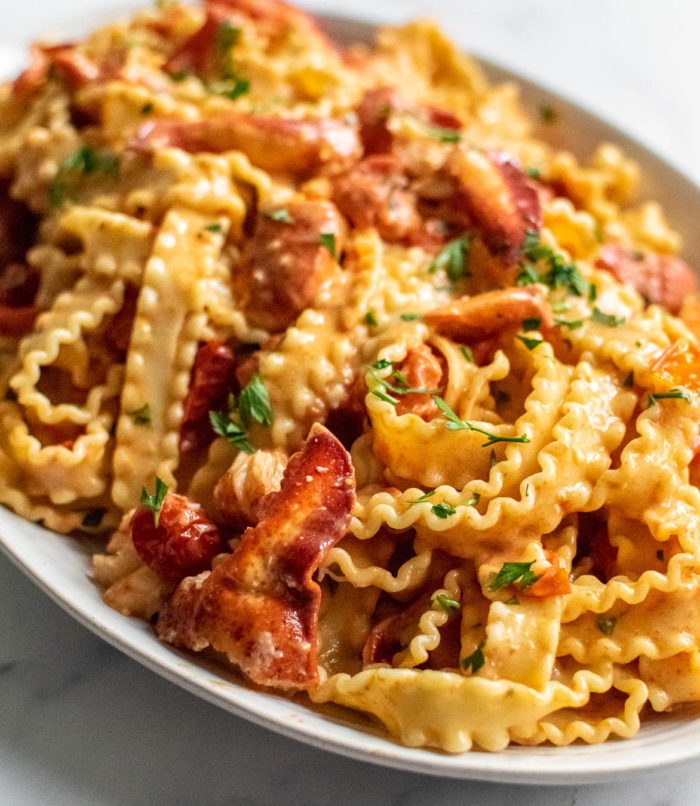 This Creamy Tomato and Lobster Pasta is summery, fresh, decadent and rich all at the same time! And the best part? It could not be easier to make.
I think when people hear the word "lobster" they immediately think the recipe is going to be difficult, but that's not the case here! This recipe uses pre-cooked lobster that gets tossed with the pasta at the end, just to warm through and not overcook. It's easy, fast and SO tasty! Read through the post for recipe tips and tricks!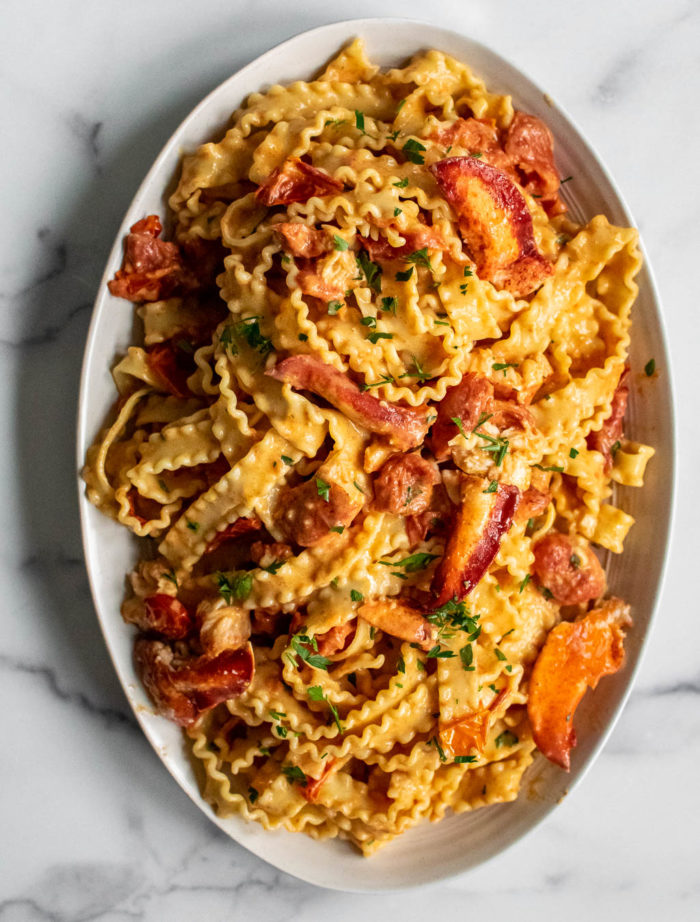 *This post may contain affiliate links. See disclosure for further details.
I have no problem with using a good shortcut in cooking, especially if that shortcut is going to get you to eat more lobster! If cooking lobster for yourself is keeping you from eating lobster, you absolutely should feel fine about buying it cooked. Ain't no shame in that game. I like to make sure I buy good quality lobster though! Just because it's easier, doesn't mean it should be of lesser quality. I've purchased lobster from Dirk's Fish here in Chicago many times and it's always been great. I've also been known to stock up on frozen Luke's Lobster whenever I find it, and a few grocery stores that I frequent carry it on the reg.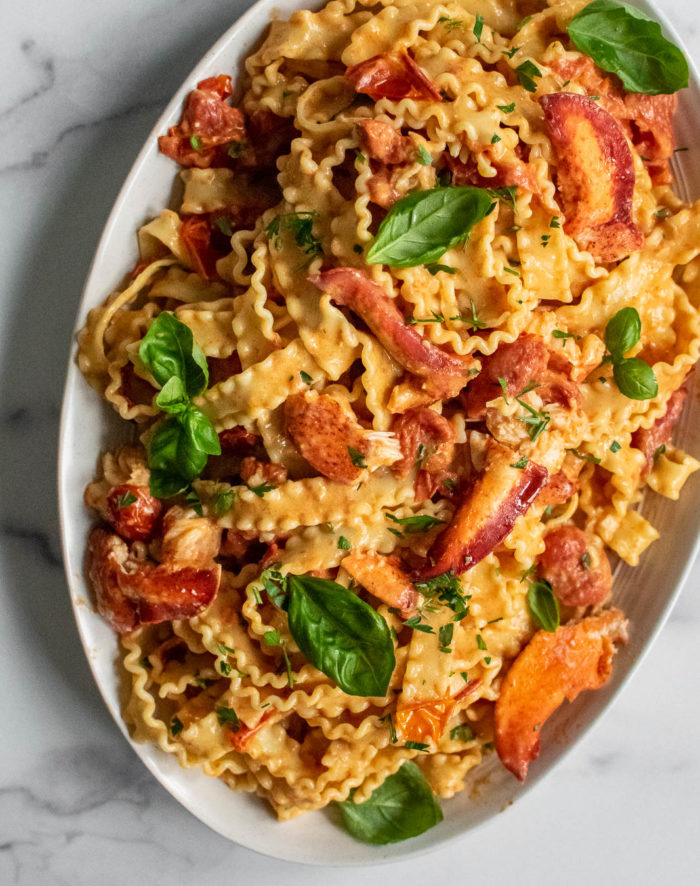 Once you've gotten your mitts on some lobster, it's time to get shakin' on this pasta. And that will take you, oh 25 minutes? Yep! This is a quick one. Don't worry though, that's still plenty of time to build lots of flavor.
I purposefully left the cherry tomatoes whole in this recipe instead of halving them. Leaving them whole will give the outsides of the tomatoes a chance to caramelize a bit while they heat up and burst open, pouring out all their juices. Did I mention this recipe is best made in the summer? We're putting a lot of flavor trust in these tomatoes, and while you can buy cherry tomatoes year round, and I do, they're undoubtedly best during tomato season.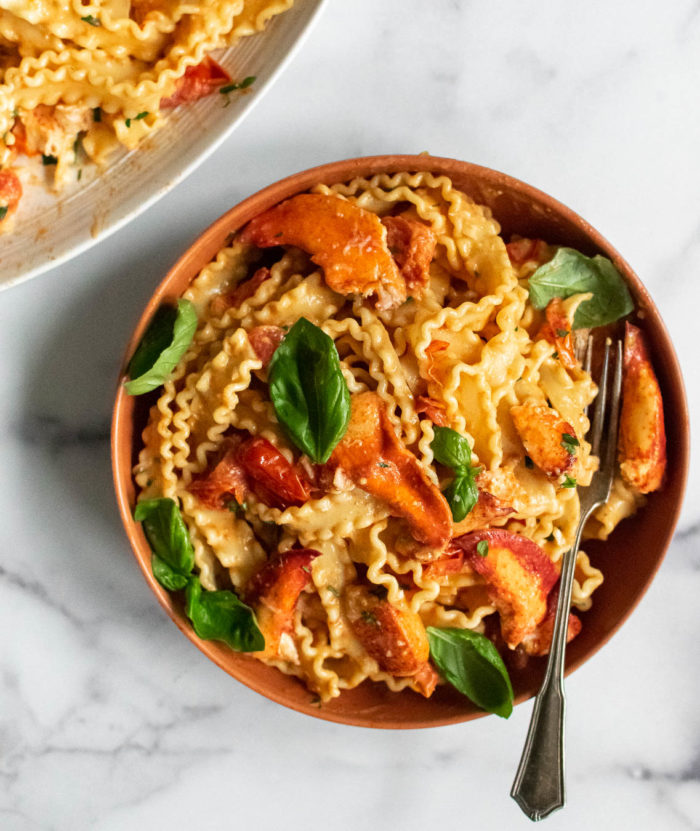 Next up we've got garlic, because duh, followed by a little brandy! There's an ingredient you might not have been expecting. Actually, brandy and lobster are old pals and brandy is used in a lot of lobster dishes. The brandy adds a richer flavor than wine does and a slight sweetness. If you don't have any brandy laying around and don't want to buy it specifically for this recipe, I understand. You can sub in white wine instead, just promise you'll make the brandy version one day! Trust me, it's worth it! When you deglaze the pan with the brandy, you'll scrape up all the brown bits on the bottom of the pan—that's all that delicious caramelized tomato flavor!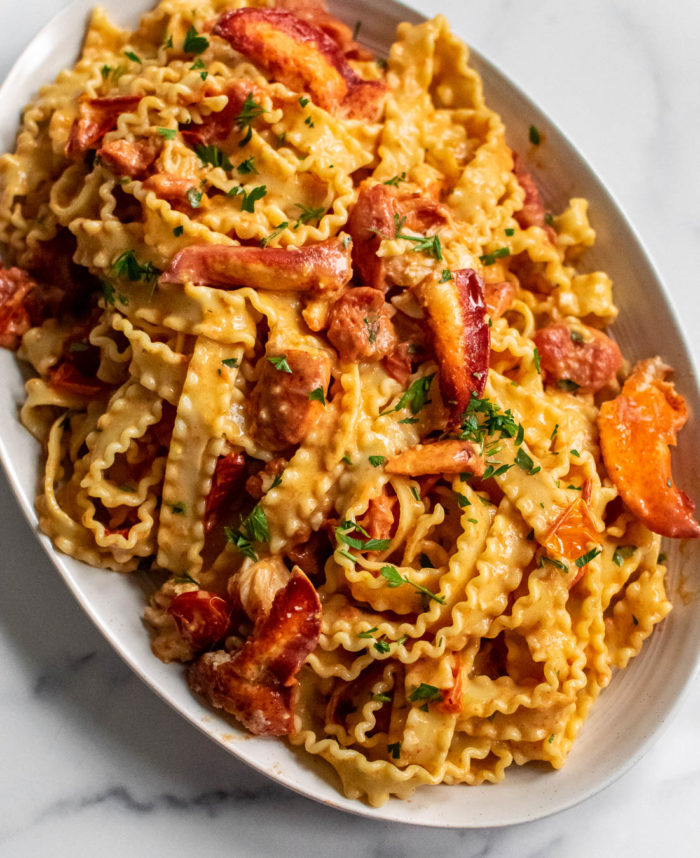 After the brandy, you'll add the cream. I don't actually make creamy pasta dishes that often but since this is quite a decadent dish, it seemed like the right move. I was right! I don't know what kind of sorcery is at work here, but I'm telling you, this pasta manages to be rich and light at the same damn time. Simmer the cream with the tomatoes for a couple of minutes to meld the flavors, and you've got yourself a damn good sauce. But wait, there's more! You'll add the cooked pasta to the sauce pan along with a bit of pasta water, per usual, and here's the important part: more butter. Yes, the sauce kicks off with some butter and comes full circle with another good chunk at the end. This is when you finally add the cooked lobster and toss the whole thing together. The creamy tomatoes, butter, and starchy pasta water will create a glossy sauce and you'll just need to give it a good toss so that each strand of pasta is coated in sauce and the lobster is warmed through.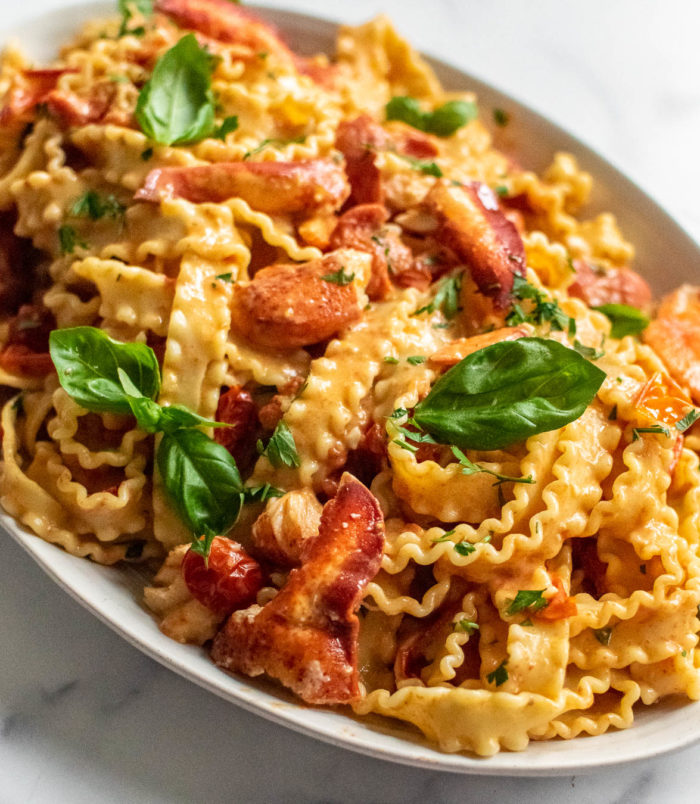 Quickly plate up and serve before you eat all of the lobster straight out of the pan (speaking from experience) and enjoy with some fresh summer herbs!
You might also like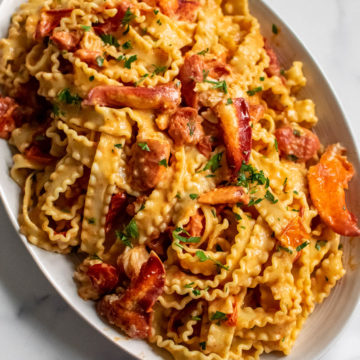 Creamy Tomato and Lobster Pasta
This Creamy Tomato and Lobster Pasta is summery, fresh, decadent and rich all at the same time! And the best part? It could not be easier to make.
Ingredients
1

Pound

Mafaldine or other long pasta

3

Tablespoons

unsalted butter

divided

2

Tablespoons

olive oil

1

Pound

cherry tomatoes

2

Large cloves garlic

minced

¼-1/2

Teaspoon

red pepper flakes

to taste

¼

Cup

brandy

½

Cup

heavy cream

¾-1

Pound

cooked lobster meat

cut into chunks

kosher salt

Fresh parsley

roughly chopped

Fresh basil

torn
Instructions
Heat 2 tablespoons of the butter and the olive oil in a large pan over medium high heat. Add the cherry tomatoes and season with salt and red pepper flakes. Let them cook, stirring occasionally, until they burst and release their juices; about 10 minutes. Stir in the garlic and cook for 1 more minute. Add the brandy and stir, scraping up any brown bits on the bottom of the pan. Stir in the cream and lower the heat to medium. Simmer the sauce for 5 minutes.

Meanwhile, bring a large pot of salted water to a boil. Cook the pasta to one minute shy of al dente. Reserve one cup of the pasta water and drain. Add the pasta to the sauce pan along with the remaining butter and toss to coat, adding splashes of pasta water as needed to loosen the sauce. Add the lobster to the pasta and toss until incorporated and warmed through. Taste and adjust seasoning to your liking.

Serve immediately with plenty of fresh herbs. Enjoy!