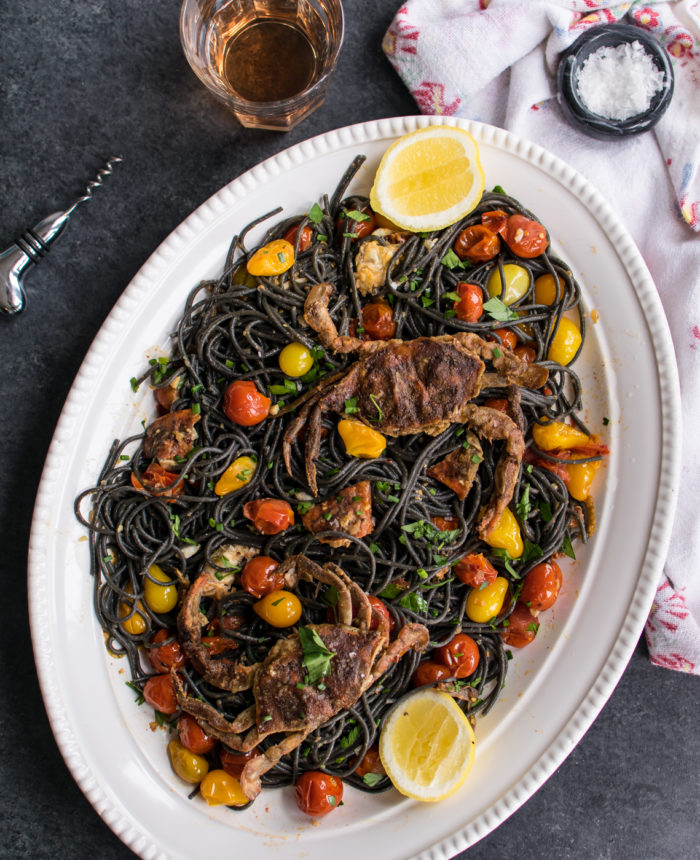 Would I even be Carolyn Mazzocco if I let soft shell crab season come and go without making soft shell crab pasta?! I mean, any excuse to make pasta, right? The squid ink pasta goes perfectly with the crab and all it needs is the simplest cherry tomato sauce and maybe (definitely) a glass of wine.
*This post may contain affiliate links. See disclosure for further details.
If you're not familiar, soft shell crabs are blue crabs that have shed their shells and are caught before they have time to grow them back. They have a "soft shell" that you can eat. That's right, the entire crab is edible! Here in Chicago, soft shell crabs start showing up at fish shops around mid May. I bought these ones at a great place called Dirk's Fish Shop but I also saw some at Whole Foods! Keep your peepers open and call your local fish shop, you'll be able to find them!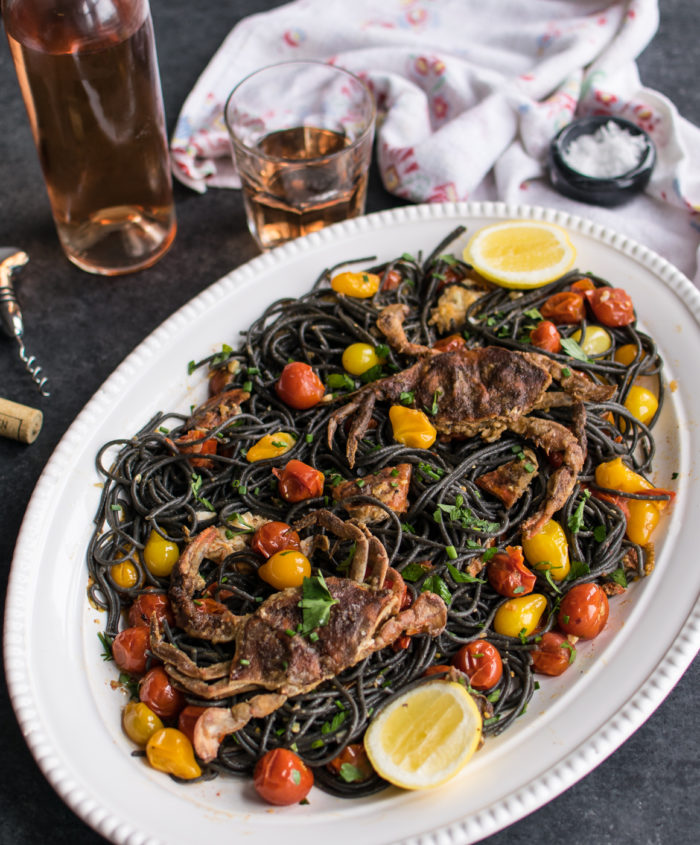 I always like to keep things simple when cooking with soft shell crabs. I think it'd be a little crazy of me to wait all year long for this special treat and then, when I finally get my hands on it, dunk it in batter and deep fry it. No thank you to that. This crab is very special and deserves to shine!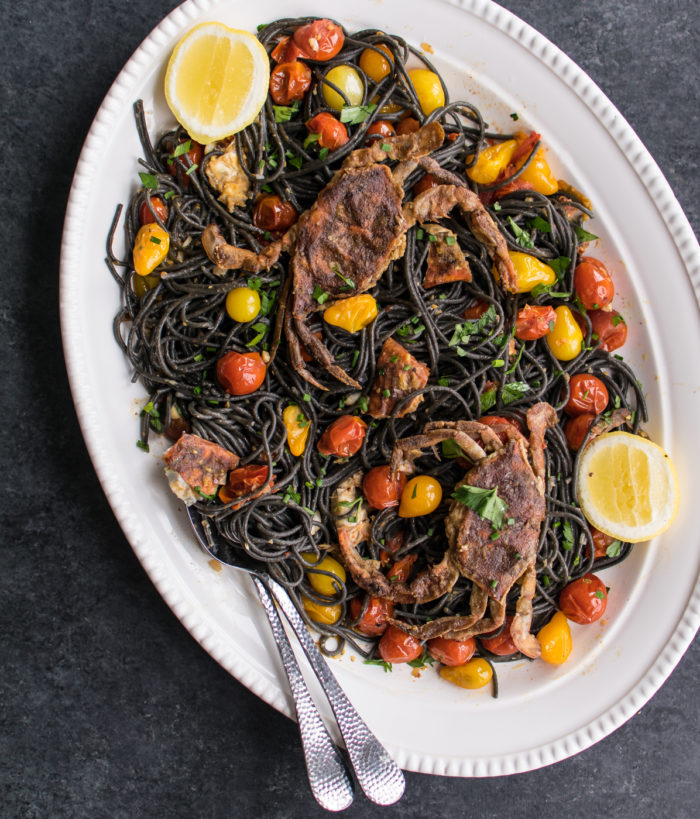 Since I'm keeping the flavors simple, luckily, that means the dish is super easy to make! The crabs take under 10 minutes to make. You'll dredge them in a little seasoned flour and cook them in a hot pan with some butter. Once they're cooked—they only need a few minutes on each side—you'll remove them from the pan, set them aside, and make the sauce in the same pan! Add the cooked pasta to the pan, add the crabs back in, some fresh herbs and you're done!
I was so excited to find this squid ink spaghetti at Trader Joe's (woohoo!) but if you don't have a Trader Joe's near you, you'll be able to find squid ink pasta at most Italian specialty shops. If you can't find it annnnyyyywhere, regular old linguine or spaghetti will do just fine! It won't look as cool though, let's be honest.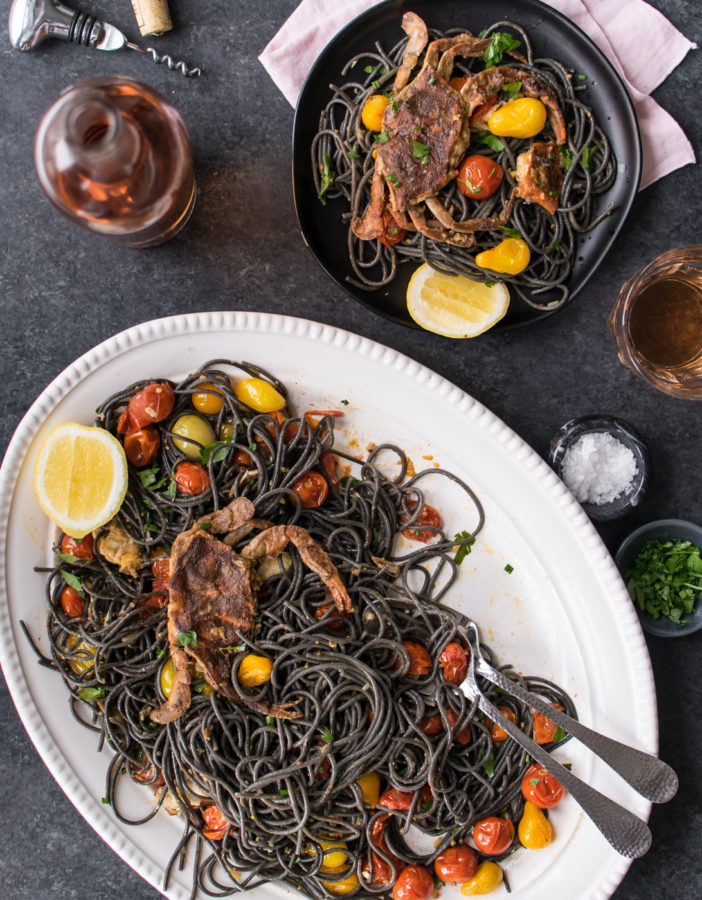 So there ya go, one of my favorite ways to enjoy soft shell crabs! Get your fishmonger on the horn, tell them you're armed with a fab recipe and you need them to put aside some softies! Oh, and ask them to clean the crabs for you too.
You might also like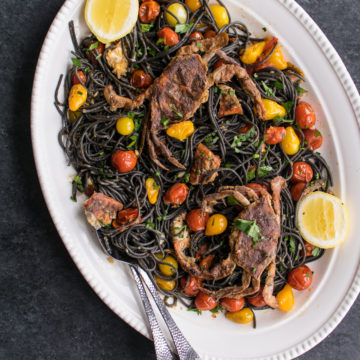 Squid Ink Pasta with Soft Shell Crab and Tomatoes
Crispy soft shell crab get's tossed with a simple cherry tomato pasta for this simple and delicious dish!
Ingredients
For the pasta
1

Pound

squid ink spaghetti or other long pasta

3

Tablespoons

olive oil

3

Cloves garlic

minced

½

Shallot

minced

½

Teaspoon

red pepper flakes

1

Pound

cherry tomatoes

1

Teaspoon

lemon zest

½

Teaspoon

kosher salt

¼

Teaspoon

pepper

Fresh parsley

roughly chopped, for garnish

Chives

chopped, for garnish

Lemon wedges

for serving
For the crab
1

Cup

all purpose flour

½

Teaspoon

kosher salt

½

Teaspoon

garlic powder

½

Teaspoon

paprika

¼

Teaspoon

pepper

2-3

Tablespoons

unsalted butter

4

Soft shell crabs

cleaned
Instructions
Bring a large pot of salted water to a boil. Cook the pasta to two minutes less than package instructions. Drain and reserve 1 cup pasta water.

Meanwhile, cook the crab. Whisk the first 5 ingredients together on a plate. Dredge each crab in the flour mixture and shake off the excess. Heat the butter in a pan over high heat and add the crabs, top side down. Cook for 3 minutes and then flip; cook for an additional 3-4 minutes until crabs are red and coating is golden and crispy. Remove from pan and set aside.

In the same pan, make the sauce. Add the olive oil, garlic and shallot and cook for 1-2 minutes; until fragrant and starting to soften. Add the tomatoes and season them with salt and pepper. Cook until tomatoes have burst; about 7-10 minutes.

Add the drained pasta to the pan and toss to coat. Add pasta water as needed to loosen the sauce.

Roughly chop two of the cooked crabs and add it to the pan with the pasta. Reserve the remaining two for the top of the pasta. Garnish with parsley and chives. Serve with lemon wedges.

Enjoy with a glass of dry rosé!