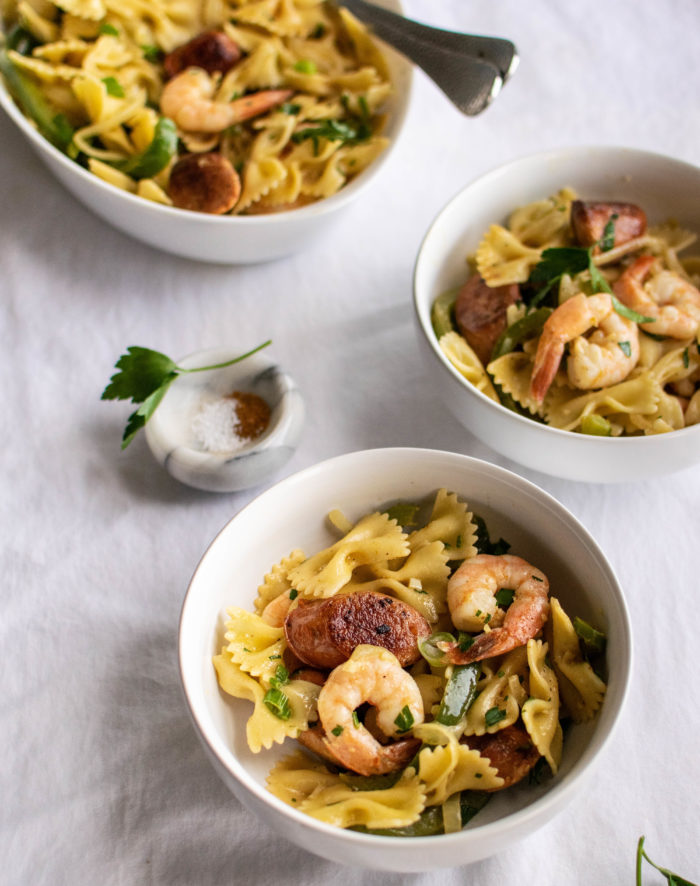 This recipe is a new favorite of mine! I wanted to play around with Cajun flavors, and because I love pasta so much, I decided to make a Cajun pasta salad. With green peppers and onions, smoky andouille sausage, shrimp, and a zesty dressing—this recipe is packed with flavor!
Since this pasta salad can be served hot, at room temperature, or even cold, it's really versatile. It's perfect for an easy weeknight dinner or lunch. It would be great for a picnic too!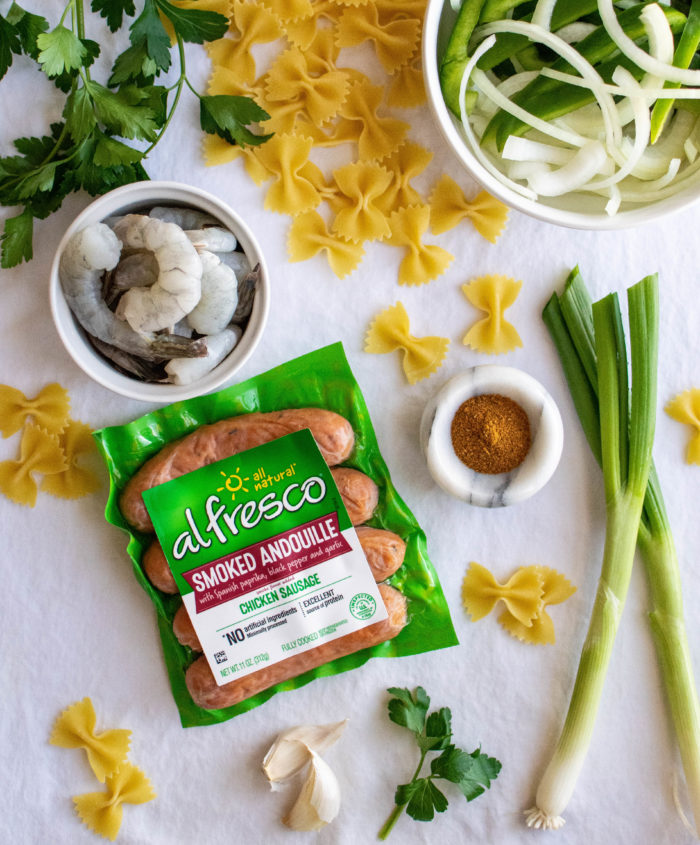 My favorite meals are always the ones that are delicious (obviously) but also easy to make! To make life (and dinner) easier, I always like to keep some al fresco chicken sausages and meatballs on hand. (Have you tried this stir fry?) For this recipe, I used their Smoked Andouille Chicken Sausage and it worked perfectly.
I love the combination of the smoky sausage and the shrimp—it reminds me of a Cajun seafood boil!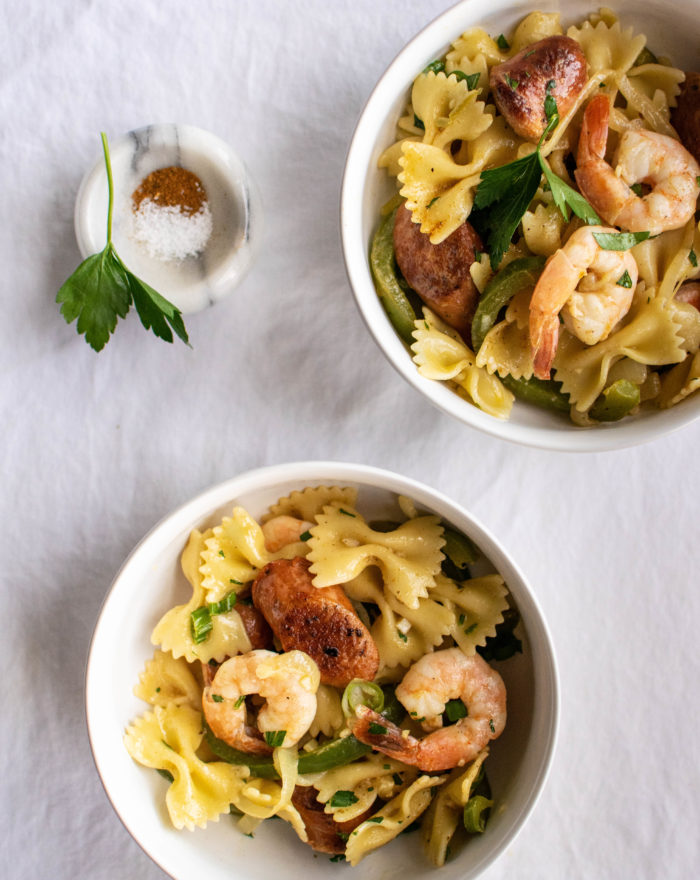 In Cajun cooking, a lot of dishes start with the "hoy trinity" which is green pepper, onion, and celery. Although I love celery, we didn't need it in this recipe. I 86'ed the celery, kept the green pepper and onion, and added in some garlic. Those veggies really set the dish up with lots of flavor!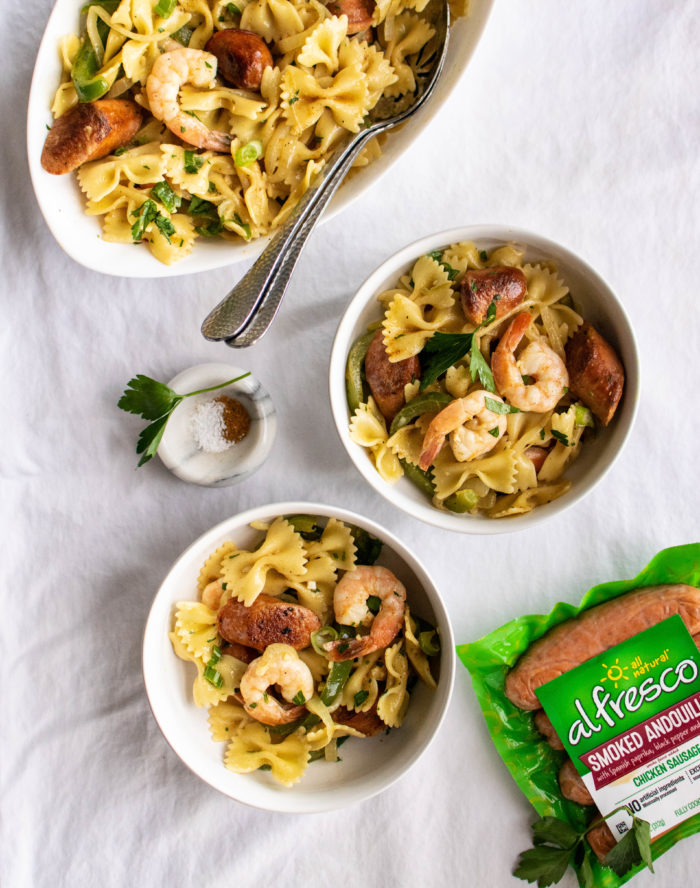 To make sure everything is perfectly cooked, you'll cook the veggies, shrimp, and sausage separately, but all in the same pan. Start off by cooking the peppers and onions until they've softened but still have a little crunch and then transfer them to a plate. Next, cook the shrimp. When the shrimp are done, move them over to the same plate and get the sausage in the pan. Since the sausages are pre-cooked, all you'll need to do is heat them through and crisp up the skin. The crispy, snappy skin is the best part, right?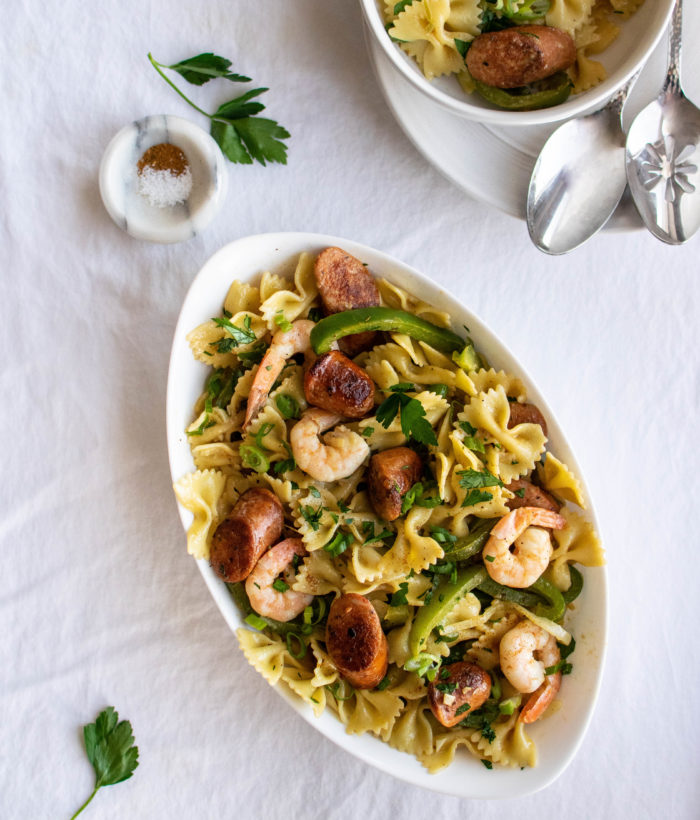 Once you've got all that deliciousness cooked up, you'll toss it with the pasta and dressing. Finish it all off with some fresh parsley and scallions and dig in!
Like this recipe? I think you'd be into this Pasta with Italian Sausage and Peppers or my Cajun Spaghetti with Seafood!
Thank you al fresco for sponsoring this post and supporting Carolyn's Cooking! As always, recipe, photos, and opinions are my own.
Recipe Summary
Cajun Pasta Salad

Level:

Easy

Servings:

4

Ingredients:

For the pasta

4 Tablespoons olive oil, divided
1 Green bell pepper, thinly sliced
1/2 Yellow onion, thinly sliced
1/2 Pound large raw shrimp
1 Package al fresco Smoked Andouille Chicken Sausages, cut into 1 inch pieces
1 Pound Farfalle or other short pasta
Fresh parsley, roughly chopped
Scallions, light green and green parts, thinly sliced
Salt and pepper, to taste

For the dressing

6 Tablespoons olive oil
2 Tablespoons red wine vinegar
2 Tablespoons fresh lemon juice
2 Teaspoons mayonnaise
2 Teaspoons Dijon mustard
1 Teaspoon Worcestershire
2 Teaspoons cajun seasoning
Salt and pepper, to taste

Instructions:

Make the dressing. Whisk all of the ingredients for the dressing together. Set aside until ready to use.
In a large skillet, heat two tablespoons of the olive oil over medium heat. Add the peppers and onions and season with a pinch of salt. Cook the vegetables until softened; about 10 minutes. Add the garlic to the pan and cook for an additional minute. Transfer the vegetables to a plate.
Add another tablespoon of olive oil to the pan and swirl to coat. Add the shrimp and season with salt and pepper. Cook the shrimp, turning once, until opaque and cooked through; about 5 minutes. Transfer the shrimp to the plate with the vegetables.
Add the last tablespoon of olive oil to the pan and swirl to coat. Add the Al Fresco Smoked Andouille Sausage to the pan and cook until heated through and skin has crisped up; about 5-10 minutes.
Meanwhile, bring a large pot of salted water to a boil. Cook the pasta to package directions for al dente. Reserve 1/2 cup pasta water and drain.
Stir the vegetables, shrimp, and sausage into the pasta. Add the dressing and toss to coat. Add pasta water as needed to loosen the sauce.
Taste the pasta and adjust seasoning, adding more salt and pepper if needed. Garnish with parsley and scallions and serve!
Enjoy!