Asparagus Mimosa with Crispy Prosciutto
Asparagus Mimosa is a classic French dish of asparagus, hard boiled egg and a vinaigrette. It's perfect for spring! For my version, I swapped the dressing's vinegar for lemon, added crispy prosciutto and plenty of fresh herbs.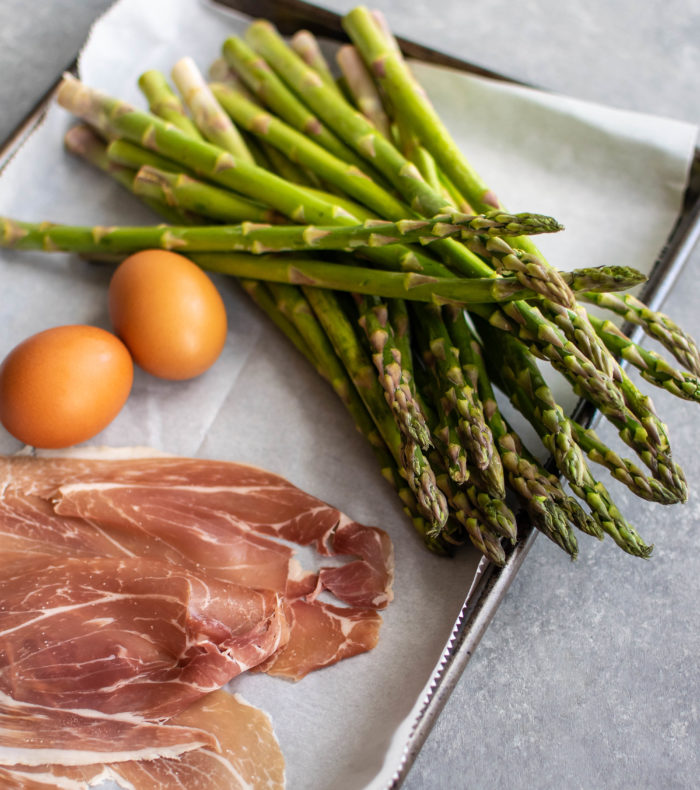 The dish is named after the mimosa flower, which is yellow and white, not the drink! Although, with this recipe being so perfect for brunch, it's highly likely that you'd be sipping on a mimosa while enjoying your asparagus.
Traditionally, this recipe is made with hard boiled eggs and they would be grated. I prefer to keep my eggs a little on the runny side so I just roughly chop them up—you can't grate a runny egg! You can boil your eggs to whatever consistency you like best and chop or grate them. It's up to you!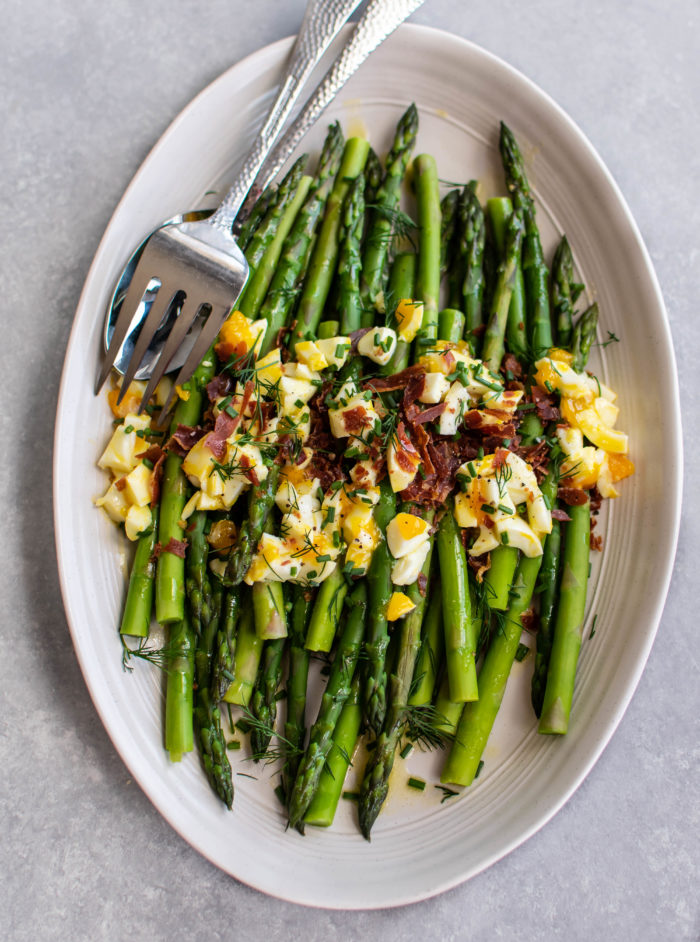 Serve this with Beet Cured Salmon for a colorful springtime brunch and make a couple mimosas to go with your Asparagus Mimosa!
Recipe Summary
Asparagus Mimosa with Crispy Prosciutto

Level:

Easy

Servings:

4

Ingredients:

1 Pound asparagus, trimmed
2 Boiled eggs, roughly chopped
3 Slices prosciutto
Fresh dill, roughly chopped
Fresh Chives, chopped

For the dressing

4 Tablespoons olive oil
2 Tablespoons fresh lemon juice
3/4 Teaspoon Dijon mustard
Salt and pepper, to taste

Instructions:

Pre heat the oven to 375 and prepare a parchment paper lined baking sheet. Lay the prosciutto slices on the parchment and cook until darkened in color and crisp; about 12 minutes. When cooled, roughly chop the prosciutto and set aside.
Meanwhile, fill a large, straight sided pan with 2-3 inches of water and bring to a boil. Salt the water, add the asparagus and cook until tender crisp; about 4 minutes. While the asparagus is cooking, prepare an ice bath. Transfer the asparagus from the pan to the ice bath to stop the cooking. Drain and pat dry.
Make the dressing. In a small bowl, whisk the lemon, mustard and olive oil together until well combined. Season with salt and pepper to taste.
Arrange the asparagus on a platter and spoon the chopped eggs over the top followed by the crispy prosciutto. Drizzle the dressing over the dish and garnish with fresh herbs.
Enjoy!