Fideuà with Pancetta and Seafood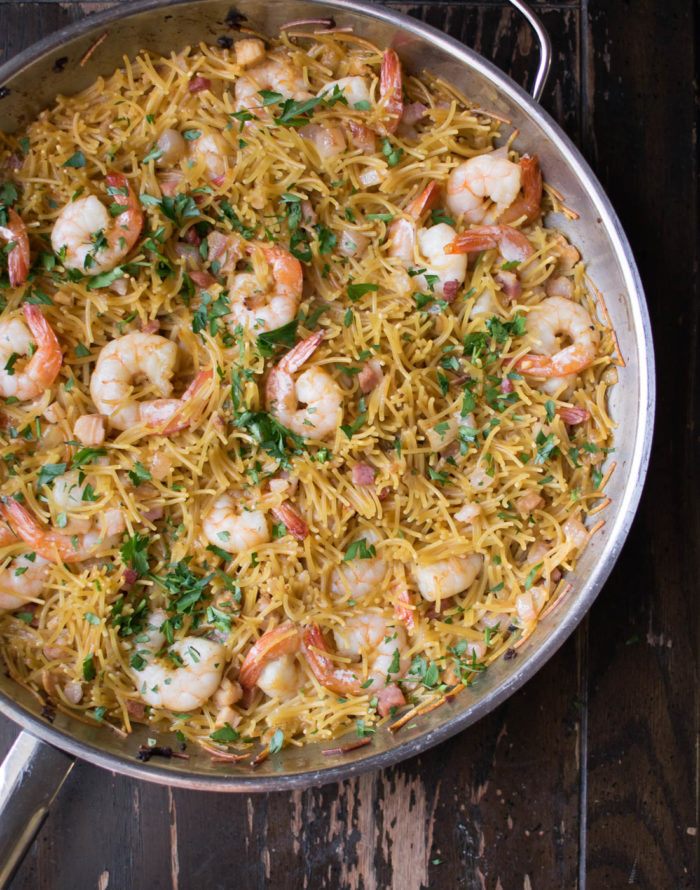 Ooooooohhh this is a good one. Pasta? check. Seafood? Check. Pancetta? check. I'm so. on. board. You guys have all heard about—and hopefully enjoyed—Paella, but what about it's less popular, but totally cute, cousin Fideuà?!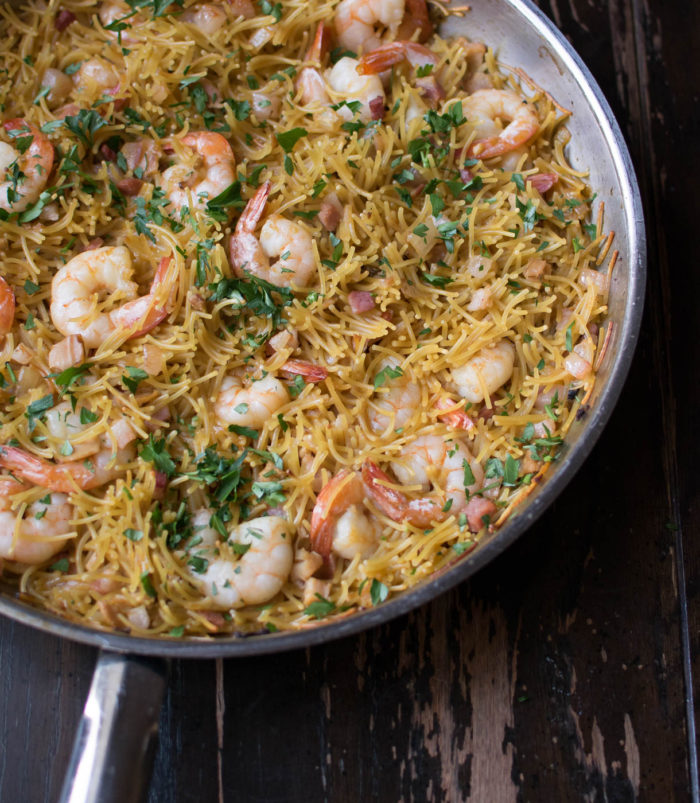 Fideuà is basically Paella but made with pasta instead of rice and it is delicious!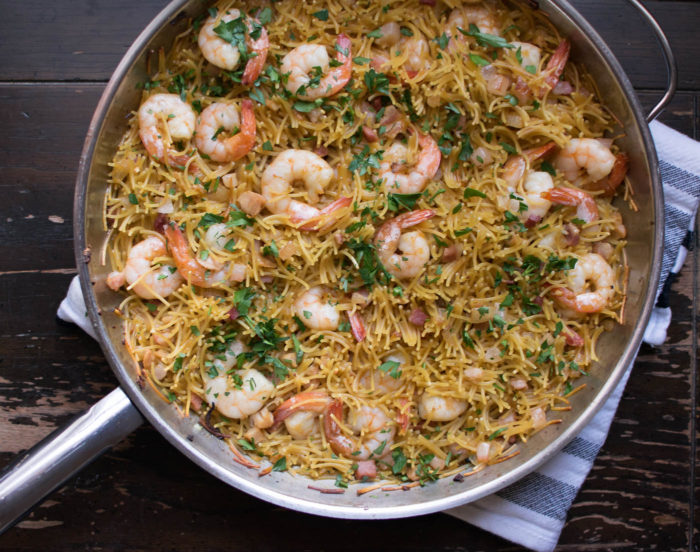 The recipe is also incredibly easy, if you can believe it. The pasta cooks in the pan with all the delicious spices, pancetta and seafood and then at the end, you'll broil it quickly to get a nice golden crispy top. That's the best part!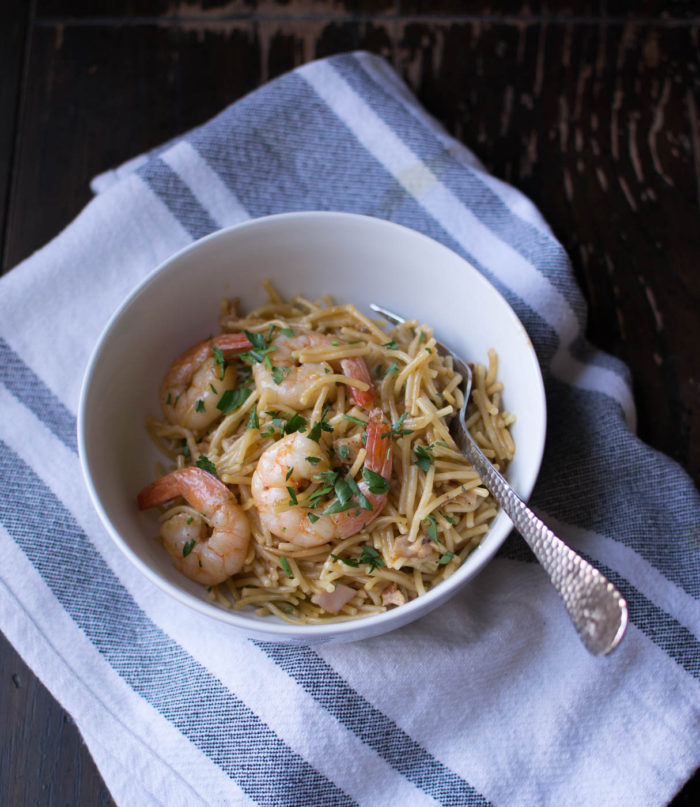 I use smoked clams in this recipe because it adds a little something extra that just takes this dish over the edge. You should be able to find smoked clams in the canned foods aisle by the tinned fish. If you can't find them, look again! and then ask someone who works there! Okay, if you REALLY can't find them then regular canned clams will totally work but keep an eye out for the smoked guys any time you're grocery shopping in the future—they're a great little pantry staple.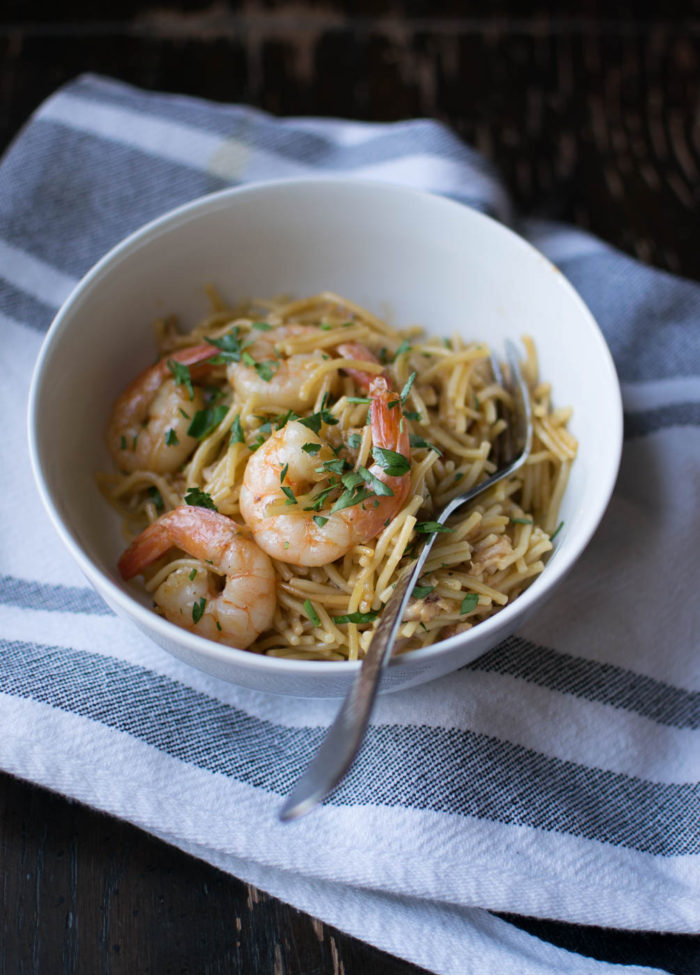 For the pasta, it's not always easy to find what are called "fideos" (essentially short pieces of spaghetti) so if you can't find them, that's no problem! Just buy spaghetti and break them into smaller pieces yourself. Breaking spaghetti is basically a sin but, for this recipe, it's necessary so go right ahead. But, like, don't do it on the reg.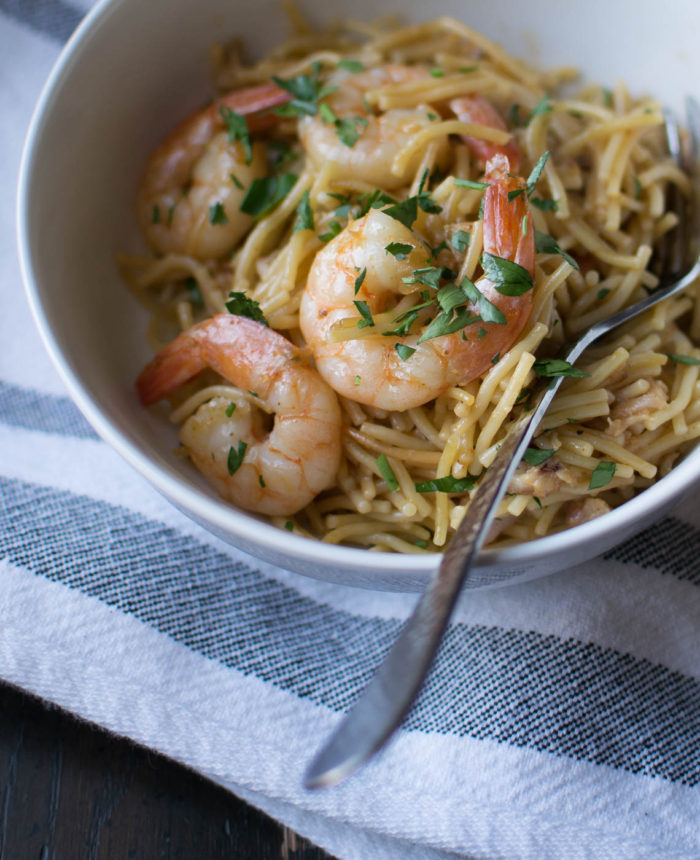 The other important thing to note about this recipe is the toasting. We're toasting the spices, and then toasting the pasta before adding the liquid. Flavor wise, it makes all the difference!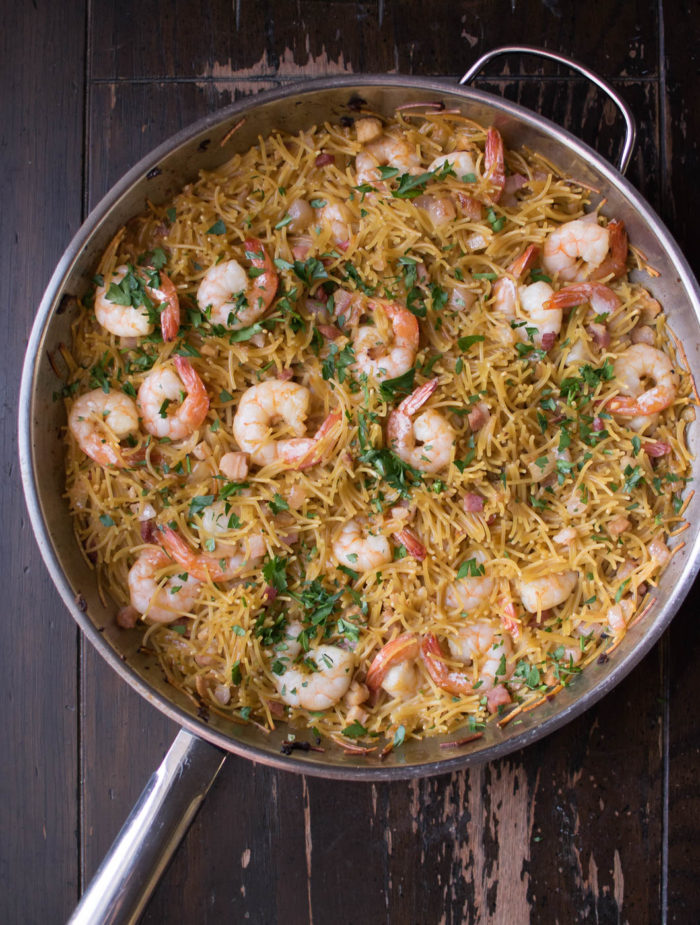 So, go ahead, I give you permission to break spaghetti into little pieces knowing that you guys will love the outcome and all will be forgiven in food heaven!
Recipe Summary
Fideuà with Pancetta and Seafood

Level:

Easy

Servings:

6

Ingredients:

1 Pound fideos or spaghetti broken into small pieces
1 4oz Package of pancetta
1 Can smoked clams
1 Can chopped clams, juice reserved
1 Pound Raw shrimp
1 Tablespoon tomato paste
1/2 Yellow onion, diced
2 Cloves garlic, minced
1 1/2 Teaspoons paprika
1/2 Teaspoon cayenne
1 Pinch of salt and pepper
2 Tablespoons olive oil
14oz Chicken broth
Chopped parsley, for garnish
Lemon wedges, for serving

Instructions:

Pre-heat broiler.
In a large paella pan or heavy bottomed skillet, heat olive oil over medium high heat. Add the onions, paprika, cayenne and salt and pepper to the pan, stir and toast for about 3 minutes. Add the garlic to the pan, stir and let cook for a minute being careful not to burn it then add the tomato paste.
Meanwhile, in a sauce pan, combine the chicken broth and reserved clam juice and bring to a simmer.
Add the pancetta, chopped clams, and smoked clams to the pan, stir and cook for 3-5 minutes. Add the dry fideos to the pan, stirring until toasted. About 3 minutes. Add the shrimp and stir again.
Carefully pour the chicken broth and clam juice mixture into the pan, stir and let it simmer for 5 minutes or so.
Place the pan in the oven under the broiler until golden and crispy on top. Make sure to watch, you don't want broiler burn!
Garnish with parsley and serve with lemon wedges.