Smoked Trout and Snap Pea Pasta Salad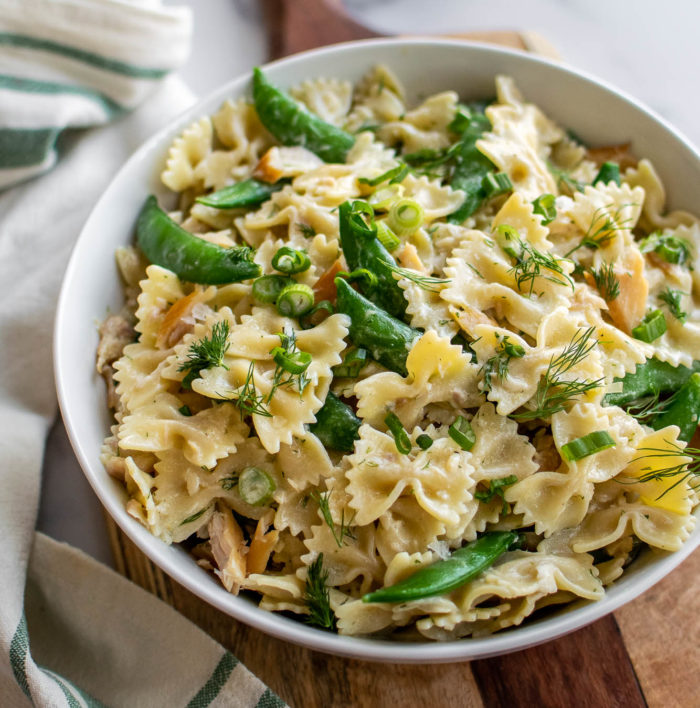 If you want a fun new take on a pasta salad—this is your dish! Crisp sugar snap peas, smoked trout and farfalle pasta all tossed with a creamy and light dressing. This pasta salad is a great side dish for barbecues and picnics, or an easy lunch!
If you're hesitant about the flavor combos- don't be! The sweetness of the peas goes perfectly with the smokiness from the fish and then a creamy dressing ties everything together. Pile on the fresh dill and green onions for tons of extra flavor!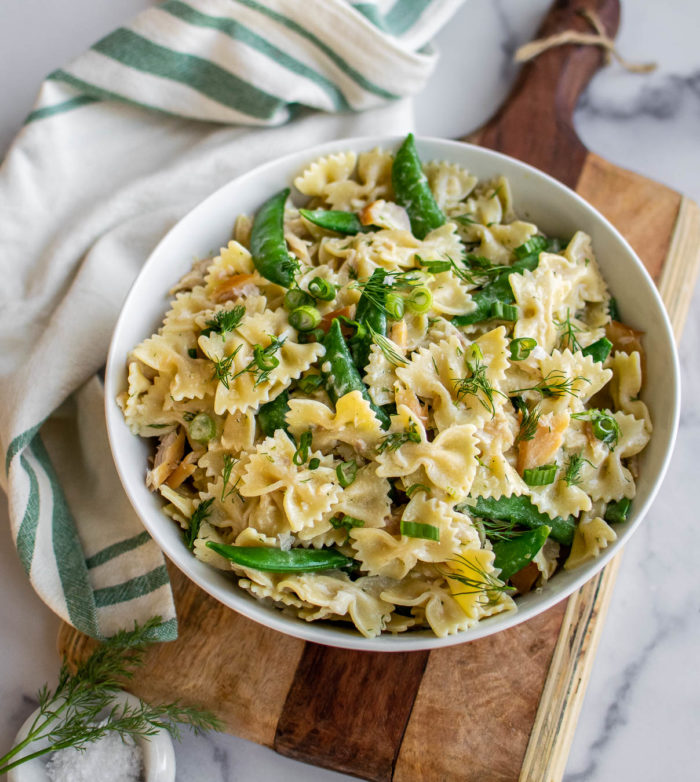 I love using smoked trout for this recipe, but you can use smoked salmon instead if you prefer. Make sure it's hot smoked salmon instead of cold smoked. You want the consistency of flaked fish that you get from hot smoked, not the consistency of lox.
If you can't find snap peas, you can use english peas or snow peas instead. You could even sub asparagus if you're not into peas! It won't exactly be the same flavors, but still great. Honestly, I think it'd be hard to mess this pasta up!
One of the best things about this recipe is how easy it is! The peas get cooked in the same pot as the pasta so you won't have to use an extra pan. All you'll really have to do is make the dressing and flake some fish!
Normally, I would never tell you to rinse your pasta, but for this pasta salad you want to make sure to cool down the pasta and the peas quickly so that they don't over cook. Rinsing the pasta under very cold water is almost the same as an ice bath in this situation! Rinse the pasta until it's cooled and then drain it very well. Then you'll toss it with a little olive oil so that it doesn't stick together. Add the trout and dressing and garnish with fresh dill, scallions and a good pinch of flaky sea salt. That's it! You can eat the pasta right away or chill it for a bit if you prefer.
Switch things up and bring this pasta salad to your next get together!
Recipe Summary
Smoked Trout and Snap Pea Pasta Salad

Level:

Easy

Servings:

4

Ingredients:

For the pasta

3/4 Pound farfalle pasta
8 Ounces sugar snap peas
8 Ounces smoked trout (or other hot smoked fish), flaked
1 Tablespoon olive oil
Fresh dill, roughly chopped
Scallions, light green and green parts, thinly sliced
Flaky sea salt, such as Maldon

For the dressing

1/2 Cup olive oil
1 Clove garlic, finely minced
3 Tablespoons lemon juice
3 Tablespoons sour cream
1 Tablespoon red wine vinegar
1 Tablespoon fresh dill, minced
1 Teaspoon kosher salt
1 Teaspoon granulated sugar
1/2 Teaspoon black pepper
1/2 Teaspoon lemon zest

Instructions:

Whisk all of the ingredients for the dressing together and refrigerate until ready to use.
Bring a large pot of salted water to a boil. Cook the pasta according to package directions. Add the snap peas to the pasta water 2 minutes before the pasta is done. Drain and rinse the pasta and peas under very cold water until completely cooled. Transfer to a large bowl, add 1 tablespoon of olive oil, and toss to coat. Add the flaked trout (or other smoked fish) and the dressing and toss again.
Taste and season with flaky sea salt and garnish with fresh dill and scallions. Serve cold or at room temperature. 
Enjoy!