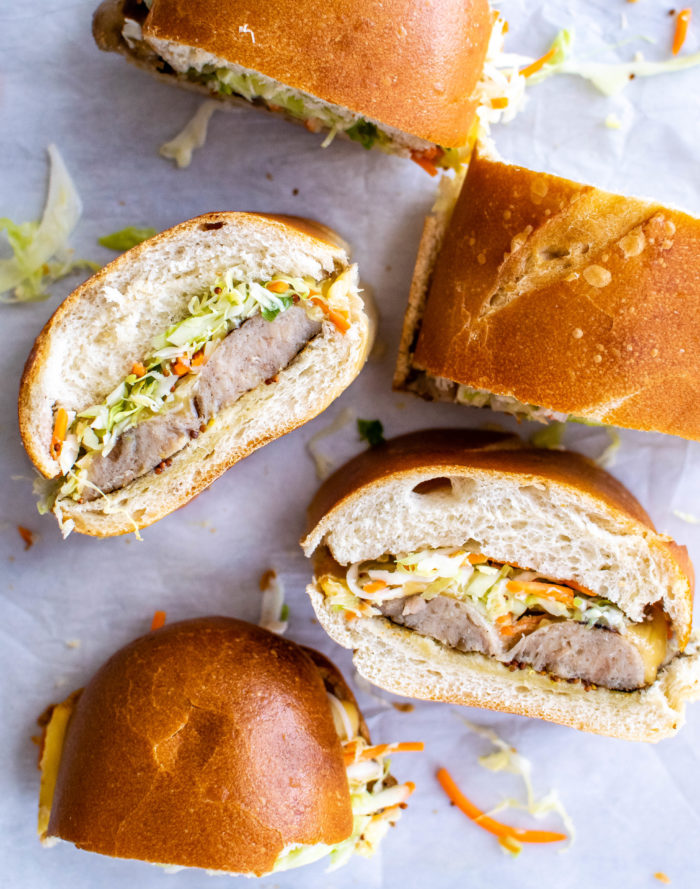 I love a good sandwich and I'm always looking to create new and exciting ways to eat them. This combination of Sweet Apple Sausage, smoked gouda and a tangy, crunchy slaw all piled onto a big bakery roll is a winner!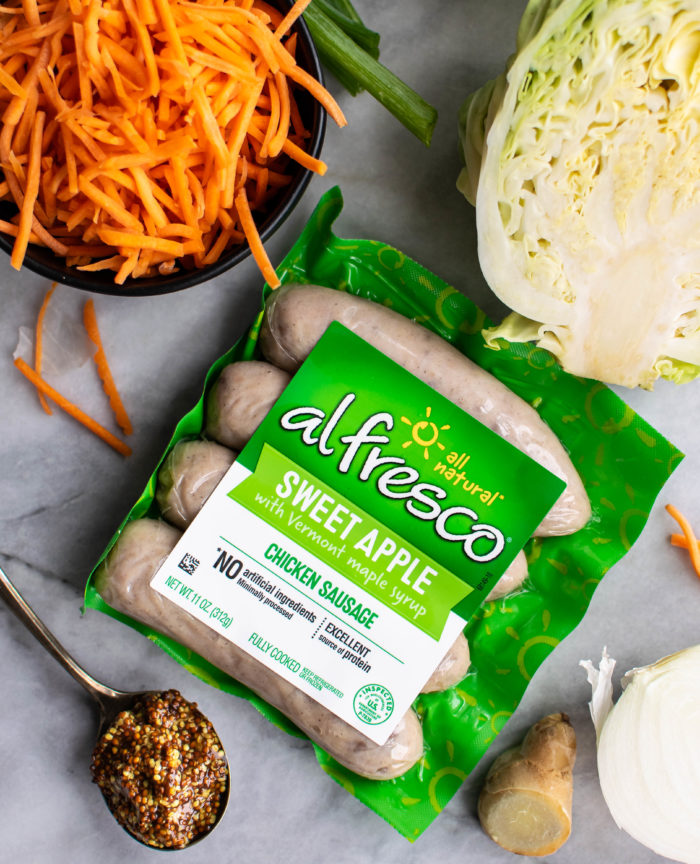 *This post may contain affiliate links. See disclosure for further details.
I'm using al fresco's Sweet Apple Chicken Sausages for this recipe—they may be my new obsession! I'm a big fan of al fresco's sausages because they always have great flavor and can be used in such a variety of ways. Since I used their Smoked Andouille Sausage in this Cajun Pasta Salad, I decided to go in a different direction this time and try the Sweet Apple Sausage. It was perfect!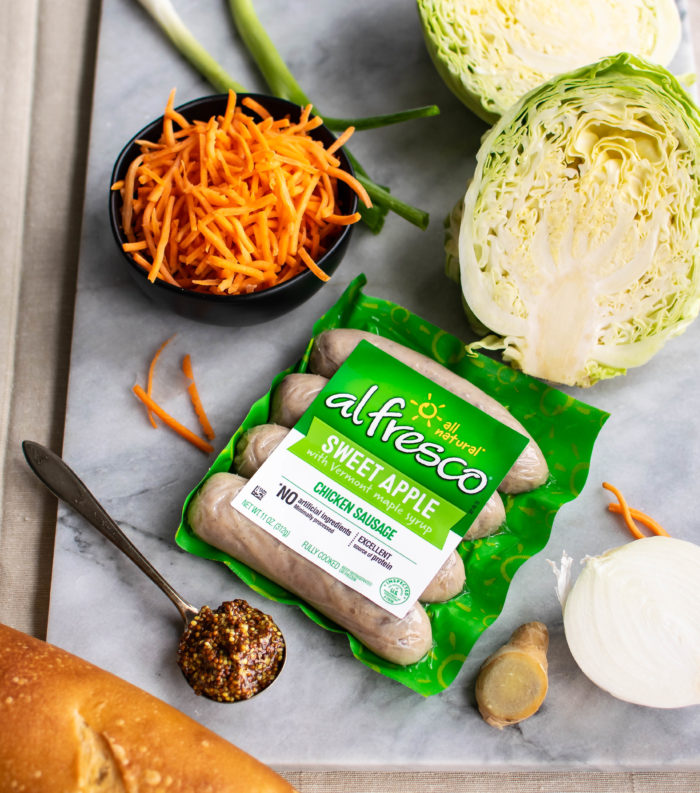 Sausage and gouda are delicious together, but what takes it to the next level is the slaw! This slaw is light and tangy with a little kick from a bit of ginger. It balances the other ingredients and gives the sandwich a healthy crunch. When you're making the slaw, you might think there's not enough dressing but just give it some time! As the slaw sits in the dressing, it'll shrink a bit and you'll see, it'll be perfectly dressed. The last thing you want is soggy slaw!
You'll most likely have some slaw leftover after you've made this sandwich. I like eating a bit with my eggs and avocado in the morning or adding it to salads, sandwiches and tacos!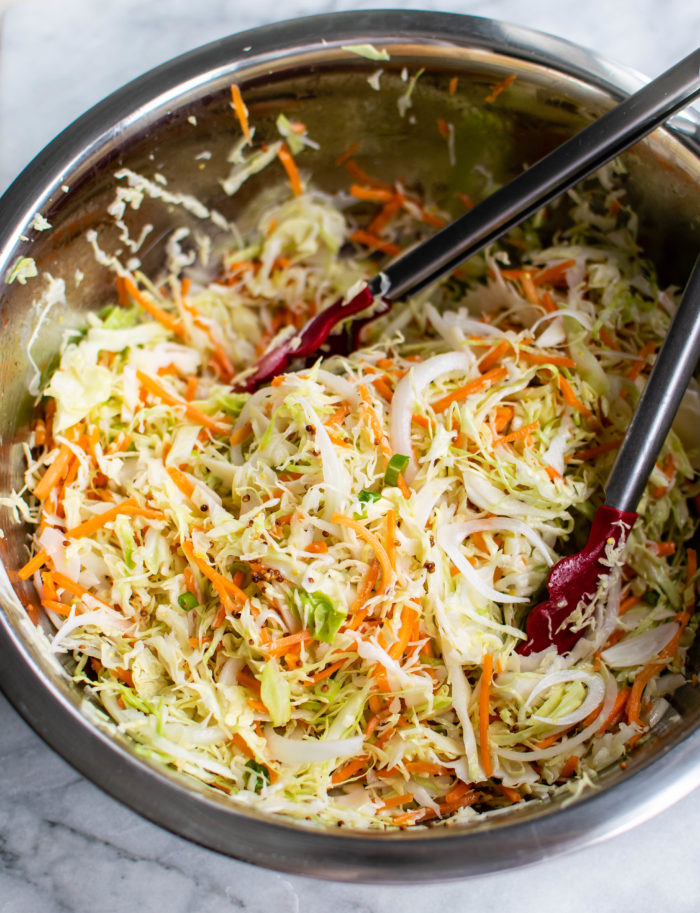 Since this is meant to be a big sandwich, you'll need to find a big roll! There's no specific bread that needs to be used here, just take a look in the bakery section of your grocery store and see what's available. I found a HUGE Vienna loaf and it worked perfectly but there were lots of other options too. You want to look for bread that is soft on the inside and a little crusty on the outside. If you can't find one big roll to house all of this deliciousness, buy a pack of sausage buns and make the sandwiches individually!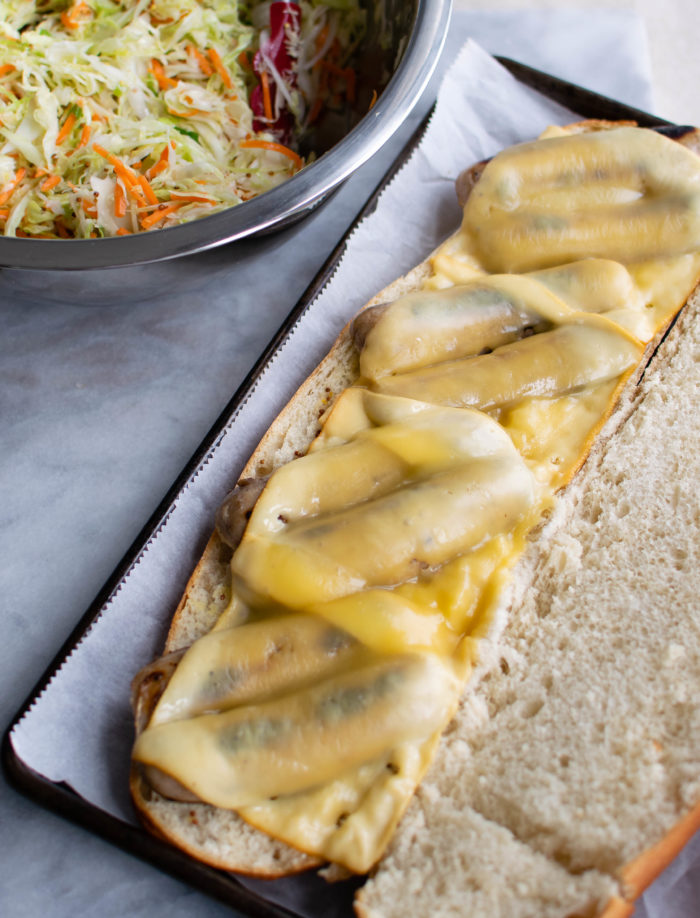 Assembling this sandwich is super easy! So that the flavors have time to meld, you'll make the slaw first and set it aside while you're preparing the rest of the sandwich. Since the sausages are fully cooked, you'll just need to brown them a bit in a cast iron pan. Split the sausages and open them up like a book before adding them to your cast iron pan or griddle. This way, there will be more surface area for browning and they'll fit better in the roll. While the sausages are browning, slather a generous amount of salted butter and whole grain mustard on the inside of your roll.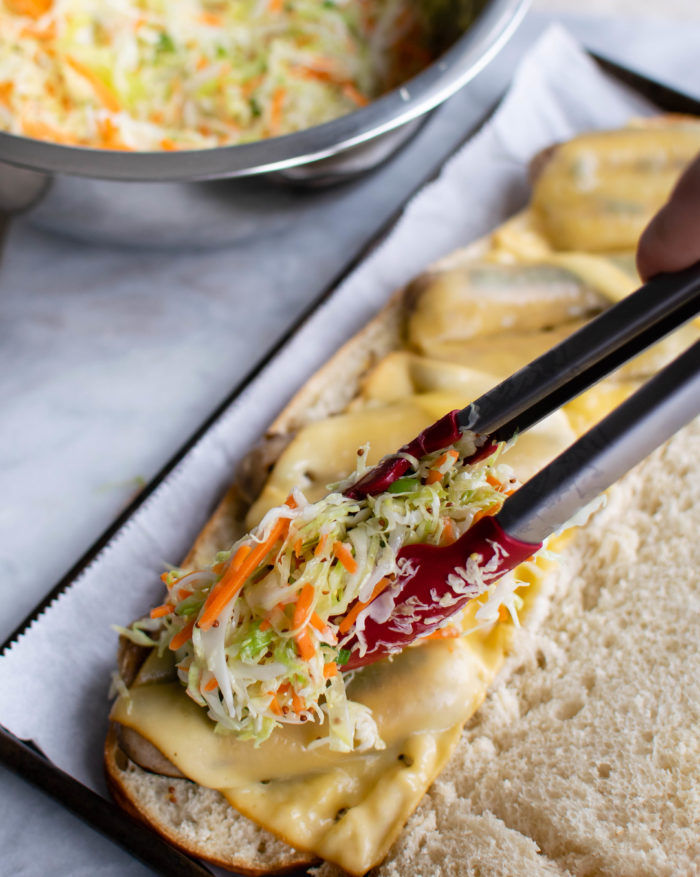 When the sausages are done, line them up diagonally on the roll and cover them with the smoked gouda slices. Pop the whole thing in the oven to get the gouda nice and melted. Finally, load up the sandwich with plenty of slaw and slice to serve!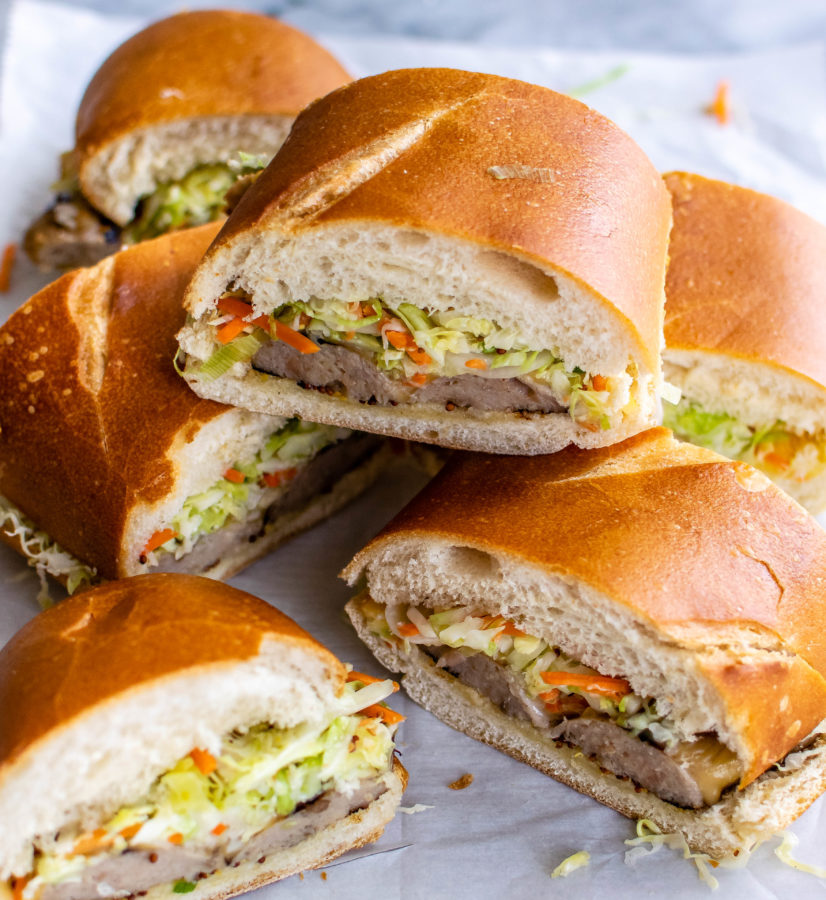 This sandwich is just as delicious at room temperature as it is hot out of the oven, making it the perfect picnic sandwich!
Thank you, al fresco, for sponsoring this post and supporting Carolyn's Cooking! As always, recipe, photos and opinions are my own.
You might also like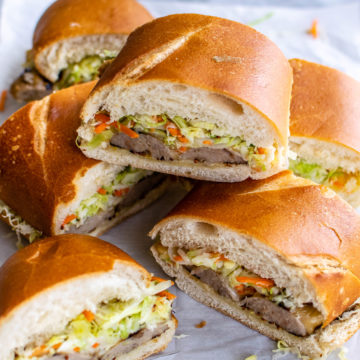 Sweet Apple Sausage and Gouda Sandwich
This combination of Sweet Apple Sausage, smoked gouda and a tangy, crunchy slaw all piled onto a big bakery roll is a winner!
Ingredients
For the slaw
1

Head green cabbage

thinly sliced

2

Cups

shredded carrots

½

White onion

thinly sliced

2

Scallions

thinly sliced, light green and green parts only

½

Teaspoon

fresh ginger

grated

¼

Cup

apple cider vinegar

3

Tablespoons

olive oil

1

Tablespoon

whole grain mustard

2

Teaspoons

granulated sugar

¾

Teaspoon

kosher salt
For the sandwich
1

Large bakery loaf or baguette

1

Tablespoon

olive oil

3-4

al fresco Sweet Apple Chicken Sausages

split

3-4

Slices smoked gouda cheese

Salted butter

at room temperature

Whole grain mustard
Instructions
Pre heat the oven to 350 degrees and line a baking sheet with parchment paper.

Make the slaw. In a large bowl, toss the cabbage, carrot, onion, scallion, and ginger together. In a small bowl, whisk the vinegar, oil, mustard, sugar and salt together. Pour the dressing over the cabbage mixture and toss until well coated. Set aside until ready to use.

Without cutting all the way through, slice the roll longways and open it like a book. Spread a generous amount of butter followed by mustard on the inside of the roll.

Heat a cast iron pan or griddle over medium high heat. Add the olive oil and swirl to coat. Add the split sausages to the pan and cook until browned and warmed through; 2-3 minutes on each side.

Line the sausages up on the roll diagonally and cover with the gouda slices. Transfer the roll to the parchment lined baking sheet and bake, open, until the cheese has melted; 7-10 minutes. Pile the slaw on top of the melted gouda and close the roll.

Slice and serve hot or at room temperature!