You know those nights when you want something delicious and healthy but you don't reeeaally want to cook? This is the perfect recipe for that! This stir fry is quick and easy, packed with veggies, and uses a tasty shortcut to complete the meal!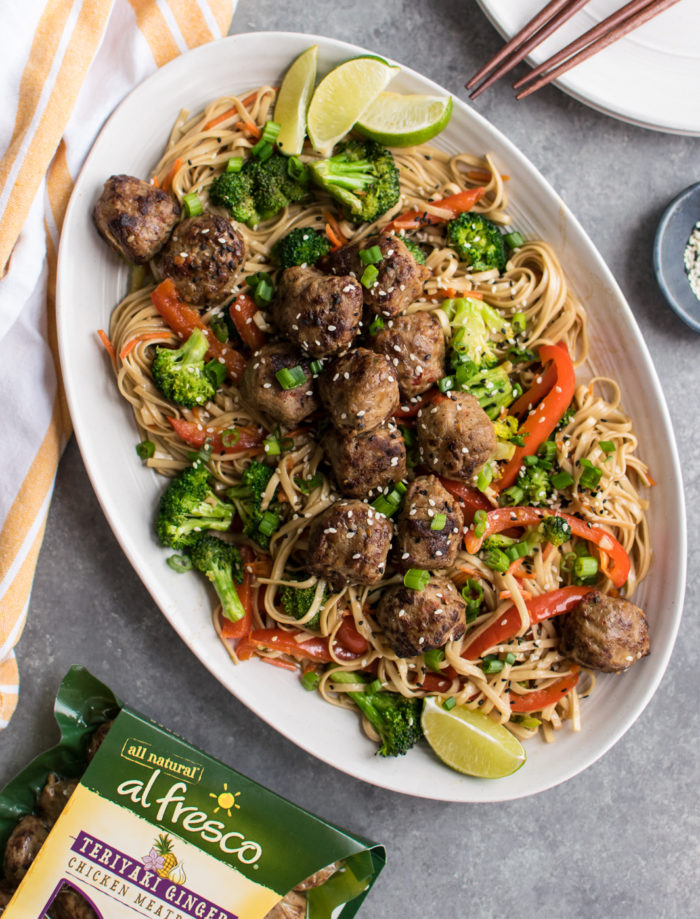 *This post may contain affiliate links. See disclosure for further details.
I've been using al fresco chicken meatballs in my dinners when I want something satisfying, but I want it fast! For this recipe I used their Teriyaki Ginger flavor and it was SO good! I chose to use bell pepper, broccoli, and carrots for my veggies but you can use whatever veggies you like best. Green cabbage or bean sprouts would be delicious here!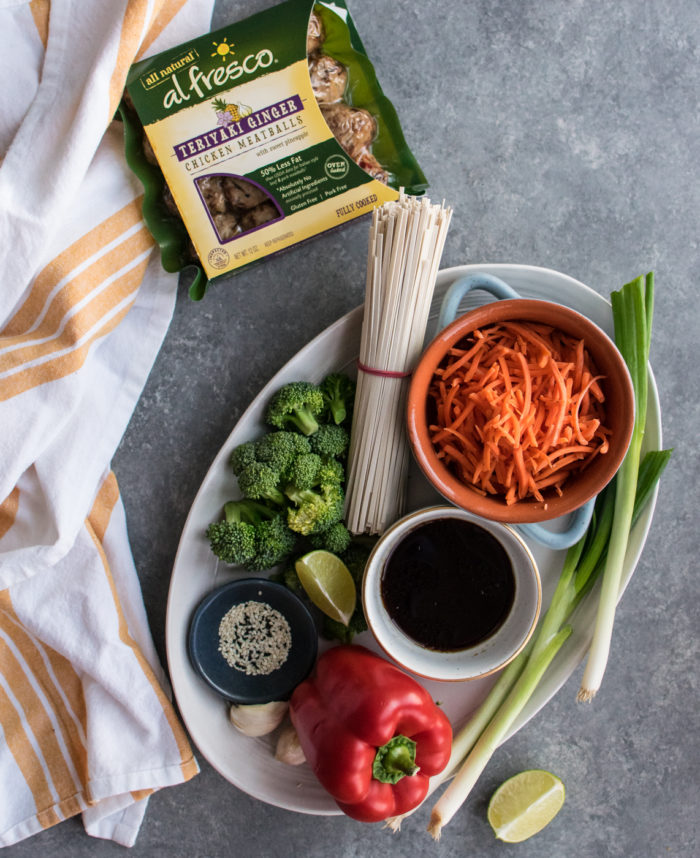 In my house there's a long standing stir fry battle between my boyfriend Larry and me over whether we should go with rice or noodles. He is team rice, I am team noodles! I got my way for this recipe but truthfully, these veggies and meatballs would be just as delicious over rice. That's one of the things I like most about this recipe, you can totally customize it to your liking!
Speaking of noodles, there are many different kinds you can use. We always have a few packages of dried Udon noodles in our pantry so I went with those but ramen noodles, rice noodles, or even spaghetti will do the trick! Go ahead and use whatever you've got on hand. This recipe is super laid back, after all!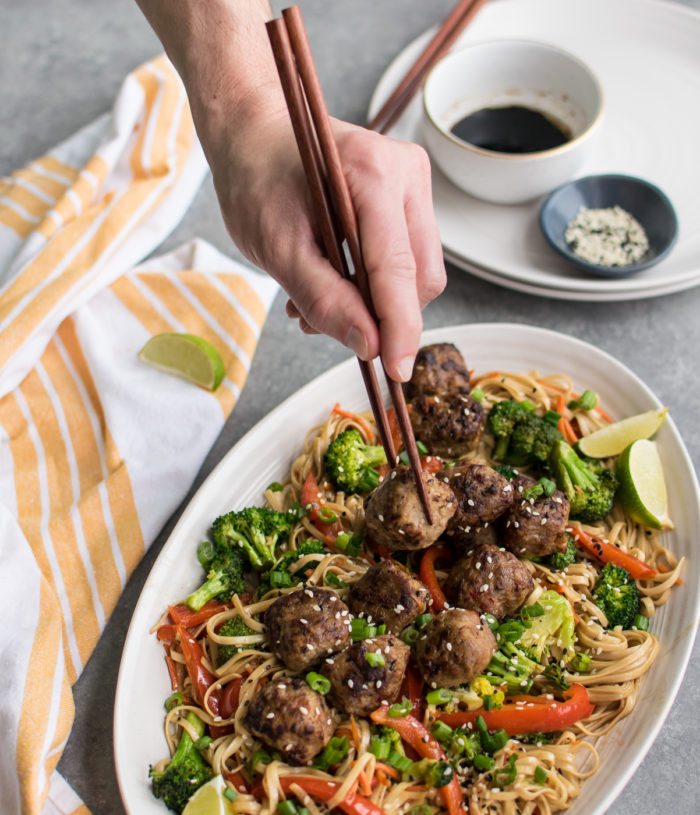 Since these tasty little meatballs are already fully cooked, all you'll need to do is heat them in a pan and they're ready to go! For this recipe, you'll brown them in the pan first, then set them aside while you're stir frying the veggies, then add them back to the pan at the end. That way you'll be able to keep a nice crust on them! Yum.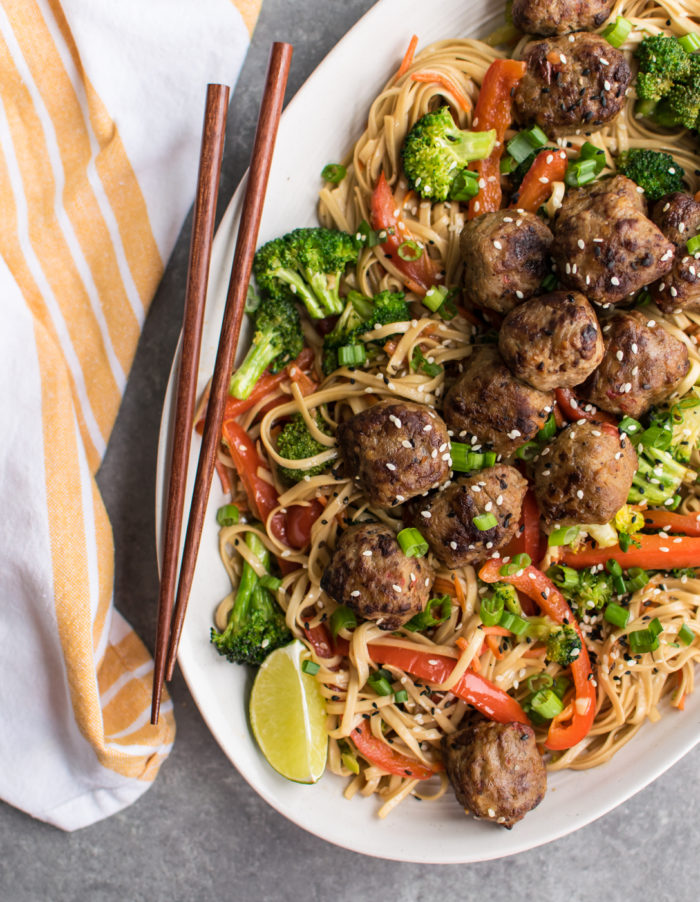 This recipe comes together so fast and is packed with so much flavor, it couldn't be more perfect for a weeknight dinner! I hope you guys enjoy this recipe as much as I do! And if you're looking for more ways to use al fresco chicken sausage and meatballs, you can find tons of great recipes here.
Thank you al fresco for sponsoring this post! As always, recipe, photos, and opinions are my own.
You might also like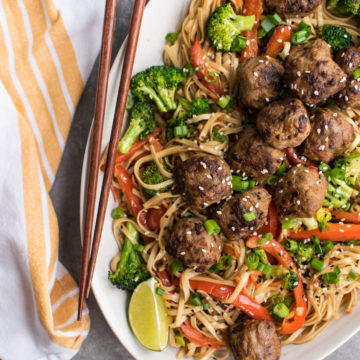 Stir Fried Noodles with Teriyaki Chicken Meatballs
This stir fry is quick and easy, packed with veggies, and uses a tasty shortcut to complete the meal!
Ingredients
1

12 Ounce

Package al fresco Teriyaki Ginger Chicken Meatballs

3

Tablespoons

avocado oil, or other neutral oil

1

Red bell pepper

thinly sliced

1

Cup

shredded carrots

2

Cups

broccoli florets

2

Scallions

thinly sliced, green and white parts separated

2

Cloves garlic

minced

3

Tablespoons

low sodium soy sauce

2

Tablespoons

oyster sauce

1

Teaspoon

sesame oil

1

6 Ounce

package of dried udon noodles, or other noodle of choice

Sesame seeds

for garnish

Limes

for serving
Instructions
Bring a large pot of lightly salted water to a boil.

Heat 1 tablespoon of the avocado oil in a large pan over medium heat. Add the meatballs and brown them all over; about 5 minutes. Remove the meatballs to a plate and tent them with foil to keep warm.

Make the sauce. In a small bowl, whisk the soy sauce, oyster sauce, and sesame oil together. Set aside.

Add the remaining oil to the same pan, add the peppers and cook until they start to soften; about 5 minutes. Add the carrots, broccoli and the white parts of the scallion and cook for another 3-5 minutes. Add the garlic and cook for 1 more minute. Add the sauce to the pan and toss to coat.

Meanwhile, add the noodles to the boiling water and cook for 2 minutes less than package instructions. Drain the noodles and add them to the stir fry.

Add the meatballs back into the pan. Garnish with scallions and sesame seeds and serve with lime wedges.