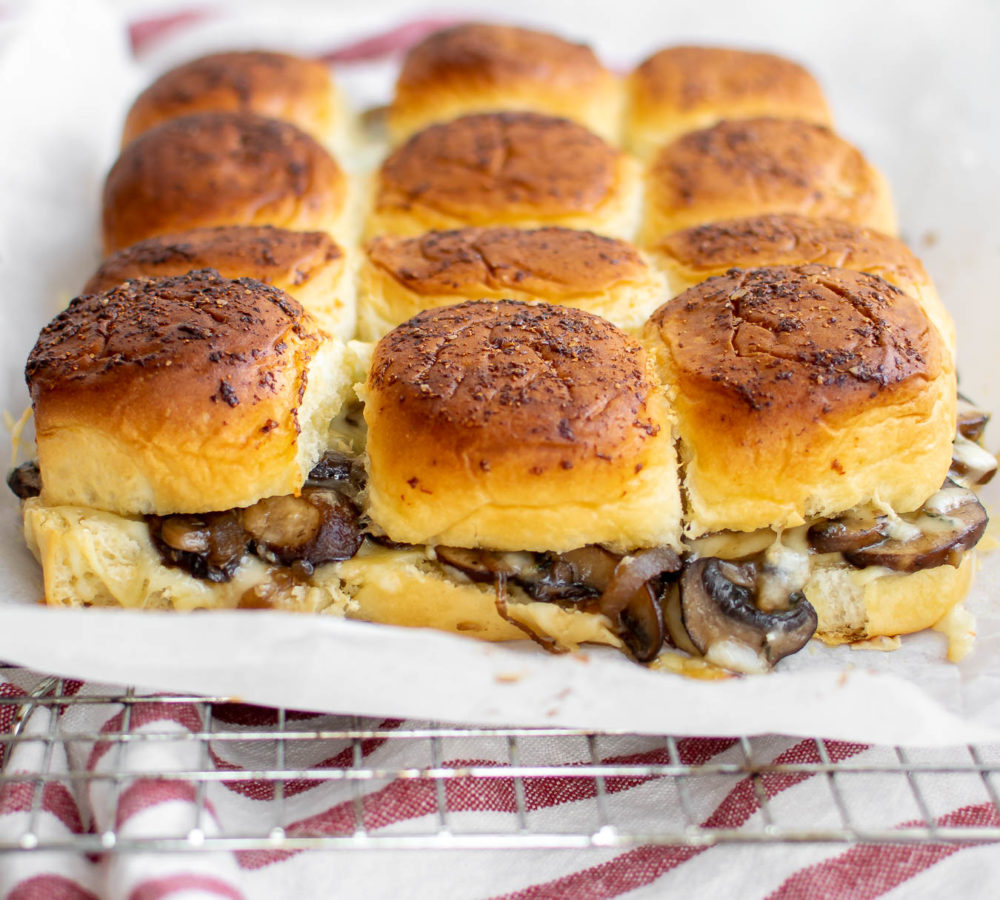 These cheesy mushroom sliders are packed with flavorful mushrooms, shallots and plenty of gooey, melty cheese! These are easy to make and a great vegetarian option for parties or game day!
I feel like vegetarians get left out of the slider game too often, so here I am to save the day! These mushroom sliders do not skimp on the flavor, and your veggie friends will thank you.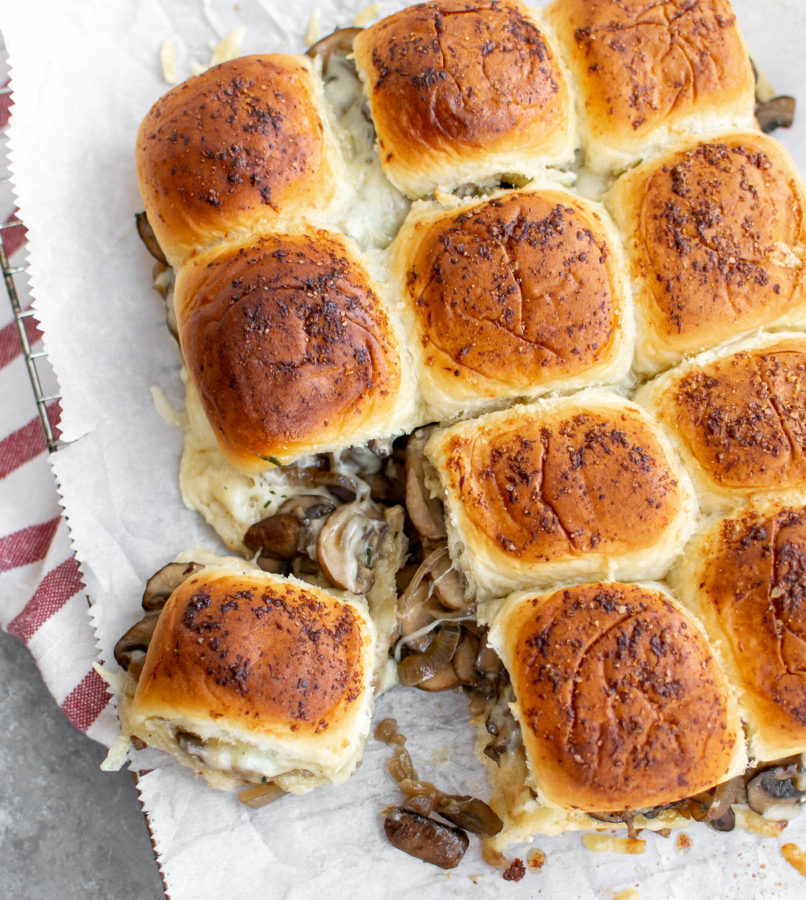 *This post may contain affiliate links. See disclosure for further details.
How do I make the filling?
These sliders are packed with mushrooms, shallots, garlic, thyme, and cheese! Lot's of cheese. The filling is easy to make and just takes a few steps.
First you'll cook the mushrooms in a little olive oil and butter, then add in the shallots and garlic. You want to make sure the mushrooms get a nice sear on them so make sure the pan is hot and don't overcrowd them. Once the shallots and garlic have softened up a bit, you'll add a little bit of worcestershire sauce. The worcestershire sauce packs a big umami punch, so you don't need much. The rest of the filling for these sliders is cheese! You'll load up the sliders by putting a layer of cheese down first, then the mushroom mixture, then more cheese.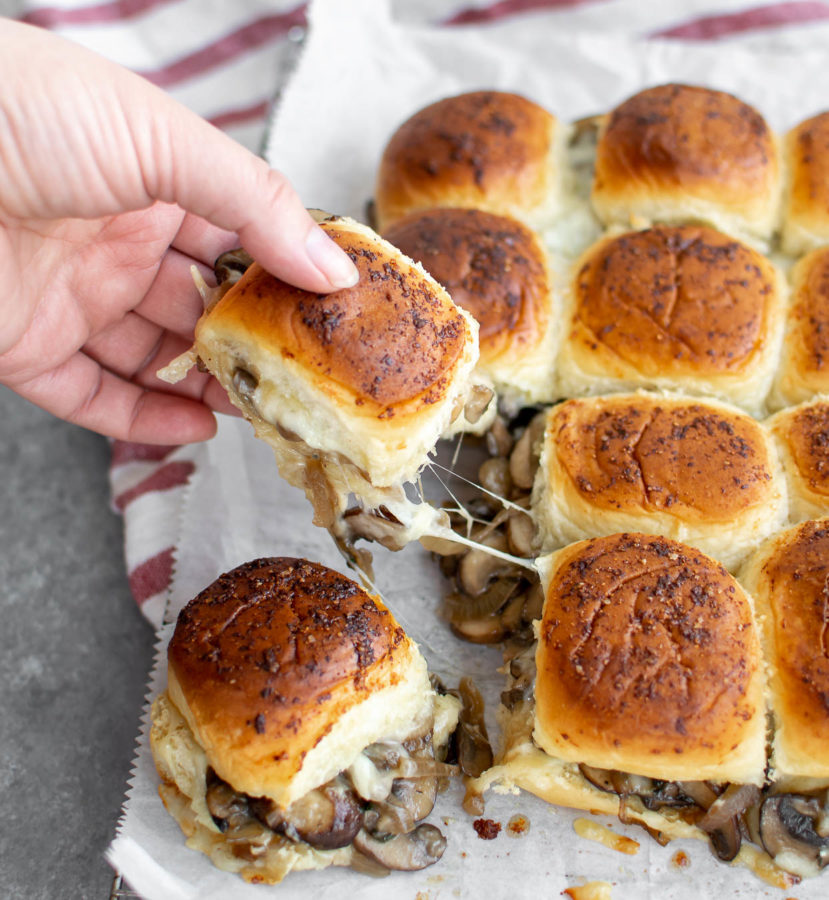 What type of cheese should I use?
This recipe calls for gruyère and fontina cheeses.
Gruyère: Gruyère is a traditonal Swiss cheese from Gruyères, Switzerland. It's one of those cheeses that melts so well, so it's ideal for a recipe like this one! It has a delicious nutty flavor that works perfectly with mushrooms. If you need to, you can substitute Emmental, or Jarlsberg instead.
Fontina: Fontina is an Italian cheese that is also great at melting! I love the creaminess it adds to this recipe. If you can't find fontina, you can use whole milk low moisture mozzarella or gouda instead.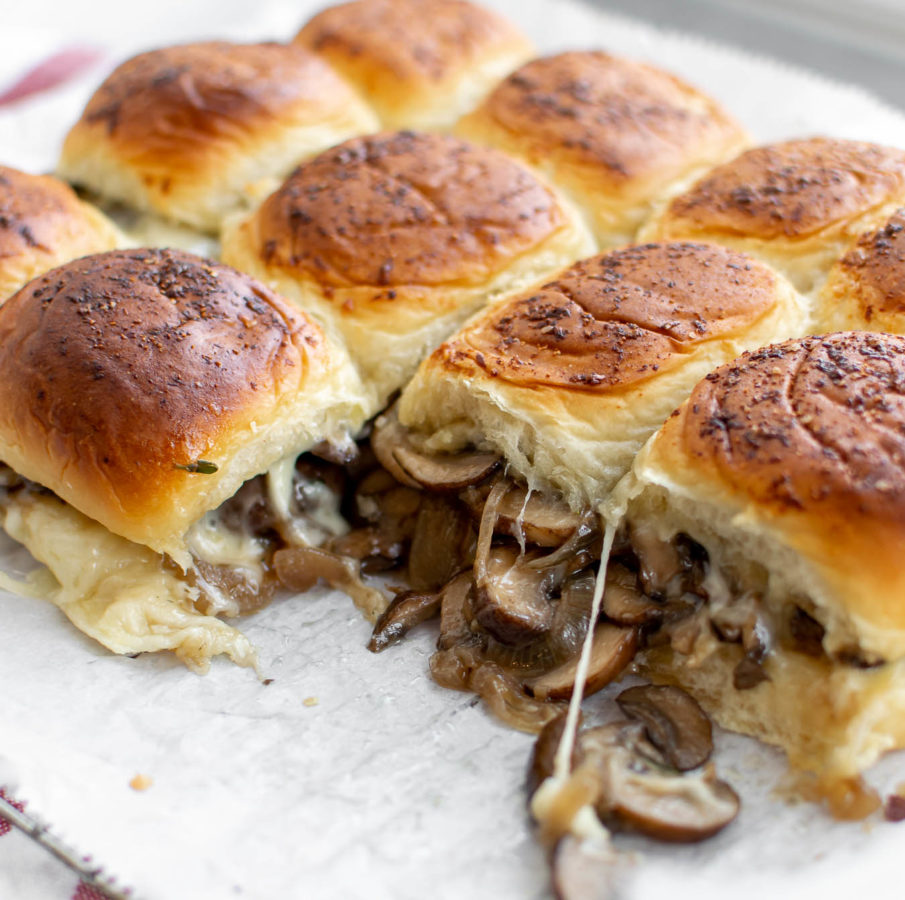 What type of mushrooms should I use?
I like to use a mix of mushrooms in this recipe for the best flavor and texture. Usually, you can find packages of sliced mixed mushrooms at the grocery store. If you can't find mixed mushrooms, baby bella or shiitake mushrooms will work instead. These sliders will be delicious with whatever mushrooms you choose!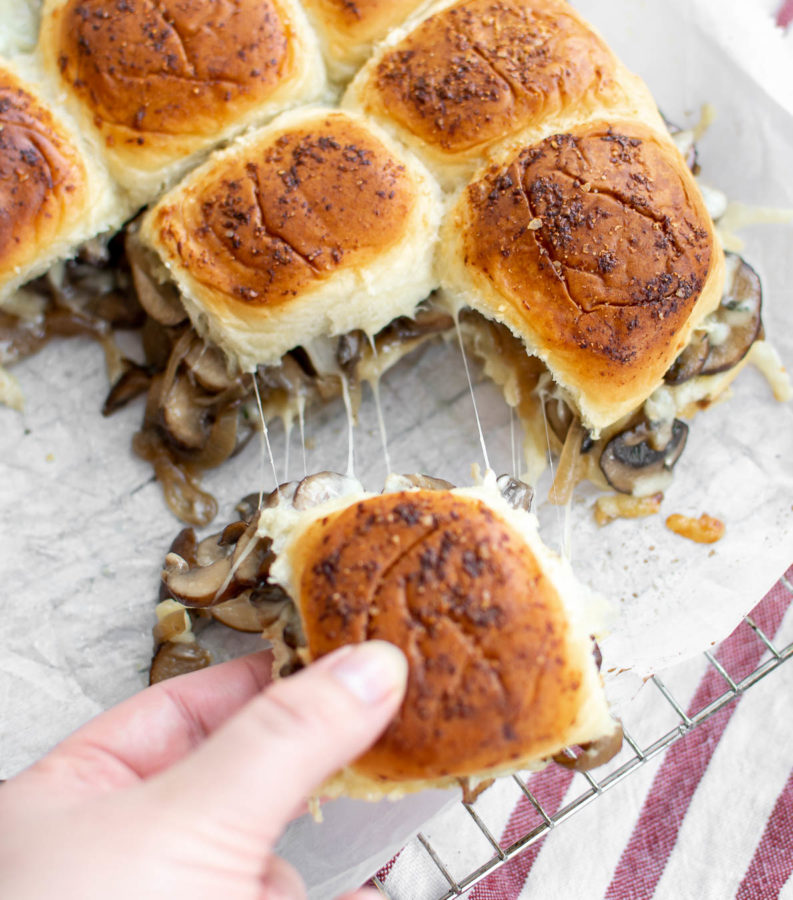 You might also like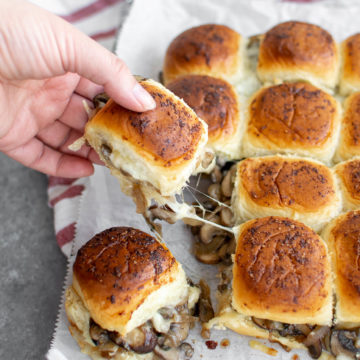 Vegetarian Cheesy Mushroom Sliders
These cheesy mushroom sliders are easy to make and a great vegetarian option for parties or game day!
Ingredients
4

Tablespoons

unsalted butter

divided

1

Tablespoon

olive oil

1

Pound

mixed mushrooms

sliced

1

Large shallot

thinly sliced

2

Cloves garlic

minced

2-3

Sprigs thyme, about 1 teaspoon

chopped

½

Teaspoon

kosher salt

1

Teaspoon

worcestershire

1

Cup

gruyère

grated

1

Cup

fontina

grated

1

Package savory slider rolls

12 count
For the topping
2

Tablespoons

unsalted butter

melted

3

Tablespoons

Parmigiano Reggiano

¼

Teaspoon

garlic powder

¼

Teaspoon

kosher salt
Instructions
Pre heat oven to 350 degrees.

In a large skillet over medium heat, heat the olive oil and 2 tablespoons of the butter. Add the mushrooms and cook, stirring occasionally, until golden brown. About 5 minutes.

Add the remaining 2 tablespoons of butter along with the shallots, garlic and thyme. Stir and cook until the shallots have softened, about 3 minutes. Add the salt and worcestershire and cook for another 3 minutes or until well combined.

Meanwhile, make the topping for the rolls. Put the butter in a small bowl and microwave until melted. Add the Parmigiano Reggiano, garlic powder and kosher salt. Stir to combine.

Cut the slider rolls in half, separating the top and the bottom. Place the bottoms in a parchment lined baking pan. Layer half of the cheese, then the mushroom mixture, then the other half of the cheese and cover with the top of the rolls.

Brush the tops with the melted butter mixture and bake for 12-15 minutes, until the buns are golden brown and the cheese has melted. Following the lines of the rolls, cut into individual sliders.