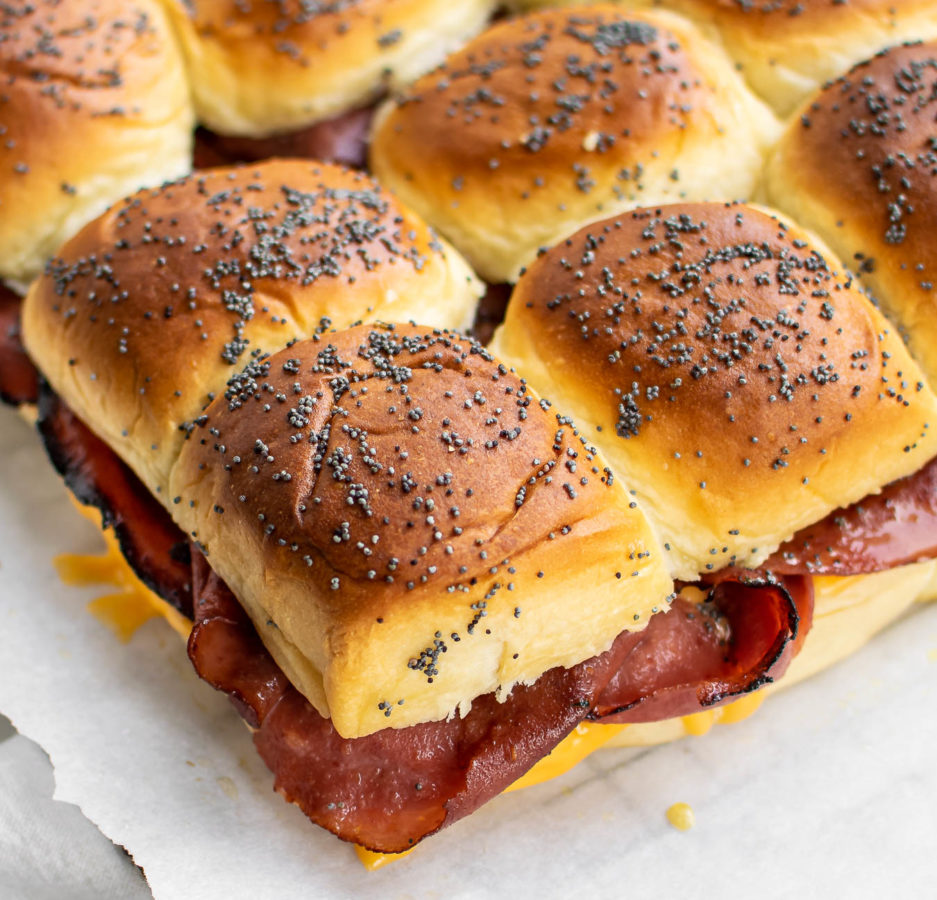 These Fried Bologna Sliders with Pickle Dijonnaise are the party food you never knew you always needed! Fried bologna, melty American cheese and a zesty pickle sauce all piled onto sweet slider rolls. Perfection! Make a batch of these for your next get together, you won't regret it!
These sliders are the perfect party food because they're delicious right out of the oven (of course!), but also at room temperature so they'll be good no matter what. They're also easy to make, which is always a plus in my book.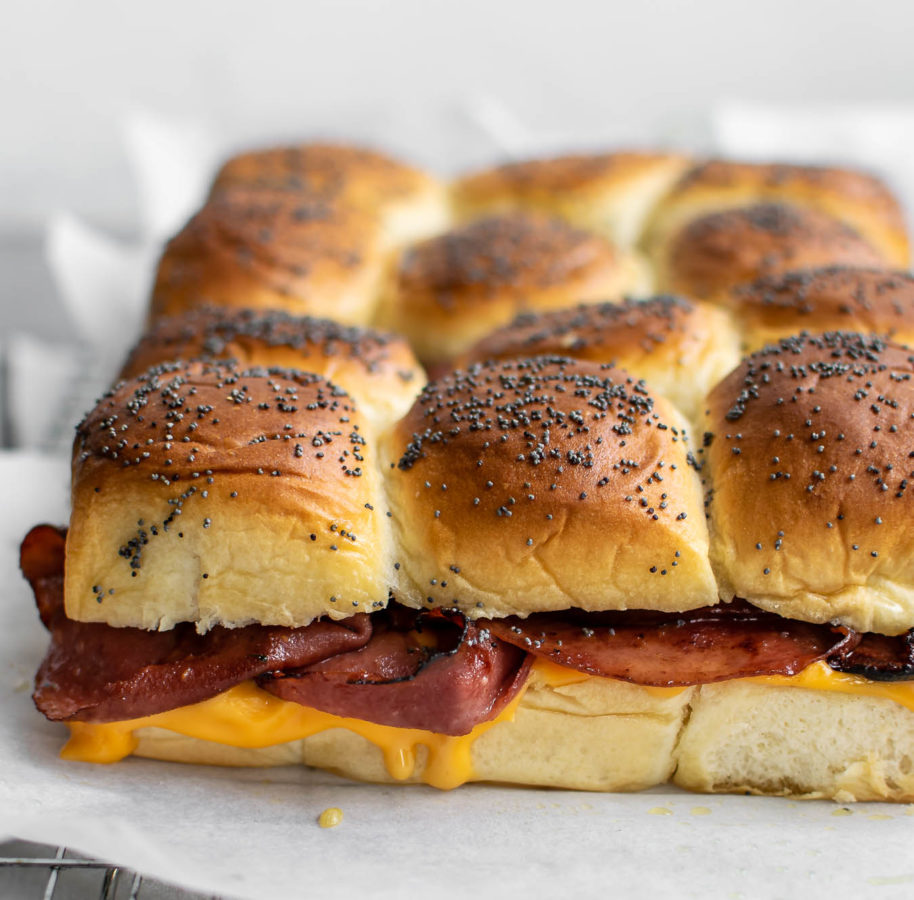 *This post may contain affiliate links. See disclosure for further details.
How do you make these sliders?
These sliders are very easy to make. The most work comes from frying the bologna, and even that's easy! You'll grab your biggest non stick pan, melt a small amount of unsalted butter and then fry the bologna for a couple minutes on each side, until brown and crispy on the edges. Quickly mix the pickle dijonnaise together and then assemble the sliders, layering the dijonnaise, cheese and fried bologna. Brush the tops of the sliders with melted butter and sprinkle with poppy seeds and bake! When the sliders are golden brown on top and the cheese has melted, they're ready!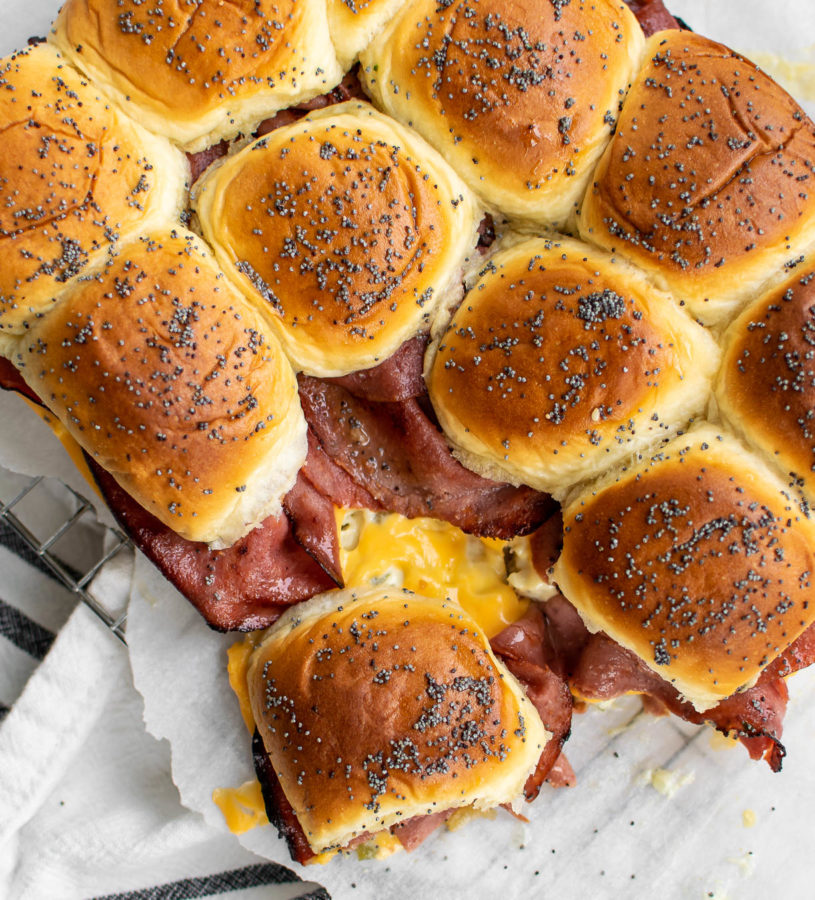 What is Pickle Dijonnaise?
Dijonnaise is a condiment made from mayonnaise and Dijon mustard, hence the name dijonnaise! In this recipe, I've added chopped dill pickles and a touch of garlic powder to turn it into pickle dijonnaise. The pickle dijonnaise is tangy and zesty, making it perfect accompaniment to the salty fried bologna and American cheese.
The best part is, you might already have all of the ingredients in your refrigerator!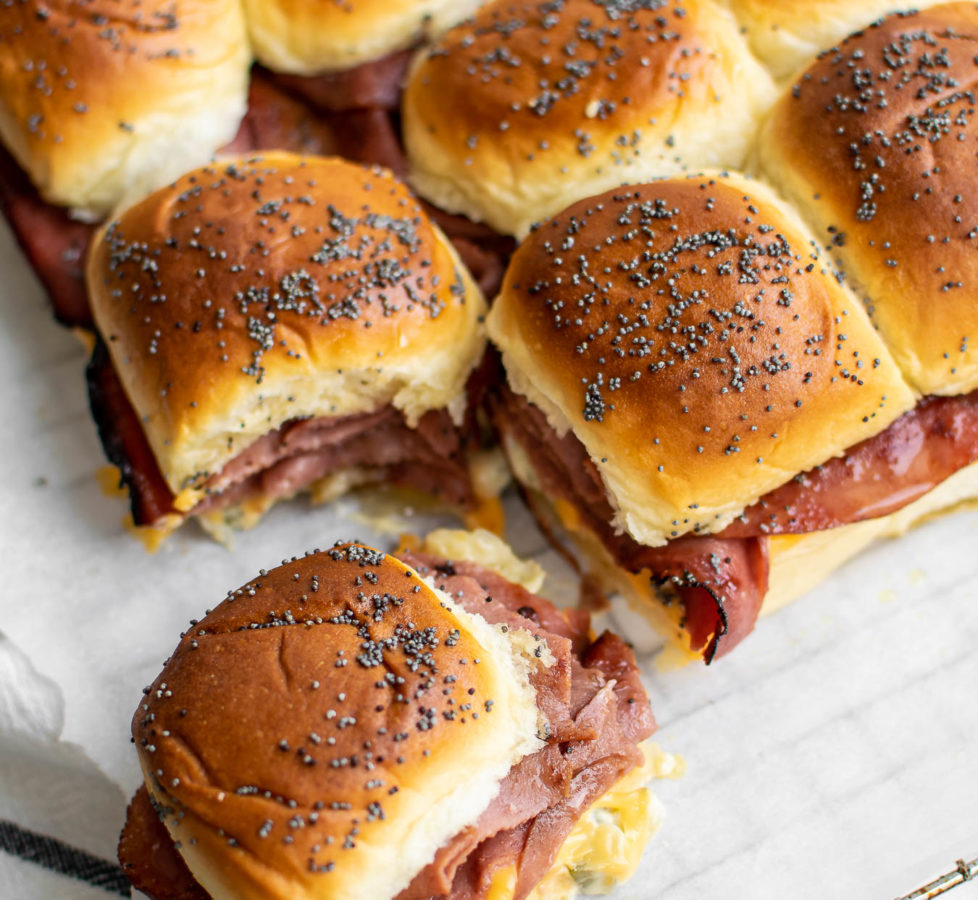 What type of bologna should you use?
I know what you must be thinking...bologna?! But if you've never had fried bologna before, don't knock it until you've tried it! I personally am not ashamed to admit that I love bologna of all types, fried or not, but I understand that bologna may not be at the top of everyone's list. These sliders will change that!
For this recipe, I like to use thinly sliced beef bologna. Beef bologna has a lot of flavor and the thin slices crisp up perfectly. I have made this recipe with other types of bologna in the past and they all work great. Beef, pork, even turkey! Choose whichever bologna you like best.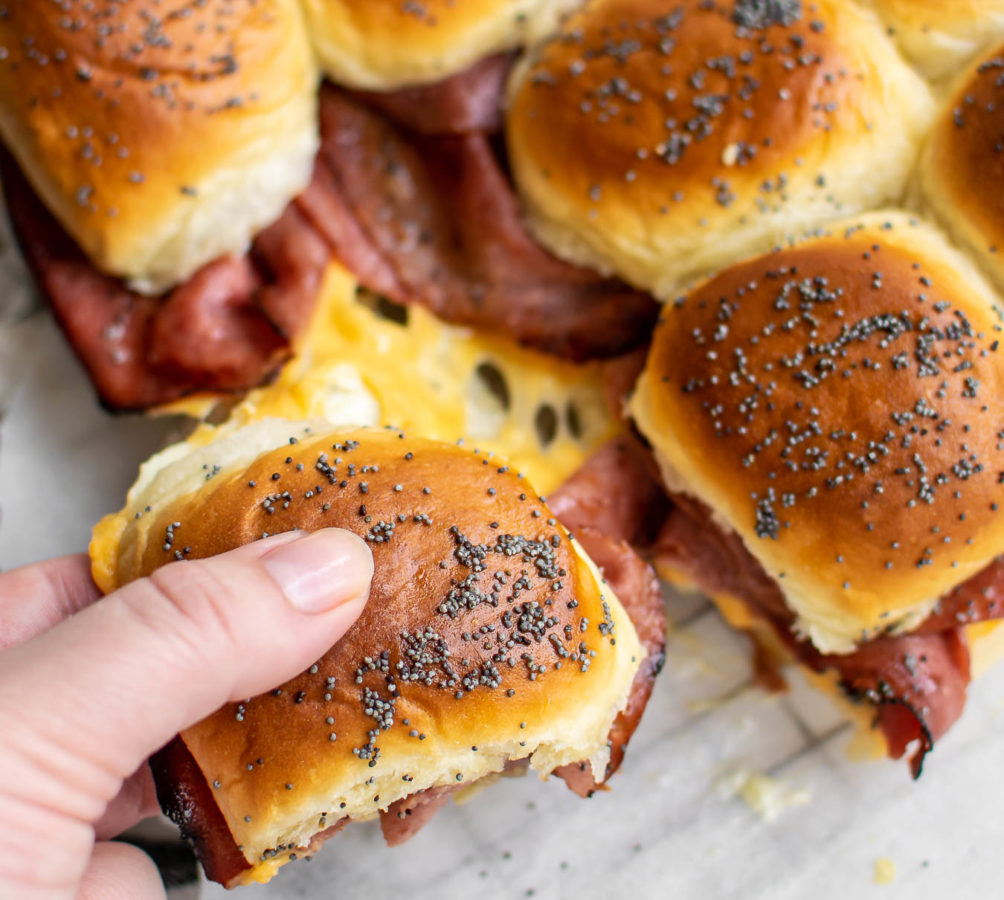 Make these easy sliders for your next get together or game day! Come on, give bologna a try!
You might also like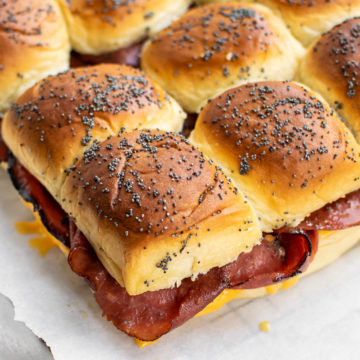 Fried Bologna Sliders with Pickle Dijonnaise
These Fried Bologna Sliders with Pickle Dijonnaise are the perfect party food!
Ingredients
1

Package King's Hawaiian rolls

12 count

½

Pound

thinly sliced bologna

6

Slices American cheese

1 ½

Tablespoons

unsalted butter

plus more for frying

½

Teaspoon

poppy seeds
For the Pickle Dijonnaise
¼

Cup

mayonnaise

2

Tablespoons

dijon mustard

¼

Cup

chopped dill pickles

½

Teaspoon

pickle juice

¼

Teaspoon

garlic powder
Instructions
Mix all of the ingredients for the dijonnaise together in a bowl. Taste and adjust to your liking.

Fry the bologna. In a large non stick pan, heat some butter and swirl to coat. In batches of 3 or 4, fry the bologna until browned and crispy on the edges; 2-3 minutes on each side. Remove to a paper towel lined plate to drain. Repeat the frying with the remaining bologna.

Put the butter in a small bowl and microwave until melted. Add the poppy seeds and stir.

Without separating the buns, slice the sheet of buns in half. Put the bottom halves of the buns in a parchment lined baking pan. Spread a thin layer of the dijonnaise on the buns then layer the cheese and the bologna. Put the top of the buns back on and brush with melted butter and poppy seed mixture.

Bake for 12-15 minutes or until cheese is melted and buns are golden brown. Following the lines of the buns, cut into individual sliders.