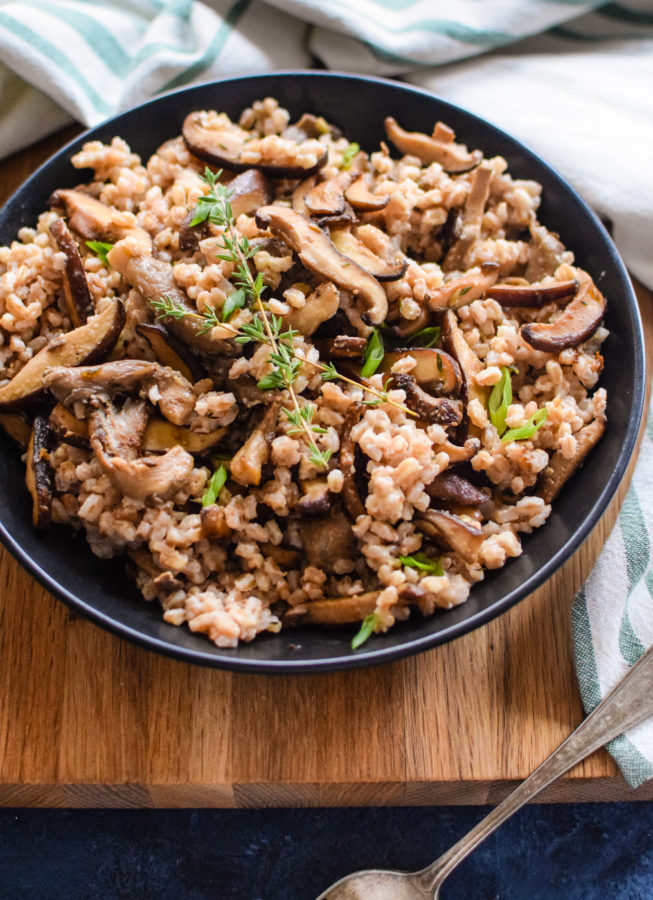 I am honestly kind of mad at myself for not bringing this recipe to life sooner. I have a list of "cooking ideas" in my notes on my phone where I jot down any and all ideas I have for recipes. Some of these ideas are fully formed and ready to be put to the test and some... well, some I write in the middle of the night when I'm half asleep and I'm lucky if I can decipher the gibberish the next day.
I'd been tossing the idea of a miso/mushroom/grain situation in my head for way longer than I'd like to admit. Well, I've finally worked out the details of this idea and I'm ready to share the recipe! Better late than never, I suppose.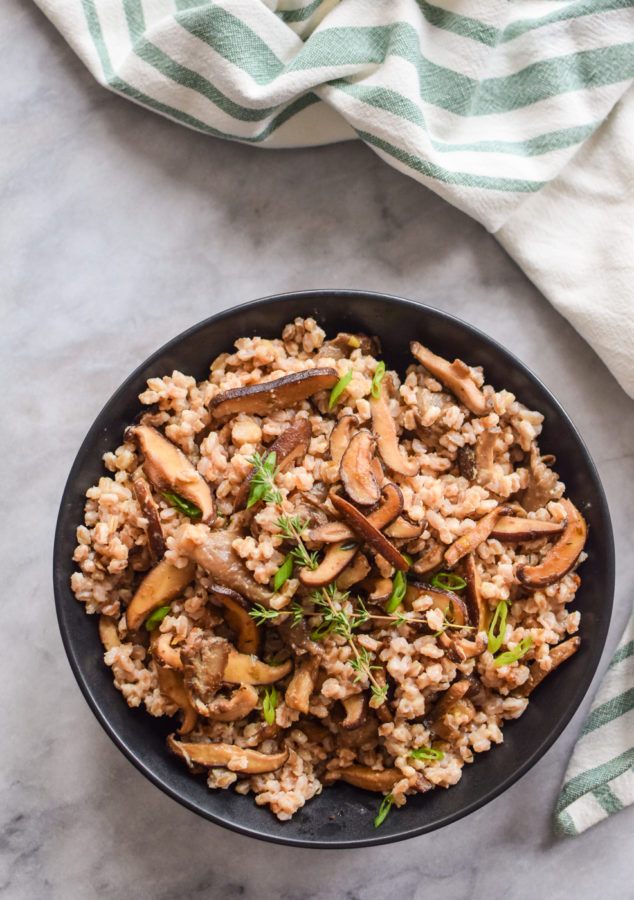 *This post may contain affiliate links. See disclosure for further details.
If you haven't tried farro yet, you need to change that ASAP! You can start with this recipe, okay? Farro is an ancient grain that's similar in texture to barley. It's hearty, nutty, and has a great chewy bite that I love—a perfect grain for the colder months! And these miso mushrooms?! I'll be putting them on absolutely everything from now on. Literally, if you topped an old leather boot with these mushrooms, it would probably be delicious (but I'm going to suggest that you just stick with the farro.)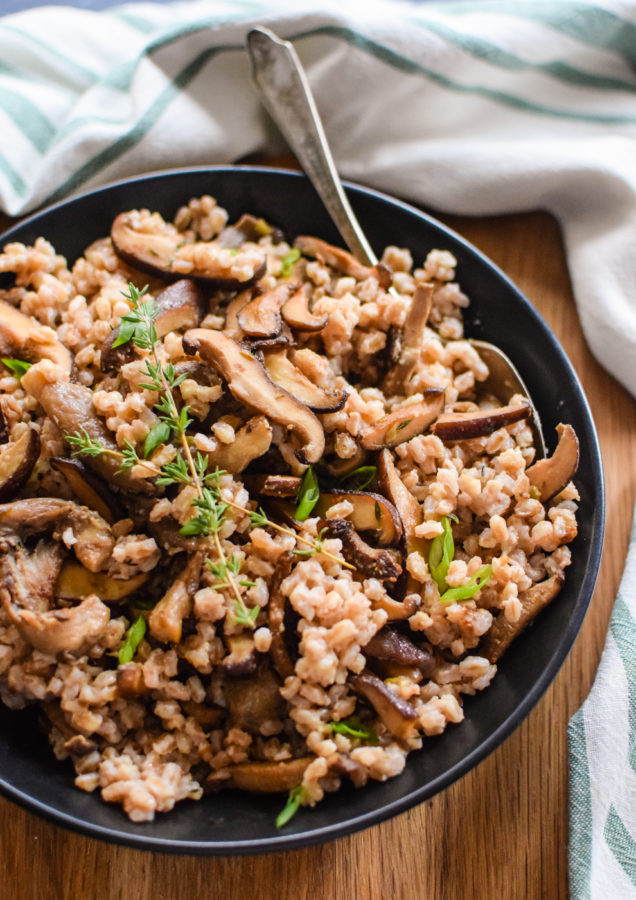 You can buy farro in it's whole grain form, pearled, semi pearled, and semi cooked. Obviously, the state in which you buy it will affect the cooking times. To make sure that you're cooking it correctly, follow the directions on the package that you have. These days you can find farro at most grocery stores and the type I most commonly see is "pearled" farro. Pearling just means that the hull of the grain has been removed so the cooking time will be shorter than if you started with the whole grain. Since impatience is an affliction I know well, I like to buy pearled farro or even this semi-cooked farro from Trader Joes.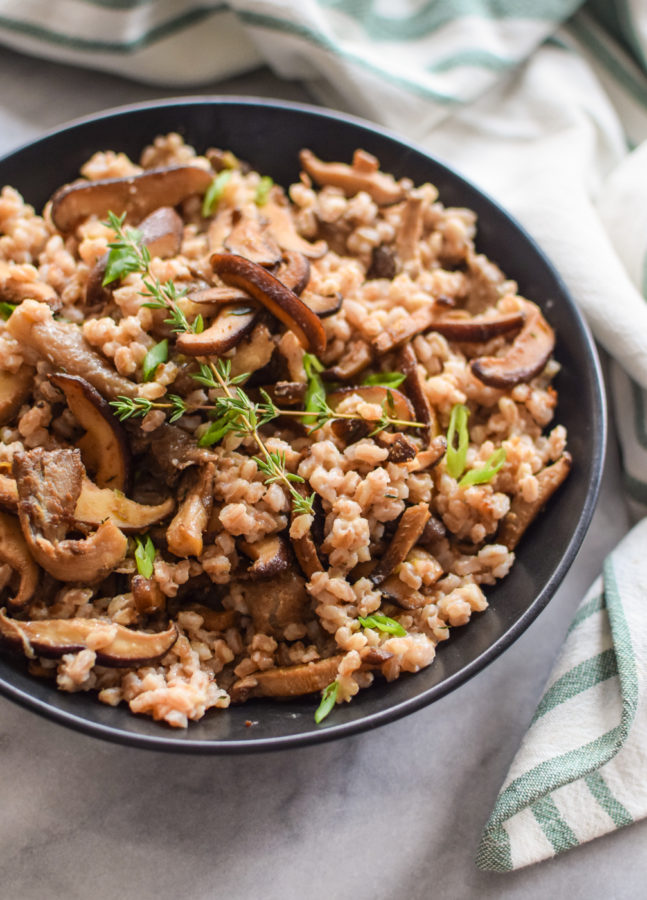 When testing this recipe, I realized that cooking the farro in chicken broth instead of water makes it much more flavorful so that's definitely the way to go. Since this recipe has miso, soy sauce and chicken broth, I chose to use low sodium chicken broth and low sodium soy sauce to keep the salt in check. If you don't have low sodium chicken broth, you can cook the farro in a mixture of chicken broth and water.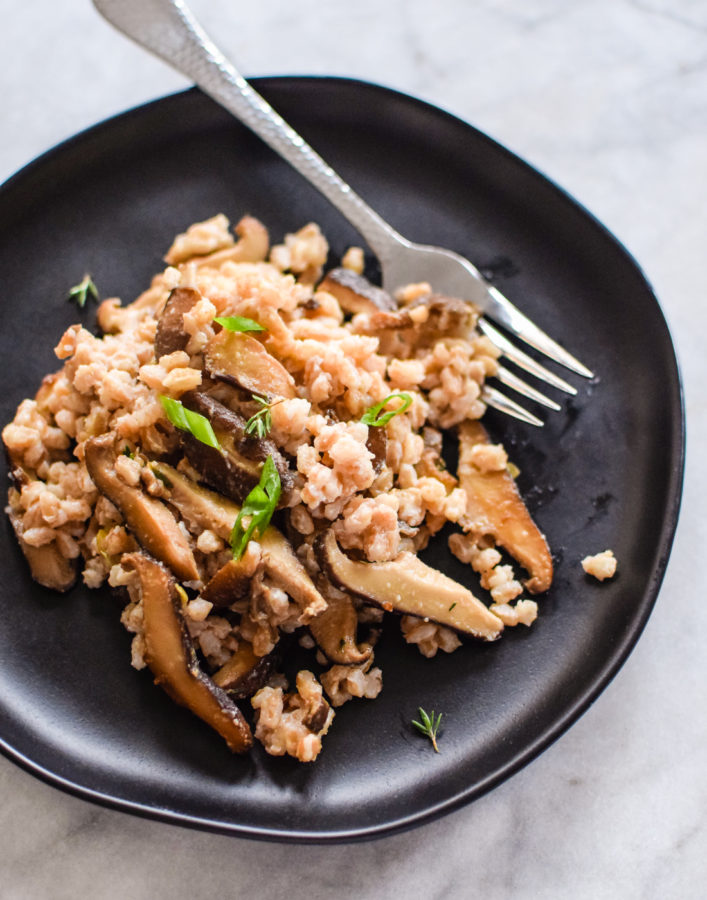 The best part about this dish is that it's great as a side but because of how hearty it is, it can totally work as a main dish too! Swap out the chicken broth for vegetable broth and you've got a perfect vegetarian dinner.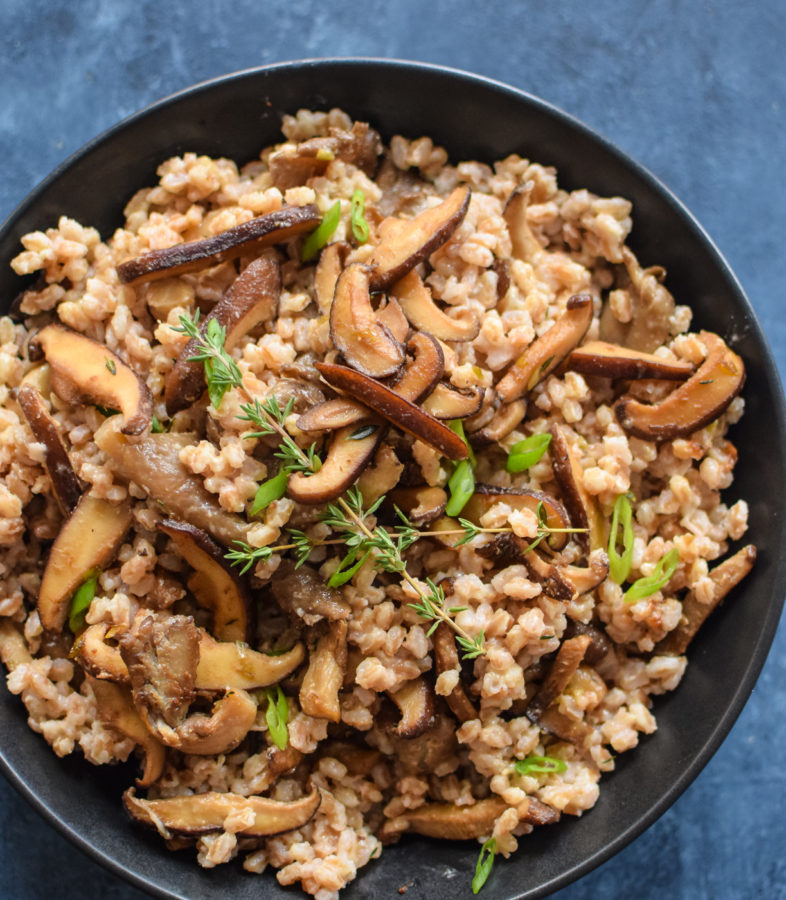 I don't know about you guys but I plan on eating a big ol' pile of this stuff with my turkey on Thanksgiving!
You might also like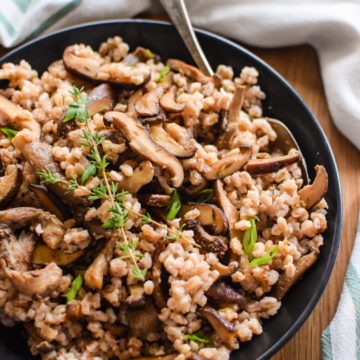 Farro With Miso Mushrooms
A hearty and umami packed dish!
Ingredients
2

Cups

pearled farro

4

Cups

low sodium chicken broth

1

Pound

mixed mushrooms or shiitake mushroooms

thinly sliced

2

Tablespoons

olive oil

2

Tablespoons

unsalted butter

2

Tablespoons

white miso (shiro) paste

1

Teaspoon

fresh thyme

3

Scallions

white and green parts, thinly sliced

1

Tablespoon

low sodium soy sauce

Salt and pepper

to taste
Instructions
Cook farro according to package instructions using low sodium chicken broth instead of water; about 15-20 minutes (depending on your package of farro.)

Meanwhile, in a large skillet, heat olive oil and butter over medium high heat. When the butter and oil are hot, add the mushrooms, the white parts of the scallions, and the thyme to the pan. Cook the mushrooms until they have softened and browned; about 10-15 minutes. Turn the heat down to medium low and stir in the miso paste. When the miso has melted into the mushrooms, add the soy sauce and scrape up any brown bits on the bottom of the pan.

Mix the farro and the mushrooms together in a large serving bowl. Taste and season with salt and pepper as needed. Stir in the green parts of the scallion and serve!