Corned Beef and Hash Brown Sliders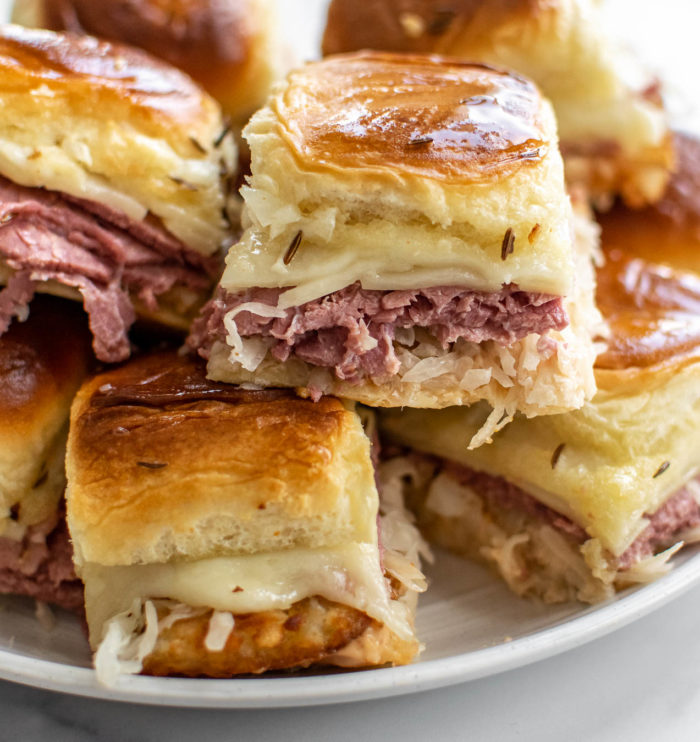 I have a very important announcement to make: There are hash browns inside of these sliders! Yep, hash browns. Crispy hash browns. That is all. Carry on.
Well, actually that is not all, because I have a few more things to say about these Corned Beef and Hash Brown Sliders! These sliders are perfect for using up leftover corned beef after St. Patrick's Day, but of course, can be made year round. They're the perfect party food and your guests will love the unexpected addition of the hash browns! I mean who wouldn't love a surprise hash brown? Nobody I want to know.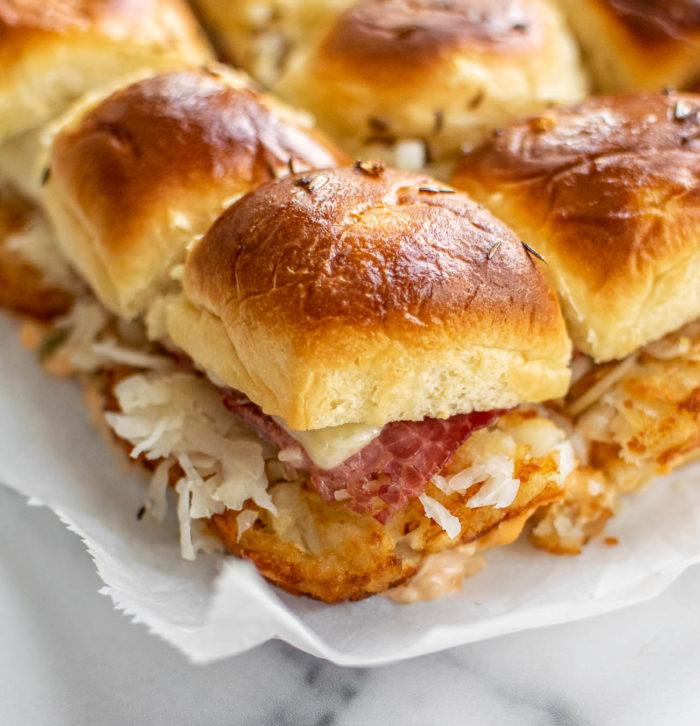 The best part about these sliders is that they are SO easy to make with store bought ingredients. You'll use a package of slider rolls, either leftover corned beef or just grab some from the deli, deli cheese, sauerkraut and frozen hash browns. The only thing you'll have to make yourself is the Russian dressing, but of course, even that's easy to make! Just mix some ingredients that you probably already own in a bowl. Done.
Assembling these sliders is, as I'm sure you've guessed, super easy. Let me give you a quick visual rundown: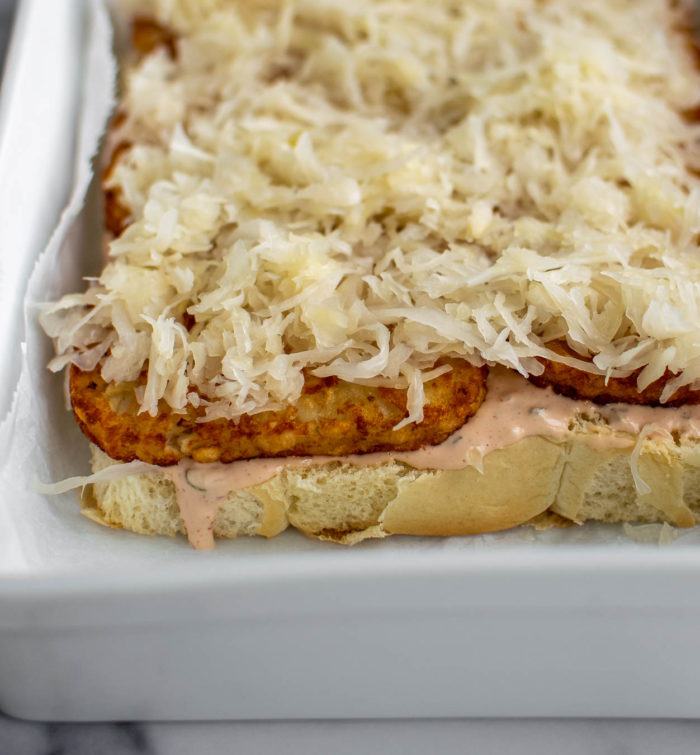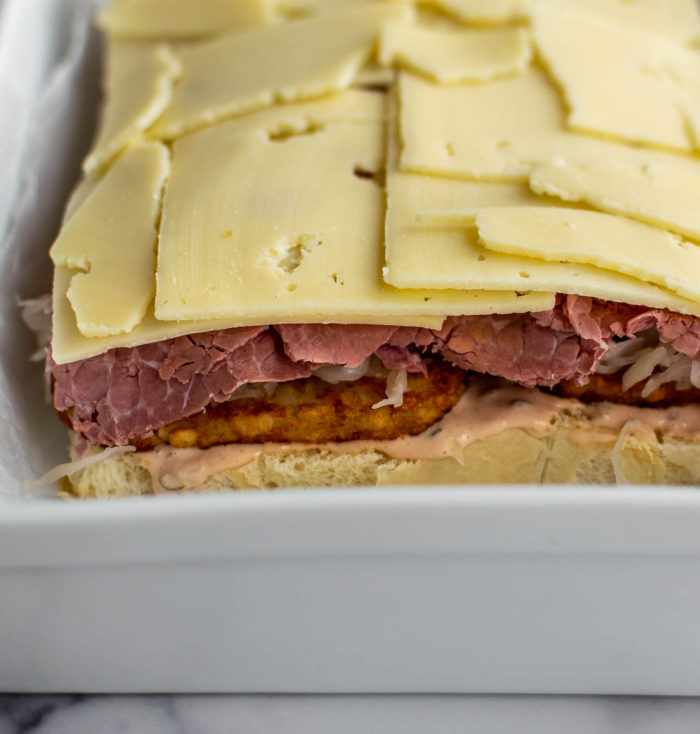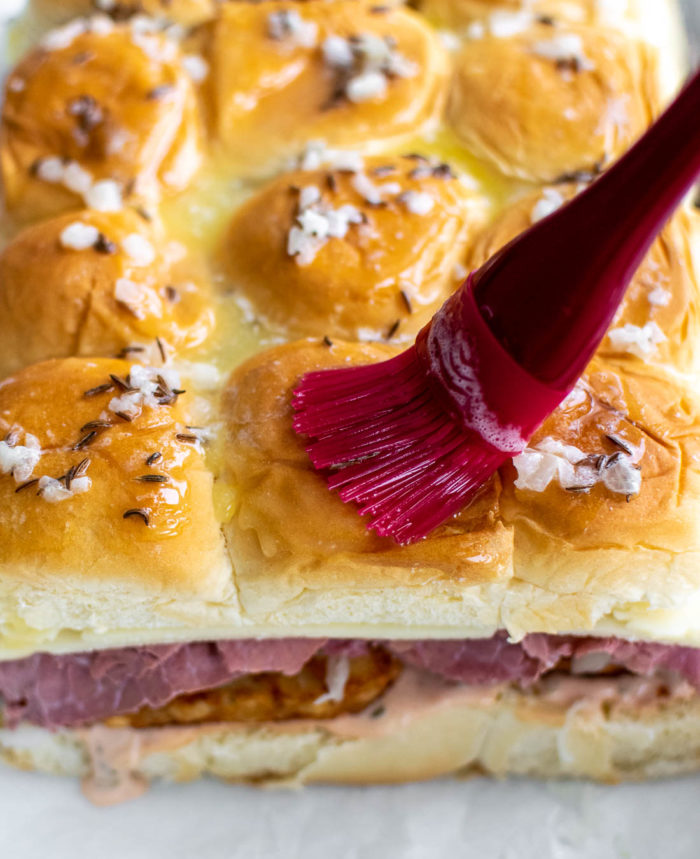 After you've assembled the sliders, all you have to do is bake them for about 10 minutes and they're ready to go! These are best enjoyed hot out of the oven, but I'd be lying if I said they didn't make for some gooood leftovers. Speaking of leftovers, you might have a bit of Russian dressing leftover after making these. Good news! It makes an excellent dipping sauce.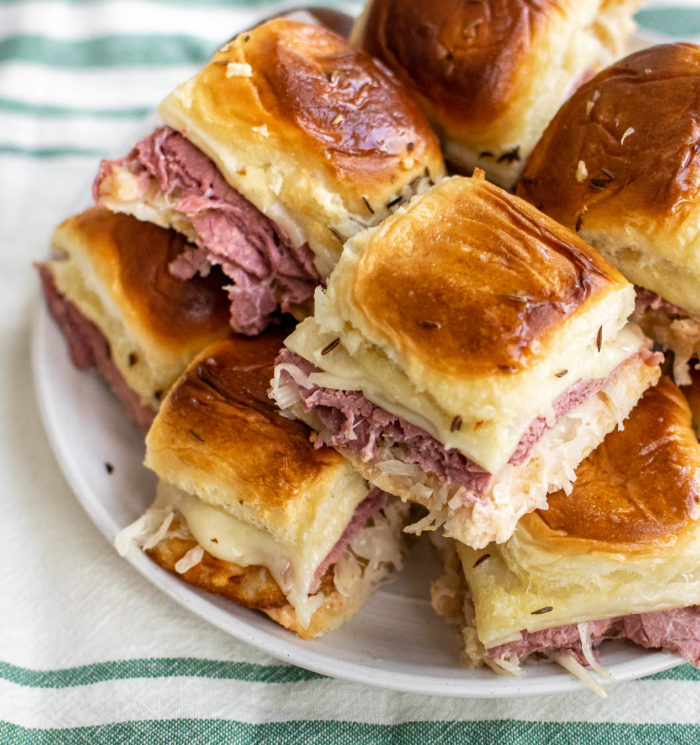 I tend to make these sliders around St. Patrick's Day, but I think they need to be made more often!
Recipe Summary
Corned Beef and Hash Brown Sliders

Level:

Easy

Servings:

6-8

Ingredients:

For the Russian dressing

1 Cup mayonnaise
1/4 Cup ketchup
2 Tablespoons minced yellow onion
1 Tablespoon chopped dill pickle or cornichon (optional)
1 Teaspoon worcestershire
1/2-1 Teaspoon hot sauce, to taste
1/2 Teaspoon paprika
Salt and pepper to taste

For the sliders

1 (12 count) Package slider rolls
5-6 Frozen hash brown patties
3/4 Pound corned beef
1/2 Pound Swiss cheese
Sauerkraut

For the butter topping

3 Tablespoons unsalted butter, melted
1/2 Teaspoon caraway seeds
1/2 Teaspoon dried minced onion
1/4 Teaspoon kosher salt

Instructions:

Mix all of the ingredients for the dressing together. Taste and adjust seasoning to your liking. Refrigerate until ready to use.
Bake the frozen hash browns according to package directions, until golden and crispy.
While the hash browns are baking, cut the slider rolls in half, separating the top and the bottom. Place the bottoms in a parchment lined baking pan. Spread the Russian dressing over the rolls. 
When the hash browns are done, remove them from the oven and carefully arrange them on the rolls, over the dressing. Lower the oven temperature to 375 degrees.
Layer the corned beef, Swiss cheese and sauerkraut over the hash browns and cover with the tops of the rolls.
Stir the caraway seeds, minced onion, and kosher salt into the melted butter and brush over the tops of the sliders. Bake for 10-12 minutes or until the cheese has melted and the tops are golden brown. Carefully cut between the rolls to separate the sliders.
Enjoy hot!