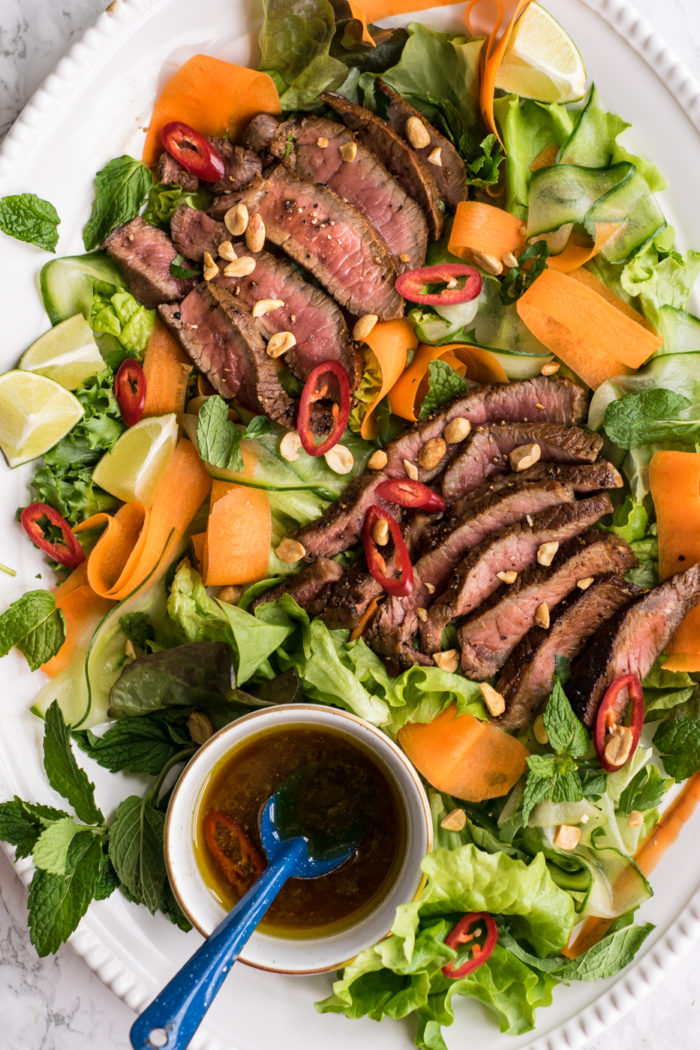 There's nothing like a good, fresh, cooling salad when the weather warms up, Am I right? Want to know what makes the salad even better? Beef! This Thai Beef Salad is filled with crisp veggies, fresh herbs, and super flavorful, thinly sliced steak.
This post is in collaboration with Beef. It's What's For Dinner. on behalf of the Beef Checkoff. I received compensation, but all opinions, recipe, and photos are my own.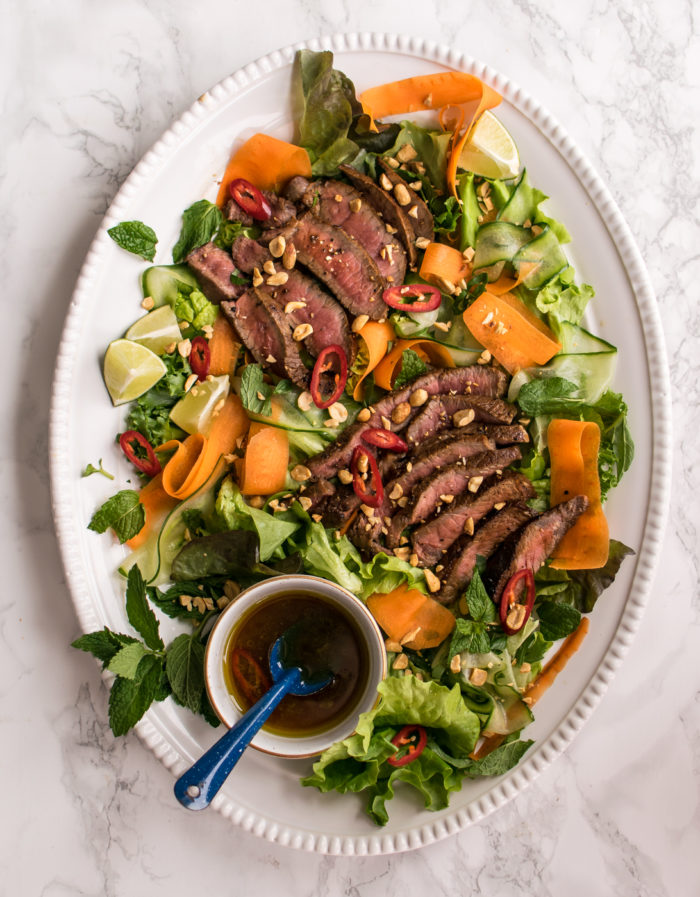 *This post may contain affiliate links. See disclosure for further details.
The secret to the steak is in the dry rub. Brown sugar, smoky paprika, garlic and plenty of salt will add tons of flavor to the steak and help create a nice crust. Choose a versatile cut of beef like Top Sirloin that's on the thinner side, so that it cooks quickly and the sugar in the rub will caramelize instead of burning. To make sure all that flavor gets into the beef, you'll spread the rub all over the steak, on both sides, and let them sit for about 30 minutes before cooking.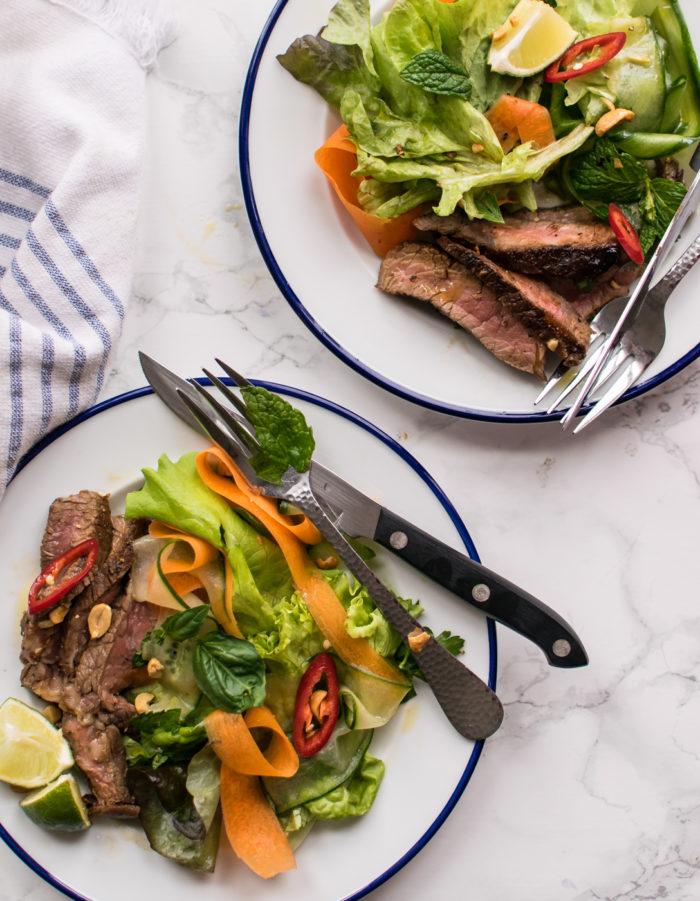 Make sure to pat the steak dry right before cooking (it's okay if some of the rub comes off) so that you can get that nice, dark crust. It's the best part! Personally, I think beef tastes best cooked to medium rare. You get that nice sear and a juicy, tender middle. Yum! For Top Sirloin, you'll only need about 6 minutes on each side to reach a medium rare temperature of 145° and 160° for medium.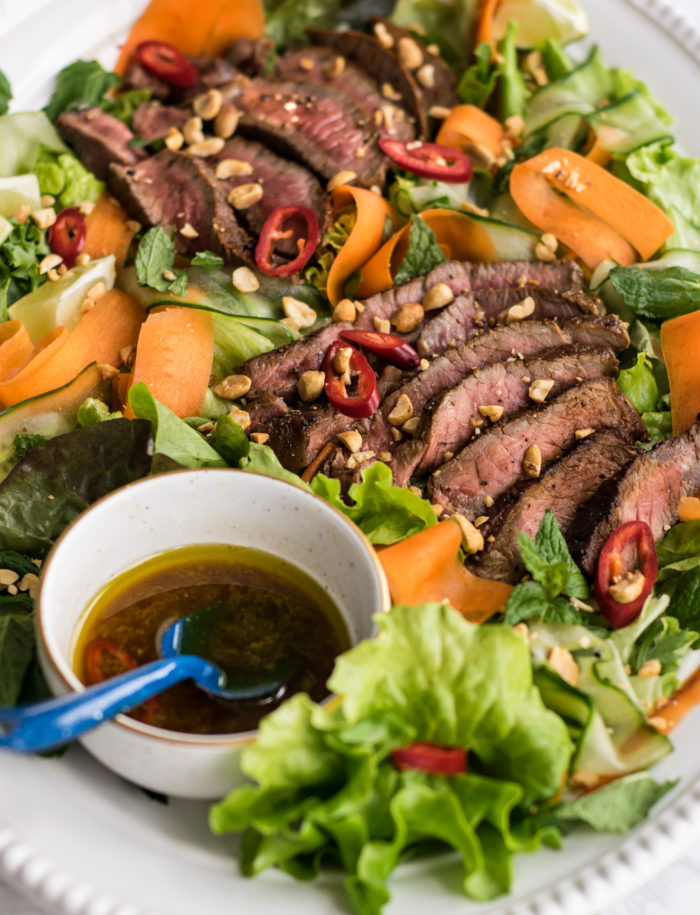 After you've got the steaks hanging out in the rub, prep everything else for the salad. First make the dressing, the longer it sits together, the more the flavors will have developed. Then, slice up some veggies!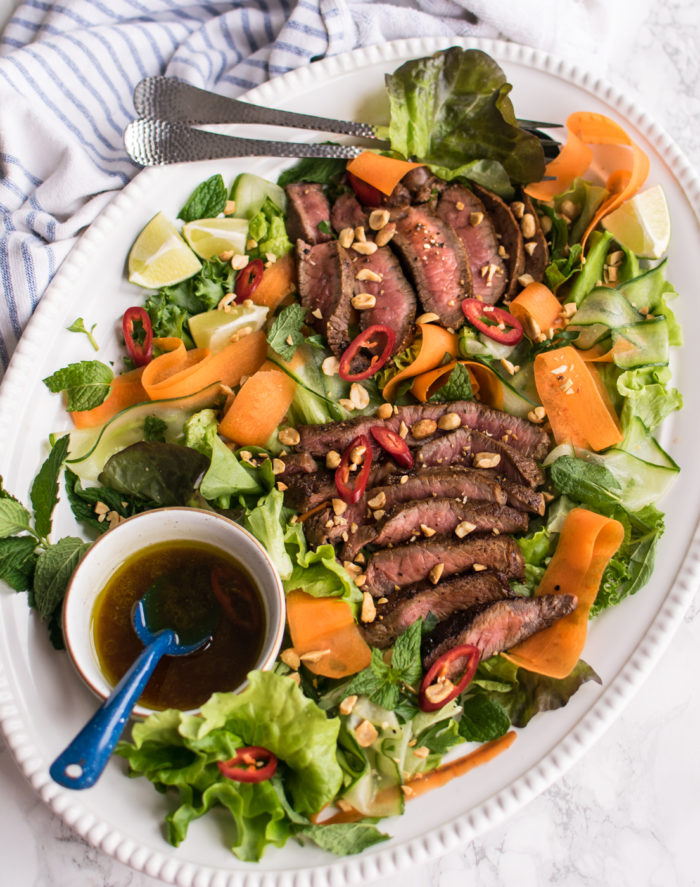 I like making the cucumber and carrots into thin, ribbon like strips. They're fun to eat that way, plus, they just look pretty! I use a Y peeler to make the ribbons but if you don't have one, just thinly slice or matchstick them.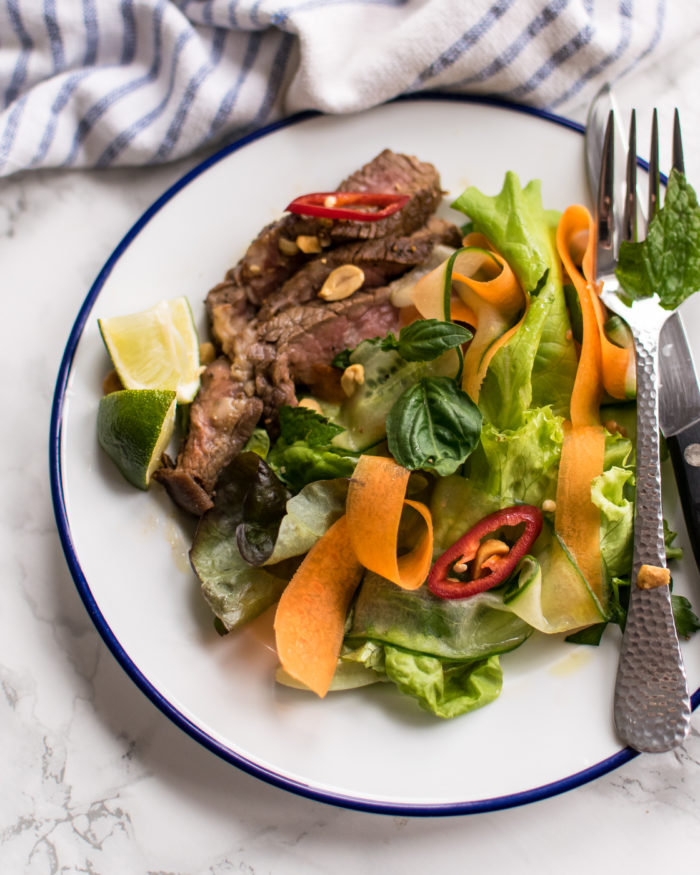 One of my favorite things about this salad is all the fresh herbs. You can play around with which herbs you like best but, whatever you do, do not leave out the mint! It's sweet and cool and goes perfectly with the steak and spicy peppers. Cilantro is also "traditional" in this dish but I don't like it (I know, I know) so I skip it. I like adding basil and sometimes scallions or shallots as well depending on what I have on hand.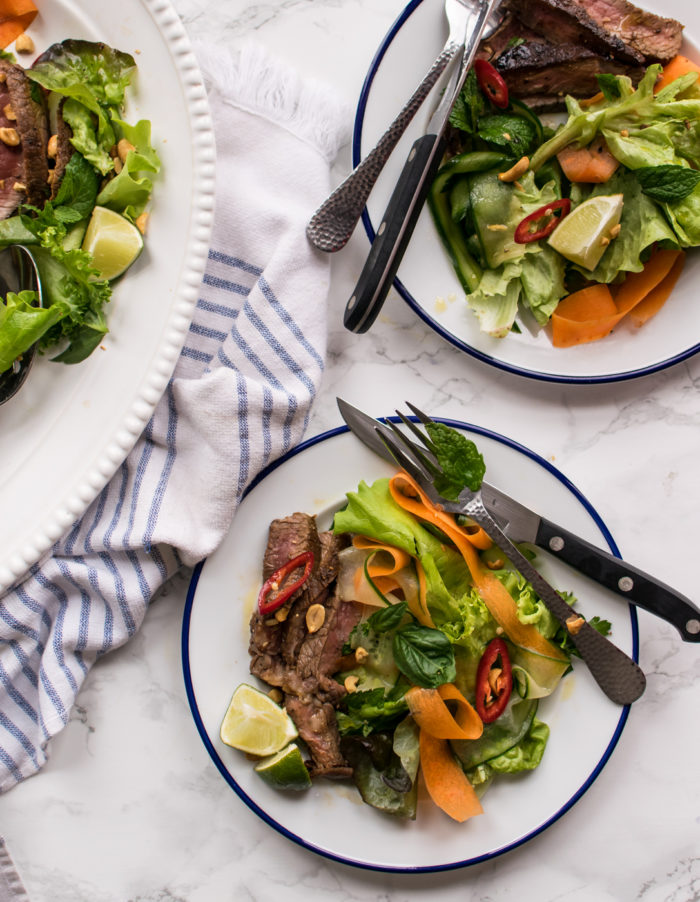 To serve this salad, grab your biggest platter! Sure, you can serve it in a bowl but, it's so much prettier on a platter. Plus, it makes it easier to serve. After arranging the lettuce, herbs, cucumbers, and carrots, fan the steak slices over the top. Next add the garnishes—crushed peanuts and Fresno peppers add even more flavor and a nice crunchy texture!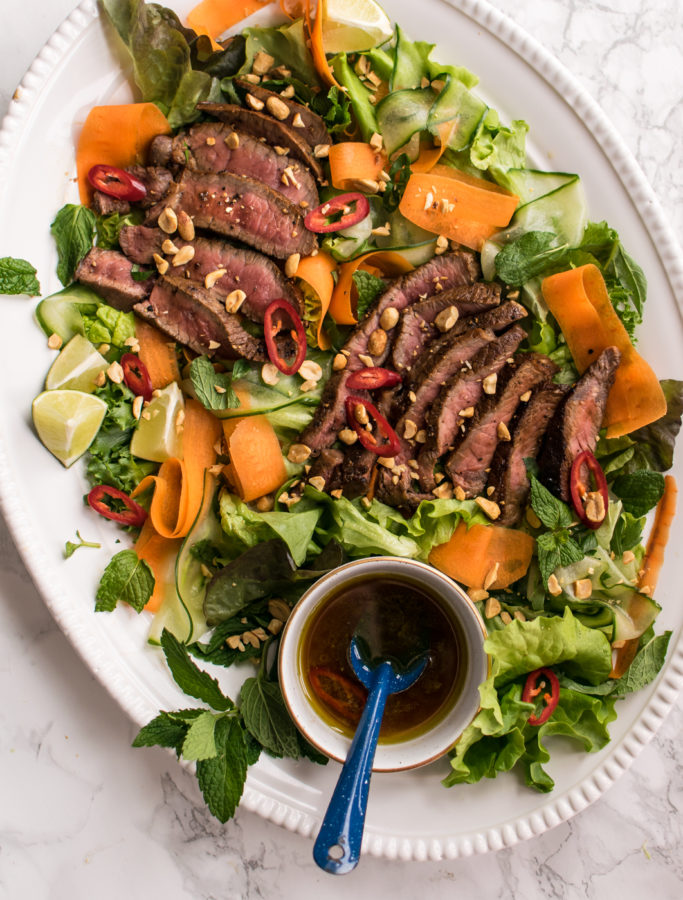 It's the perfect time of year for my Thai Beef Salad—I hope you love it as much as I do!
You might also like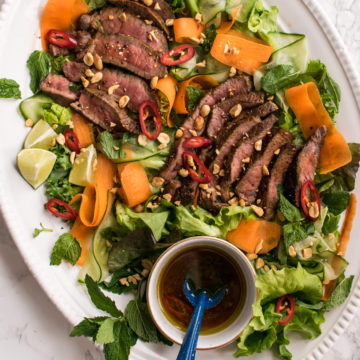 Thai Beef Salad
This Thai Beef Salad is filled with crisp veggies, fresh herbs, and super flavorful, thinly sliced steak.
Ingredients
For the beef
1

Pound

top sirloin

1

Tablespoon

brown sugar

1

Teaspoon

kosher salt

½

Teaspoon

pepper

½

Teaspoon

paprika

¼

Teaspoon

garlic powder

¼

Teaspoon

smoked paprika

Avocado oil
For the dressing
1

Tablespoon

avocado oil

2

Tablespoons

lime juice

1

Tablespoon

soy sauce

1

Teaspoon

brown sugar

⅛

Teaspoon

fish sauce

1

Garlic clove

smashed
For the salad
3

Handfuls bib and red leaf lettuce

1

English cucumber

thinly sliced into ribbons

1

Large carrot

thinly sliced into ribbons

1

Fresno chile

thinly sliced

¼

Cup

peanuts

crushed

Fresh mint

Fresh cilantro

Fresh basil
Instructions
Prepare the steak. Mix all of the ingredients for the rub together. Pat the meat dry and lay it on a plate. Sprinkle the rub over both sides of the meat and press it into the meat. Let sit for 30 minutes.

Meanwhile, make the dressing. Whisk all of the ingredients for the dressing together. Discard the garlic clove just before using.

Heat a cast iron pan over medium heat. Pat the steak dry and drizzle with a little bit of avocado oil. Cook the steak for 5 to 6 minutes on the first side, flip and cook for an additional 5 to 6 minutes for medium rare. Remove the steak to a cutting board to rest for 5-10 minutes and then slice against the grain.

Arrange the lettuce, cucumbers, and carrots on a platter or in a large bowl. Lay the steak on top and garnish with herbs, Fresno peppers, and peanuts. Serve with the dressing and limes.