I'm sure some of you are rolling your eyes at the cauliflower rice thing but, it's actually really tasty! I promise. Want to know how to make it extra tasty? Add shrimp, watercress and feta. You've got a delicious and healthy weeknight dinner!
*This post may contain affiliate links. See disclosure for further details.
I make this about once a week in my house. Since it's so quick and healthy, it really is the perfect weeknight dinner. Now, if you guys are into making your own riced cauliflower, that's cool, but I'm gonna stick with the frozen stuff on this recipe. We always have at least 3 bags of cauliflower rice in our freezer. They always come in handy! I buy mine from Trader Joe's but I'm sure you could find it at any grocery store. Cauliflower is super popular these days, after all.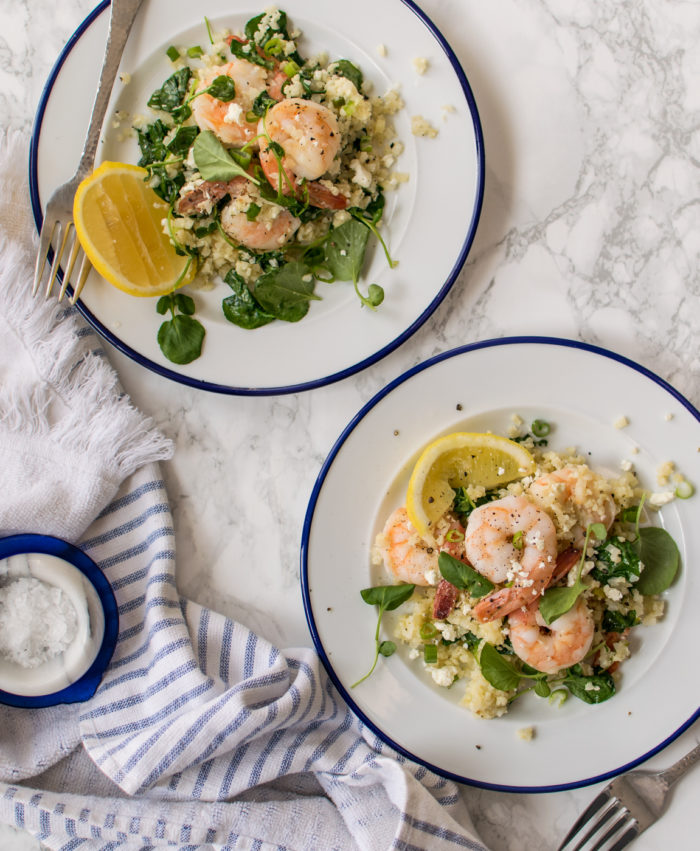 The way I wrote this recipe, I have you sauteing the shrimp in olive oil first, then cooking the cauliflower, then adding the shrimp back into the pan. This keeps everything in one pan and is really easy but I have to admit, it's not always how I cook it at home. Sometimes instead, I'll poach the shrimp, and then add them to the pan with the cauliflower. I do this mostly when I'm using frozen shrimp. Did you know you can cook shrimp right from frozen?!
If you want to do the poaching method, you have to make sure you flavor the water. It's so important! I bring a large pot of water to a boil, add salt, a few smashed garlic cloves, half a lemon, and sometimes some dried oregano and basil. Right before you add the shrimp, turn the heat off. This helps make sure the shrimp don't end up rubbery. Add the shrimp, stir, and cook for only about 4-5 minutes. When the shrimp are cooked, they'll be opaque and pink. This method does dirty another pan but it'll save you a few calories and you don't have to worry about defrosting your frozen shrimp.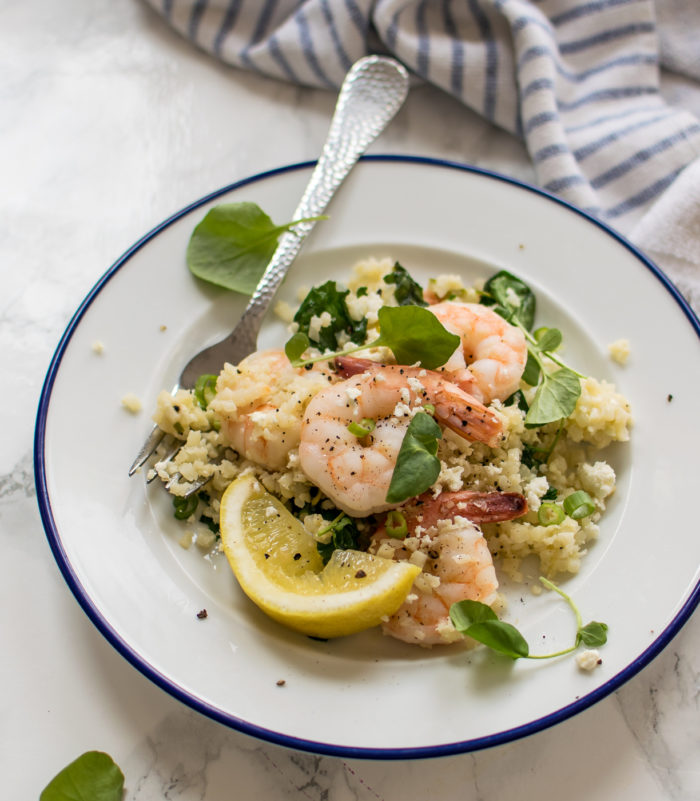 I love using watercress in this recipe because of how perfectly it wilts into the dish when you add it at the end. It's also majorly good for you so that's a plus! If you can't find watercress, you could use arugula or spinach. The flavors of this dish are so simple, you're not going to wreck it with any minor swaps!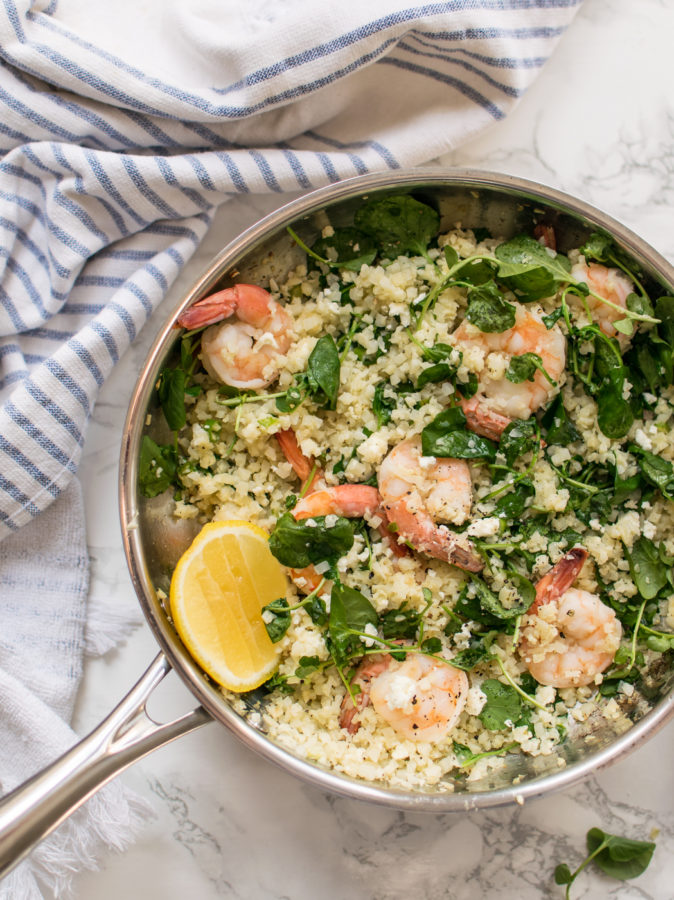 So there you go! Easy peasy, fast and healthy weeknight dinner.
You might also like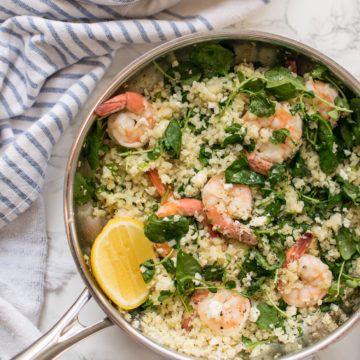 Cauliflower Rice with Shrimp, Watercress and Feta
This quick and tasty recipe is perfect for a healthy weeknight meal!
Ingredients
5

Tablespoons

olive oil

divided

¾

Pound

large raw shrimp

1

12 Ounce

bag frozen cauliflower rice

2

Cloves garlic

minced

2

Scallions

white and green parts, thinly sliced and divided

½

Teaspoon

dried oregano or Greek seasoning

1

Teaspoon

lemon juice

½

Teaspoon

lemon zest

2

Cups

watercress

Feta

crumbled, to taste

Salt and pepper

to taste
Instructions
Heat 3 tablespoons of olive oil in a large pan over medium heat. Add the shrimp and cook, flipping once, until cooked through or about 5 minutes. With a slotted spoon, remove the shrimp to a bowl and set aside.

Add the remaining 2 tablespoons of oil, the garlic, and the white parts of the scallion to the pan and cook for 1 minute. Add the cauliflower rice and cook, breaking it up with the back of a wooden spoon, until heated through and just starting to brown; about 7 more minutes. Add the shrimp back to the pan along with the lemon juice and zest, oregano, feta, and salt and pepper. Cook for an additional 2 minutes, or until the feta has started to melt. Turn the heat off and stir in the watercress so that it wilts slightly.

Divide between plates and top with the green parts of the scallion and more feta. Serve with lemon wedges.