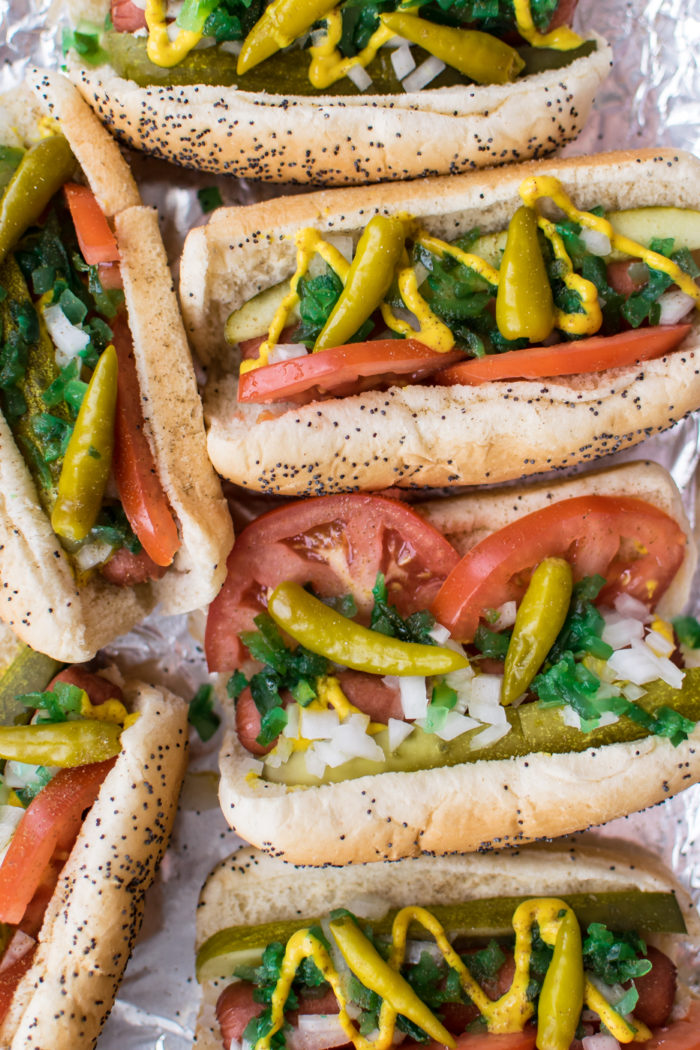 If you're from Chicago, I know you know how to make a Chicago dog so you can skip right over this post. Might I suggest this one? Now if you're not from Chicago, stick around! I'm going to show you how to make a proper Chicago style hot dog!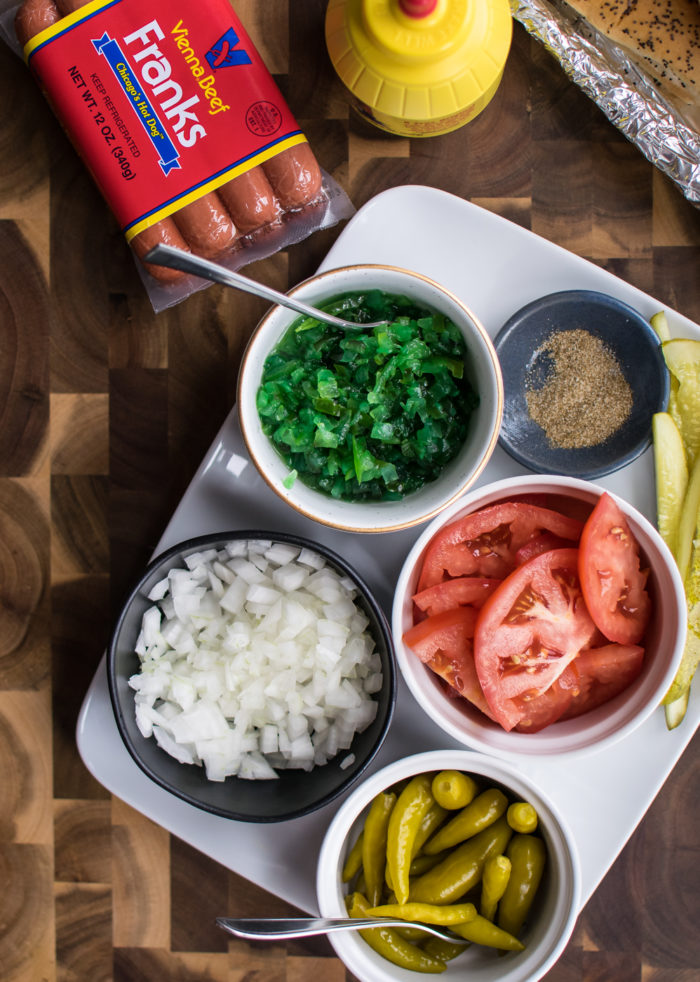 *This post may contain affiliate links. See disclosure for further details.
Living in and around Chicago my entire life, Chicago dogs have always just been a part of life! Everybody knows what goes on them, everybody loves them, everybody yells at you if you try to put ketchup on them. I actually kind of forgot that maaaaybe the rest of the world might not know about them?! Let me tell you, this Chicago treat is not to be missed.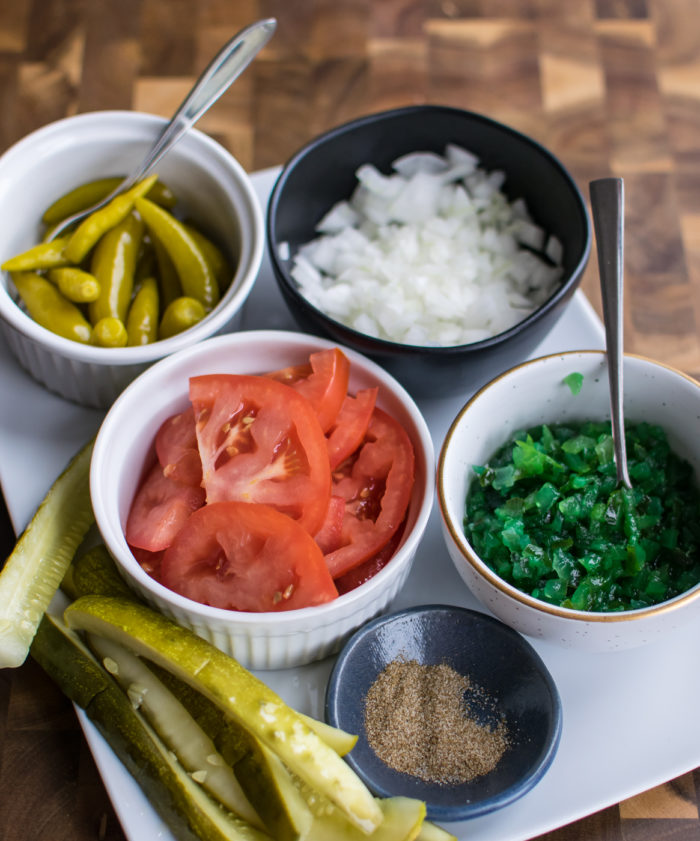 Chicagoans are verrrrryy particular about what goes on the Chicago hot dog and how to make it. For example, it has to be an all beef hot dog and the relish needs to be that bright green relish that looks like somebody chopped up Flubber and put him in a bottle. No exceptions! Each ingredient is super specific (but you should be able to find them at most grocery stores) and you have to stick to the recipe. At least for the first time you make them!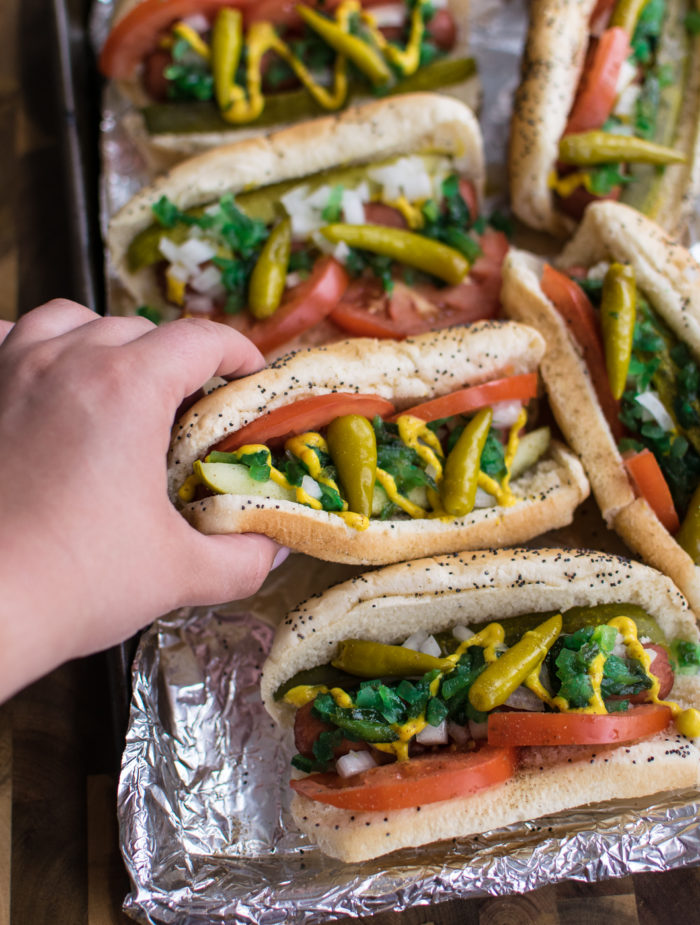 Let me give you a quick rundown of the ingredients and method for a true Chicago style hot dog before you get to the recipe. A Chicago dog starts with an all beef hot dog that has been steamed or simmered in water. The toppings are yellow mustard, dill pickle spear, tomato, onion, green relish, sport peppers and celery salt. All of that deliciousness is wrapped up in a steamed poppy seed bun! Trust me, it's perfection.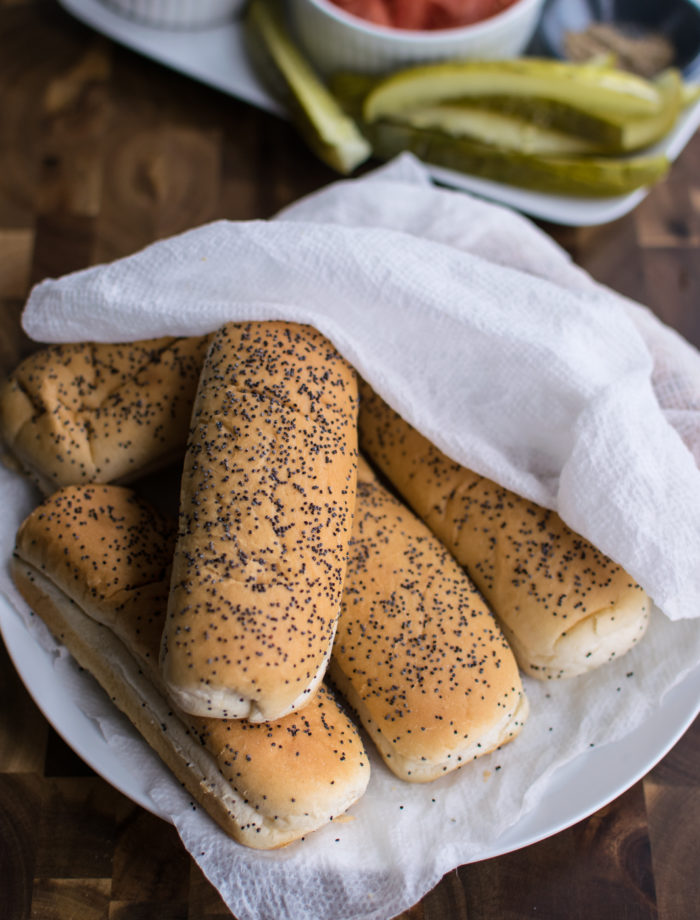 To make sure the buns come out perfectly warm and steamy, I lay a damp paper towel down on a plate, pile the buns on top, then cover them with another damp paper towel. Microwave the buns at 15 second intervals until warmed through but not too hot; about 30-45 seconds total.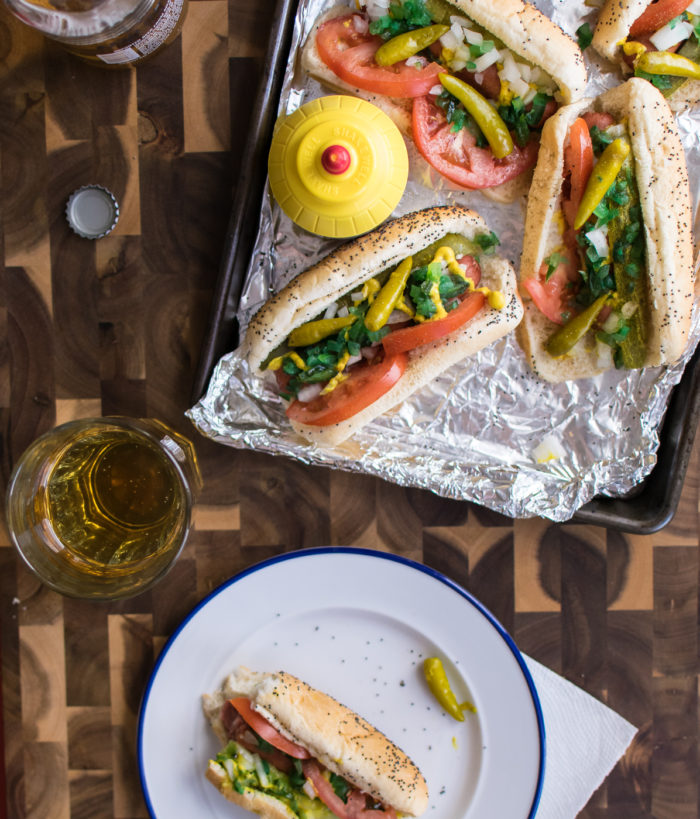 Now don't tell anybody this—or I might be kicked out of Chicago—but I actually like ketchup on my hot dogs. Everywhere else in the world, that's totally normal but in Chicago, if you ask for ketchup on your hot dog people look at you like you just confessed to murder. That being said, for a Chicago style hot dog, with all of it's toppings, it really doesn't need ketchup. It's perfect as is! If after you try these, you still want ketchup, go for it. I'm not the ketchup police! I wouldn't be surprised if there was actually some sort of Chicago hot dog police, though.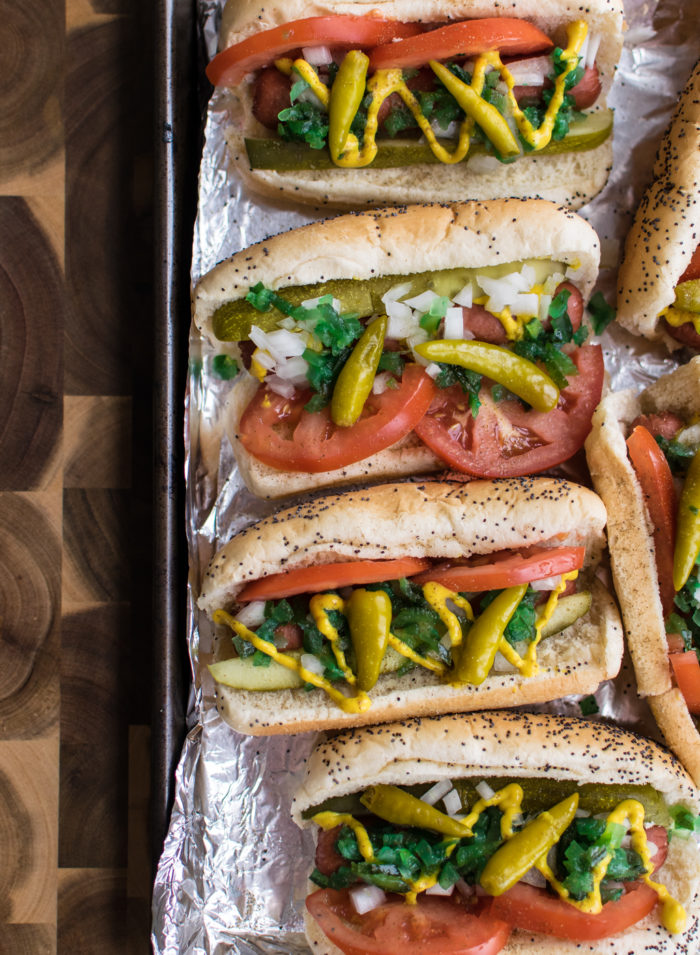 I know I've stressed the importance of sticking to the ingredients BUT, if by any chance you're not able to find sport peppers, you could use pepperoncini and if you can't find that radioactive green relish, normal, non Flubber relish will do. If you're feeling particularly crazy, you could grill the hot dogs instead of simmering them but again, the Chicago hot dog police may fine you for that. If you insist on grilling these guys, then they become what we in Chicago call "char dogs." They're delicious, but not traditional Chicago style hot dogs.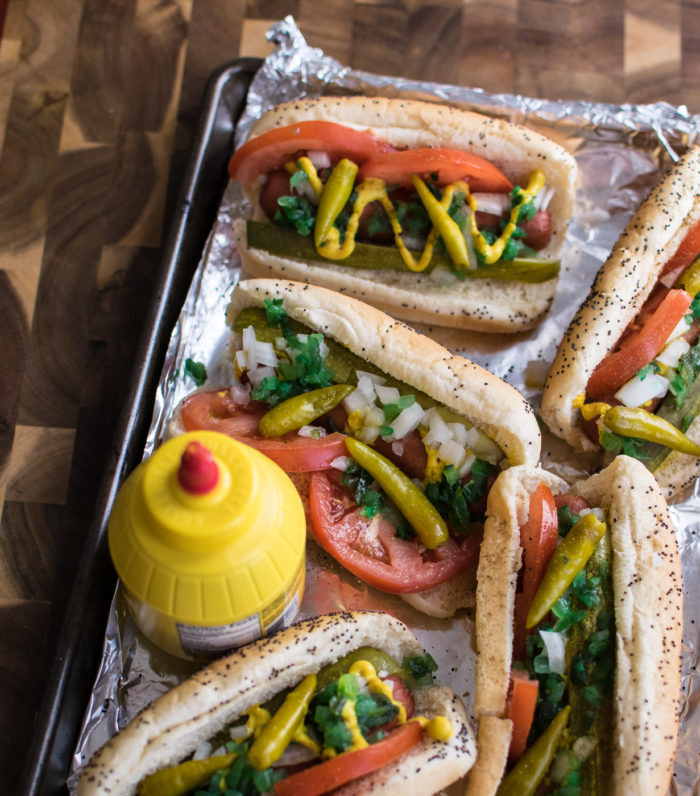 I hope you guys enjoy this Chicago staple as much as us Chicagoans do! There's nothing like a good hot dog in the summer, amiright? Make your summer more Chicago-y and serve these guys at your next get together!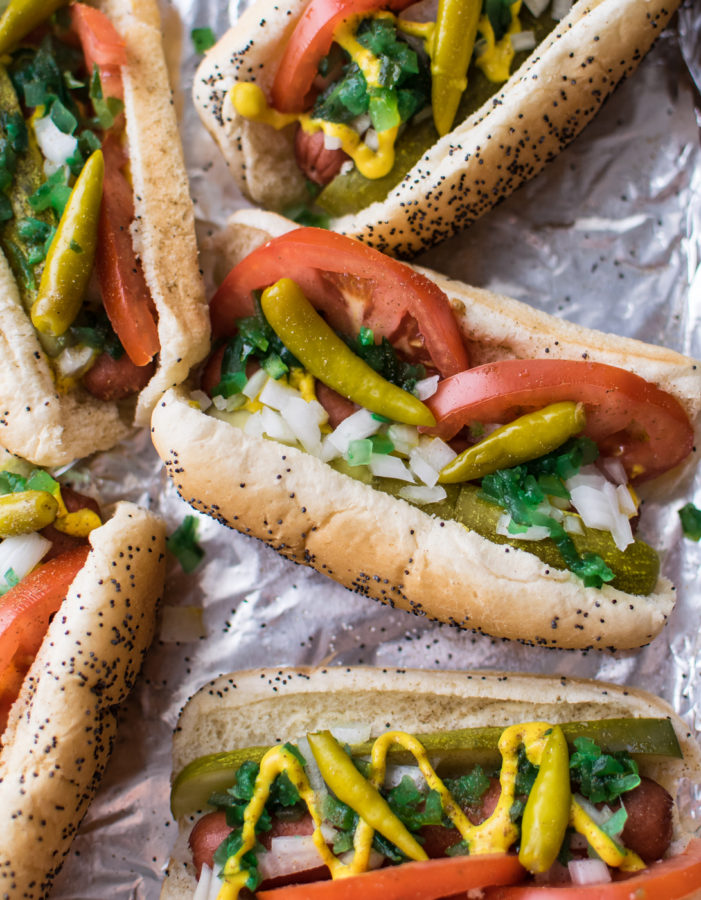 In other news, I cannot believe how many times I just typed 'Chicago'. Yowza.
You might also like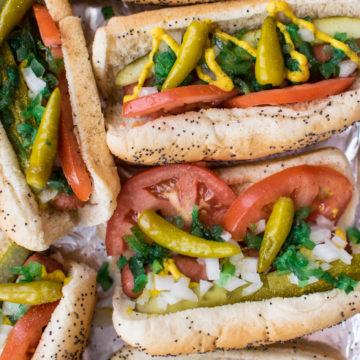 Chicago Style Hot Dogs
Ingredients
6

All beef hot dogs

6

Poppy seed buns

2

Tomatoes

Poppy seed buns

1

White onion

diced

12

Sport peppers

6

Dill pickle spears

Yellow mustard

Bright green relish

Celery salt
Instructions
Bring a large pot of water to a boil. Lower the heat to a simmer, add the hot dogs and cook for 10 minutes or until heated through.

Wrap the buns in a damp paper towel and microwave at 15 second intervals until warmed through but not too hot; about 30-45 seconds total.

Place the hot dogs in the buns and top each with yellow mustard, a dill pickle spear, two tomato half moons, two sport peppers, chopped onion, green relish, and a sprinkle of celery salt.

Resist the urge to reach for the ketchup. Enjoy!