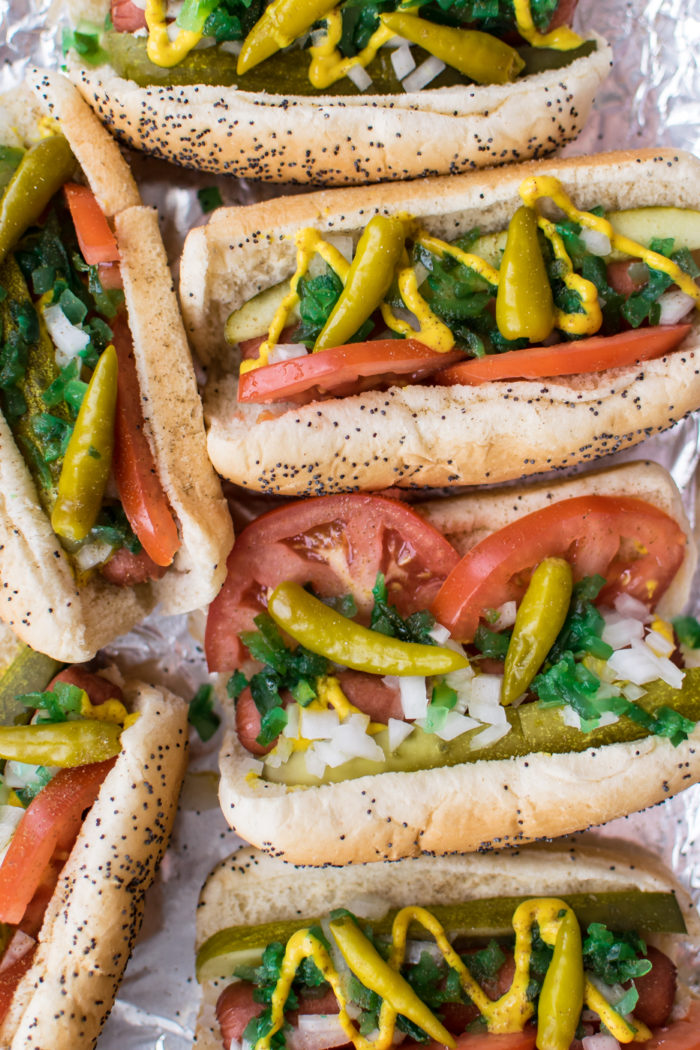 If you're from Chicago, I know you know how to make a Chicago dog so you can skip right over this post. Now if you're not from Chicago, stick around! I'm going to show you how to make a proper Chicago style hot dog!
There's nothing better than biting into a good Chicago style hot dog on a summer day. The combination of flavors work perfectly together. Living in and around Chicago my entire life, Chicago hot dogs have always just been a part of life! Everybody knows what goes on them, everybody loves them, everybody yells at you if you try to put ketchup on them. Let me tell you, this Chicago treat is not to be missed.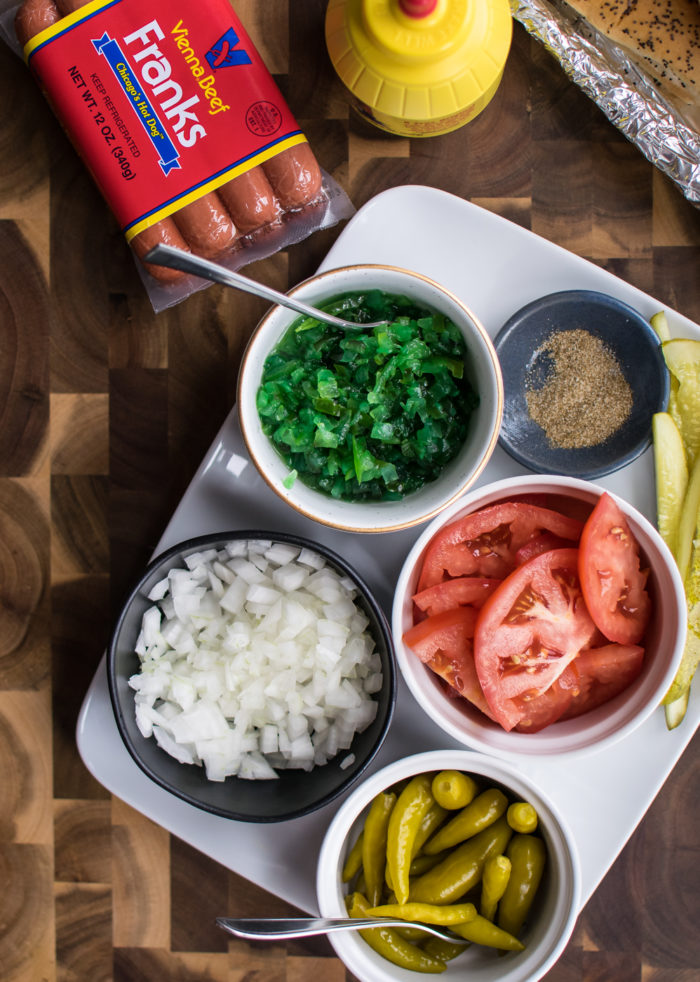 *This post may contain affiliate links. See disclosure for further details.
What goes on a Chicago Style Hot Dog?
Chicagoans are very particular about what goes on a Chicago style hot dog, and how to make it. A true Chicago hot dog is an all beef hot dog topped with yellow mustard, bright green sweet pickle relish, chopped white onion, tomato wedges, a dill pickle spear, sport peppers and celery salt. The hot dogs are usually steamed or simmered in water but they can also be grilled, in which case they are referred to as "char dogs". All of that deliciousness is wrapped up in a steamed poppy seed bun! Trust me, it's perfection.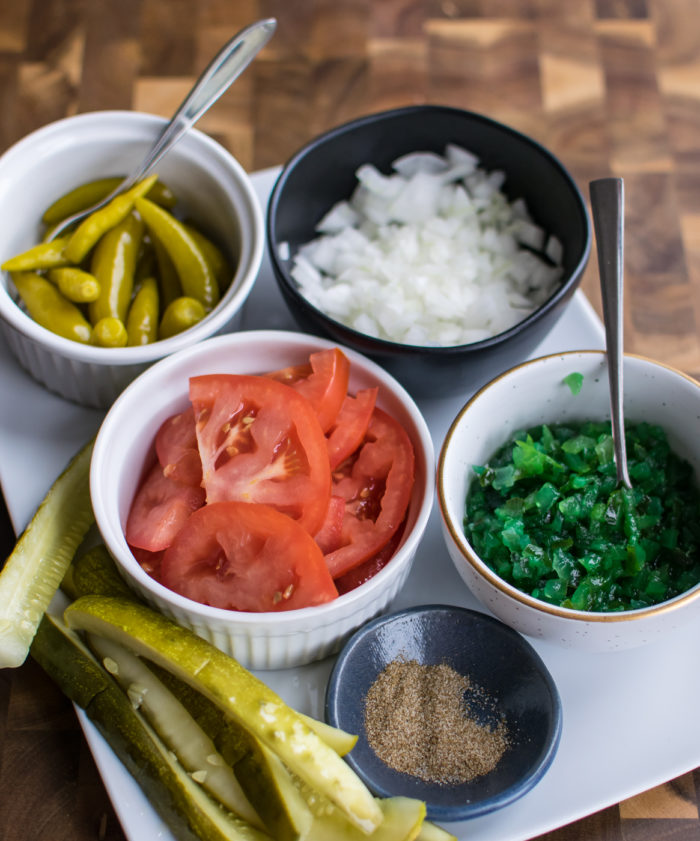 A Brief History
By the late 1800's, there was a huge German population in Chicago and thankfully, they introduced the frankfurter. This was a spiced pork and beef sausage from Vienna. The frankfurter quickly gained popularity as a cheap and quick meal. With Chicago being the leading meat packing city, and the frankfurter's popularity growing, they began to be mass produced using the trimmings from meat chopping plants. The all beef version of the frankfurter wasn't introduced until Jewish immigrants began making them to keep kosher. The beef franks quickly became the more popular hot dog choice and is what is used in a Chicago hot dog today. The toppings came about out of necessity, as a way to stretch the hot dog to be a full meal during The Great Depression. The idea stuck, and you can find an all beef Chicago style hot dog with all the toppings at any of the many, many, many hot dog stands around the city.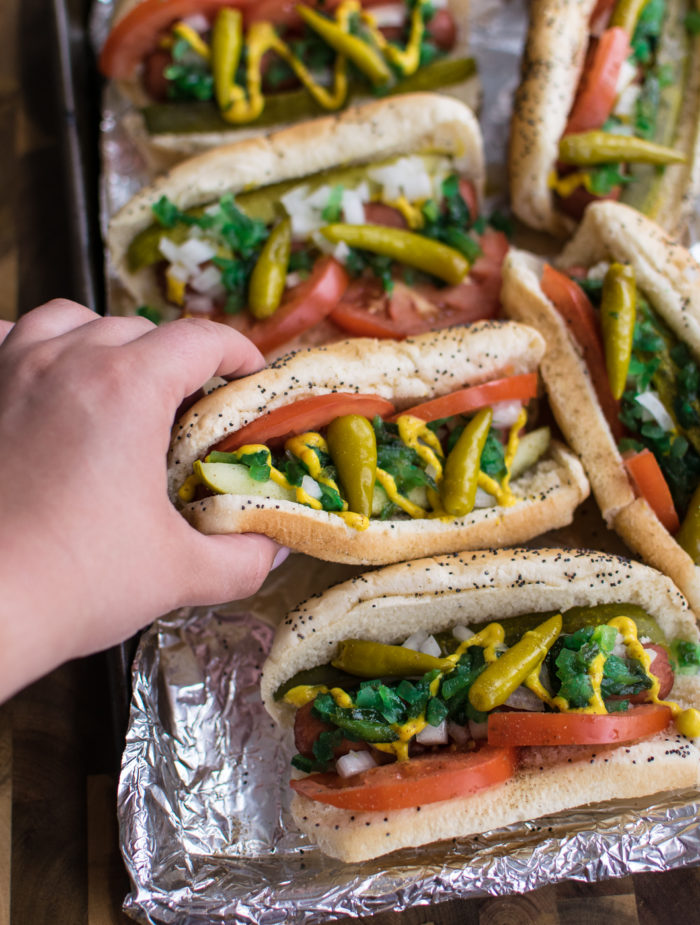 What can I substitute, if I can't find the ingredients?
Most of the ingredients for a Chicago style hot dog will be easy to find at any grocery store, but there are a few that might require some chasing down. Poppy seed buns may be harder to find than plain ones, which sucks, but they are worth seeking out. If you can find S.Rosen's brand, even better! Neon blue/green relish. This one is going to be hard to find anywhere but Chicago. You can order it online, or you can use regular sweet pickle relish. The color of the Chicago relish doesn't change the taste, it's just known as "the Chicago way". Lastly, the sport peppers. I always offer the idea that you can sub pepperoncini for them, but every time I do, a little piece of my soul dies. Sport peppers are just so delicious, I want you to have them!! Luckily, you can order them online as well. Problem solved!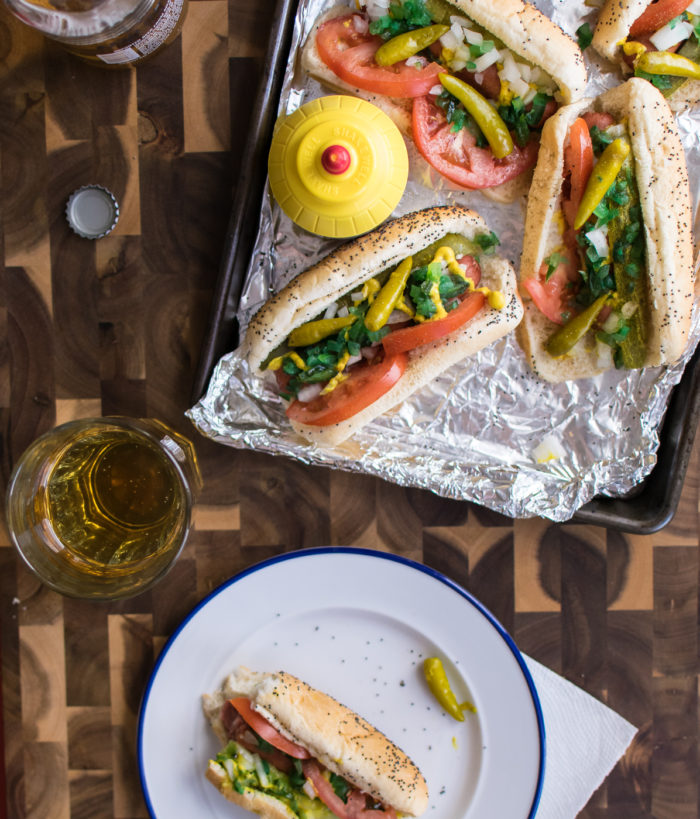 What about ketchup?
Now don't tell anybody this—or I might be kicked out of Chicago—but I actually like ketchup on hot dogs. Everywhere else in the world, that's totally normal but in Chicago, if you ask for ketchup on your hot dog people look at you like you just confessed to murder. That being said, for a Chicago style hot dog, with all of its toppings, it really doesn't need ketchup. It's perfect as is! If after you try these, you still want ketchup, go for it. I'm not the ketchup police! I wouldn't be surprised if there was actually some sort of Chicago hot dog police, though.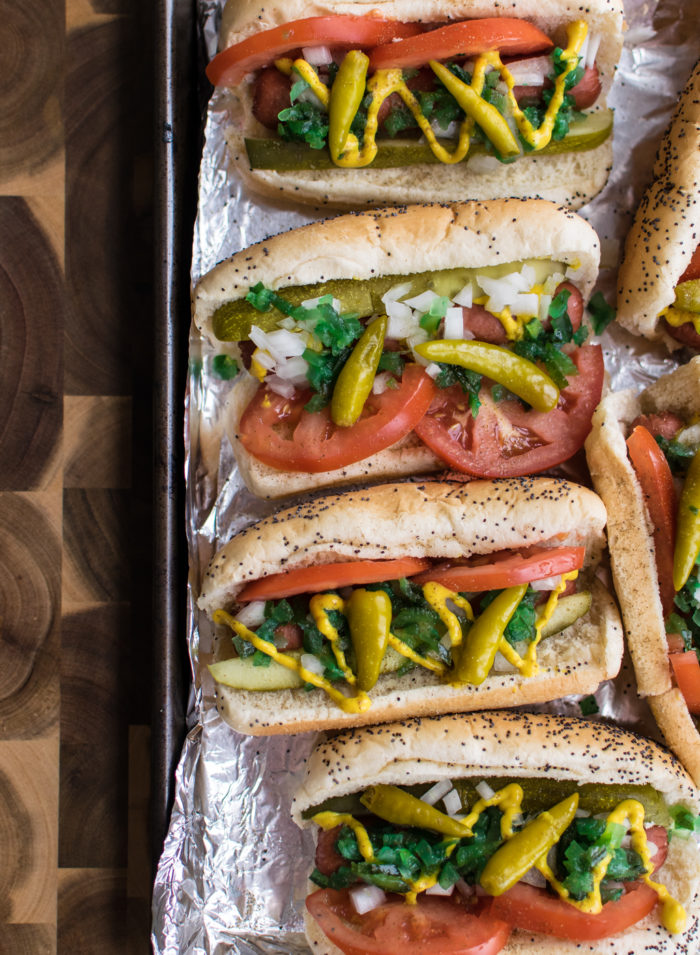 Chicago Style Hot Dog FAQ
What kind of hot dogs should I use?
Chicago style hot dogs are made with all beef hot dogs. Look for Vienna Beef brand!
How do I steam the buns?
To make sure the buns come out perfectly warm and steamy, I lay a damp paper towel down on a plate, pile the buns on top, then cover them with another damp paper towel. Microwave the buns at 15 second intervals until warmed through but not too hot; about 30-45 seconds total.
What if I can't find sport peppers?
You can use pepperoncini in place of sport peppers if you reeeaally can't find them. I urge you to order them online, though! Linked above.
Quick rundown of the ingredients?
All beef hot dog, poppy seed bun, yellow mustard, green relish, white onion, tomato, dill pickle, sport peppers, celery salt.
How do I avoid the Chicago hot dog police?
Don't put ketchup on your hot dog.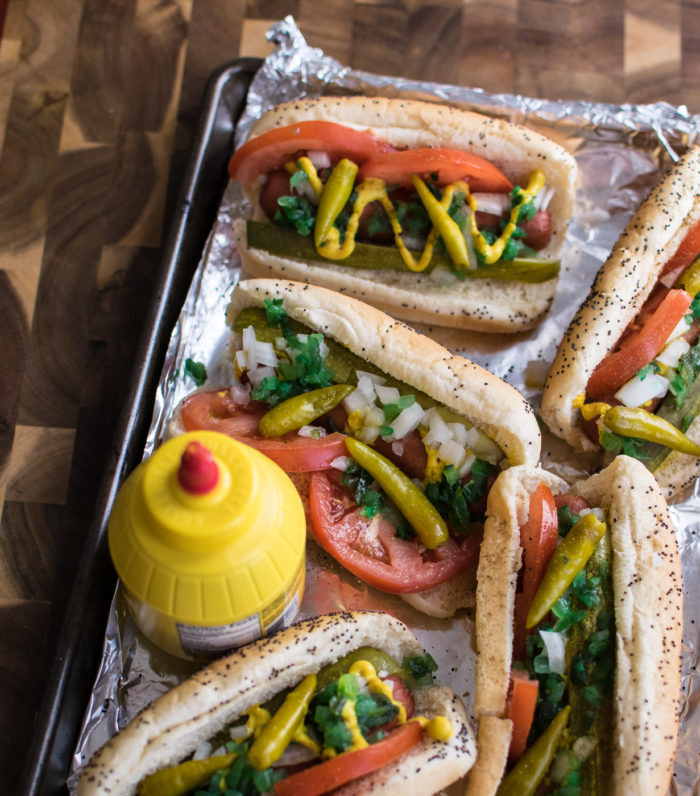 I hope you guys enjoy this Chicago staple as much as us Chicagoans do! You can find everything you need to make Chicago Style Hot Dogs on my Amazon Storefront Chicago section. Make your summer more Chicago-y and serve these guys at your next get together!
If you're looking to try more Chicago classic street food, look no further than the Maxwell Street Polish. Or give this Chicago Hot Dog Pasta Salad a try!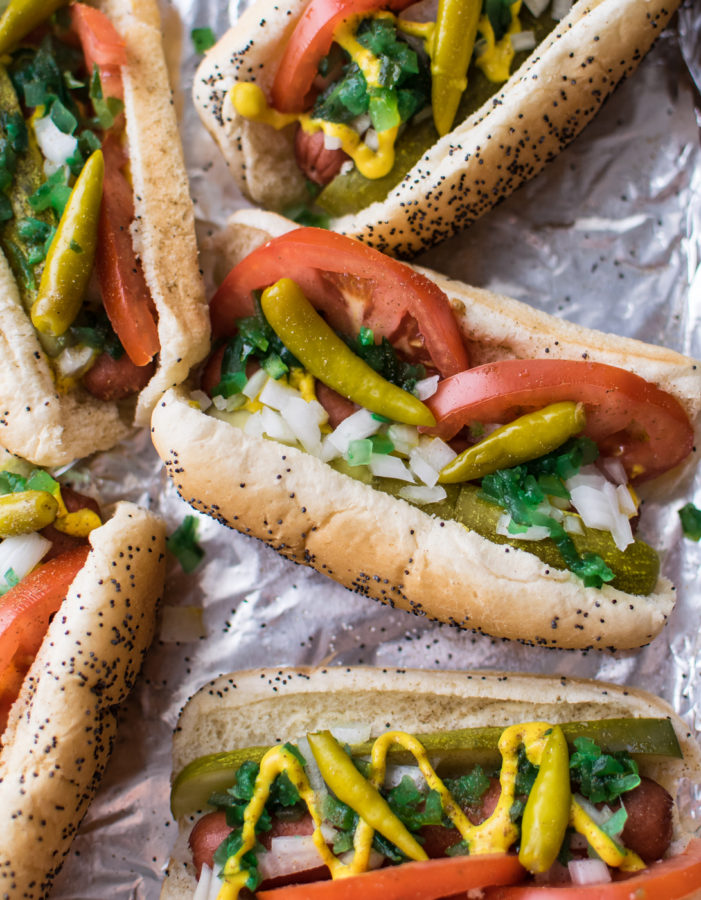 In other news, I cannot believe how many times I just typed 'Chicago'. Yowza.
You might also like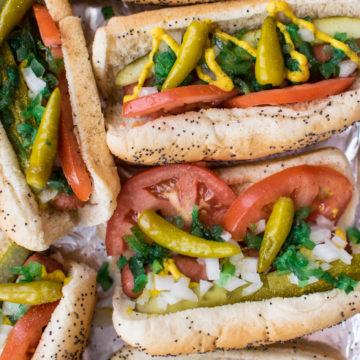 Chicago Style Hot Dogs
Chicago Style Hot Dogs are easy to make at home and perfect for backyard barbecues. This Chicago classic is not to be missed!
Ingredients
6

All beef hot dogs

6

Poppy seed buns

2

Tomatoes

cut into half moons

1

White onion

diced

12

Sport peppers

6

Dill pickle spears

Yellow mustard

Bright green relish

Celery salt
Instructions
Bring a large pot of water to a boil. Lower the heat to a simmer, add the hot dogs and cook for 10 minutes or until heated through. Alternatively, you can steam them in a steamer basket over boiling water until heated through.

Wrap the buns in a damp paper towel and microwave at 15 second intervals until warm and soft, but not too hot; about 30-45 seconds total.

Place the hot dogs in the buns and top each with yellow mustard, green relish, chopped onion, two tomato half moons, a dill pickle spear, two sport peppers, and a sprinkle of celery salt.

Resist the urge to reach for the ketchup. Enjoy!