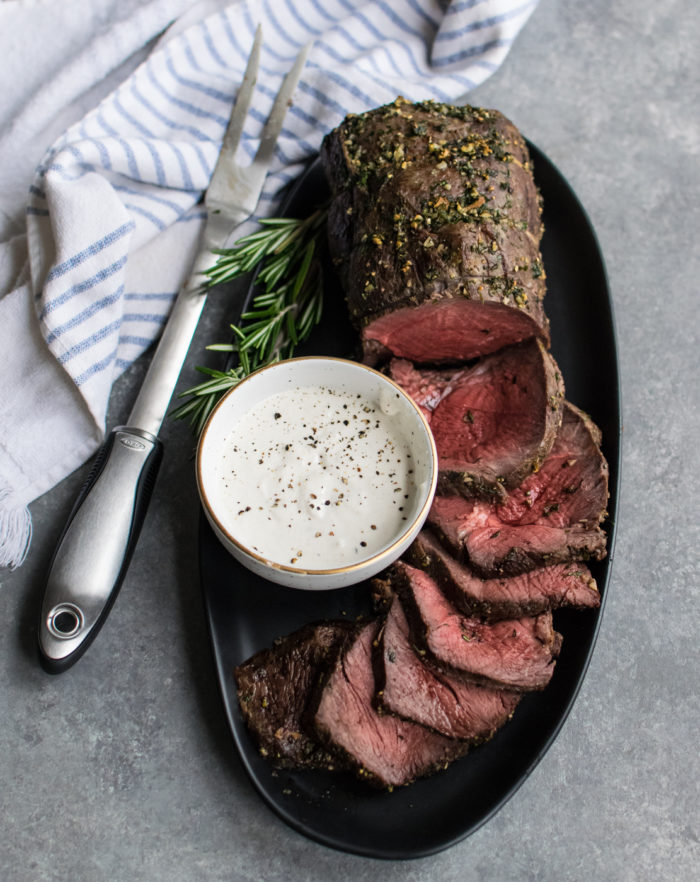 The holidays are here! I can't believe it's December already. When it comes to the holidays, I always get most excited about the food (shocker!) and a beautiful roast beef just screams holiday, right?
People often get intimidated by roasts—I know I used to be! The truth is, they couldn't be easier to make! This recipe for Herb Crusted Roast Beef with Horseradish Sauce may sound and look fancy, but it's a breeze to make—especially if you have the right tools. I've partnered with OXO to show you just how easy it is to make a delicious holiday roast with the right equipment.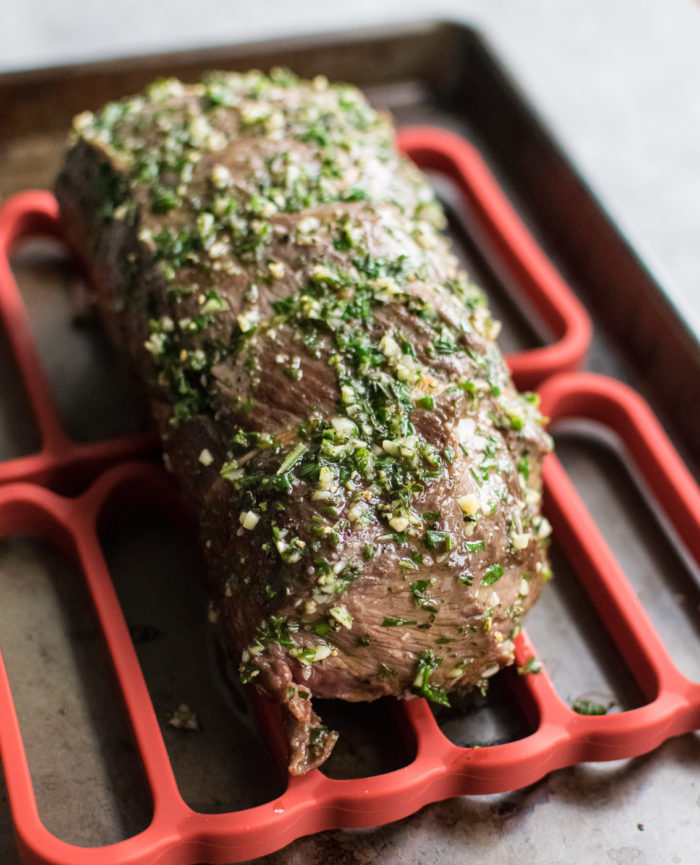 *This post may contain affiliate links. See disclosure for further details.
I used to think you needed a fancy roasting pan to make any kind of roast, and with my small apartment kitchen, there are only so many pans I have space for! I was so excited when I found these Silicone Roasting Racks. You can place them into a regular old sheet pan and they elevate your food so you get even cooking. For this recipe, you want to make sure the meat is elevated so you end up with a nice crust around the whole thing—that's my favorite part!
The crust in this recipe comes from two things: The sear, and the herb mixture. To ensure the best, most delicious crust, you'll first sear the meat in a cast iron pan, then slather it in the herb mixture, and then roast it. The reason I sear the meat first before adding the herbs, is so that the herbs and garlic won't burn. You'd end up with a bitter flavored crust and nobody wants that! For that reason, I only season the meat with salt before searing.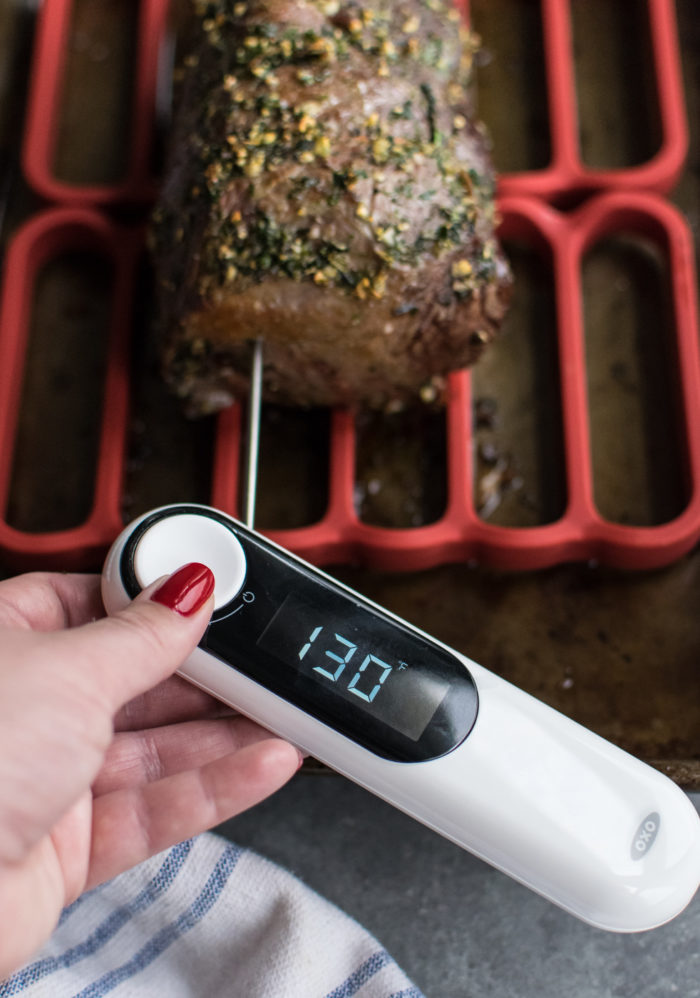 Now let's talk about that herb mixture... this is where you get all that delicious flavor! I chose to use parsley, rosemary and thyme for this roast but you could add oregano or even sage. There's also, of course, garlic in there! You want the garlic to be minced very, very finely so I used the this Garlic Press to get the job done. You could also add all of the ingredients for the herb mixture to a food processor and pulse until finely chopped but I prefer not to dirty another dish. It's up to you!
One thing that is absolutely non-negotiable about this recipe is the meat thermometer. You gotta have one! Roasts can be expensive (depending on how many people you're feeding—very expensive!) and the last thing you want to do is ruin it by guessing whether or not it's cooked to the right temperature. This Thermocouple Thermometer can give an accurate reading in 2-3 seconds! I personally like my beef cooked medium rare so I took it out at 130 degrees. Since the meat keeps cooking a bit while it's resting, it was served at just about 135 degrees. Perfect!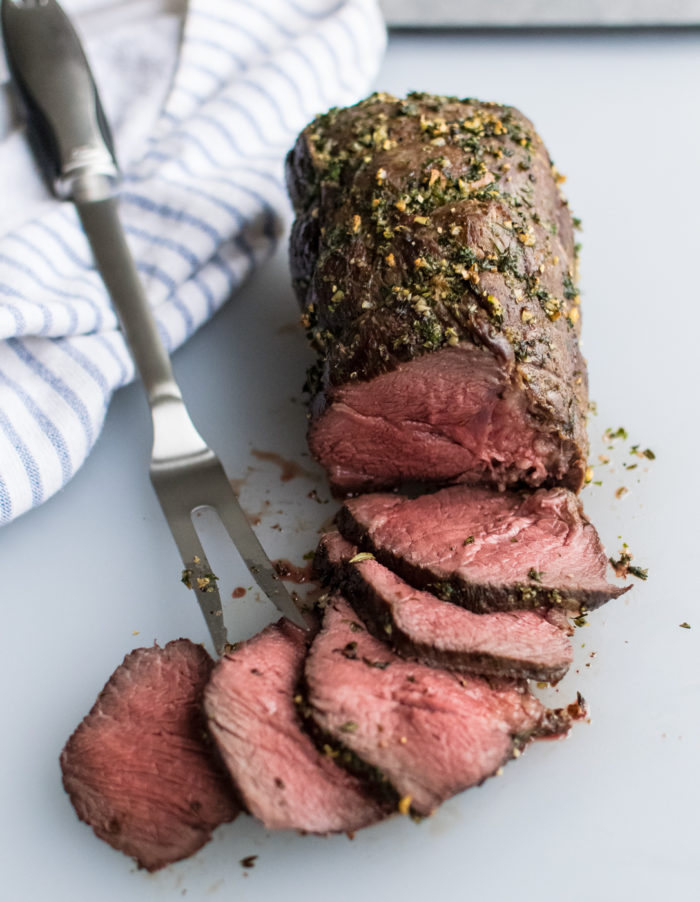 After the meat is cooked to your preferred temperature, it's time to let it rest! I know, I know, it's so tempting to cut right into it—I mean, it smells reeeeaally good—but you have to resist! If you slice it up right away, all the juices will come flying out and you'll end up with a sad, dry roast. Let the roast sit for 10-15 minutes and try to distract yourself. If you haven't made the horseradish sauce yet, this is a good time to do that!
When it's time to slice your roast, make sure you're using a cutting board with grooved edges to catch any of the meat juices. I love this Carving and Cutting Board because it's sturdy enough to hold a heavy roast, doesn't slide around, and collects all of that delicious juice! I used this Steel Fork to steady the meat while slicing and for serving as well. Make sure to slice the roast thinly so that it's nice and tender!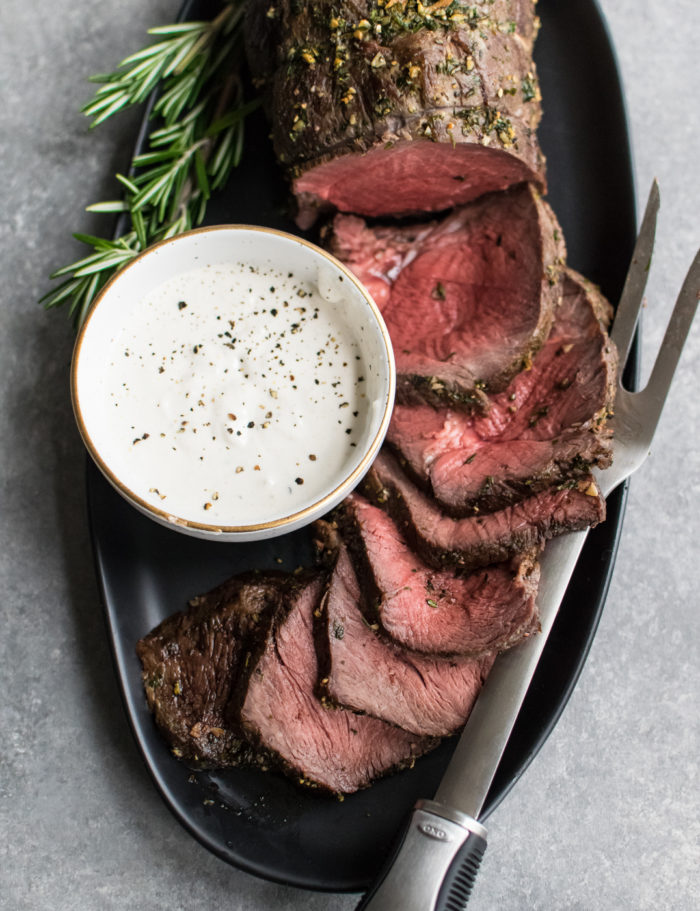 Since the roast is so pretty, I like to plate it nicely (and take lots of pictures!) but I wouldn't blame you if you wanted to get right to the eating part! Drizzle any juice that's collected on the cutting board over the sliced roast beef and serve with the horseradish sauce.
So there you go, it's so easy to make a beautiful roast when armed with the right equipment and a tasty recipe! Happy Holidays!
Thank you, OXO, for sponsoring this post and supporting Carolyn's Cooking!
You might also like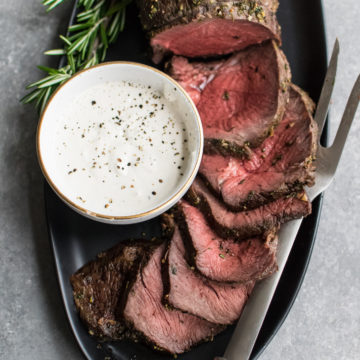 Herb Crusted Roast Beef with Horseradish Sauce
This recipe for Herb Crusted Roast Beef with Horseradish Sauce may sound and look fancy, but it's a breeze to make.
Ingredients
For the beef
1

2 ½ Pound

Beef Roast

such as sirloin, eye of round or top round

4

Tablespoons

olive oil

divided

2

Tablespoons

unsalted butter

melted

2

Tablespoons

fresh parsley

finely minced

2

Teaspoons

fresh rosemary

finely minced

2

Teaspoons

fresh thyme

finely minced

2

Cloves garlic

finely minced

Salt and pepper
For the horseradish sauce
½

Cup

sour cream

2

Tablespoons

prepared horseradish

1

Teaspoon

dijon mustard

Salt and pepper

to taste

Lemon zest

(optional)
Instructions
Pre season the roast. The day before cooking the roast, season liberally with coarse salt and wrap with plastic wrap. Store the salted roast in the refrigerator. (optional)

Pre heat the oven to 350 degrees. Remove the roast from the refrigerator an hour before cooking so that it can come to room temperature. Remove the plastic wrap, pat dry with paper towels and season again with coarse salt.

In a cast iron pan, heat 2 tablespoons of the oil over medium high heat. Sear the roast on all sides until a brown crust forms; about 10 minutes.

Combine the remaining oil, butter, parsley, rosemary, thyme, and garlic in a bowl and season with pepper. Rub the herb mixture all over the roast.

Place the silicone roasting racks in a sheet pan and the roast on top of the racks. Cook uncovered for 45 minutes or until thermometer reads 130 degrees for medium rare (roast will continue to cook while resting.)

While the roast is in the oven, whisk all of the ingredients for the horseradish sauce together. Cover and keep chilled until ready to use.

Let the roast rest for 10-15 minutes before slicing thinly.

Serve with horseradish sauce. Enjoy!