Horseradish Chicken Schnitzel with Herbed Yogurt Sauce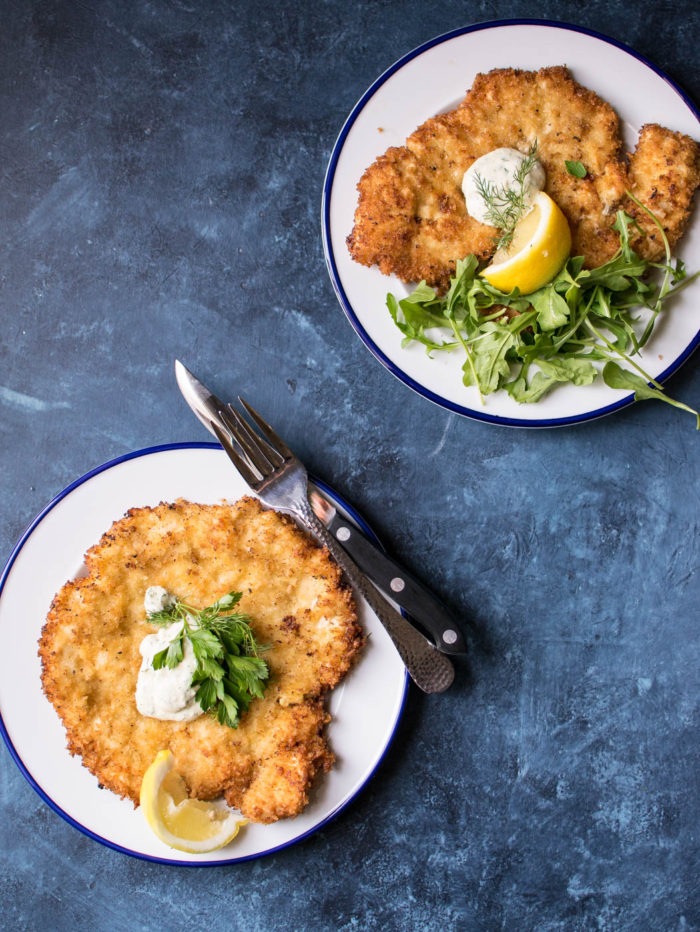 I have to give a shout out to my boyfriend for this recipe because it was basically his idea. Hi Larry! Larry's dad grows and prepares delicious (and spicy) horseradish and always gives some to Larry. So, while the boy and I were enjoying some shrimp cocktail one day, we were discussing how else we could use the horseradish and the idea for this recipe started to form. Larry liked the idea of horseradish crusted something. He kept talking about horseradish crusted this and horseradish crusted that and then he said the word schnitzel and my brain started to fill in the blanks. I told Larry what I was thinking and his response was, "I don't really understand what you're talking about but I bet it will be delicious." In his defense, the idea came out as something like, "Wait, I think I've got it! Yeah, horseradish and like yogurt and probably dill and it's a schnitzel but like a chicken schnitzel and there's a sauce, ya know?" How would he know what I was rambling on about?! Anyway, I got my thoughts in order, created the recipe, and he was right, it turned out to be delicious! Thanks, Lar. Our weird brains work well together.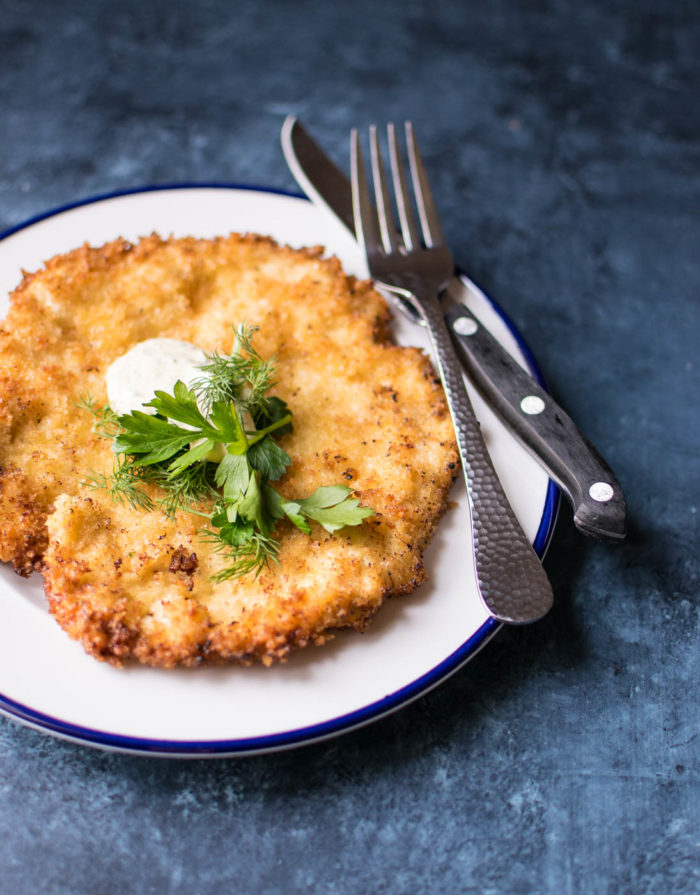 The most important part of this recipe is the marinade. The yogurt (kefir) in the marinade is a natural tenderizer which means it starts to break down the proteins making the chicken more tender but also allowing the marinade to penetrate deeper resulting in more flavorful chicken. Yogurt in the marinade = tender, juicy and flavorful chicken. Listen, it's science.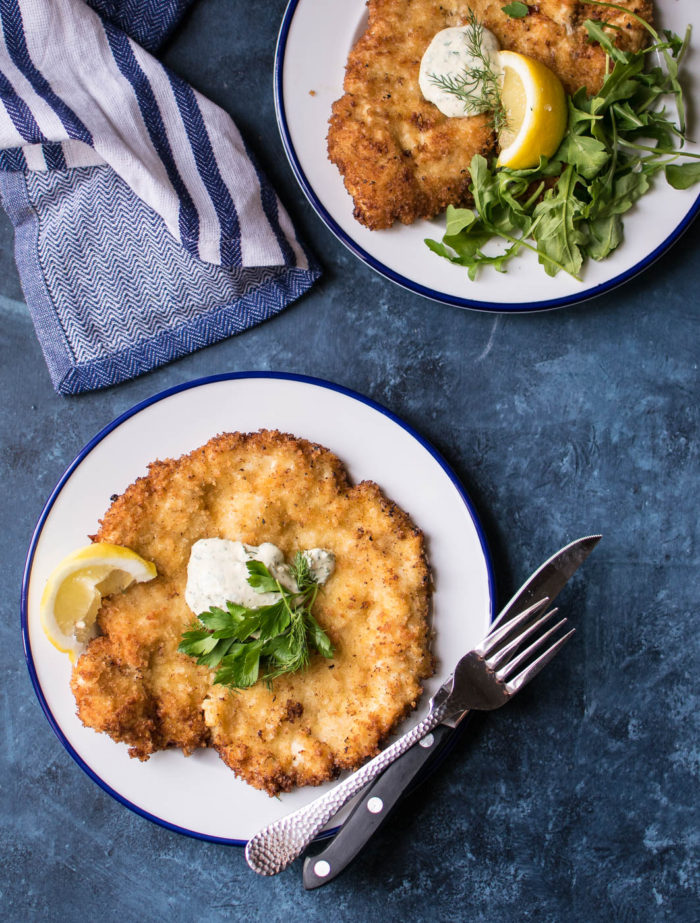 About the horseradish, I'm not going to suggest that you all break into Larry's parent's house and rob them of their homemade horseradish (although I wish I could, it's really delicious) so we're just going to use prepared horseradish from the store. Horseradish loses its spiciness when it's cooked so the horseradish in the marinade is really just to reinforce the flavor and the horseradish in the sauce will give that spicy kick that's oh-so-important! Speaking of the sauce, it's the perfect accompaniment to the chicken! It's zesty, fresh and cool and balances the hot, crispy chicken like a BOSS (wait, what?). You're definitely going to want to use a big ol' dollop of that stuff!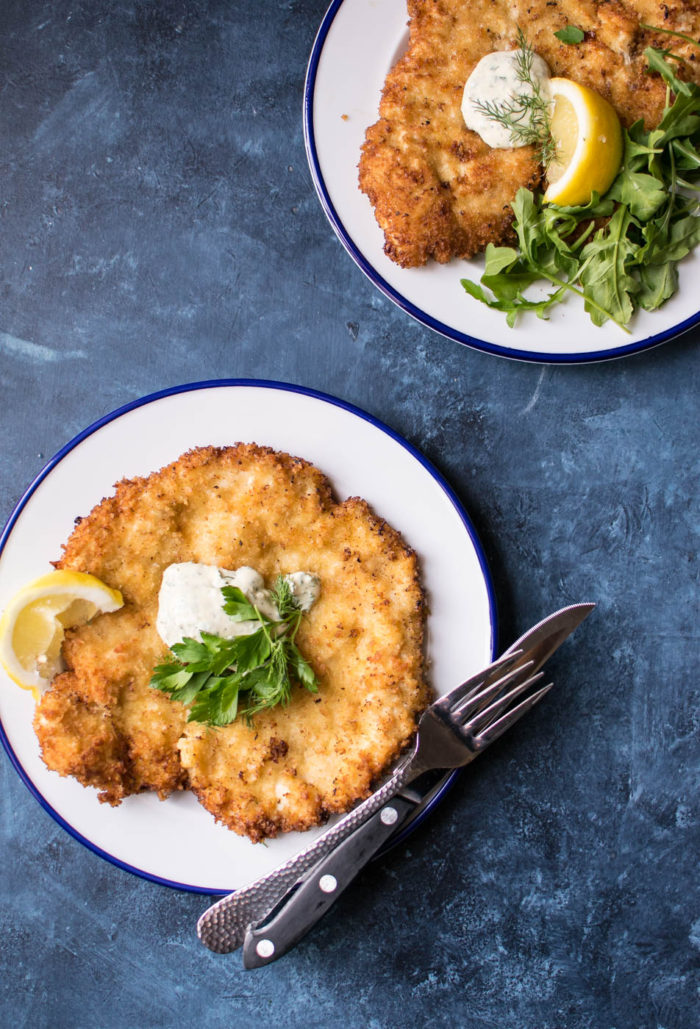 For cooking, you want to make sure you get a good assembly line type of system going. Remember, cooking the chicken is the last step! Have the sauce and anything you're serving the chicken with ready. Have the beaten eggs, the flour and the panko all lined up and ready to go and the oil heated to the right temperature; about 330 degrees. Dredge and coat the chicken, transfer it to the pan of hot oil (but not too hot), cook on both sides, remove from pan, repeat. Serve hot. That's the basic idea and I promise it's not hard to pull off, you've just got to be on top of things!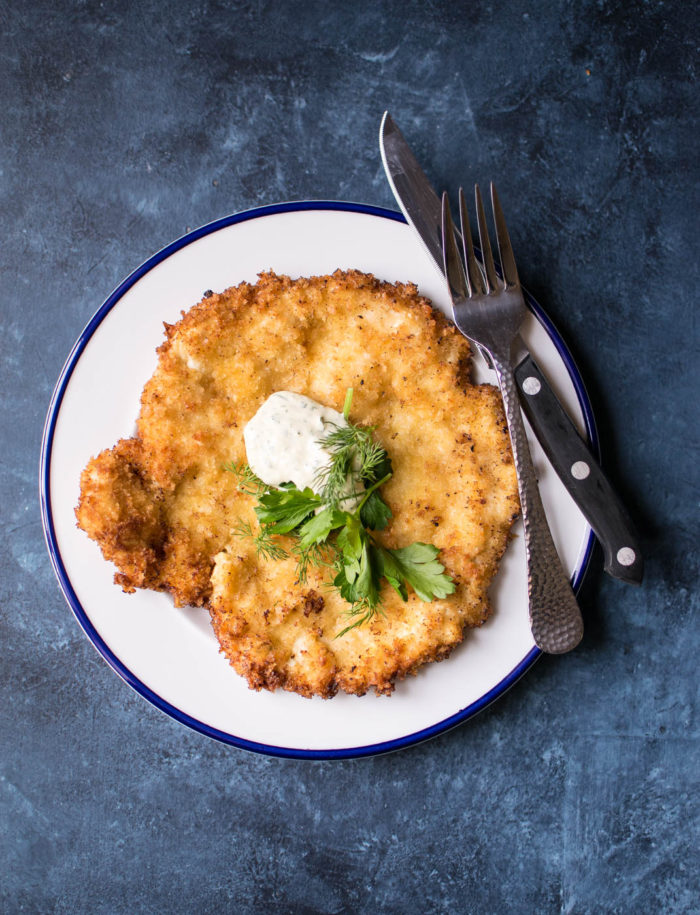 Serve the chicken with the sauce, fresh herbs and a couple of lemon wedges and maybe a light side salad, if you're getting reeaaallly crazy. I hope you love it!
Recipe Summary
Horseradish Chicken Schnitzel with Herbed Yogurt Sauce

Prep Time

2 Hours, 10 Minutes

Total Time


2 Hours, 40 Minutes

Level:

Medium

Servings:

4

Ingredients:

For the marinade

1 Cup Kefir
3 Tablespoons horseradish
2 Teaspoons lemon zest
1 Tablespoon olive oil
3 Cloves garlic, smashed
5 Sprigs fresh dill
Pinch of salt and pepper

For the yogurt sauce

2 Tablespoons kefir
1-2 Tablespoons horseradish, to taste
2 Tablespoon sour cream
1 Tablespoon dijon mustard
1 Tablespoon fresh dill, finely chopped
1 Tablespoon fresh parsley, finely chopped
Pinch of salt and pepper
1 Clove garlic, smashed

Other

2 Boneless, skinless chicken breasts pounded to 1/4 inch thickness
2 Eggs, beaten
Panko breadcrumbs, as needed for breading
Flour, as needed for dredging
Canola oil, as needed for frying
Lemon wedges, for serving
Fresh dill and parsley, for garnish

Instructions:

In a plastic bag or large glass bowl, mix together all the ingredients for the marinade.
Place the chicken breasts between two large pieces of plastic wrap and pound them to 1/4 inch thickness with a meat mallet. Season with salt and pepper. Add the chicken to the marinade and place in the refrigerator for two to three hours.
Make the herbed yogurt sauce. In a small bowl, mix all of the ingredients for the sauce together and refrigerate for later use.
Heat canola oil in a large frying pan over medium heat. There should be enough oil to come halfway up the side of each the piece of chicken when you lay it in the pan. Keep the oil at around 330 degrees (test with a thermometer) so that the crust gets crispy but doesn't burn.
Beat the eggs on one plate or shallow bowl. On two more plates, place the flour and the panko breadcrumbs. Remove the chicken from the marinade, dredge in the flour, then dip in the egg and then into the panko. Make sure to pack the panko into the chicken. Repeat these steps with each piece of chicken and fry, one at a time, on each side for about 4 minutes or until golden brown.
Serve with the herbed yogurt sauce, fresh herbs and lemon wedges. Enjoy!