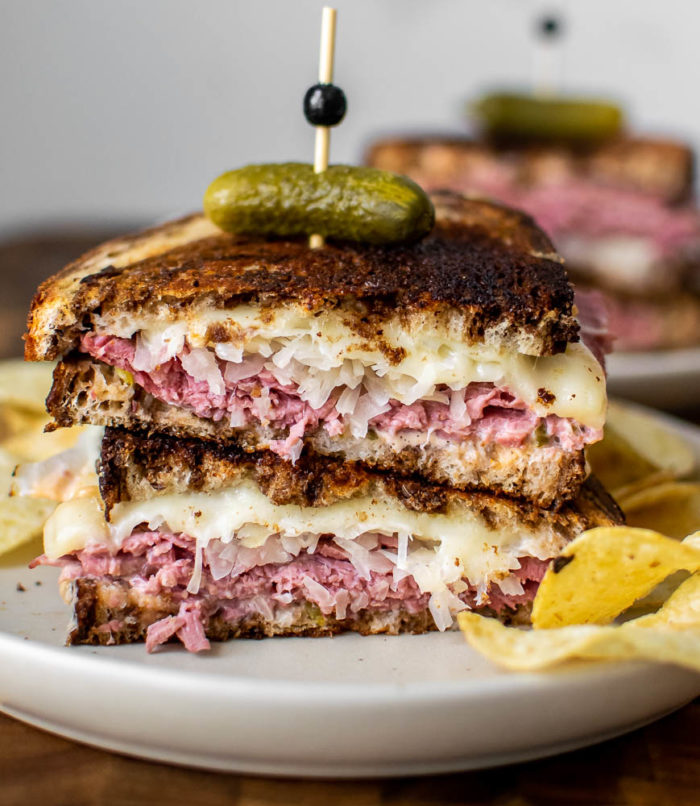 Who doesn't love a good Rueben?! Corned beef, perfectly melted Swiss cheese, tangy sauerkraut and the most delicious dressing all piled onto marbled rye bread and warmed to crispy, gooey perfection. YUM.
If you aren't in the habit of making Reubens for yourself at home, we need to change that, PRONTO. The sandwich could not be easier to make and you can find all of the ingredients to make the perfect Reuben at any grocery store!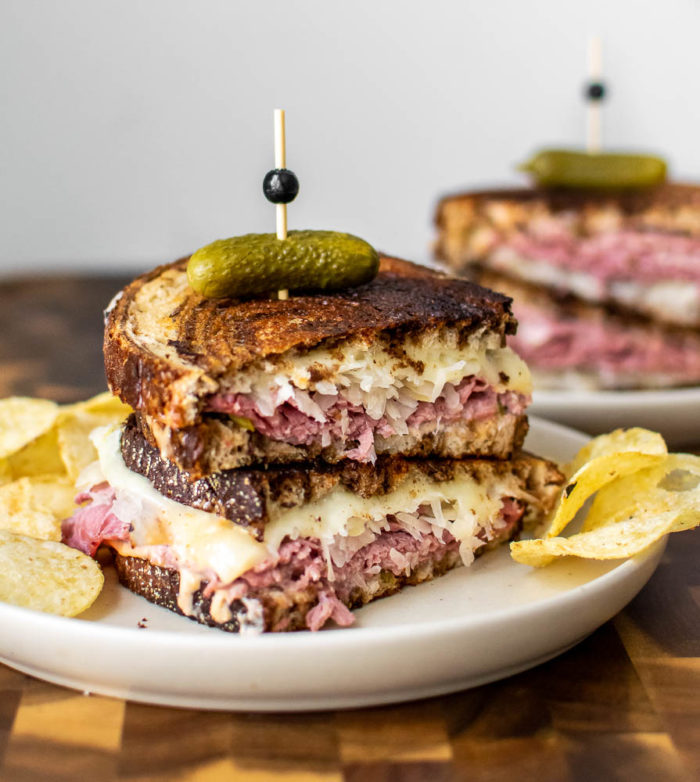 I'm sure you know this already, but let's just go over it for good measure. A Reuben is made of the following ingredients:
Corned beef
Swiss cheese
Sauerkraut
Russian dressing
Marbled rye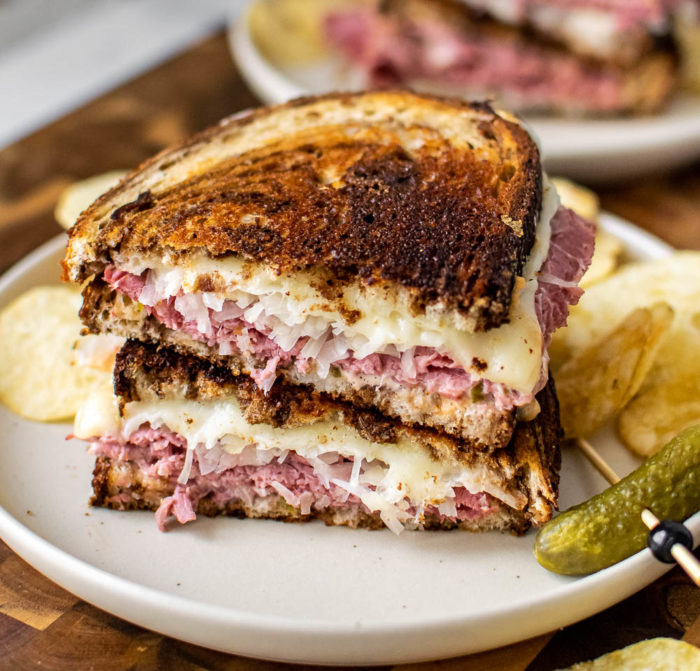 The one thing I don't suggest buying for this sandwich is the dressing. Store bought Russian dressings are much thinner than homemade (more like a salad dressing) and not nearly as tasty. Homemade is the way to go! Luckily, the Russian dressing is super easy to whip up and you probably already have most (or all!) of the ingredients on hand.
If you just HAVE to buy the dressing, you might want to choose thousand island instead. It won't be a traditional Reuben, but store bought thousand island is at least thicker than store bought Russian dressing—so, better suited for a sandwich. But like, just make the dressing. Okay? Okay. The recipe below will leave you with some extra dressing—use it as a dipping sauce!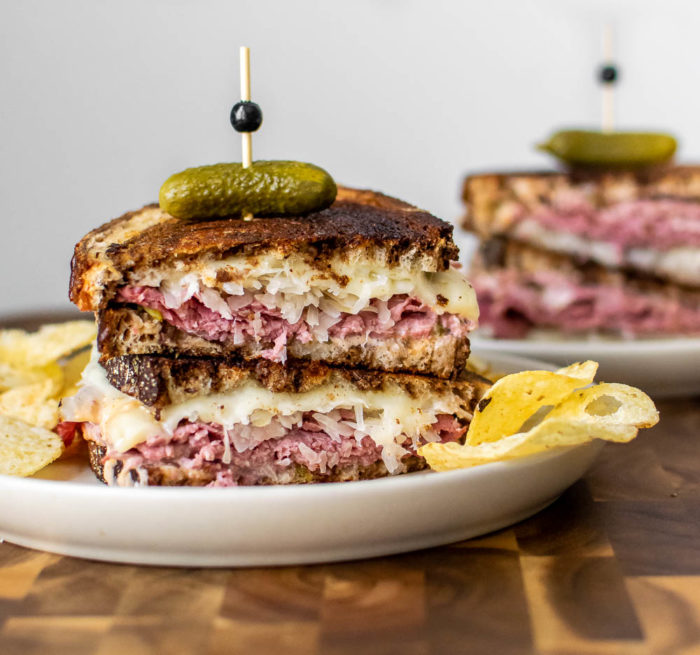 Just writing this up is making me hungry for another Reuben! I hope you guys love this recipe as much as I do. Sometimes you just gotta turn your house into a sandwich deli!
Recipe Summary
Classic Reuben Sandwich

Level:

Easy

Servings:

2

Ingredients:

For the Russian Dressing

1 Cup mayonnaise
1/4 Cup ketchup
2 Tablespoons minced yellow onion
1 Tablespoon chopped dill pickle or cornichon (optional)
1 Teaspoon worcestershire
1/2-1 Teaspoon hot sauce
1/2 Teaspoon paprika
Salt and pepper to taste

For the Reubens

4 Slices marbled rye bread
8 Slices (about 1/2 pound) corned beef
4 Slices Swiss cheese
1 Cup sauerkraut, drained
2 Tablespoons butter, softened

Instructions:

Mix all of the ingredients for the dressing together. Taste and adjust seasoning to your liking. Refrigerate until ready to use.
Spread the softened butter on the outsides of each piece of bread (all the way to the edges!) and the Russian dressing on the insides. Layer 4 slices of corned beef, 2 slices of Swiss cheese and 1/2 cup of sauerkraut on each sandwich and then close, buttered sides facing outwards.
Carefully add the sandwiches to a large skillet over medium heat. Cook until the outsides are crispy and the cheese is melted; 2-3 minutes on each side.
Serve with a pickle. Enjoy!