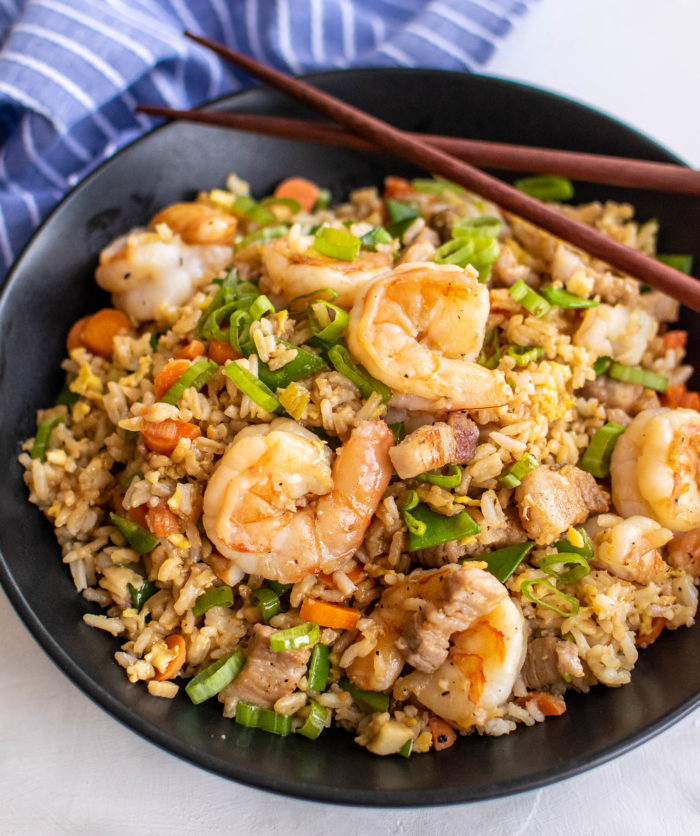 I don't want to play favorites because I really love ALL fried rice but, this shrimp and pork belly combo just might be my favorite! You can forget about ordering in because this recipe is quick, easy and really delicious! Make sure to read through this post for tips to make your best fried rice ever.
Growing up, my family ordered from a place called Little Lan's and would always ask for combination shrimp and pork fried rice. I'm not even sure if that was actually on the menu or if we just asked for that combination special? Who knows! What I do know for sure is that shrimp and pork are a fried rice match made in heaven. Especially if the pork is pork belly! Pork belly has a good amount of fat on it which means two things: you can get it nice and crispy, and you'll be able to render that fat to use for cooking. Fat = flavor, my friends!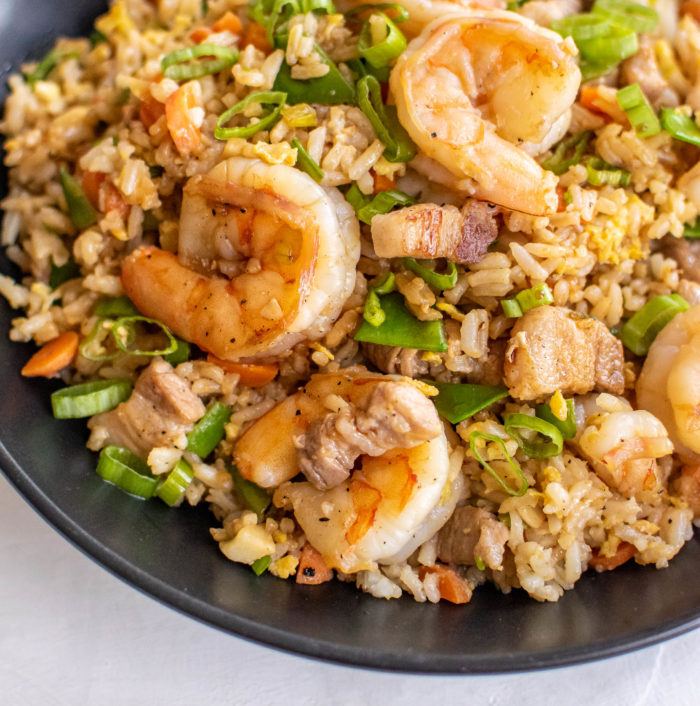 *This post may contain affiliate links. See disclosure for further details.
You'll cook the pork belly first until it's golden and crispy and then transfer it to a bowl so it doesn't over cook. Next, cook the shrimp in the pork fat and then transfer them to the bowl with the pork belly. After you've cooked the protein, add in the veggies, then the rice, then you'll cook the eggs, add the protein back in and cover it all in delicious sauce.
I have been able to find pork belly at most grocery stores lately but if you can't find fresh pork belly, there are a couple things you can substitute. Trader Joe's sells cooked pork belly that I have used a couple times before. You'll crisp it up in the pan the same way you would with uncooked pork belly but shave off a few minutes of the cook time. If you can't find pork belly and you don't live by a Trader Joe's, bacon will work! Bacon will definitely change the overall flavor of the dish but, like, not in a bad way! If you can't get to any pork belly—bacon it up! If you are using bacon for this recipe, you will need to adjust the salt accordingly. The bacon will be much saltier than the pork belly.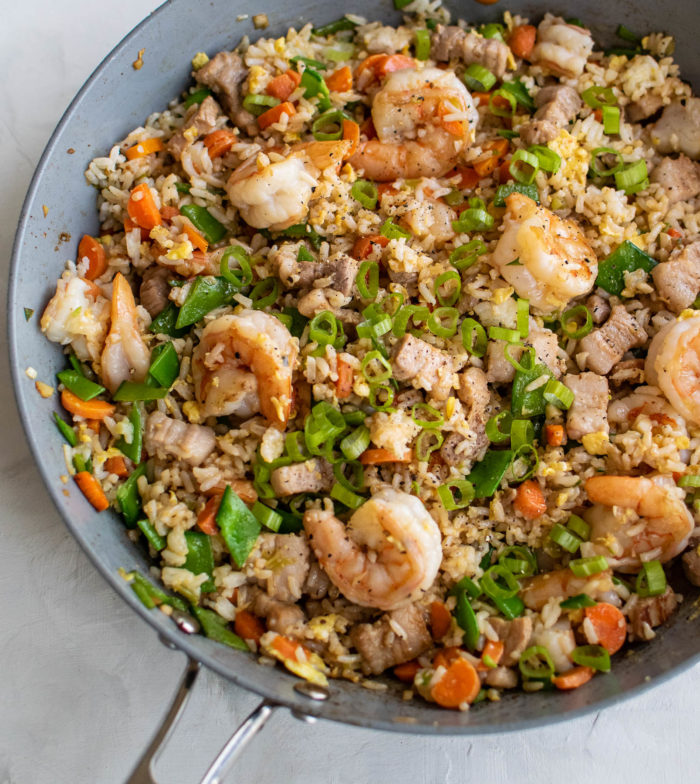 Fried rice is a lot easier to make at home than you might think, but there are a couple tricks that will help make your homemade fried rice experience better and those are 1: make sure to prep all of the ingredients before you start cooking. The cooking will go fast, so you need everything chopped and ready to go! And 2: use leftover, cold cooked rice!!
About the rice, it's absolutely, super important to use leftover cold rice. Why, you ask? Because leftover rice gets dried out and separates, which makes it better for frying! If you use rice you made that day, it'll still be wet and steamy and you'll end up with a mushy slop. I promise you, this makes a huge difference! If you absolutely HAVE to make fried rice at once, and you've done zero rice prep, you can use one of those bags of ready rice (you know the ones that you just microwave for a minute?) and use it straight out of the bag without microwaving. This sort of mimics the dry, leftover rice scenario but it is certainly sub par.
My advice is just to cook some rice the day before you plan on making the fried rice. That's it. Just a tiny bit of planning ahead will up your fried rice game by A LOT.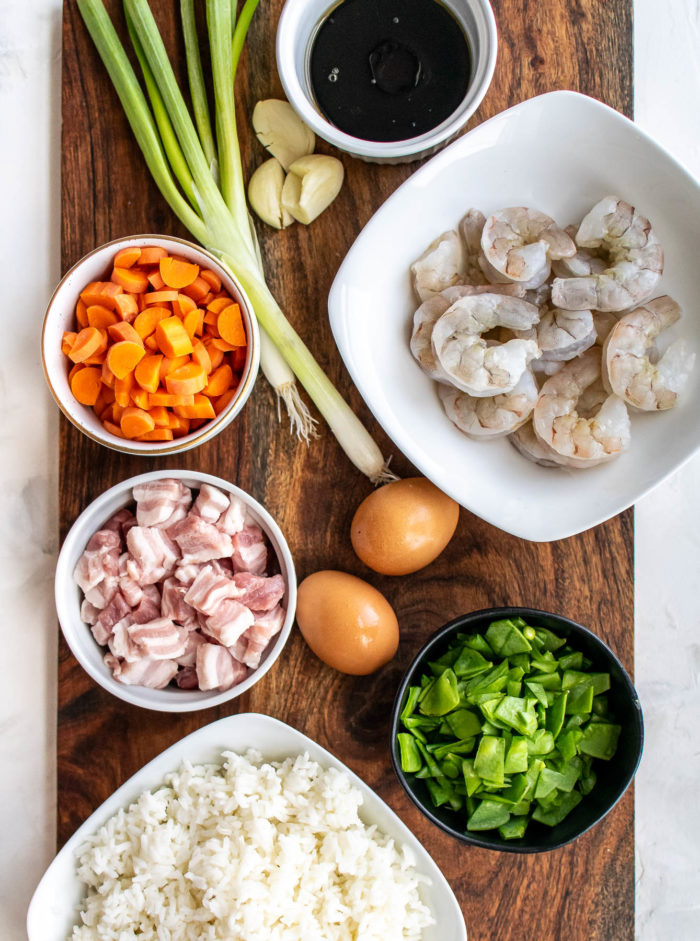 For the veggies and aromatics, I like using garlic, scallion, carrots and snow peas. Scallions are a great for fried rice because you use the white part for cooking, and then the green part as a garnish. I chose carrots and snow peas for my veggies because I like how they add a little crunch to the rice. I'm not the biggest fan of english peas that you typically see in fried rice (too sweet for me!) so I go with snow peas instead. Feel free to use whatever veggies you like, though! If you want to use up some frozen veggies, corn and peas are great choices. You can also add some chopped bell pepper. Whatever you want!
Some fried rice recipes tell you to scramble the eggs first, remove them from the pan, and then add them back in at the end. You can do this if you want, but I prefer to cook the eggs at the end, after you've added your rice to the pan. You just push the rice to the side, add a little butter, scramble the eggs, and then mix them into the rice. Super easy! This recipe calls for 2-3 eggs, depending on how eggy you like your fried rice.
Now about those shrimps, I like using large shrimp for this recipe. After cooking them, I'll chop half of them up into bite sized pieces and leave the other half whole. The bite sized guys are great for when you're shoveling the fried rice into your mouth and the big guys are like a special treat! Sure, you could use small or medium shrimp, but I just don't think they taste as good. You want the shrimp to be plump and juicy!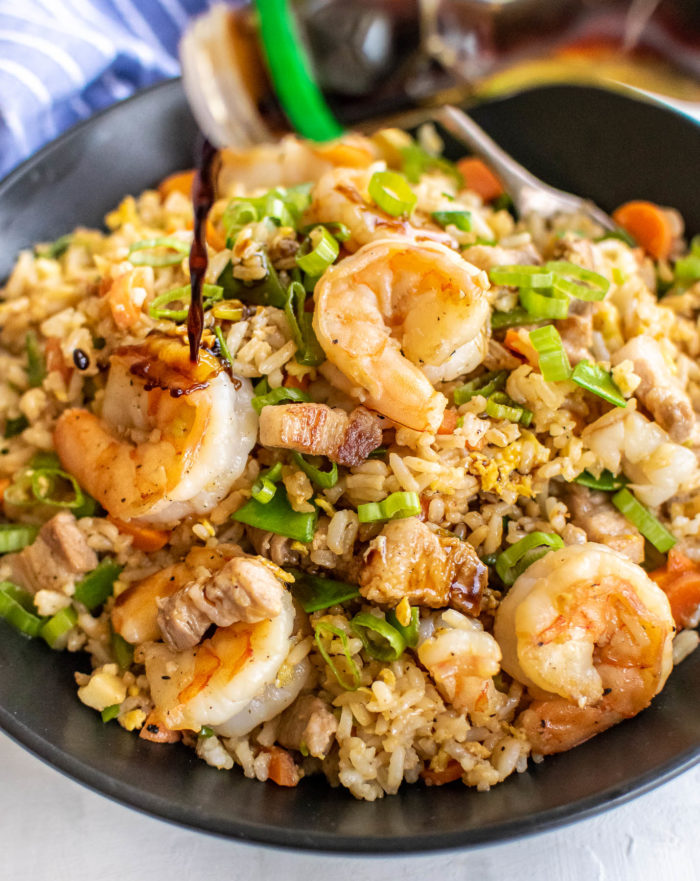 Last but not least, let's talk about the sauce. It's just soy sauce (I use low sodium) and sesame oil—that's it! If you want to get crazy, you can add a small amount of oyster sauce to the fried rice, but you really only need soy sauce and sesame oil. I kept the soy sauce a little light so that people can add more to their individual servings as they like. I mean, that's just the right thing to do!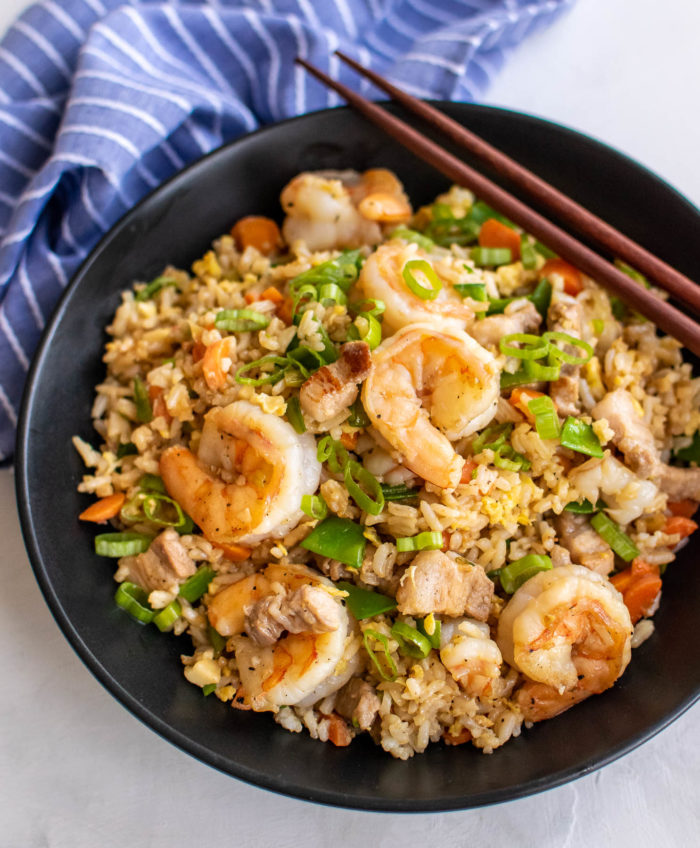 Okay, I feel like I've rambled on about the components of fried rice for a little too long and now it's time to get cooking! As long as you're armed with some old ass rice, and you've prepped all of your ingredients before cooking, you're going to nail it. I promise!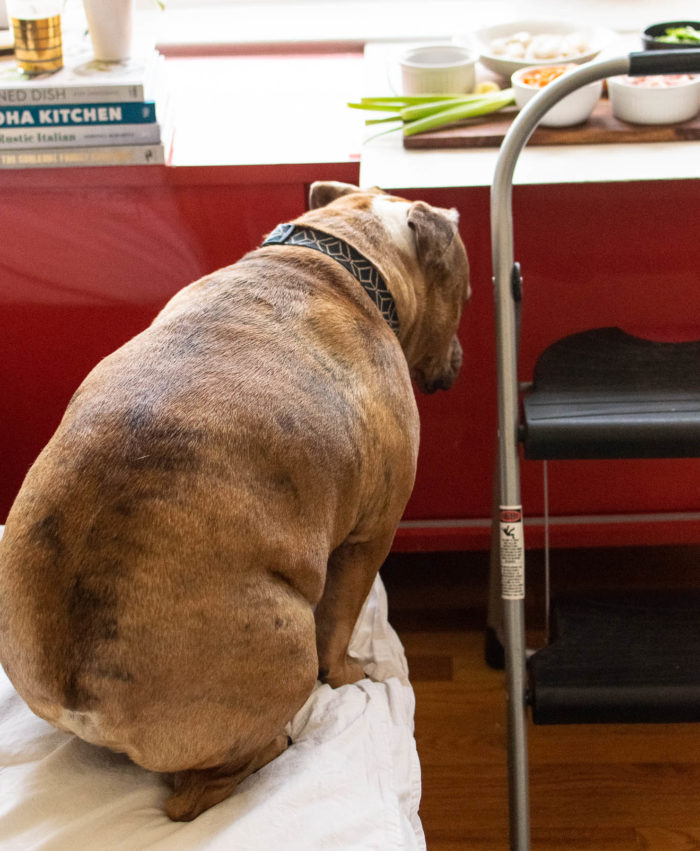 P.S. This is my mischievous little (big) son, Lenny, trying to bust onto the photo shoot scene to eat all the ingredients. As you can see, he is carefully calculating how to get from the couch to the step ladder, to reach the food. He was unsuccessful in his attempts.
You might also like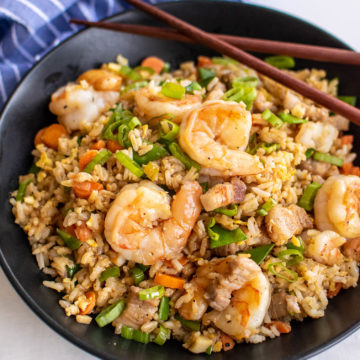 Shrimp and Pork Belly Fried Rice
You can forget about ordering in because this recipe is quick, easy and really delicious!
Ingredients
2

Tablespoons

neutral oil

divided

1

Cup

pork belly

cubed

¼

Pound

large raw shrimp

peeled and deveined

1

Teaspoon

rice vinegar

2

Tablespoons

unsalted butter

divided

3

Cloves garlic

minced

2-3

Scallions

white and green parts, thinly sliced

1

Cup

carrots

roughly chopped

1

Cup

snow peas

roughly chopped

4

Cups

cooked white rice

cold

2-3

Large eggs

lightly beaten

3

Tablespoons

light soy sauce

plus more for serving

1

Tablespoon

sesame oil

Salt and pepper

to taste
Instructions
Heat a large non-stick pan or wok over medium heat. Add 1 Tablespoon of the oil and the pork belly to the pan and season with a pinch of salt. Cook, stirring occasionally, until the fat has rendered and the pork belly is brown and crispy at the edges; about 5 minutes. With a slotted spoon, transfer the pork to a bowl, leaving the fat in the pan. Add the shrimp to the pan and cook, flipping once, until just cooked through; about 3 minutes. Transfer the shrimp to the bowl with the pork. When cooled enough to handle, chop half of the shrimp into bite sized pieces.

Add the rice vinegar to the pan to deglaze, scraping up the brown bits from the pork and shrimp. Add 1 tablespoon of the butter. Add the garlic and white parts of the scallion and cook, stirring, until fragrant and garlic is starting to turn golden at the edges; 1 minute. Add the carrots and snow peas, stir, and cook until slightly softened; 3 minutes. Add the rice along with the remaining tablespoon of oil. Fry the rice, stirring occasionally, for 5 minutes.

Push the rice to one side of the pan. Add the remaining tablespoon of butter to the empty side of the pan and pour in the eggs. Scramble the eggs and then when cooked, mix into the rice. Add the pork and shrimp back into the rice. Add the soy sauce and sesame oil and stir to combine. Taste the rice and season with salt and pepper to taste.

Garnish with the green parts of the scallions and serve with more soy sauce.