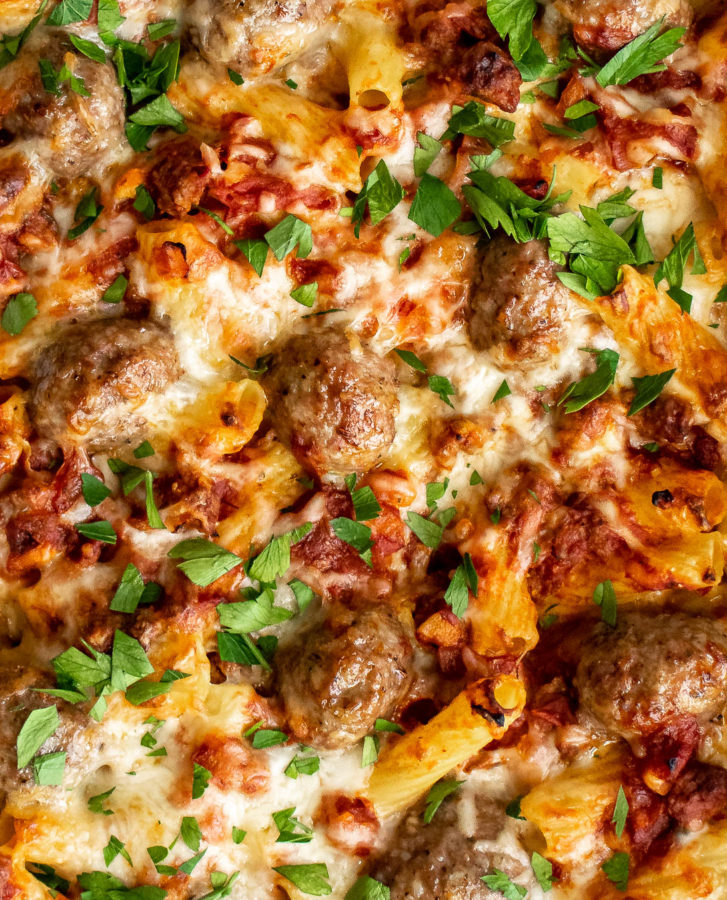 What's more comforting than baked pasta? Baked pasta with meatballs! Cheesy, saucy pasta with meatballs, baked to bubbly perfection. It's baked pasta season!
This is the perfect recipe for when you're craving some cozy comfort food, but don't want to put too much effort in. It's great for large or small groups. If you're a a smaller household, you get the added bonus of leftovers! Pro tip: leftover baked pasta makes the best breakfast!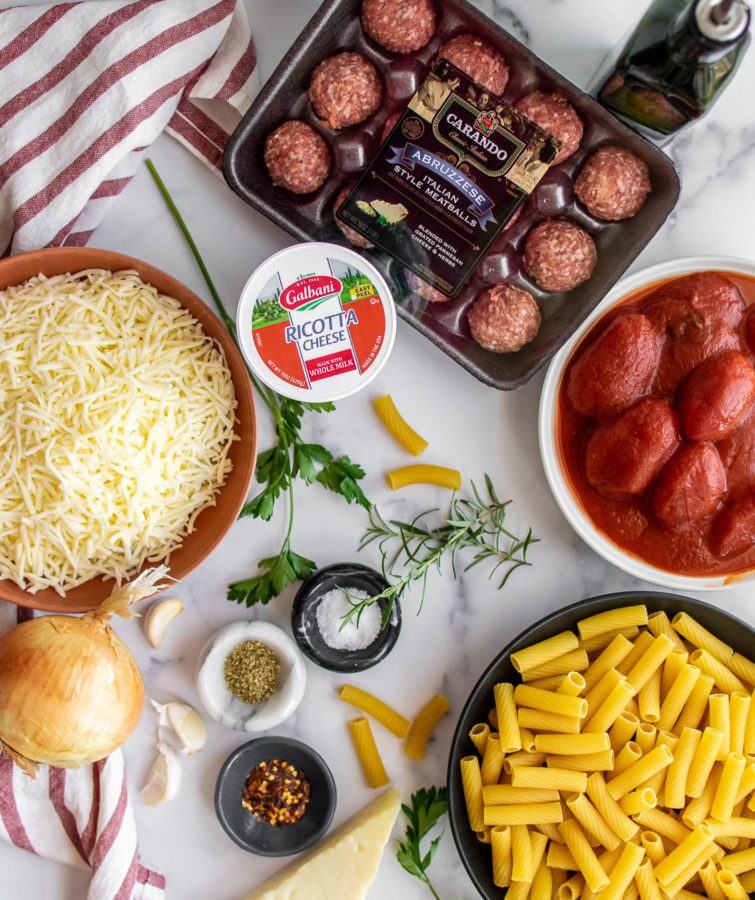 *This post may contain affiliate links. See disclosure for further details.
I love using Carando® Italian Meatballs for this recipe because not only are they delicious, but they're ready to use right away! I'm using the Abruzzese meatballs in this pasta bake, they're packed with authentic Italian flavor. Fun fact: my family on my dad's side comes from the Abruzzo region of Italy!
For this recipe, I used half of the meatballs crumbled into the sauce, and the other half on top of the pasta bake. That way, you get different textures and you're also getting all that delicious meatball flavor throughout the pasta.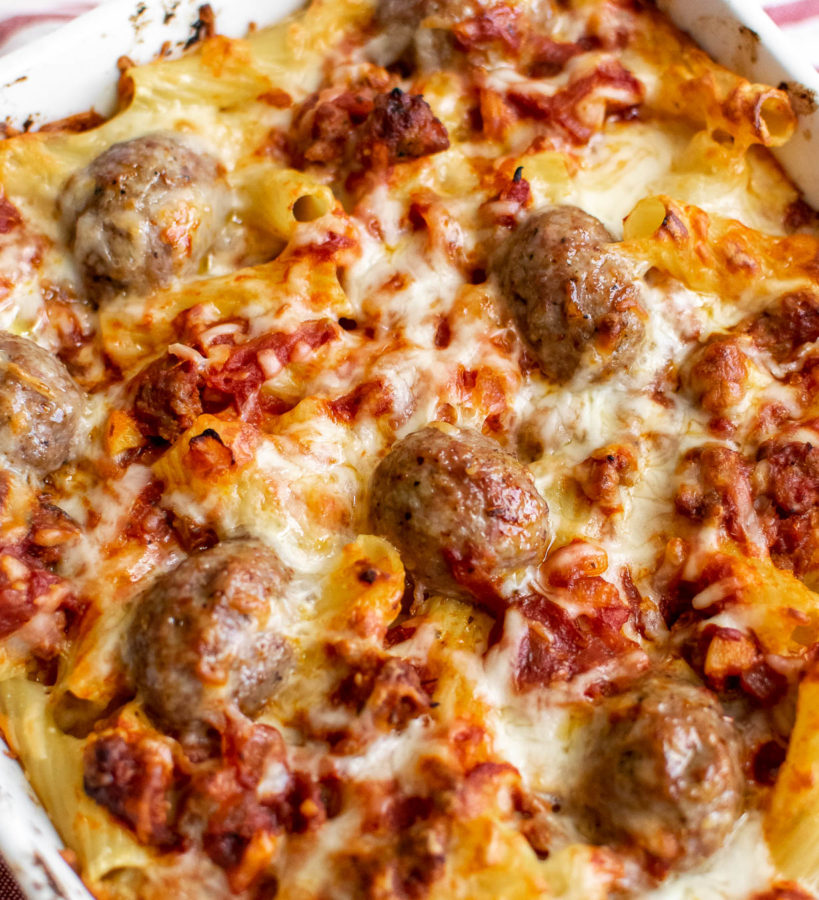 But of course, it wouldn't be a good pasta bake without good cheese! I used Galbani® Ricotta and Mozzarella Cheese for this recipe. The whole milk ricotta gives the pasta a rich creaminess, similar to lasagna, and hand shredding the mozzarella will bring that classic baked pasta taste—and the cheese pulls!! Galbani is another one of my favorite Italian brands to buy, their products are authentic and delicious—they've been making cheese since 1882!
I bought both the Galbani cheese and the Carando Meatballs at my local Kroger store. You can save $2 when you purchase one Galbani Ricotta (15 oz) or Mozzarella Cheese (16 oz.) AND Carando Abruzzese Italian Meatballs (16 oz). So if you're making this recipe, it's the perfect time to head over to your Kroger store!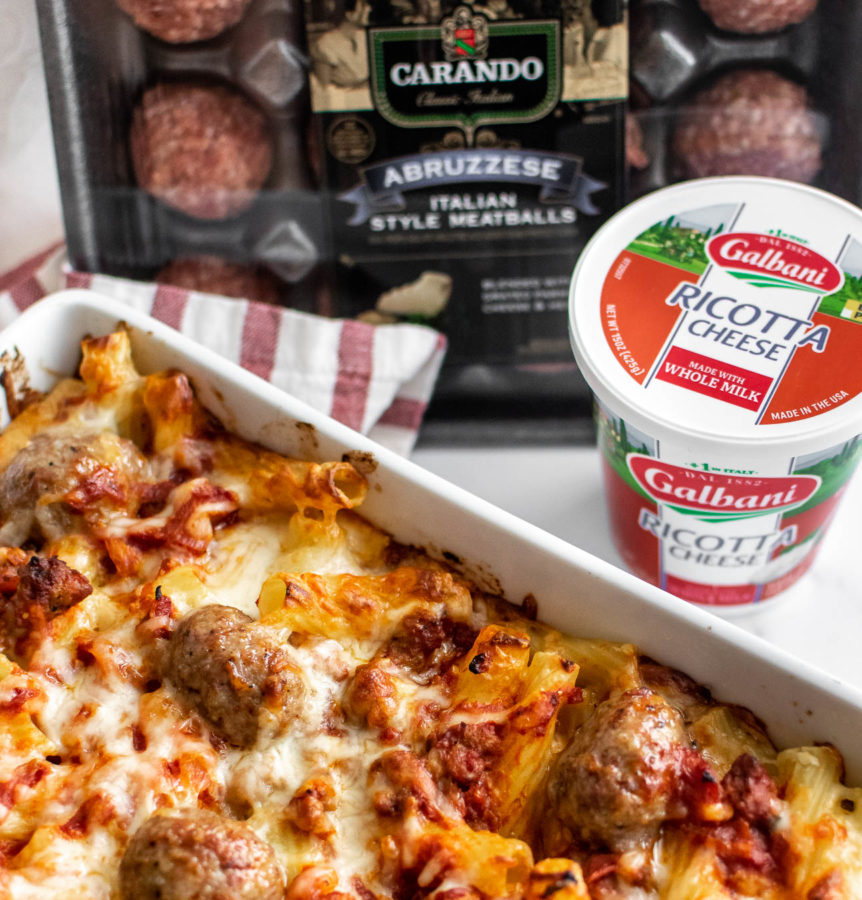 This recipe is easy to make and there are just a few simple steps, starting with the sauce! Because the pasta is baked, I didn't want there to be too much work for the sauce. This sauce comes together fast and has all your favorite classic Italian flavors.
You'll start by browning half of the meatballs in some olive oil, and breaking them up into crumbles. Next add some onion, garlic and fresh rosemary followed by tomato paste and a can of whole peeled tomatoes. Make sure to buy the whole tomatoes that are in tomato puree, you'll need that puree for the sauce! Then season your sauce with salt, dried oregano and red pepper flakes and let it simmer for a bit to meld the flavors. While the sauce is simmering, cook your pasta.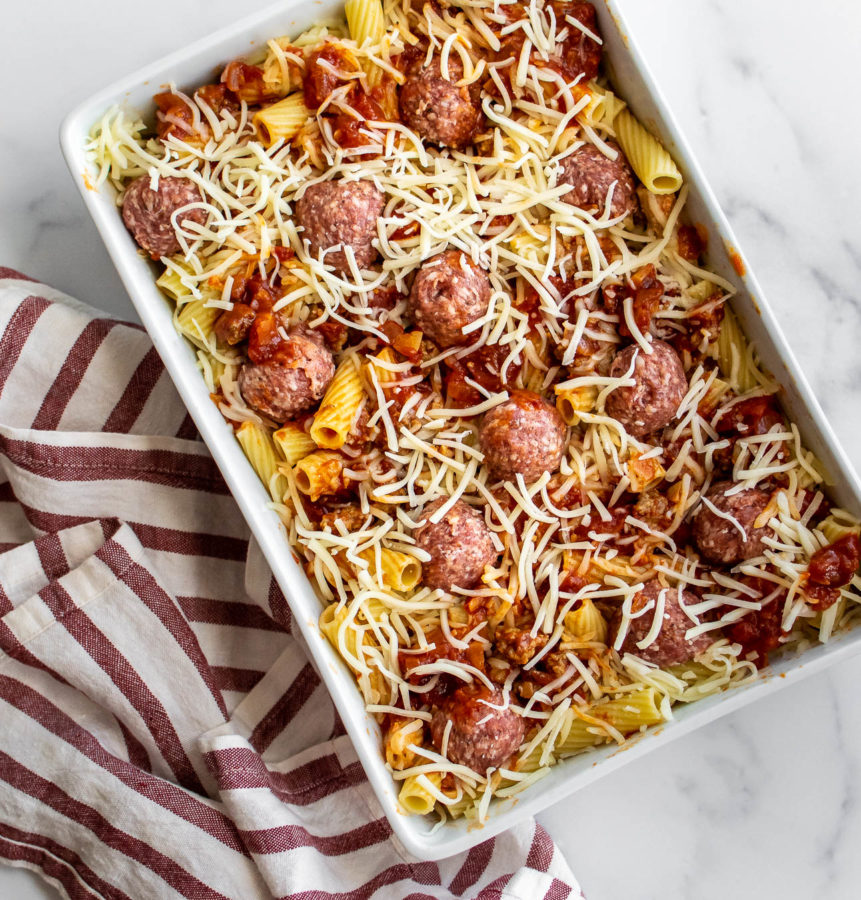 I like rigatoni for this recipe because the sauce and pieces of meatball get stuck inside the rigatoni, making the ultimate bite! You can use other short pasta shapes like ziti or penne if you prefer. Since the pasta is going to be baked after it's boiled, you want to slightly undercook it during the boiling step. Check the package directions for "al dente" and then cook the pasta for 1-2 minutes less than that.
Layering the pasta, sauce, and cheeses is the perfect way to make sure you get sauce, meatballs and cheese in each bite.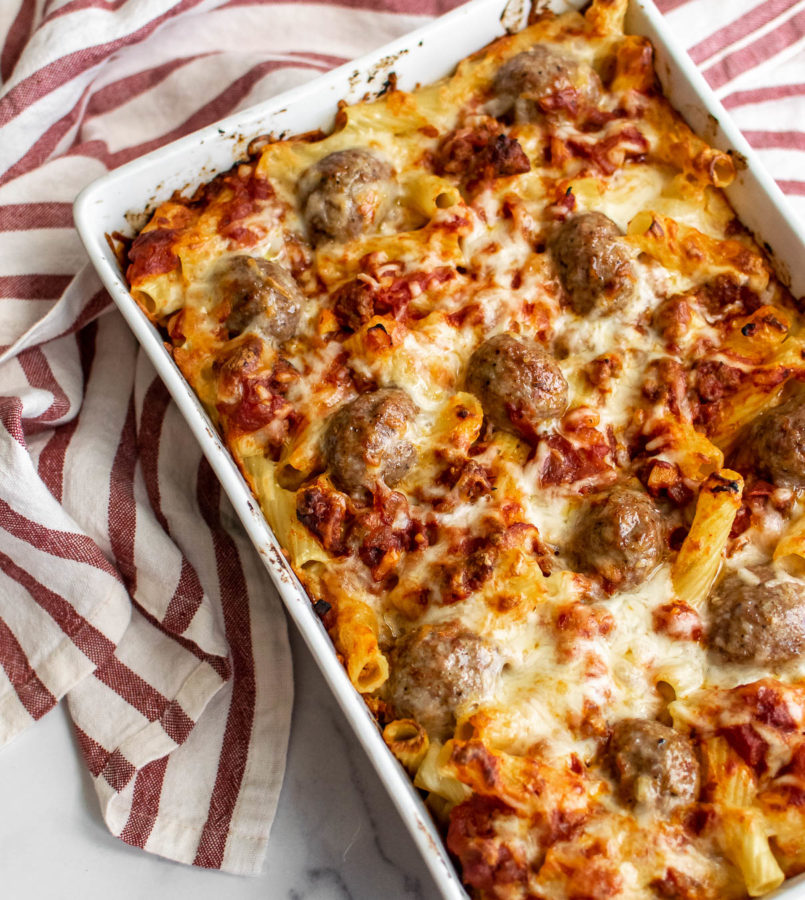 The hardest part of this recipe is waiting for it to be ready! It only takes about 35 minutes in the oven, but you have to let it rest for about 10 minutes before cutting into it. Longest 10 minutes ever!
I usually distract myself in that 10 minutes by chopping up some fresh parsley, and grating some Pecorino Romano. I love using Pecorino as a finishing cheese because of it's salty bite, but if you prefer Parmigiano Reggianno, you can definitely use that. Feel free to use fresh basil in place of parsley as well. The finishing touches are up to you!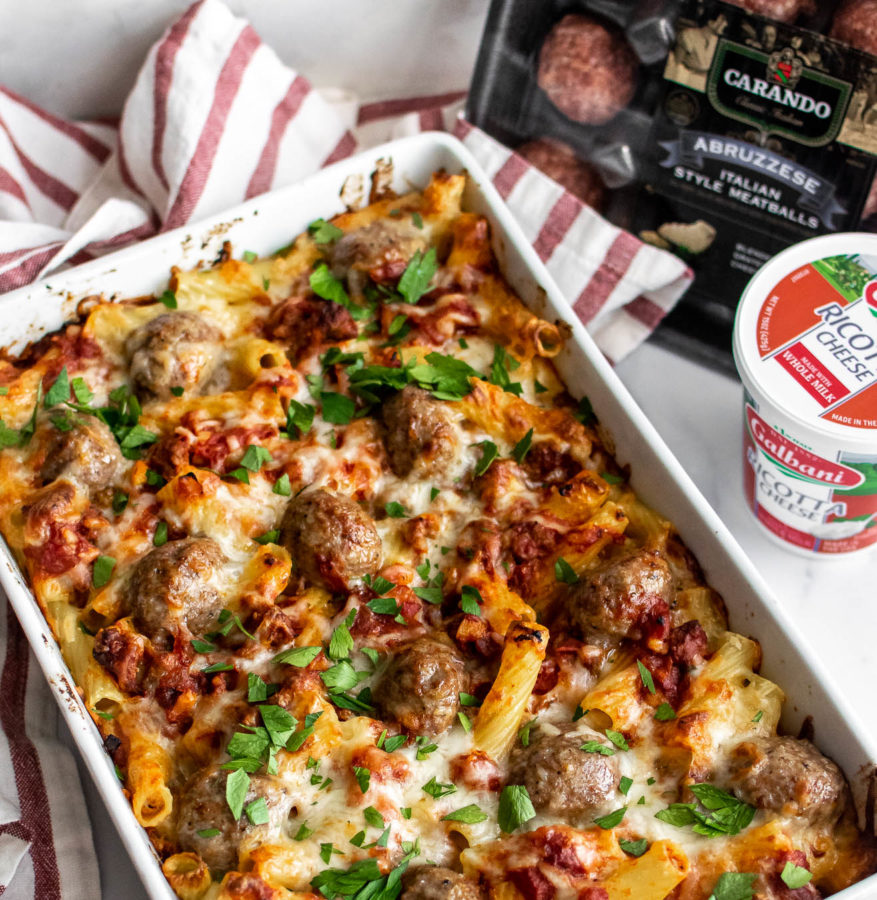 When the pasta has cooled down a bit, it's time to dig in to that meaty, cheesy goodness. Who doesn't love a good cheese pull?!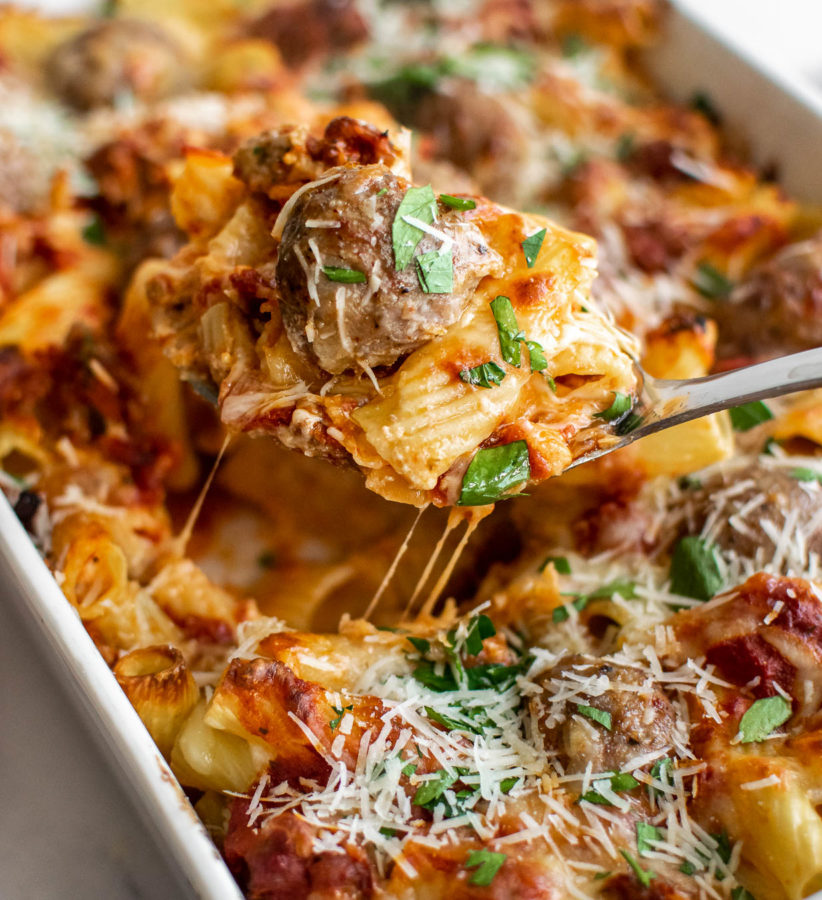 I hope you guys love this recipe as much as I do. It's definitely a favorite of mine and hard to beat in the comfort food category! I can't wait for you to give it a try.
You might also like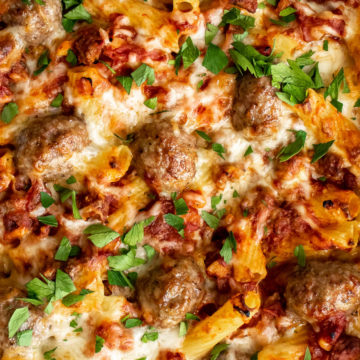 Baked Pasta with Meatballs
Cheesy, saucy pasta with meatballs, baked to bubbly perfection.
Ingredients
3

Tablespoons

olive oil

1

Package Carando Abruzzese Meatballs

divided

½

Yellow onion

diced

3

Cloves garlic

minced

2

Sprigs fresh rosemary

finely minced

1

Tablespoon

tomato paste

1

28 Ounce

Can whole peeled tomatoes in tomato puree

crushed by hand

1

Teaspoon

kosher salt

½

Teaspoon

dried oregano

¼

Teaspoon

red pepper flakes

1

Pound

rigatoni

1

Cup

Galbani whole milk ricotta

16

Ounces

Galbani mozzarella cheese

shredded by hand

Pecorino Romano

grated

Fresh parsley

roughly chopped
Instructions
Pre heat your oven to 350 degrees and bring a large pot of water to a boil.

Heat the olive oil in a large pan over medium heat. Add half of the meatballs, breaking them apart with a wooden spoon. Brown the meatballs and continue breaking them up into crumbles. Add the onion, garlic and rosemary, stir and cook until the onions have started to soften; about 5 minutes. Stir in the tomato paste and cook for an additional 2 minutes. Add the tomatoes along with the tomato sauce. Add the salt, oregano and red pepper flakes. Lower the heat to medium low and simmer the sauce for 5-10 minutes.

Salt the boiling water and add the pasta. Cook the pasta to 2 minutes less than package directions for al dente. Reserve 1 cup of pasta water and drain.

Add a bit of the sauce and a splash of reserved pasta water to the bottom of a 9x13 baking dish. Layer half the pasta, followed half of the sauce and half of the ricotta. Give it a stir to make sure each piece of piece of pasta has some sauce on it, but leave some of the ricotta in chunks for texture. Layer half of the mozzarella on top. Repeat these steps with the second half of the ingredients. Cut the remaining meatballs in half and arrange them on top of the pasta.

Loosely cover the baking dish with foil and bake for 25 minutes then broil for 10 minutes uncovered or until the cheese is bubbly, the meatballs are browned on top, and the edges are crispy.

Let the pasta rest for about 10 minutes before cutting into it. Garnish with fresh parsley and Pecorino Romano and serve!