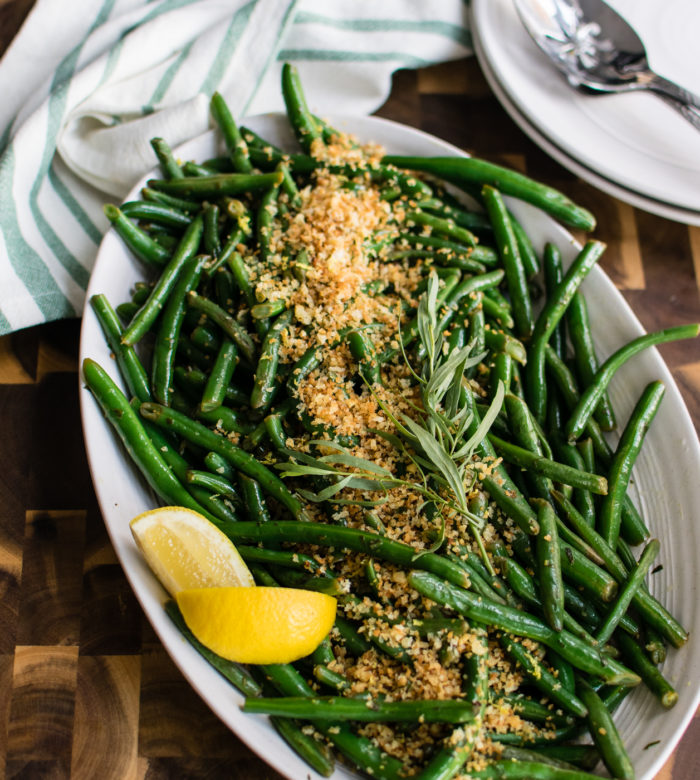 If the thought of green beans makes you thing of soggy old green bean casserole, you've come to the right place. These fresh green beans are snappy, bright and, as you can see, NOT that gross greenish brown color from the can. No thank you to that! And it doesn't hurt that this dish is incredibly easy to make!
I like to make this dish for Thanksgiving but it's just as perfect any other day of the week! But speaking of Thanksgiving, here's a pro tip: If you know you'll be attending a Thanksgiving where soggy green beans have been known to be served, offer to bring this dish! You'll look polite and helpful but secretly you'll be doing yourself a big ol' favor. *devilish laugh*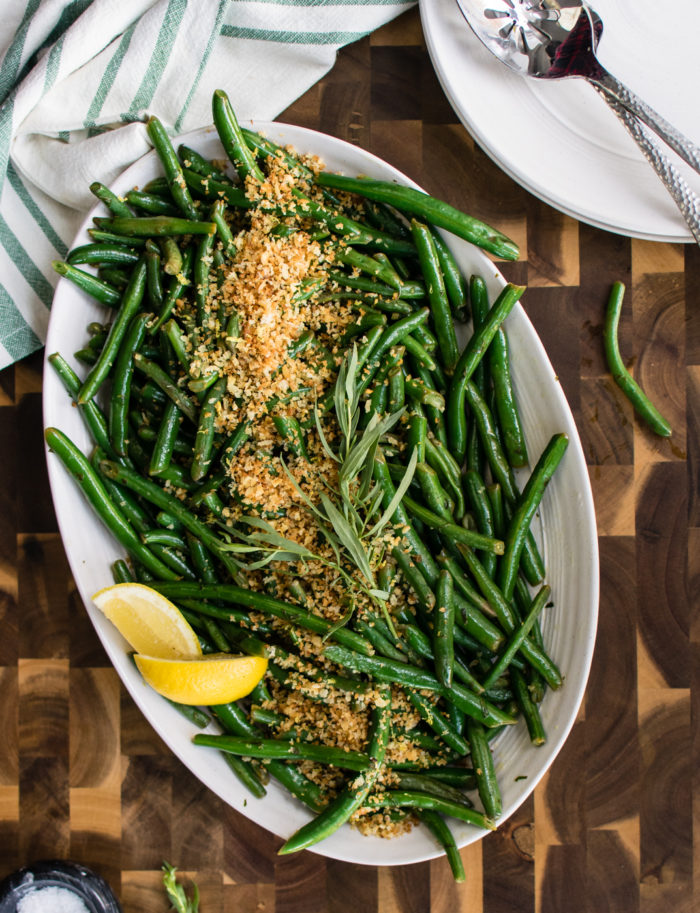 *This post may contain affiliate links. See disclosure for further details.
As I mentioned before, the dish is super easy to make. The green beans take hardly any time to cook and you can prep them a day ahead if you need to! First you'll blanch the beans in some well salted boiling water, and then plunge them into an ice bath to stop the cooking. After that you can drain the beans and store them in the refrigerator until you're ready to serve them. I wouldn't blanch them more than one day ahead of time, though.
If you're not prepping ahead of time, you'll move right on to the next step. After you've drained the beans you'll sauté them in olive oil with tarragon and lemon and then top them with the garlic breadcrumbs! See? so easy.
So, why do you need the ice bath if you're just going to be sautéing them after that? Glad you asked. Blanching the green beans (boiling for a short period of time and then putting them into an ice bath) helps keep their crisp texture and that bright green color!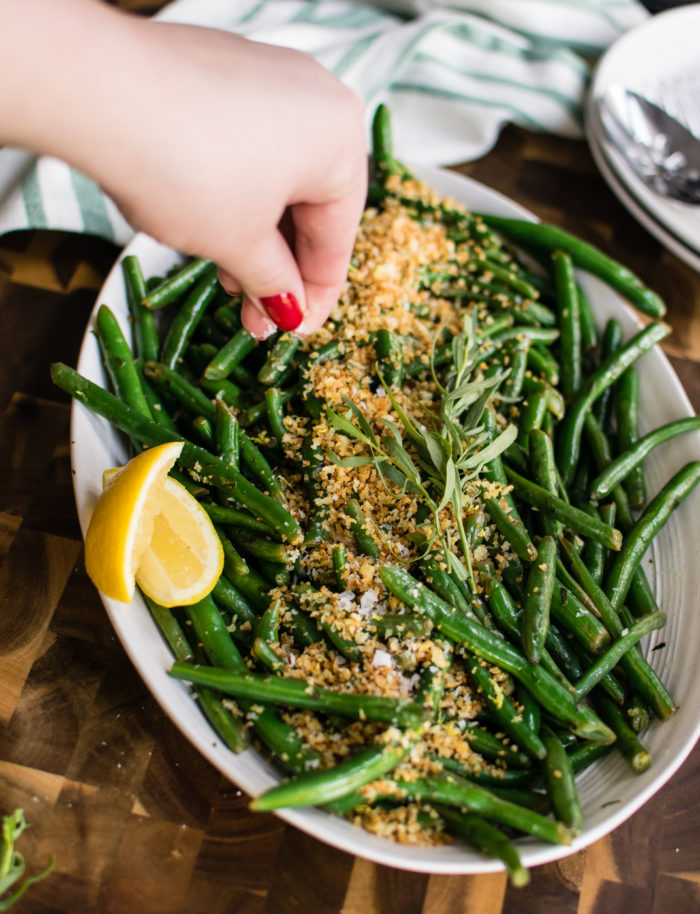 If you don't like tarragon—I find it can be quite polarizing—go ahead and use something else! Subbing dill or parsley will work great and I promise, I won't even be offended. Just don't skip those garlic breadcrumbs, that would be a reeeaaal mistake.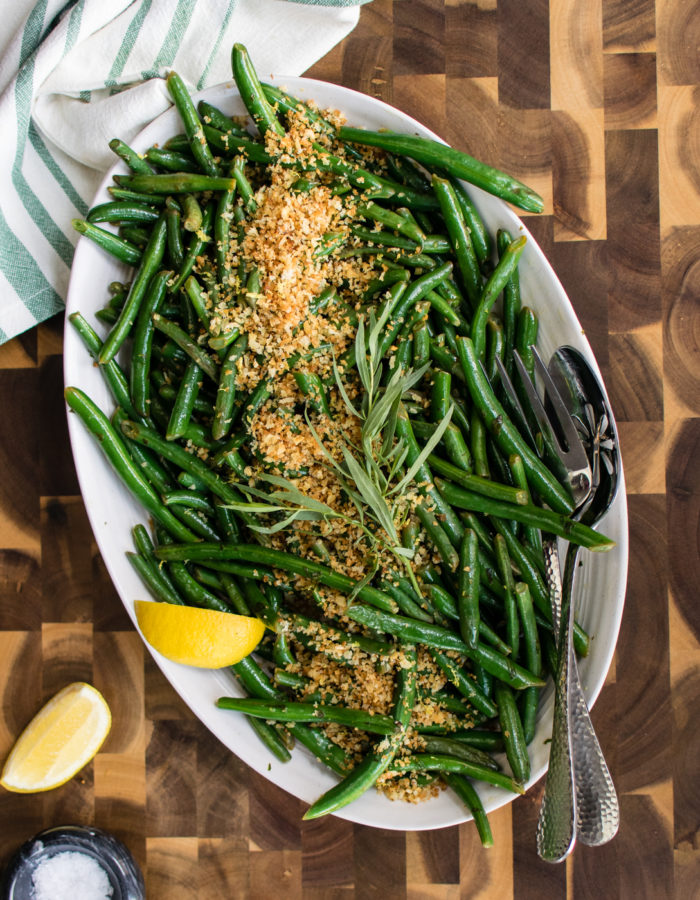 I hope you guys love this recipe! Hooray for snappy green beans!
You might also like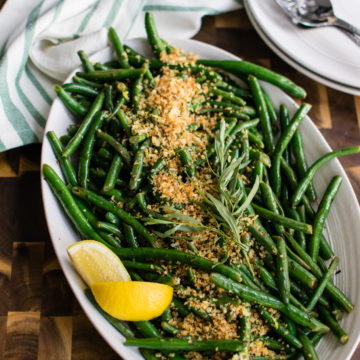 Green Beans with Tarragon and Garlic Breadcrumbs
These fresh green beans are snappy, bright and super easy to make!
Ingredients
For the green beans
1 ½

Pounds

green beans

trimmed

2

Tablespoons

olive oil

2

Tablespoons

fresh tarragon

finely chopped

1

Tablespoon

lemon juice

2

Teaspoons

lemon zest
For the garlic breadcumbs
2

Tablespoons

olive oil

½

Cup

panko breadcrumbs

2

Cloves garlic

minced

Kosher salt

to taste
Instructions
Bring a large pot of well salted water to a boil and prepare an ice bath. Add the green beans to the boiling water and cook for 2-3 minutes; until tender crisp. Drain the beans and immediately plunge them into the ice bath to stop the cooking. Drain and pat dry.

Make the garlic breadcrumbs. In a small nonstick pan, heat the olive oil over medium heat. Add the breadcrumbs and garlic and stir constantly until the breadcrumbs are golden brown and the garlic is fragrant. Transfer the breadcrumbs to a bowl immediately so they don't burn in the pan. Season the breadcrumbs with salt.

Heat the olive oil for the green beans in a large pan over medium high heat. Add the beans, lemon juice and zest, and the tarragon. Sauté for 2-3 minutes, tossing frequently, until well coated and warmed through.

Just before serving, sprinkle the garlic breadcrumbs over the green beans.