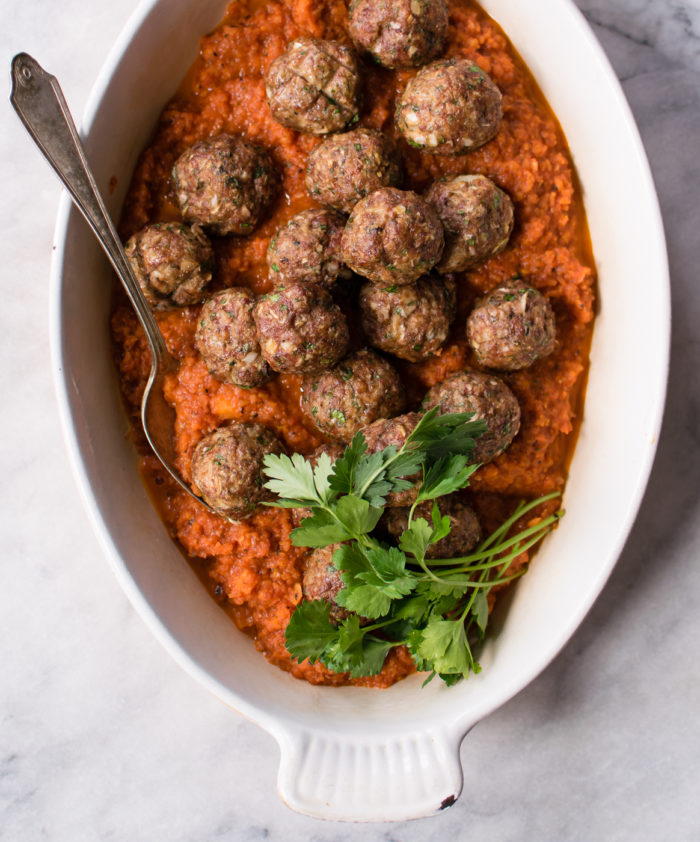 I love lamb meatballs. They have an incredible amount of flavor and they always turn out perfectly juicy and tender. Since spring is just around the corner, I figured it was a great time to share this delicious recipe with you guys!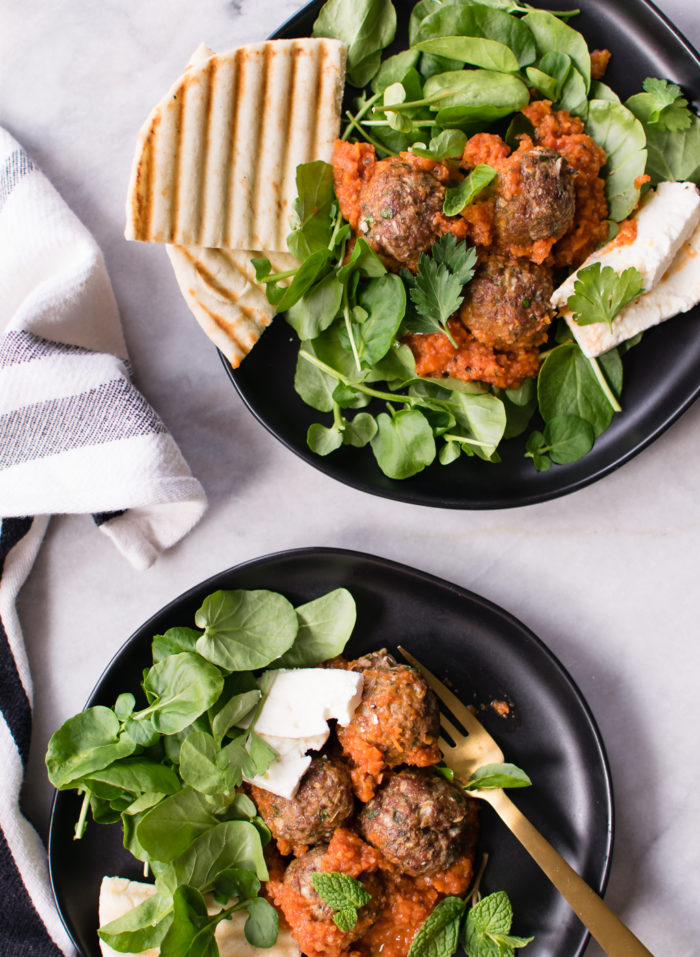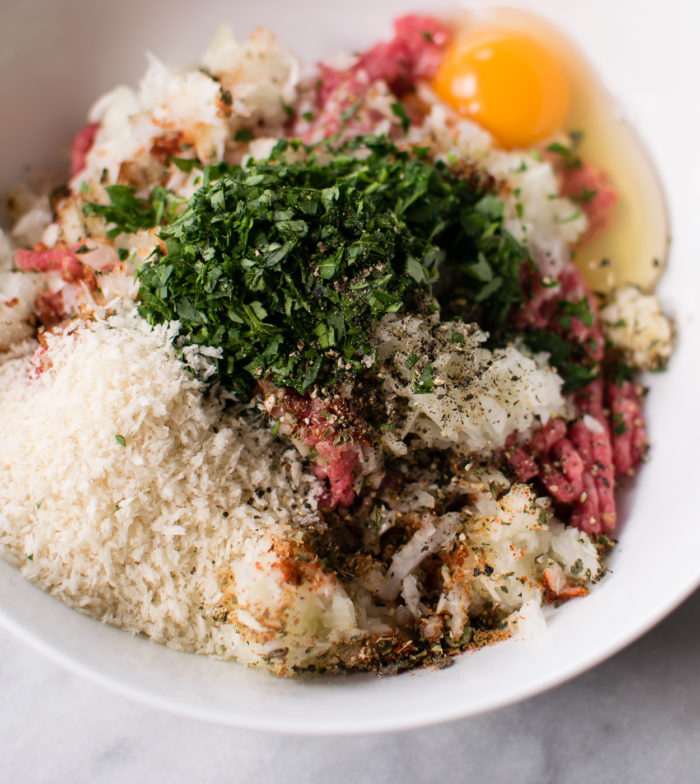 *This post may contain affiliate links. See disclosure for further details.
People don't seem to cook with lamb enough, in my opinion. If you're one of those people who's skimping on the lamb intake, hopefully this recipe will make you change your ways! And don't worry, it's a seriously easy recipe.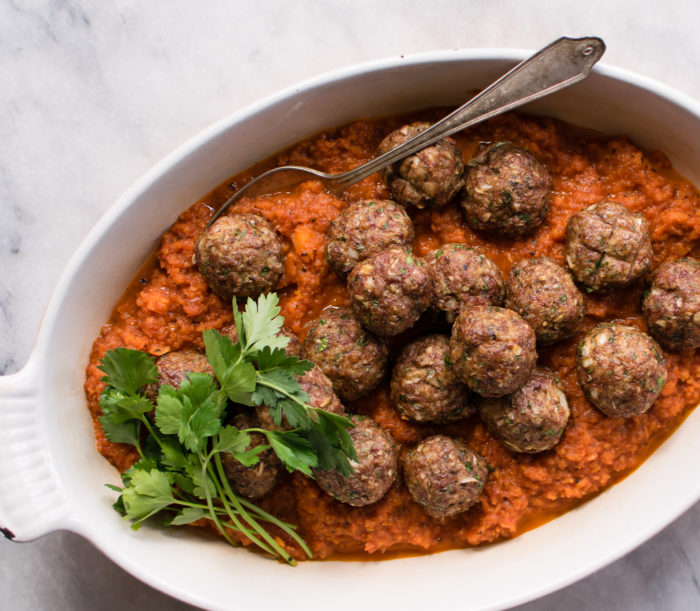 Like I said, I love lamb meatballs. I've made them a bunch of times but it wasn't until recently that I made them with this delicious carrot tomato sauce! I had visited a restaurant nearby, All Together Now, and (surprise, surprise) ordered lamb meatballs. Their meatballs were delicious, but it was the sauce that I was most interested in. When I couldn't stop thinking about it for days after, I decided it was time to try to make it at home. The funny thing is, all I really remembered about that sauce was that it was super tasty (duh) and that it had carrots in it. After playing around in the kitchen and writing this recipe and title, I decided to check their site to see if they mentioned more about the sauce in the menu description. They didn't, but I saw that it was called "Carrot Tomato Sauce" just like I'd named mine! I guess that means I'm on the right track, eh?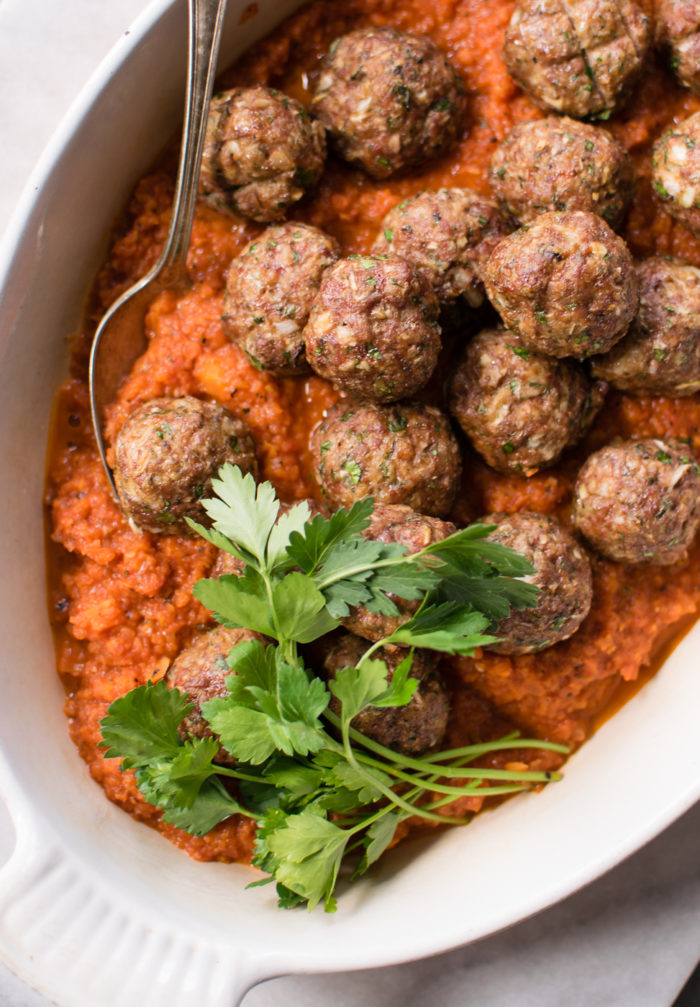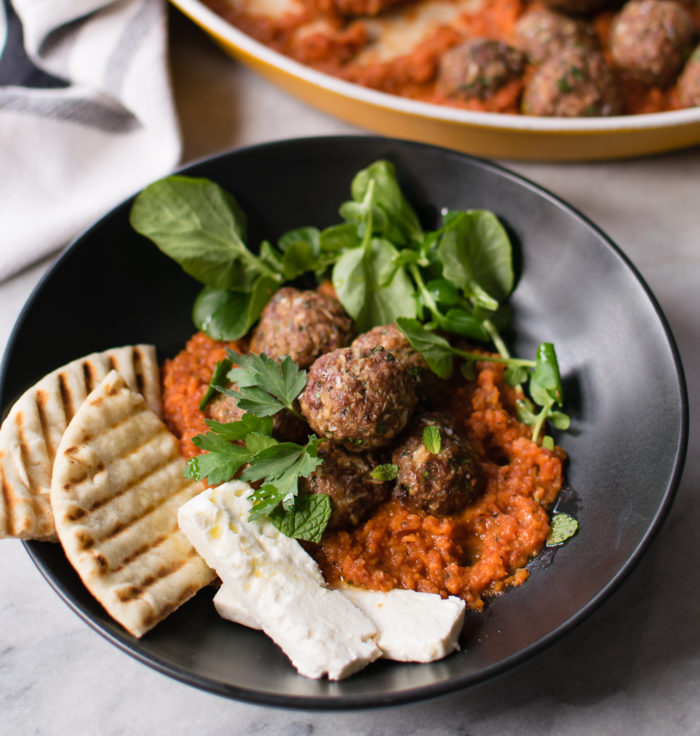 I like making these meatballs in the oven because It's easy, and it gives you time to make the sauce. That way, by the time the meatballs are done, your sauce will be done and everything is ready to serve! I like to serve these meatballs with a handful of greens and a few warmed pita wedges to sop up the sauce. You won't want to leave any behind! A big chunk of salty feta is the perfect compliment to the sweetness of the carrots. Top it all off with some fresh parsley and mint, a drizzle of good olive oil, and you're ready to eat! You could also fill a pita pocket with a few of the meatballs and the sauce. Yum.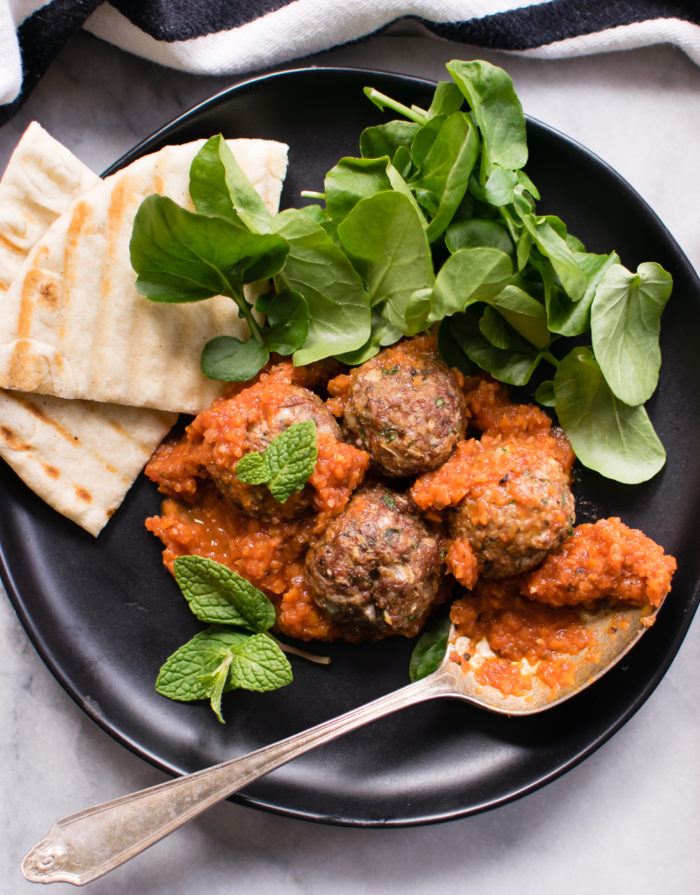 Get these babies into the dinner rotation. You'll be happy you did!
You might also like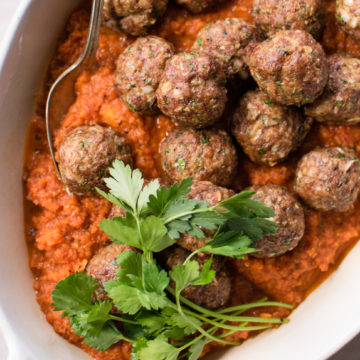 Lamb Meatballs with Carrot Tomato Sauce
These Lamb Meatballs are easy to make and packed with flavor!
Ingredients
For the Lamb Meatballs
1

Pound

ground lamb

2

Cloves garlic

minced

⅛

Teaspoon

lemon juice

1

Large egg

½

Yellow onion

grated or finely chopped

¼

Cup

panko breadcrumbs

¼

Cup

fresh parsley

minced

1

Teaspoon

dried mint

1

Teaspoon

dried oregano

¾

Teaspoon

kosher salt

½

Teaspoon

paprika

¼

Teaspoon

pepper

¼

Teaspoon

cumin

⅛

Teaspoon

cinnamon
For the Carrot Tomato Sauce
3

Tablespoons

olive oil

3

Carrots

peeled and diced

½

Yellow onion

diced

2

Cloves garlic

minced

1

15 Ounce

can of diced tomatoes

1

Teaspoon

dried oregano

½

Teaspoon

dried mint

½

Teaspoon

paprika

Salt and pepper

to taste
For serving
Pita

warmed

Feta

Fresh parsley

Fresh mint

Greens

Olive oil

for drizzling

Flaky sea salt

such as Maldon
Instructions
Pre-heat oven to 400 degrees.

Make the meatballs. Combine the minced garlic, the lemon juice, and a pinch of salt on a cutting board. Scrape with the back of a spoon to create a rough garlic paste. Mix all of the ingredients for the meatballs, including the garlic paste, in a bowl. Measure out about a tablespoon of the lamb mixture and roll into meatball. Repeat with the remaining mixture. You should end up with about 25 meatballs. Arrange the meatballs evenly on a greased baking sheet. Bake until meatballs are browned and slightly pink on the inside; about 25 minutes.

Meanwhile, make the sauce. Heat the oil in a pan over medium high heat. Add the carrots and onion, season with salt and pepper and cook until softened; about 5 minutes. Add the garlic and cook for 1 minute longer. Add the tomatoes and the remaining spices. Turn the heat down to medium and cook for 15 more minutes. Carefully transfer the sauce to the bowl of a food processor. Pulse or puree the sauce to desired consistency. Alternatively, you can use an immersion blender.

Serve the meatballs with the sauce, fresh herbs, chunks of feta and warmed pita. Serve with greens for a meatball salad.