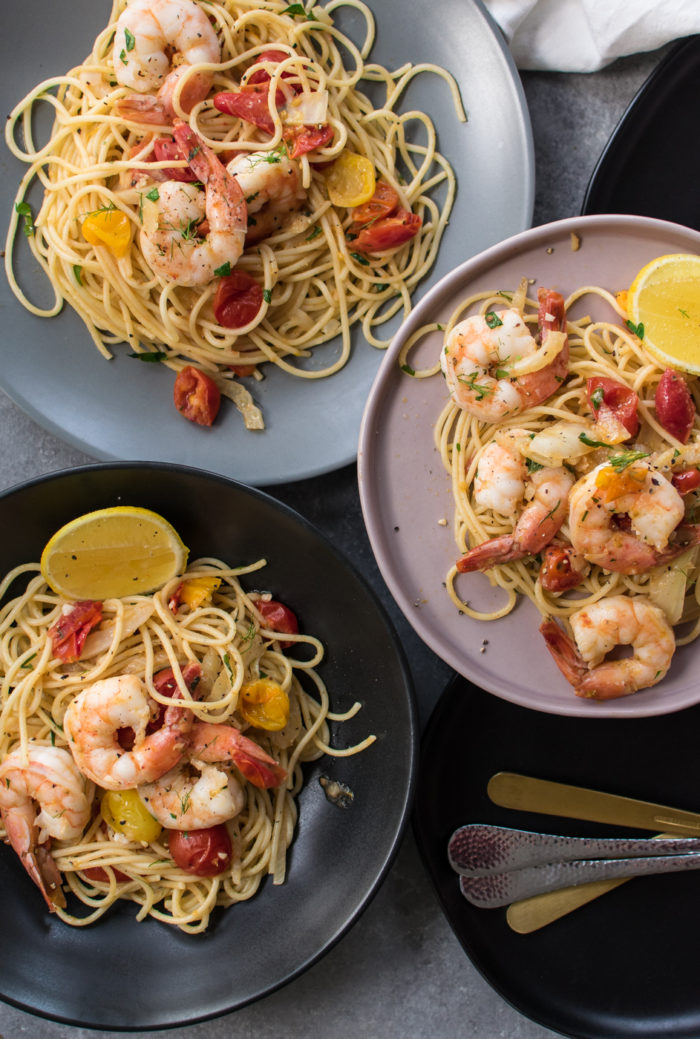 This Spaghetti with Shrimp and Fennel has quickly become a favorite in my house. I recently made it for my boyfriend and he was so impressed, he thought I had gone out of my way to make a really special meal for him. Little did he know, it was beyond easy to make! (but let's just keep that on the DL) Easy and delicious?! That's my kind of dish.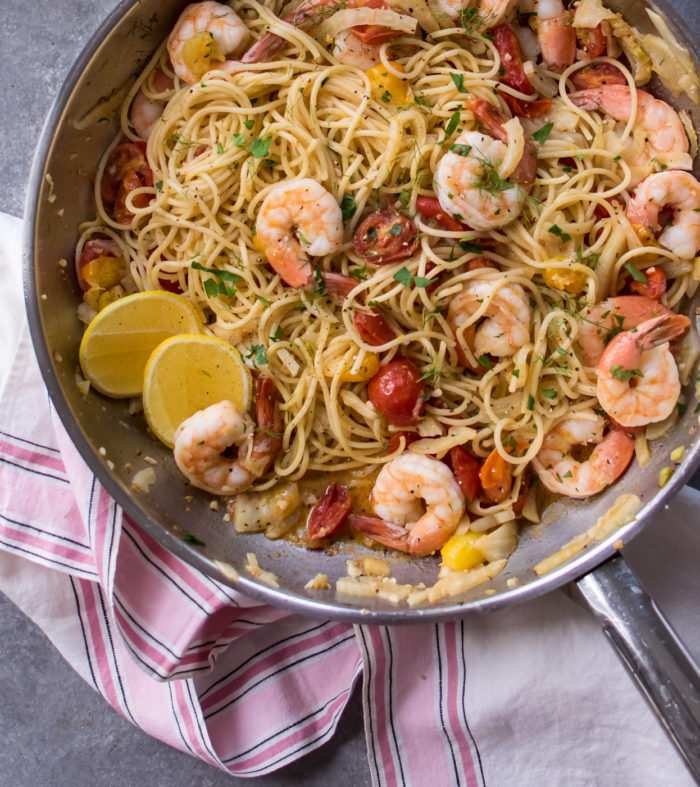 *This post may contain affiliate links. See disclosure for further details.
I find that you can buy good grape or cherry tomatoes year round these days, so even though it's not tomato season, this dish will still be just as tasty! My favorite part, and what makes this dish stand out, is the fennel. The fennel gives it so much exra flavor! I'm tellin' ya, if you haven't been using fennel in you pasta dishes, you've been missing out! Don't worry about it though, you can start with this recipe. I got you.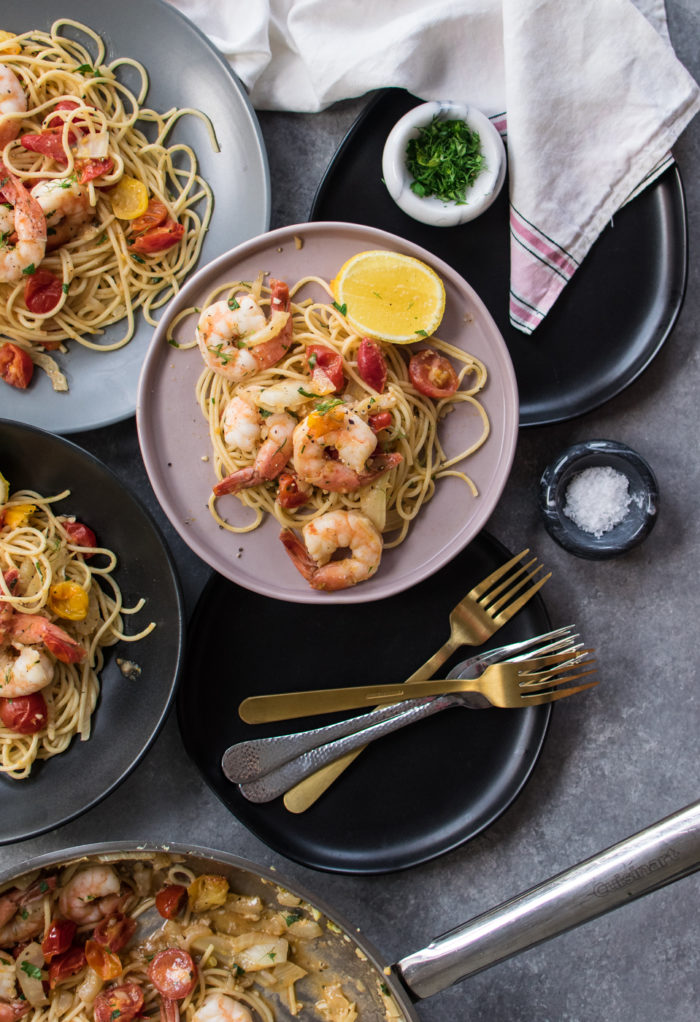 Lots of people think that they won't like fennel when they hear it has a licorice type flavor. I get it, licorice is gross, so that makes sense. I, as a licorice hating human, love fennel soooo... I don't really know what's going on with that. I will say, when fennel is raw, that's when it tastes a little like licorice, NOT when it's cooked. When it's cooked, it's just a magically delicious addition to this dish and countless others. Basically, just trust me on the fennel, alright? Oh, and don't toss those things at the top of the fennel stalks that look like dill! They're called fronds and we're using them in the recipe. Phew, I said licorice way too many times in this paragraph. Moving on.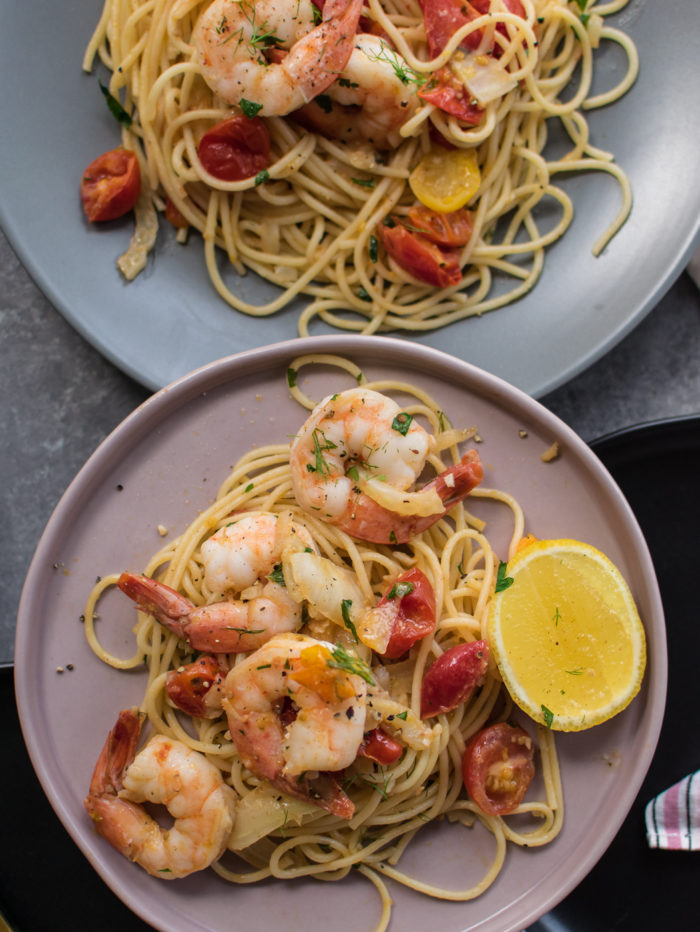 Now don't get all mad at me about the shrimp in these photos. I'm one of those weirdos who doesn't mind taking the tails off as I eat them plus, I think tail on shrimp look better in photos. You should totally buy peeled shrimp if you don't feel like dealing with those shells, though. I don't want to cramp your style.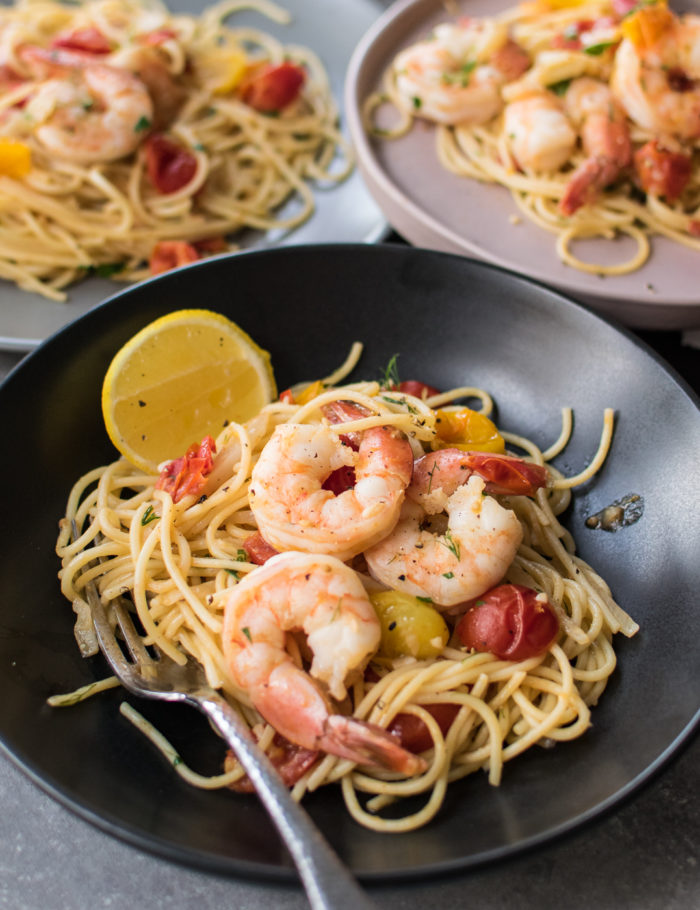 As always, I encourage you to do a quick photo shoot with your food because then you can use the pics to brag to your friends, and also, you can tag me on Instagram so I can see your cooking!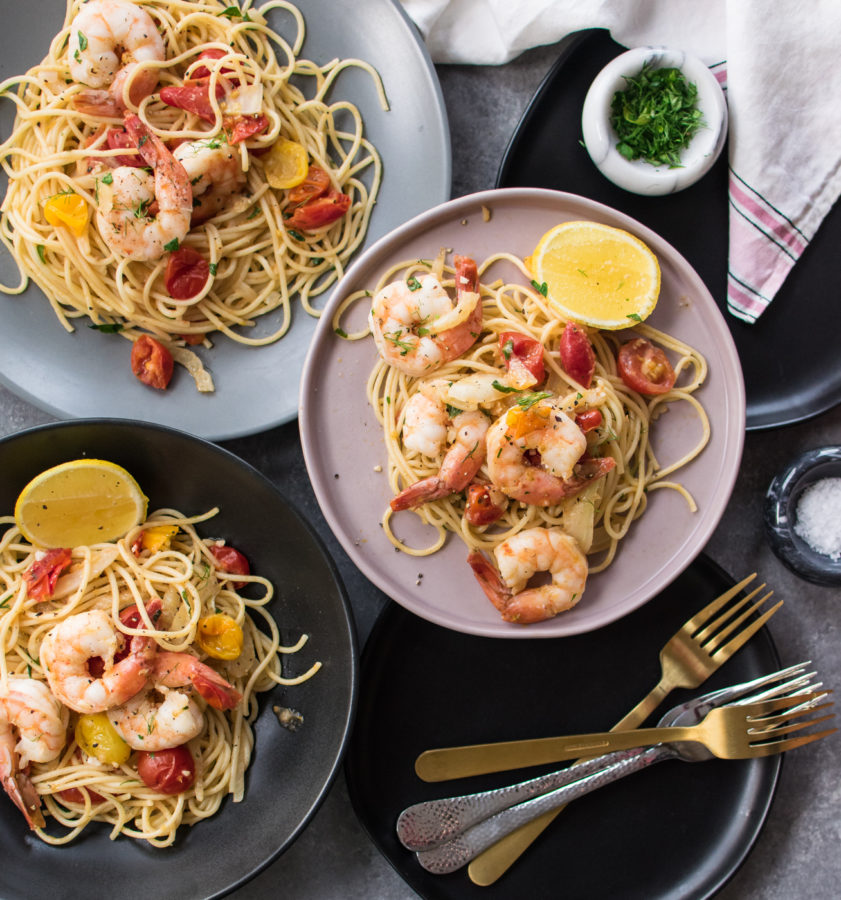 Now get to it—fennel it up!
You might also like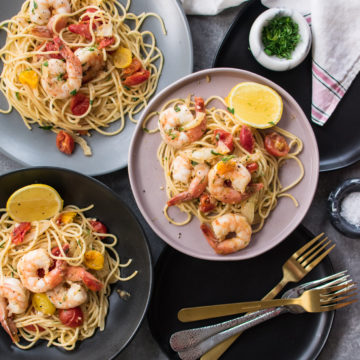 Spaghetti with Shrimp and Fennel
This Spaghetti with Shrimp and Fennel is a favorite in my house. It's easy to make and so delicious!
Ingredients
3

Tablespoons

olive oil

1

Pound

large shrimp

peeled and deveined

1

Bulb fennel

thinly sliced, fronds reserved

2

Cloves garlic

minced

1

Pint

cherry or grape tomatoes

halved

¼

Cup

white wine

1

Tablespoon

lemon zest

Salt and pepper

to taste

¾

Pound

Spaghetti or Linguine

Fresh parsley

roughly chopped

Lemon wedges

for serving
Instructions
Season shrimp with salt and pepper. In a large pan, heat 2 tablespoons of the olive oil over medium high heat. Add the shrimp and cook for 2 minutes on each side until almost cooked through. Remove the shrimp to a plate and set aside.

In the same pan, Add the remaining olive oil and the fennel and cook until soft; about 5 minutes. Add the garlic and cook until fragrant; about 30 seconds. Reduce the heat to medium. Add the tomatoes, season with salt and pepper, and cook for 5 more minutes. Add the wine and the lemon zest and scrape the bottom of the pan. Let the wine cook down for about 2 minutes and then add the shrimp back to the pan to finish cooking; about 2 more minutes.

Meanwhile, bring a large pot of salted water to a boil. Add the spaghetti and cook until 1 minute less than package instructions for al dente. Reserve 1 cup of the pasta water and then drain. Add the spaghetti to the pan with the sauce, toss to coat and cook for 1 more minute. If needed, add pasta water in small amounts to loosen the sauce.

Garnish with parsley and the reserved fennel fronds and serve with lemon wedges.