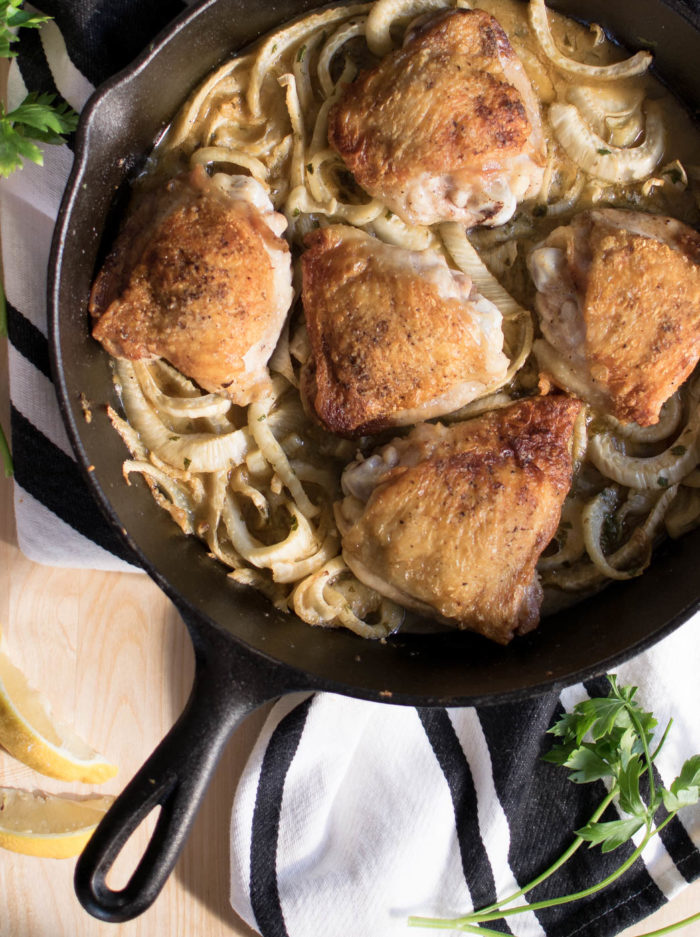 Skin on chicken thighs are seriously one of my favorite things to make. People shy away from chicken thighs because they aren't as healthy as chicken breasts but, let's face it, chicken breasts can be a little boring sometimes and you deserve to treat yourself! This recipe is certainly not boring! It's super flavorful and the crispy skin is to. die. for. The best part of this recipe is that it's as simple as they come. simple, easy ingredients, a few simple steps, did I mention simple?!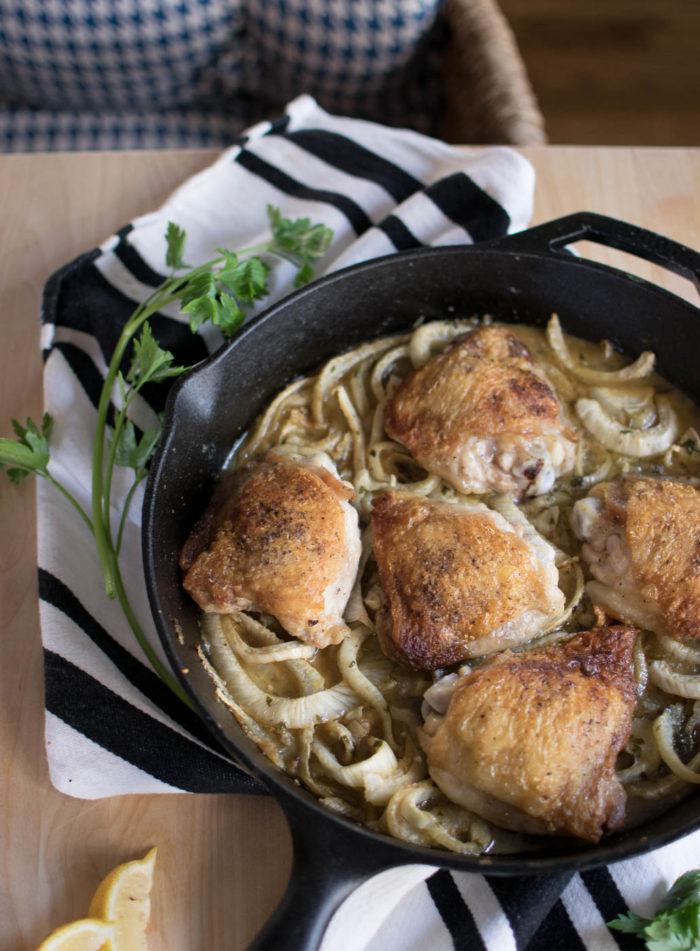 *This post may contain affiliate links. See disclosure for further details.
Searing the skin on the chicken will make all the difference. You want to make sure to get them nice and crispy. Once the pan is very hot, place the chicken in skin side down and DO NOT TOUCH THEM! seriously, don't.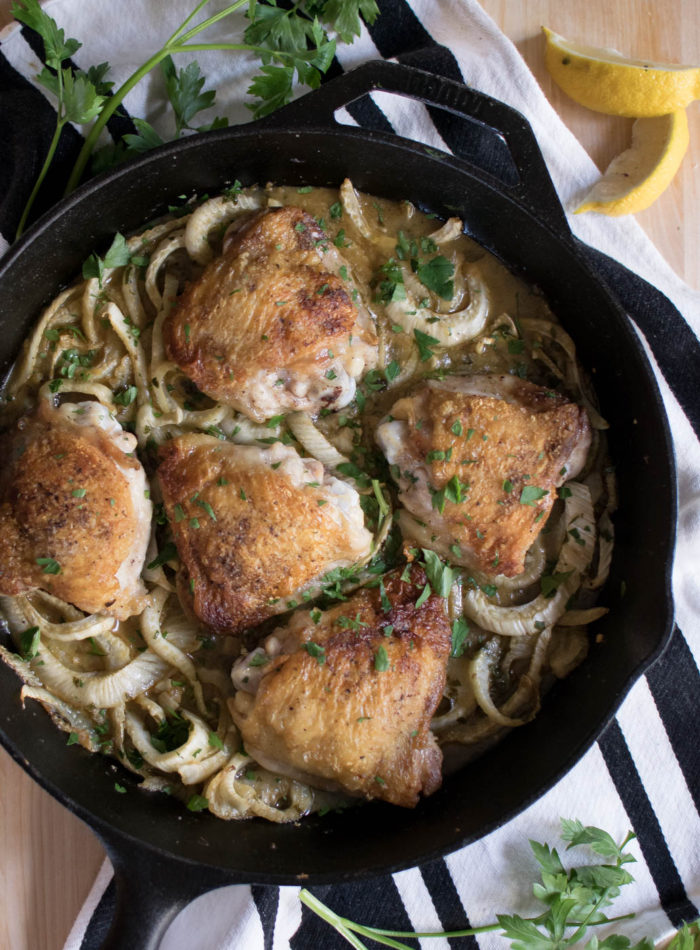 Let those babies crisp, crisp, crisp. After about 5 minutes, you can check on them to see if they're crispy enough. They should be a golden brown—and you should be drooling at the sight of them—if they're not that good looking yet, let them keep on crisping.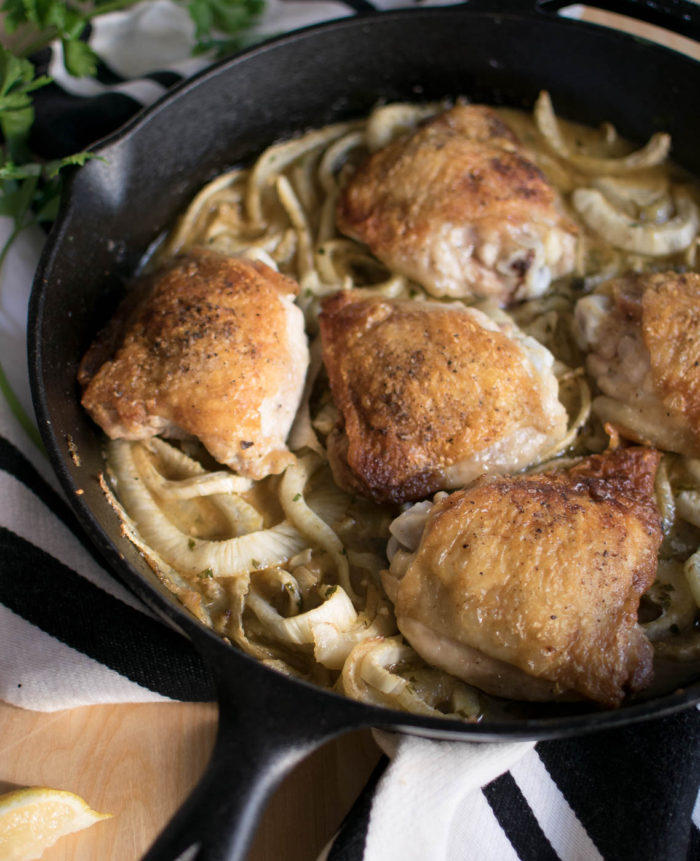 Once you feel like you want to rip the skin off the chicken and just eat it straight—and honestly, I won't judge you if you do—remove the chicken from the pan and place them guys on a plate SKIN SIDE UP. Now you can lower the heat a little and get to the rest of the recipe. The fennel will soften pretty quickly, a little garlic, chicken broth, fresh herbs and your're ready to nestle those chicken thighs back in SKIN SIDE UP (sorry I keep yelling at you).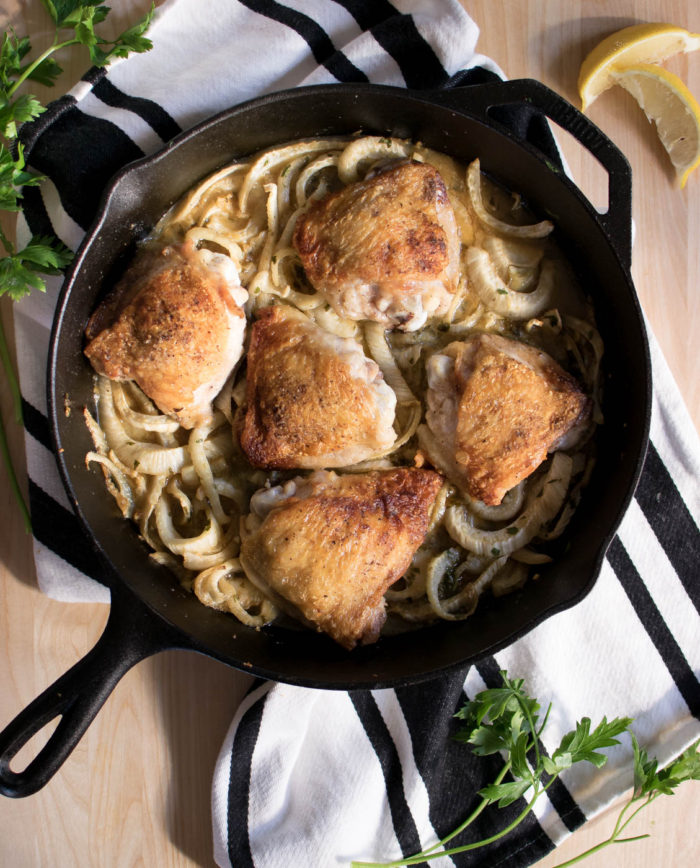 Now, back into the oven for about 30-40 minutes or until internal temp comes up to 180 degrees. What you'll have left is a simple, flavorful and surprisingly rich dinner right there in one pan!
You might also like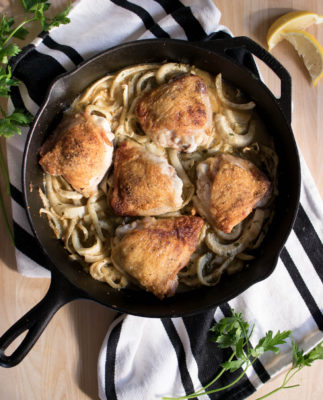 Crispy Chicken Thighs with Fennel
Ingredients
Skin on chicken thighs

2

Fennel bulbs

thinly sliced

3

Cloves garlic

minced

1

Teaspoon

lemon zest

Juice from ½ a lemon

1

Cup

low sodium chicken broth

Fresh parsley

roughly chopped

Fennel fronds

roughly chopped

Salt and pepper

to taste

Oil
Instructions
Pre-heat the oven to 350 and heat a cast iron pan over high heat.

Rub oil over chicken skin and season liberally with coarse salt and pepper.

When the pan starts to smoke, place the chicken in skin side down and do not touch them. Let the chicken sear for at least 5 minutes or until golden brown and crispy.

Remove the chicken from the pan and place on a plate skin side up. Set aside.

Lower the heat to medium low and add the sliced fennel to the pan along with a pinch of salt and stir occasionally until the fennel starts to soften. About 5 minutes. Add the garlic and stir, being careful not to let it burn. About 1 minute. Add the lemon zest and juice and stir. Add chicken broth and half the parsley and bring to a simmer.

Nestle the chicken back into the pan skin side up and place in the oven for 30-40 minutes until cooked through.

Remove the pan from the oven, garnish with the rest of the parsley and fennel fronds and serve with lemon wedges.