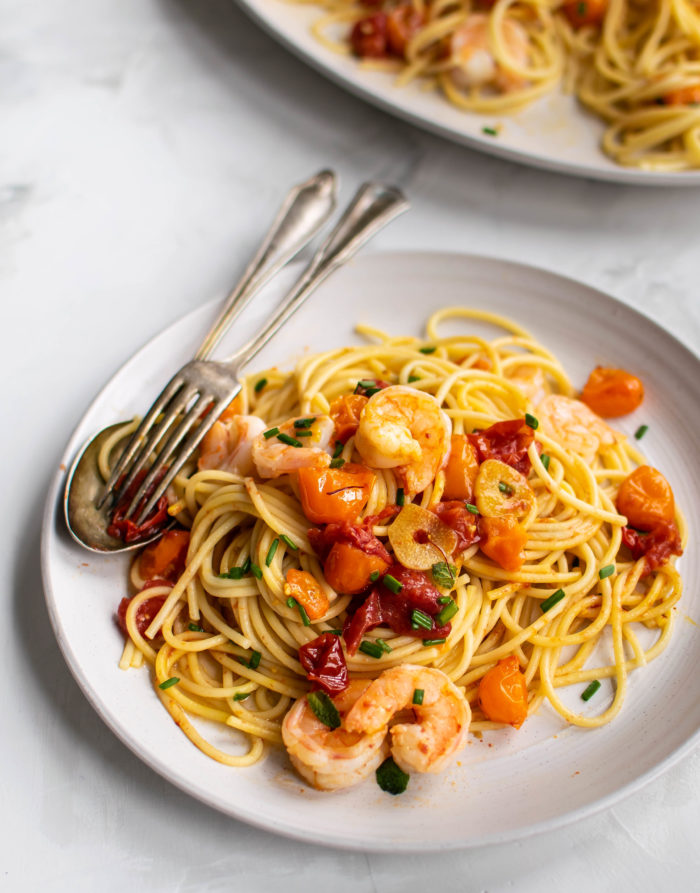 Seafood and pasta are my two biggest food loves so it's no wonder that I'm totally obsessed with seafood pastas. This Spaghetti with Saffron Roasted Tomatoes and Shrimp has quickly become one of my favorites!
The addition of saffron to this otherwise simple dish makes it feel fancy and indulgent while only taking about 30 minutes to make. Win win!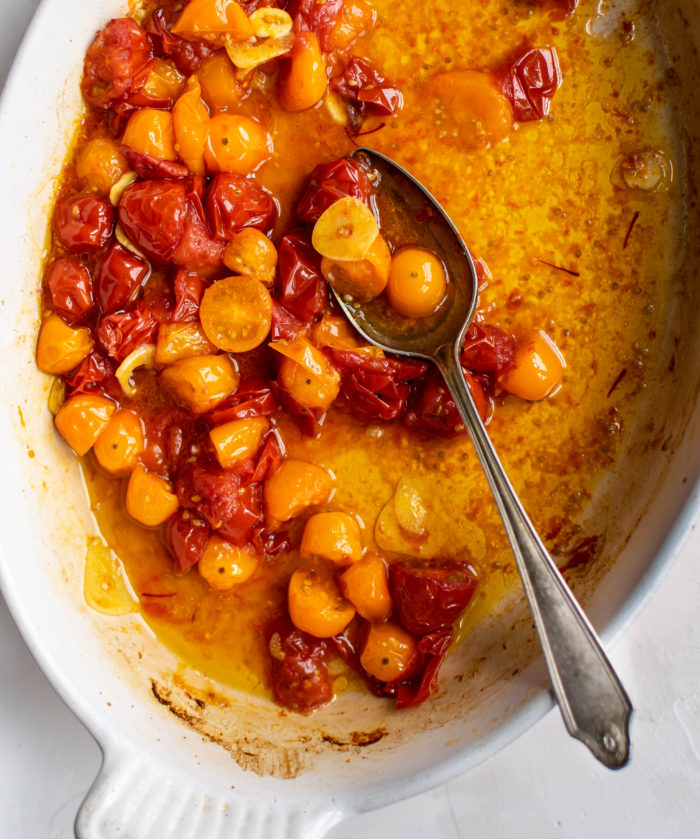 *This post may contain affiliate links. See disclosure for further details.
My favorite part about this pasta is, of course, the roasted tomatoes! The tomatoes are roasted with the usual olive oil, garlic and salt but then add in the most important ingredient, saffron, and they become extra special. Saffron can be pretty expensive but you don't need to use much of it. In fact, if you use too much, it can be overpowering. A pinch (maybe 6 or 7 threads) is all you need for this recipe!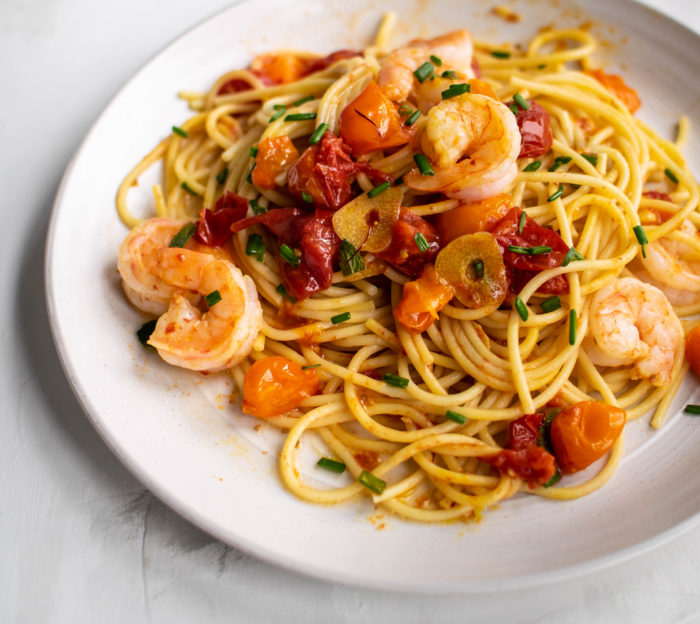 The great thing about roasting the tomatoes for this pasta is that it's hands-off cooking and, the tomatoes are basically creating the sauce for you in the oven! Outside of the oven, all you'll have to do is cook the pasta and shrimp. Super easy. I like to roast the tomatoes in a baking dish instead of a baking sheet so you don't lose any of that delicious tomato/olive oil juice that accumulates from roasting. That juice needs to be drizzled over the pasta!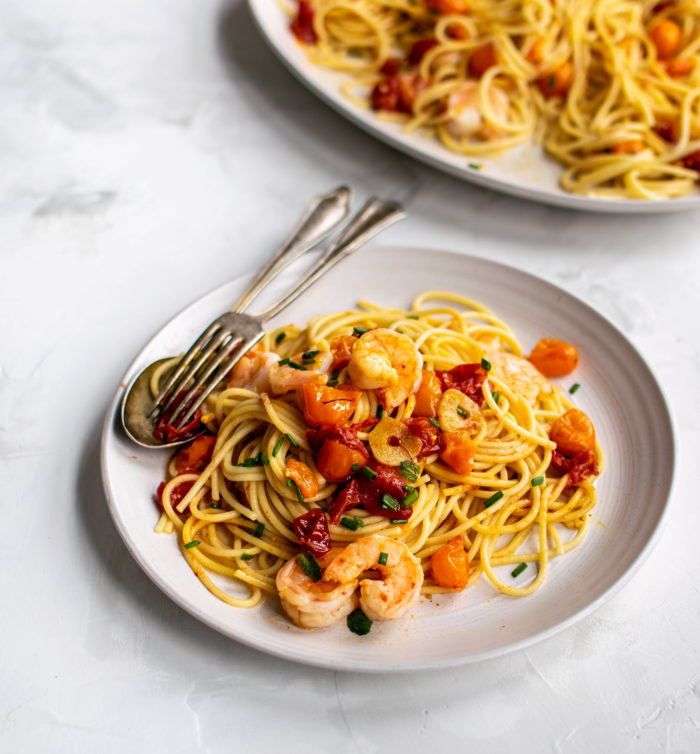 I love garnishing pasta with fresh herbs. Big fresh herb guy over here! For this recipe, I went with chives and mint. If you haven't been using mint in savory dishes, you need to get on that PRONTO. It's especially delicious with the saffron flavor of this pasta. I'm telling you—mint it up! If you aren't into mint, parsley or basil will be delicious too.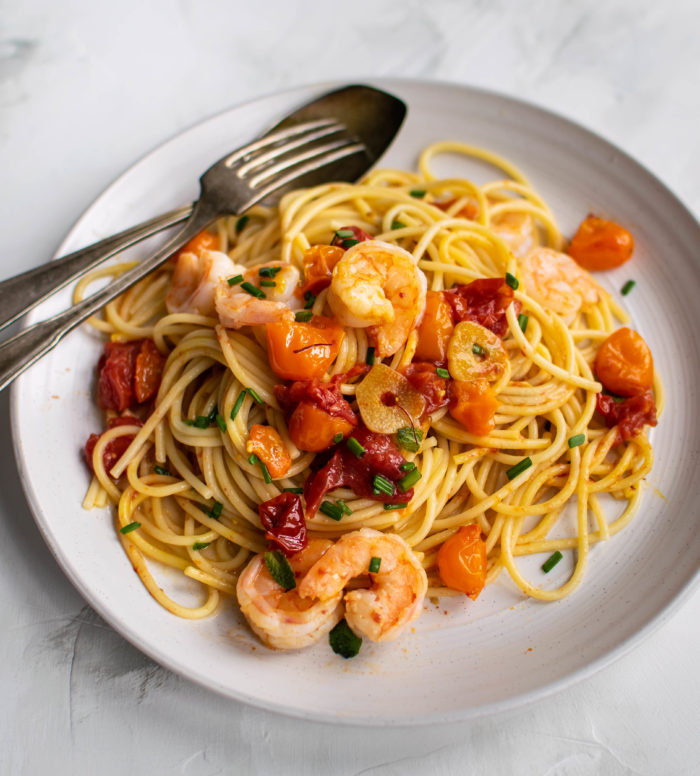 If you aren't used to using saffron in your cooking, I hope you use this as your saffron gateway recipe! You'll love the unique flavor it brings to the dish and that pretty yellow color. But watch out, saffron can dye your skin! I actually ended up with yellow spots on my hands after shooting this recipe because I couldn't stop stealing strands of spaghetti from the set. Totally worth the saffron mitts, honestly.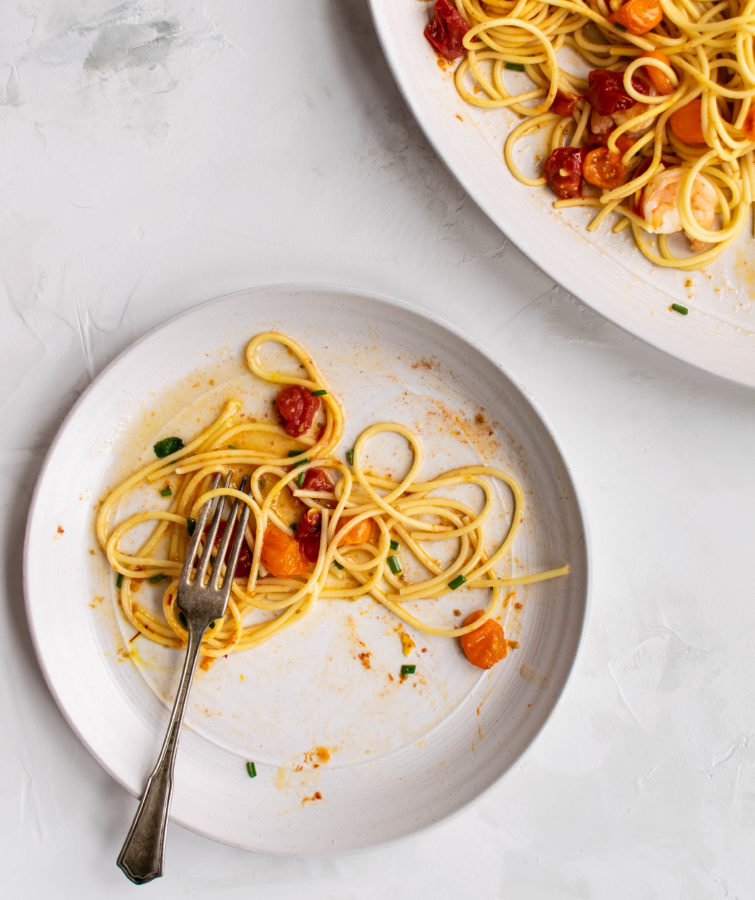 Make sure to grab some saffron next time you're at the store—I can't wait for you to try this recipe!
You might also like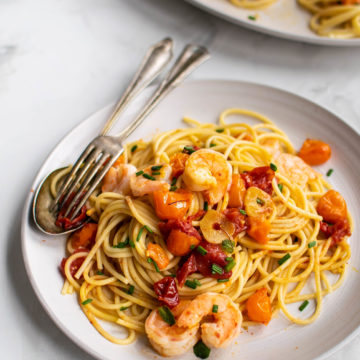 Spaghetti with Saffron Roasted Tomatoes and Shrimp
The addition of saffron to this otherwise simple dish makes it feel fancy and indulgent while only taking about 30 minutes to make.
Ingredients
For the saffron roasted tomatoes
1

Pint cherry or grape tomatoes

halved

2

Cloves garlic

minced

3

Tablespoons

olive oil

½

Teaspoon

kosher salt

1

Pinch saffron threads
For the pasta
1

Pound

spaghetti or linguine

2

Tablespoons

olive oil

¾

Pound

large raw shrimp

shelled and deveined

¼

Cup

dry white wine

2

Tablespoons

unsalted butter

Salt and pepper

to taste

Saffron threads

for garnish

Fresh chives

roughly chopped

Fresh mint

roughly chopped
Instructions
Pre heat oven to 400 degrees. Combine all of the ingredients for the roasted tomatoes in a baking dish and toss to coat. Roast for 20 minutes, or until tomatoes are soft and have darkened in color.

Bring a large pot of salted water to a boil. Cook the pasta to 1 minute less than package instructions for al dente. Drain the pasta, reserving 1 cup of pasta water.

Meanwhile, heat olive oil in a large pan over medium high heat. Add the shrimp and season with salt and pepper. Cook the shrimp until they are just opaque; about 2 minutes on each side. Transfer the shrimp to a bowl and set aside. Add the wine to the pan, scraping up any brown bits on the bottom, and cook for 2 minutes. Add the butter.

Transfer the pasta to the sauce pan along with ½ cup of the pasta water. Add the shrimp back to the pan and toss to coat, adding more pasta water as needed to loosen the sauce.

Divide the pasta between bowls. Spoon the roasted tomatoes and their oil over the pasta. Garnish with chives, mint and a few more saffron threads.