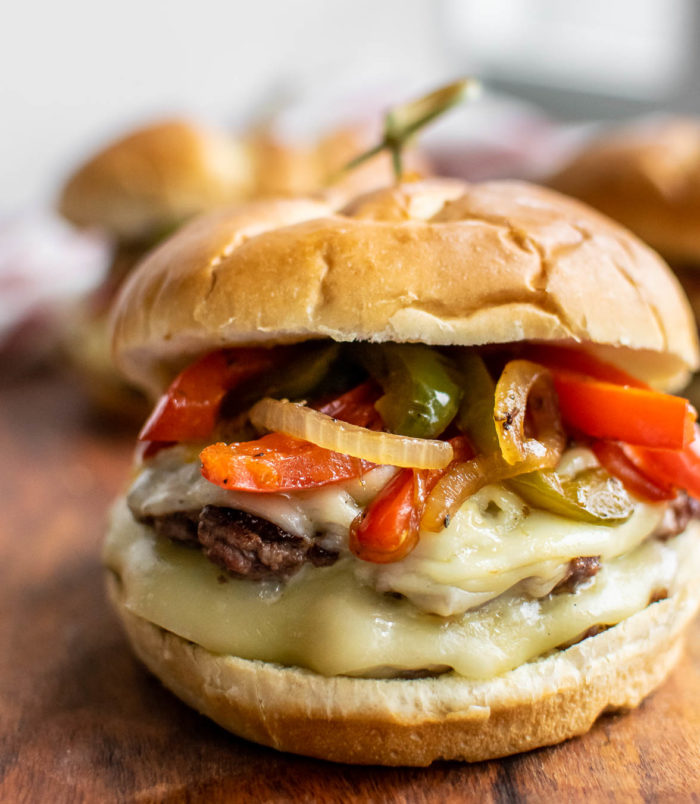 I am purposefully NOT calling these "Philly Cheesesteak Smash Burgers" because I know there are no bell peppers in an authentic Philly Cheesesteak. I am not claiming this burger has anything to do with an authentic Philly Cheesesteak. Just want to clear this up straight away. This is just a damn good, cheesesteak inspired burger and the peppers make the whole thing. Don't yell at me!
Anyway, back to the burger. Whenever people talk about cheesesteaks, I hear three cheeses mentioned: cheese wiz, provolone, and American cheese. I didn't want to go the cheese wiz route for these burgs and I couldn't decide between American and provolone so... I did both! One patty gets topped with white American, the other with provolone. Trust me, it was the right decision.
*This post may contain affiliate links. See disclosure for further details.
These burgers are super easy to make and pretty fast as well. The only real time spent is on the peppers—they take about 15-20 minutes. The good news is, the peppers can be made ahead of time and just re-heated when it's time for burgers! I'm a big fan of meal prepping sautéed peppers and onions anyway. I add them to pretty much everything. These peppers are even more delicious than your standard sauté because they've got garlic, oregano, Worcestershire and a touch of red wine vinegar to amp up the flavor. I like to chop up some pickled hot cherry peppers and add them to the mix sometimes, but that's totally optional. Up to you!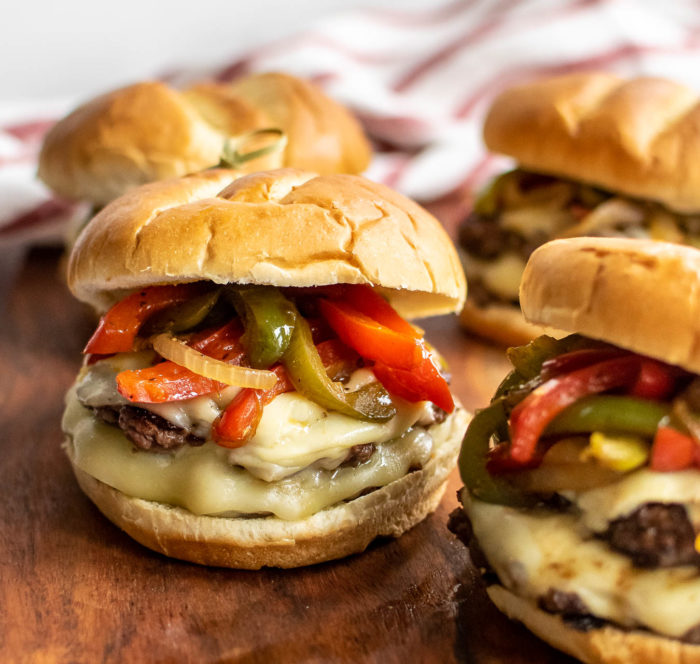 I like using ground chuck (80/20) for smash burgers but you can use whatever you like best. Just make sure you don't go toooo lean. We need the fat for flavor! This recipe uses 2 pounds of ground beef to make 4 burgers, each with 2 patties. Before hitting the griddle, you'll divide the meat into portions and roll them (just a bit!) to make loose balls. LOL loose balls. Since you're making smash burgers, you don't need to form them into patties.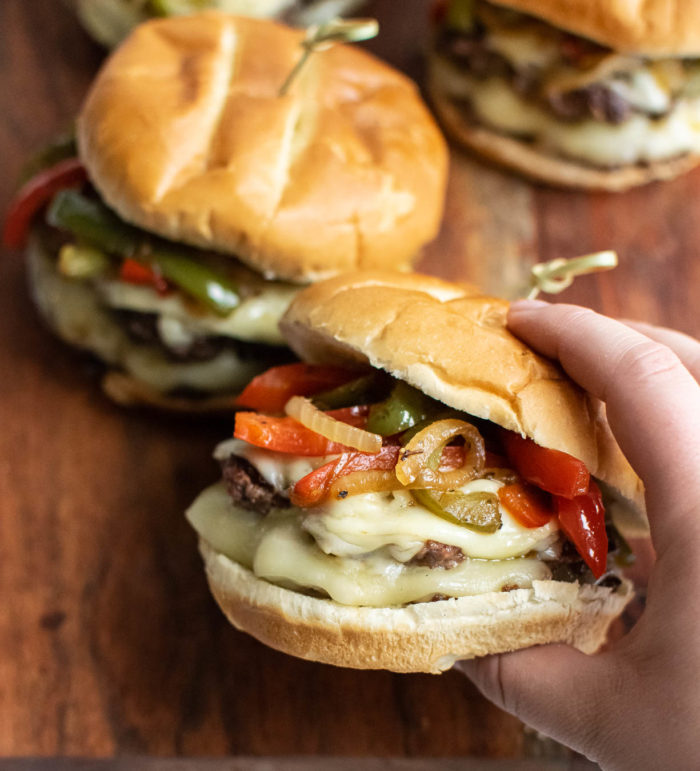 When it's time to cook, you'll place the balls on the very hot griddle, leaving enough space for them to spread out when you smash them, and then press down hard until you've got patties that are ½ inch thick. I use a cast iron grill press to smash the burgers but you can use two sturdy spatulas instead. If you plan on making smash burgers on the reg (and I think you should), you might want to invest in a press! It's much easier and you don't run the risk of bending your spatulas. Been there. I'll link a few options below!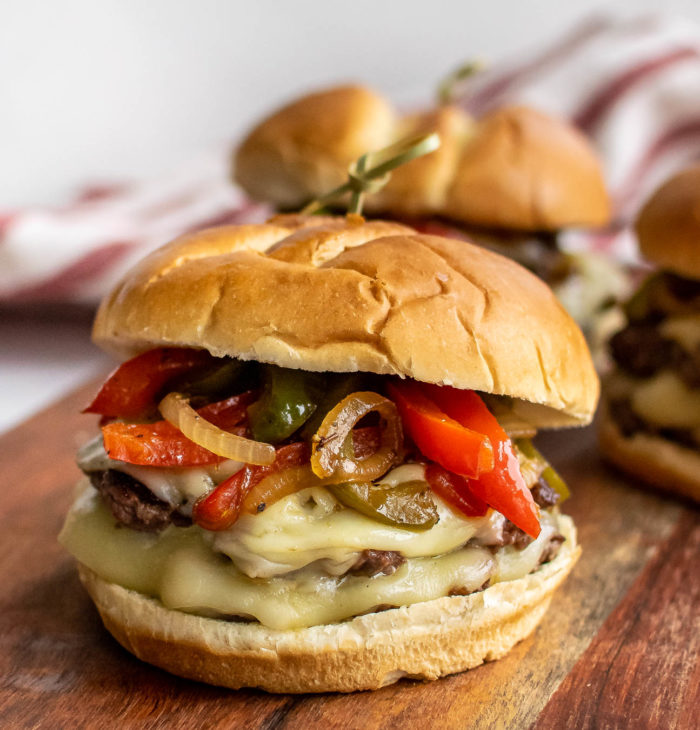 Honestly, other than making the peppers and getting the hang of making the burger patties, there's really nothing to these cheesesteak burgers! They're super easy, super tasty, and a fun departure from your standard burger. Just don't call them Philly Cheesesteak Burgers.
You might also like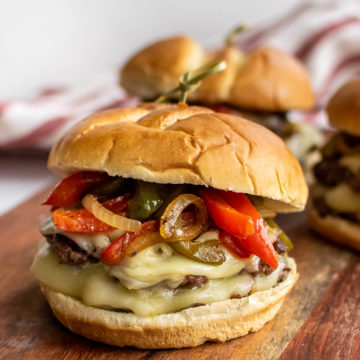 (Not Philly) Cheesesteak Smash Burgers
These cheesesteak inspired burgers are packed with flavor and easy to make.
Ingredients
For the Burgers
2

Pounds

ground beef

(80/20 or 85/15), divided into 8 portions

2

Tablespoons

unsalted butter

divided

8

Slices Provolone cheese

8

Slices White American cheese

4

Buns
For the vegetables
2

Tablespoons

olive oil

1

Green bell pepper

thinly sliced

1

Red bell pepper

thinly sliced

1

Yellow onion

thinly sliced

1

Teaspoon

dried oregano

½

Teaspoon

kosher salt

¼

Teaspoon

black pepper

2

Cloves garlic

minced

1

Tablespoon

Worcestershire sauce

2

Teaspoons

red wine vinegar

¼

Cup

jarred hot cherry peppers,

drained and roughly chopped (optional)
Instructions
Make the peppers. Heat the olive oil in a large skillet over medium. Add the peppers, onions, oregano, salt and pepper. Cook, stirring occasionally, until softened; 10-15 minutes. Add the garlic, Worcestershire and red wine vinegar. Stir, and cook for 3 more minutes until well combined. Taste and adjust seasoning to your liking.

Heat a cast iron skillet or griddle over medium high heat until very hot; 3-5 minutes. Brush the skillet with half of the butter and add two portions (or however many you can fit without crowding) of the beef. With two spatulas or a grill press, smash the beef down into ½ inch thick patties, season with salt, and cook for 2 minutes. Flip the patties, top one patty with American cheese and the other with provolone and cook for an additional 1-2 minutes. Repeat with the remaining butter, beef and cheese.

Lightly toast the buns on the griddle.

To assemble, stack two patties on the bun, one with provolone and one with American cheese. Top with the peppers and onions.